Hi everyone! Happy Valentine's Day!
I hope you're having a wonderful, love-filled day, whether you're celebrating with someone special, cuddling up to fluffy pets, taking time to love and appreciate yourself more, or boycotting the commercial nature of the day entirely. I might be doing a combination of them all. *wink*
I wanted to bring you a few special posts to wrap up my mini series of Quick & Easy Valentine's With Big Impact. Later on today I'll be recapping some of my all-time favourite Valentine's cards for guys, and before then I'll be sharing some new Quick & Easy Valentine's created just for today. But first of all, I wanted to give you a run-down of my personal favourite products for creating awesome Valentine's that really make a big impact: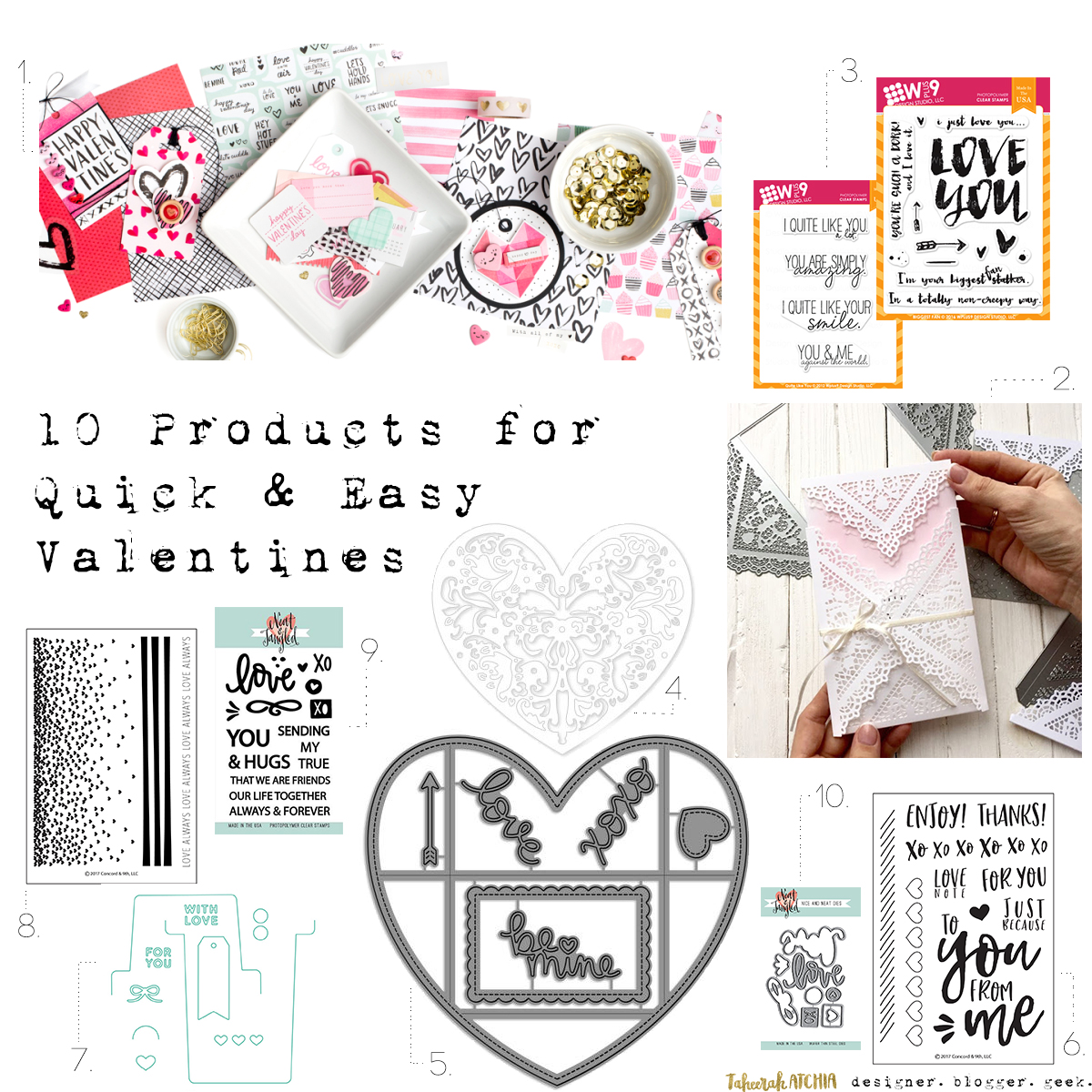 A yummy collection of goodies if ever I saw one! Let's run them down:
Crate Paper Heart Day Collection
I love pretty much everything Crate Paper does. Their latest love-themed collection was released last October and I've been drooling over those papers and embellishments ever since.
Doily Envelope Die by Neat & Tangled
A Neat & Tangled exclusive that flew off the shelves the moment it was released. This super-clever die cuts the most exquisitely detailed envelope.
Biggest Fan and Quite Like You Stamp Sets by WPlus9
I love when you can add quirky sentiments to a project and these stamps are big on awesome, small on the wallet.
Heart Doily Die by Clear And Simple Stamps
I love love *love* this amazing doily die. Perfect for statement pieces, impressing onto a card front, and even place settings.
Stitched Heart Envelope Die by Lawn Fawn
This has to be the cleverest die I've ever seen. It cuts an awesome heart shape which you then fold into the cutest little envelopes! Not only that but it comes with some great companion dies too!
Love Notes Stamp Set by Concord & 9th
I am just swooning over the font in this set. That plus a few cute accent images make this baby really versatile.
Love Notes Envelope Die Set by Concord & 9th
Another clever collection of dies, this one features two easy-to-line-up pieces to create a money-style envelope, and again contains a bunch of awesome accents too.
Love Always Stamp Set by Concord & 9th
Okay, you're noticing a bit of a theme here. I have to confess to having fallen quite hard for a lot of the love-themed products that Concord & 9th have released. This one, with its shower of tiny hearts, is a total winner.
Love Notes Stamp Set by Neat & Tangled
Another recent release, I love the graphic mix of fonts and little accents. Super fun.
Love Notes Die Set by Neat & Tangled
Chock full of complimentary dies to match its namesake stamp set, this one can also be used for standalone accents too.
So, there you have it – a collection of products that are perfect for producing Quick & Easy Valentine's with a Big Impact. It has to be said it was quite hard to narrow down this list, so I've included a products list below: that also includes some of my other favourites:
I hope you'll join me later today to see some of these favourites in use! Catch you later!