Hey everyone! Happy Wednesday!
You may have noticed that wood is still trending quite strongly in papercrafting and in other industries. It's a wonderful warm look and adds a real sense of tactility to a project. Whether it's wooden elements or just the look of wood, having that element really can bring a touch of 'wow' to your work.
So when Spellbinders offered to send me their latest Card Kit of The Month for this month (May) and I found that one of the items included in it was an awesome wood patterned paper I just knew I had to put it to good use! And that's not all the kit contains, of course! With an overflowing box of goodies this kit really gives you great bang for your buck and contains enough supplies to create a ton of cards!
In case you haven't heard of it, the Spellbinders Card Kit of The Month is one of several subscriptions that Spellbinders offer. This particular type of kit retails for $30 but of course contains items that easily surpass that value!
This particular kit contains:
10 cards & 10 envelopes; 11 sheets of 8 1/2″ x 11″ cardstock/paper; a set of 6 dies; 5 colours of ribbon; tags, tickets, sequins, wood sentiments (eek!), flowers, embellishments; die-cut shapes; sentiments; and even a roll of adhesive tape & a sheet of foam squares! It really is a complete kit from top to toe!
And as this kit is part of a monthly subscription so you don't have to scramble to buy a new release before it sells out! Awesome right?!
As I said, I really wanted to play with the wood patterned paper in the kit – but I also wanted to break out several other items too! Here's what I came up with: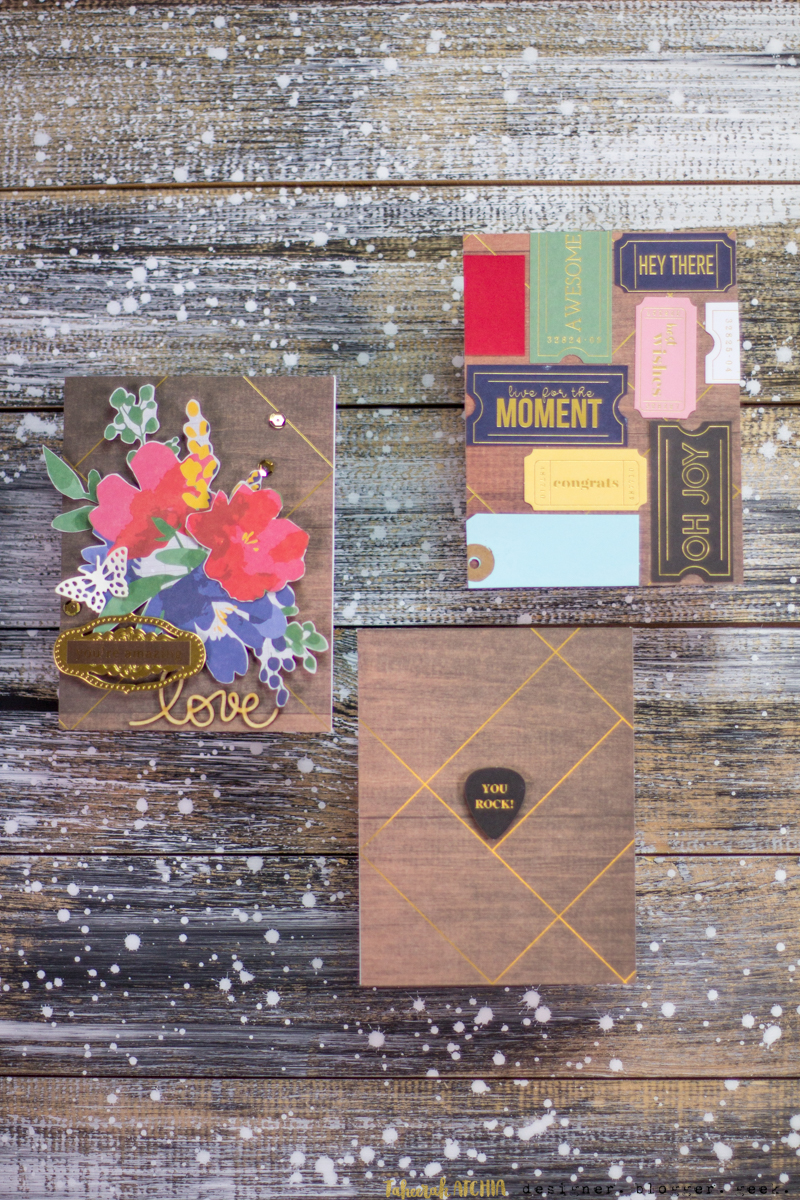 Aren't these awesome?! Even with just one background design I was able to get three completely different looks!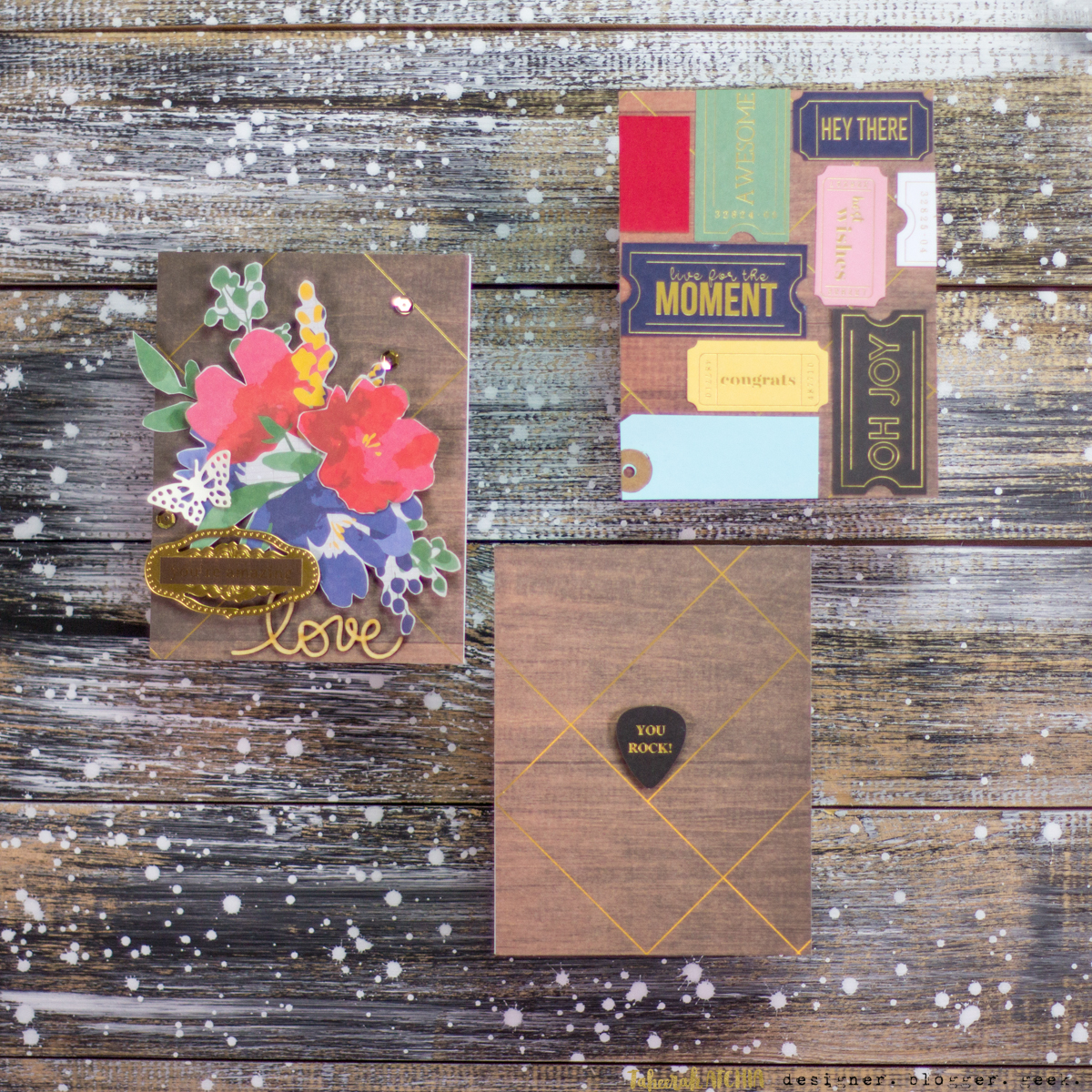 Each of these cards uses a white card base from the kit, with the wood patterned paper trimmed to cover the entire card front. Then I played 'dress up', with different amounts and layers of embellishments to complete my designs!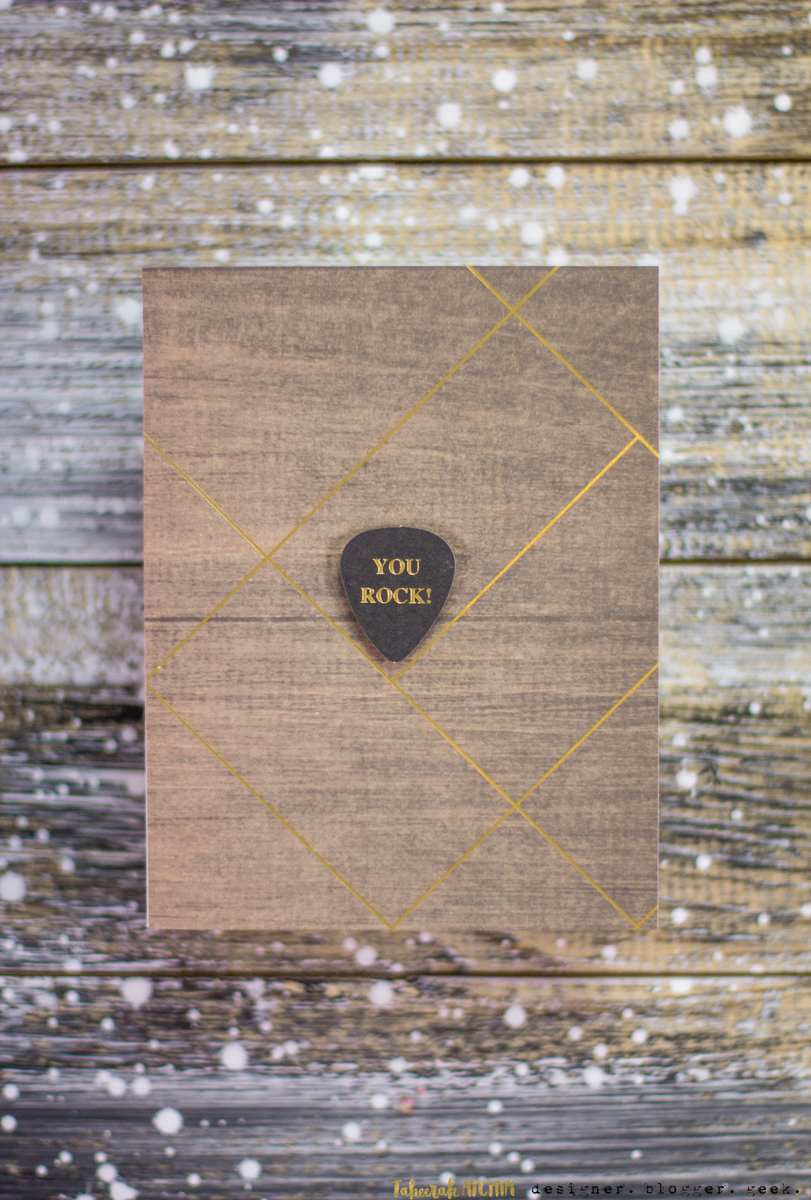 My first card is wonderfully CAS! Background plus die cut embellishment = simple and chic, and a perfect masculine card! Seriously isn't that guitar pick/plectrum the best?!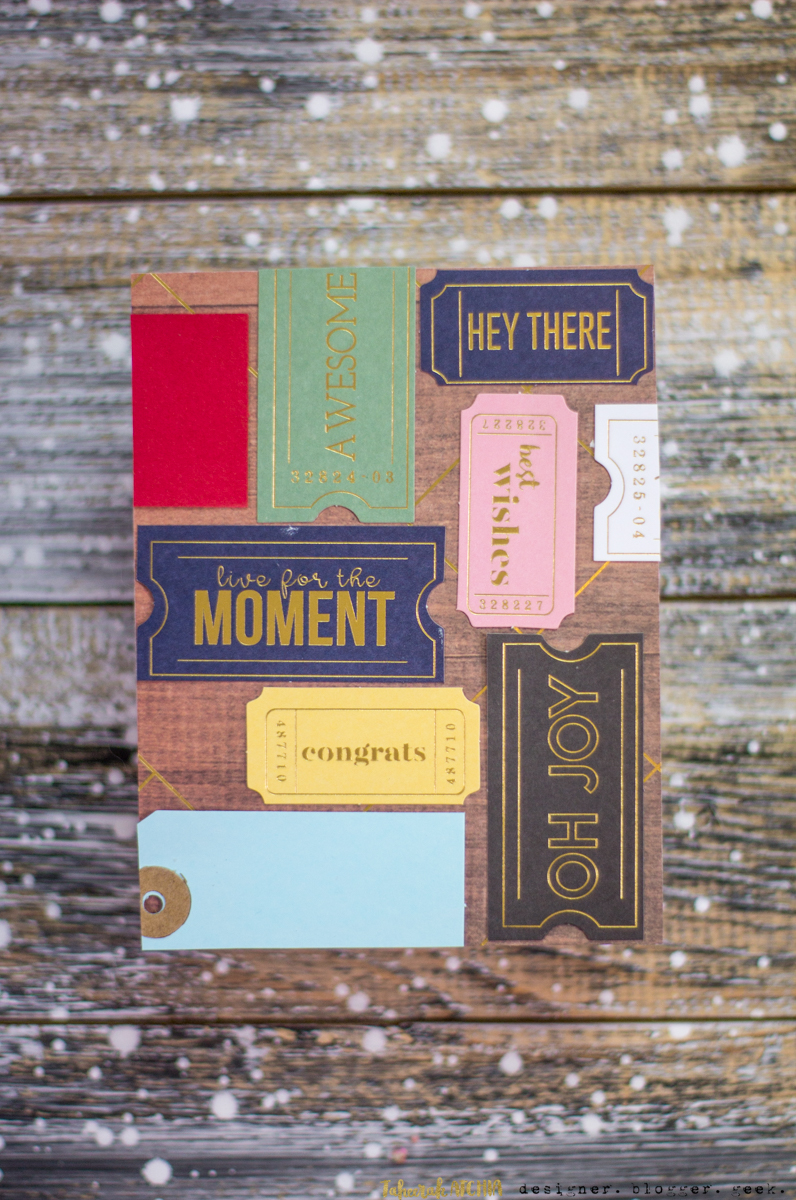 My second card pulled out loads of the different tag and ticket embellishments and used them for a fun, collage-style design!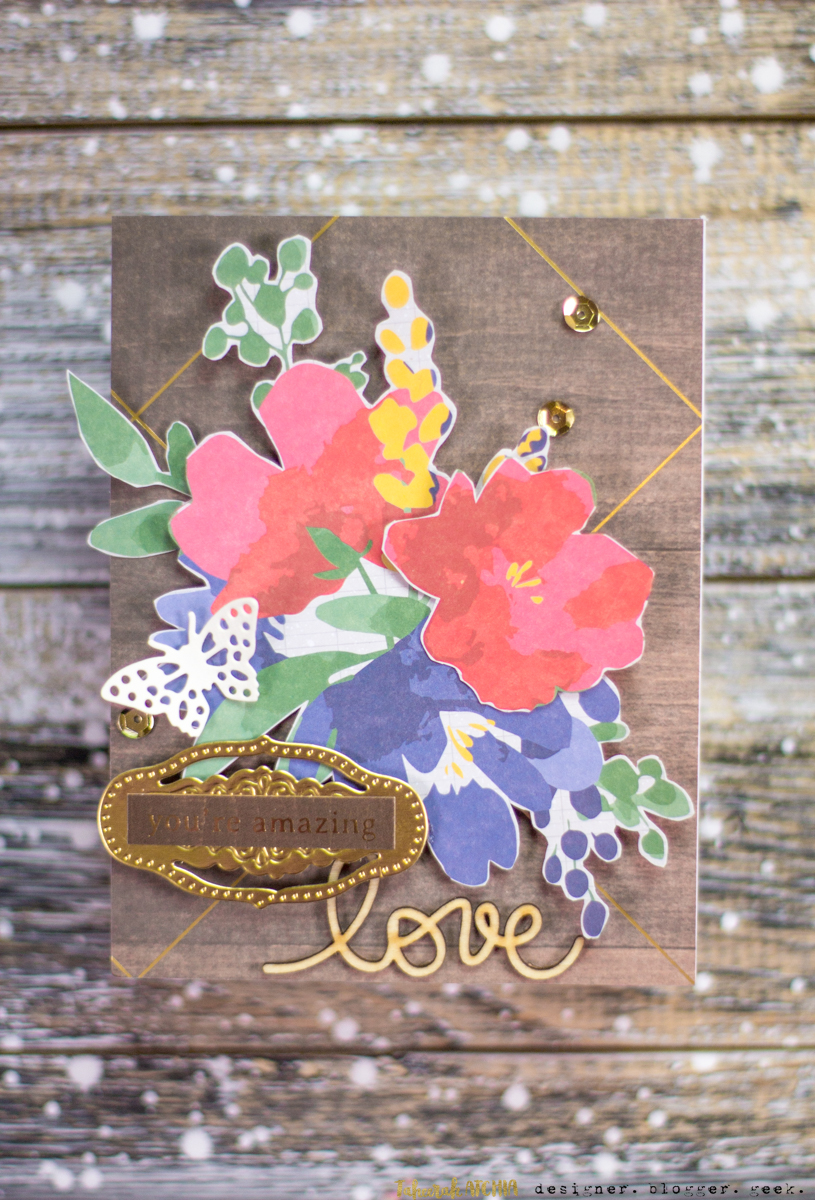 My final design is full of fun layers! The flowers are from another patterned paper design in the kit, which I fussy cut and layered for some dimension.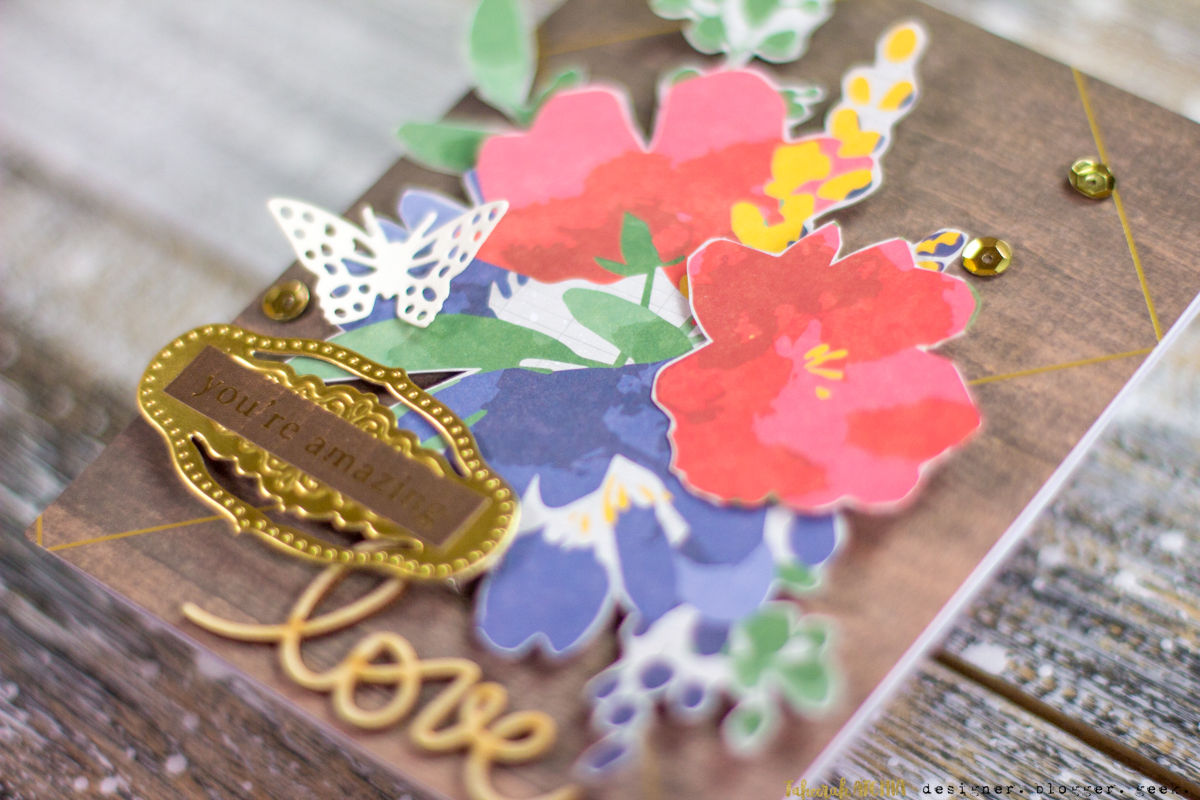 Some other fun embellishments round out the look perfectly, and the frame and butterfly were die cut using part of the awesome six-piece die collection included in the kit too!
I can fully recommend the Spellbinders Card Kit of the Month Collections – they're varied, fun, excellent quality, and very, very moreish. Be sure to check them out and don't hesitate to grab a subscription so you don't miss out!
Thanks for stopping by!
Supplies