Hey everyone! Happy Wednesday!
Don't you just love happy accidents?
Also known as, I need to get my eyesight checked.
Why, you might ask? Well, it has something to do with mistaking fish for flowers.
I kid you not.
When it came to choosing a few sets to play with from The Ton's Spring 2018 release, I really was spoilt for choice! Effie is a master at creating amazing stamp sets, and when I first glanced at the release I picked out what I thought were three floral sets. Turns out one of the sets featured fish, not flowers.
Don't ask me how I made this mistake. I'm gonna blame it on fatigue or being between several things when I made my selection. But really, I think I just didn't have a clue what a Betta was and assumed it was some type of flower I'd never heard of. I'd heard of Siamese Fighting Fish, but had never heard to them being referred to as Betta Fish.
Thankfully I spoke with Effie when my goodies arrived, and a casual conversation about the sets led to me learning something new – luckily before I committed design to paper!
Anyway, let's move on and never speak of this moment of idiocy again.
I have a couple of cards for you today for The Ton's release, and a fun giveaway to boot! Let's get straight to it!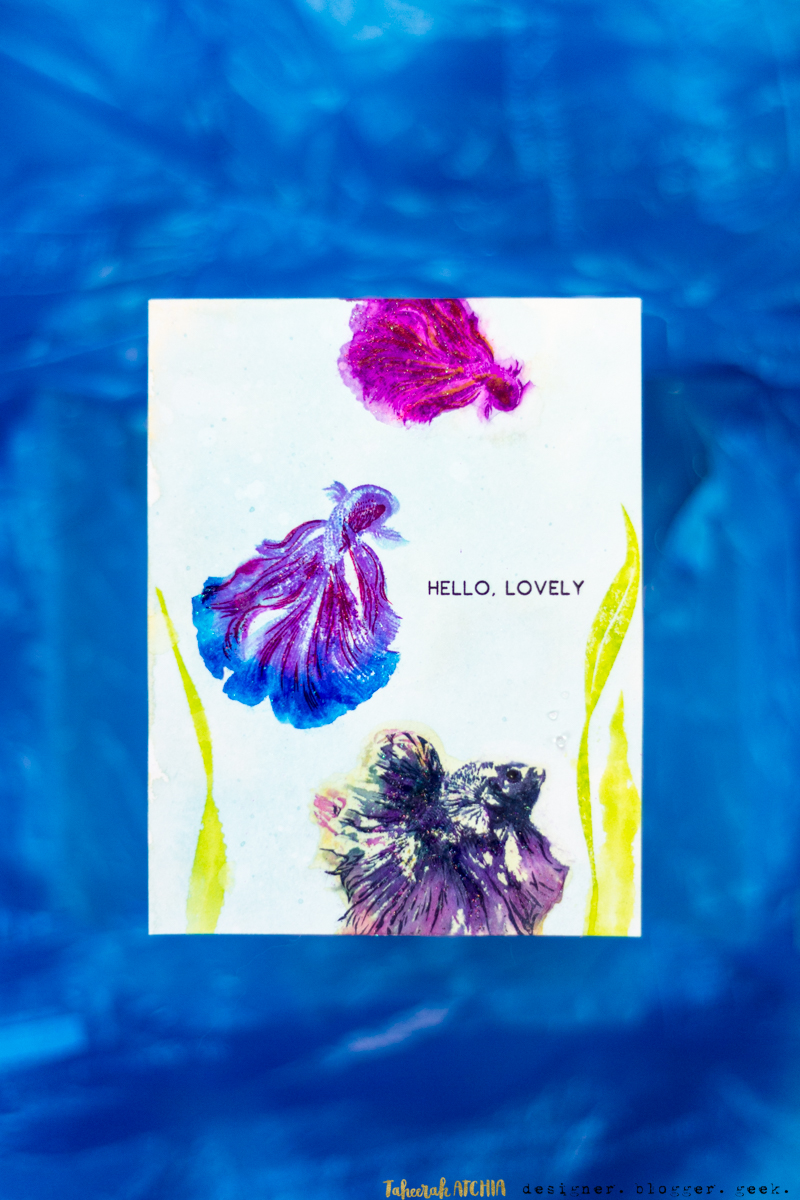 I'm starting with that amazing Beautiful Bettas stamp set and created this awesome underwater scene! Seriously, aren't these fish amazing? So beautiful and realistic!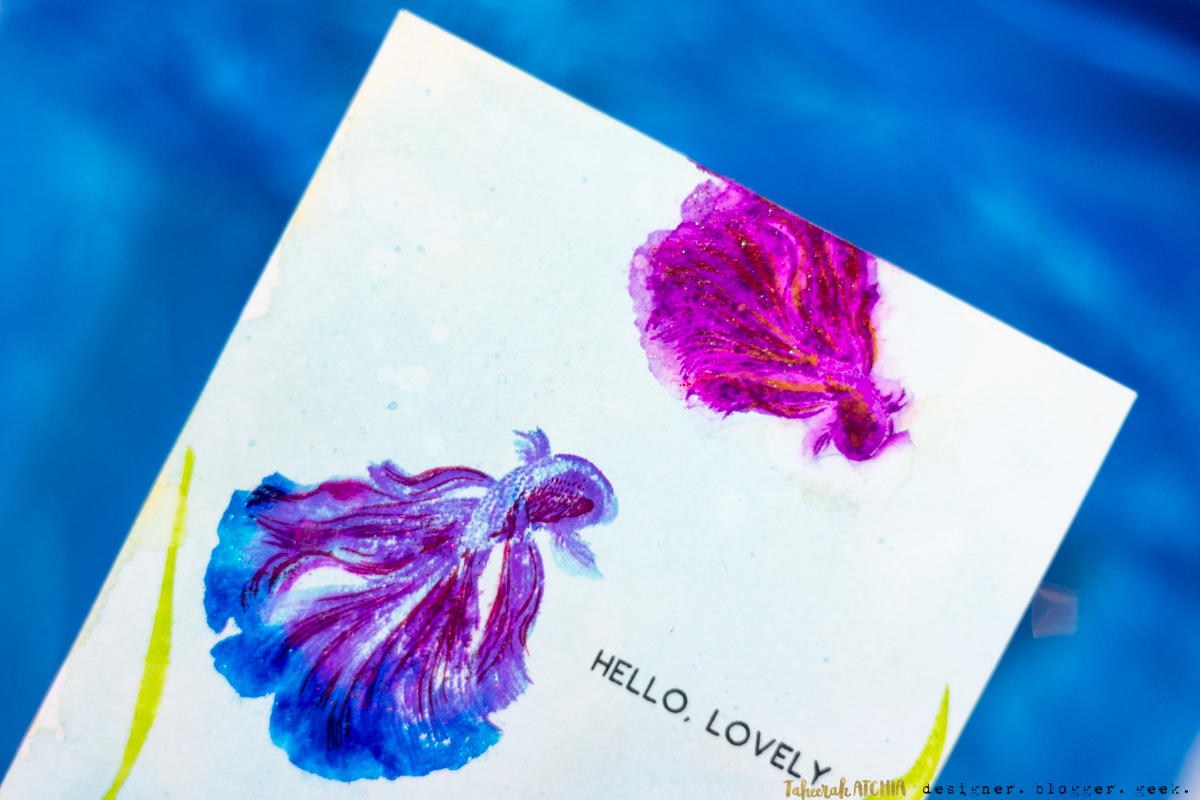 I started with creating a pale blue watercolour was on my card panel, complete with splatters and water droplets!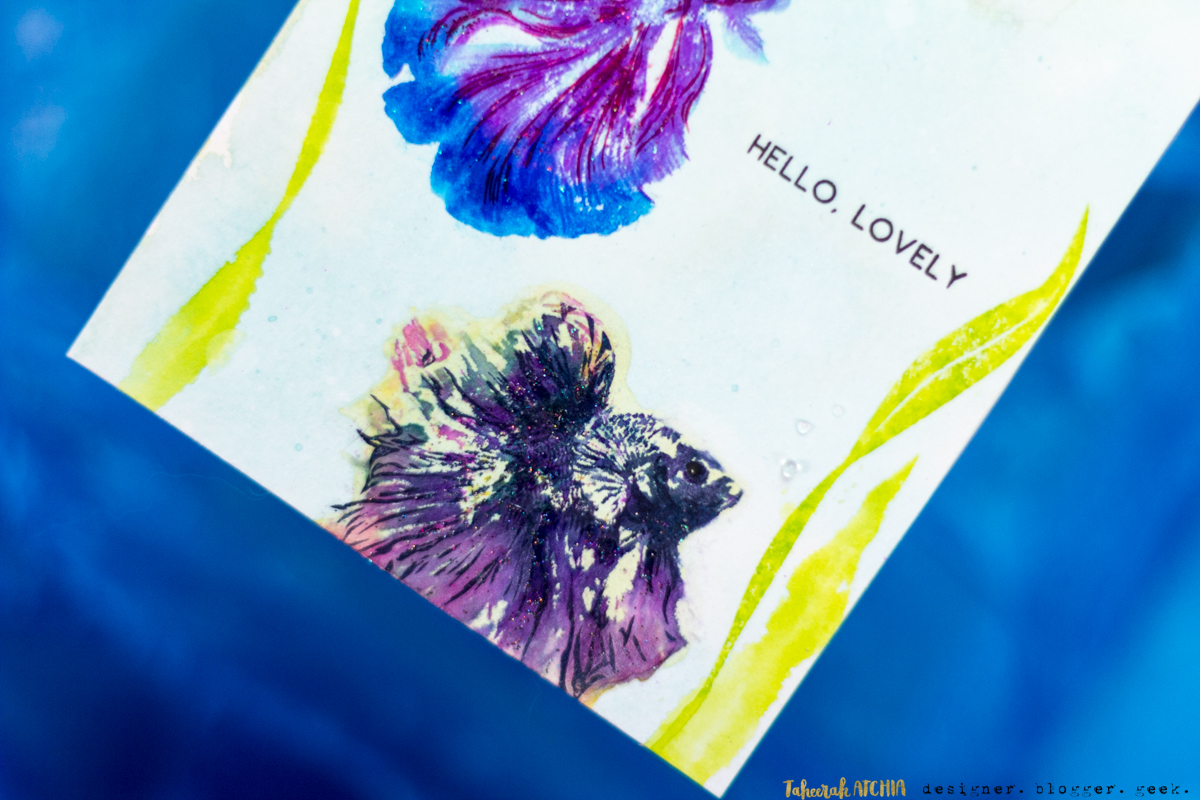 I stamped each of the fish with various combinations of ink, spritzing my stamp with water for the first two layers for a beautiful watercolour-like blend! This large guy has my favourite combo, so I had to give him some Nuvo Crystal Drops water bubbles to honour him!
I added some Nuvo Glitter Drops in a few different colours to each fish, and also used my Wink of Stella brush marker to add some shimmer to the water too! I wish you could see all that shimmer and sparkle in real life – the pictures really don't do it justice!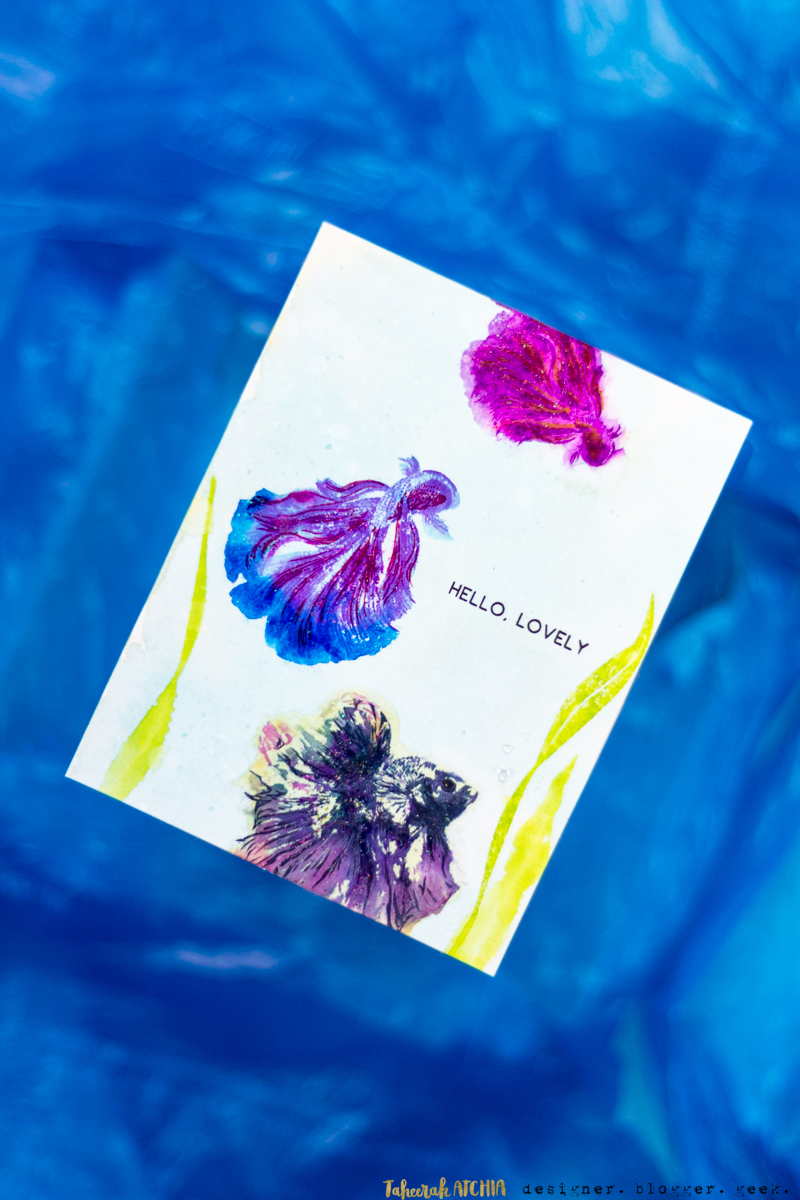 Gotta say I'm really glad I accidentally chose this set – it is so stunning!
My second card uses the Dahlia Bouquet stamp set and taps into my new (rediscovered) love of floral stamps: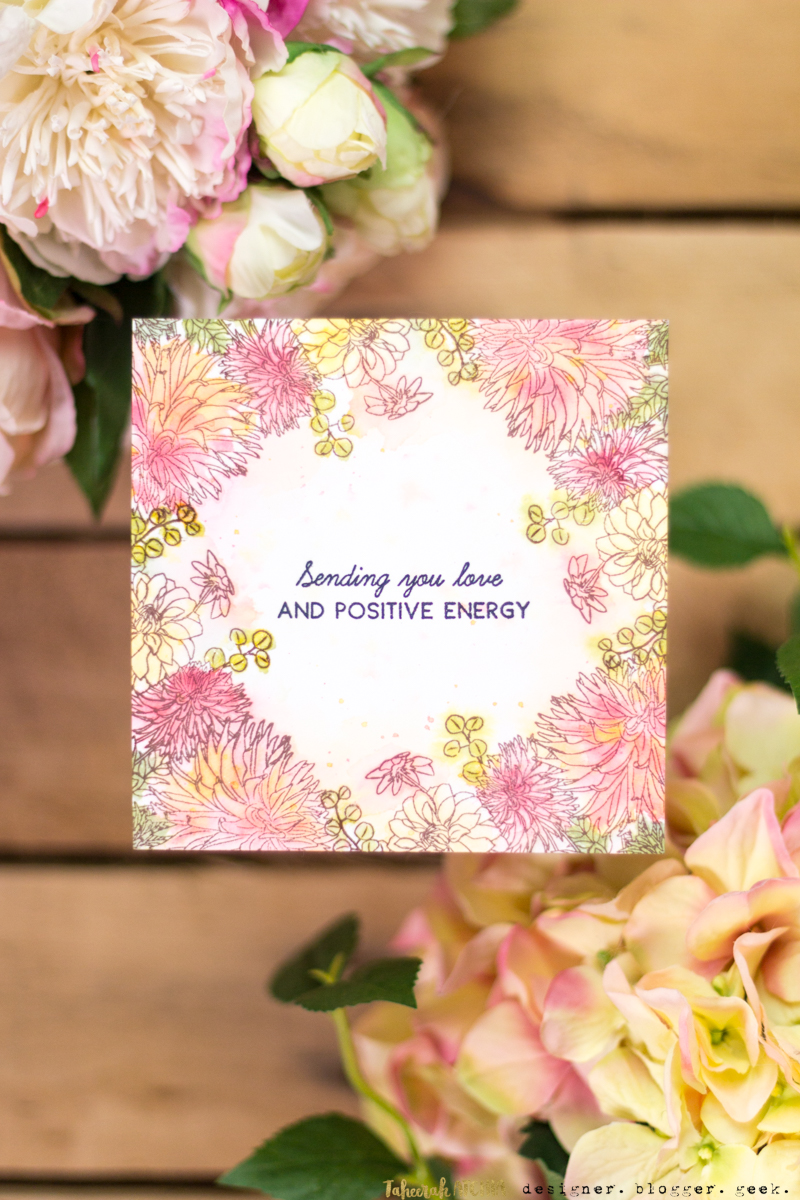 I stamped just a portion of the bouquet in the corner of my cardstock, then stamped it 3 more times, rotated the cardstock by 90 degrees in my MISTI. Perfect placement every time – thank you MISTI!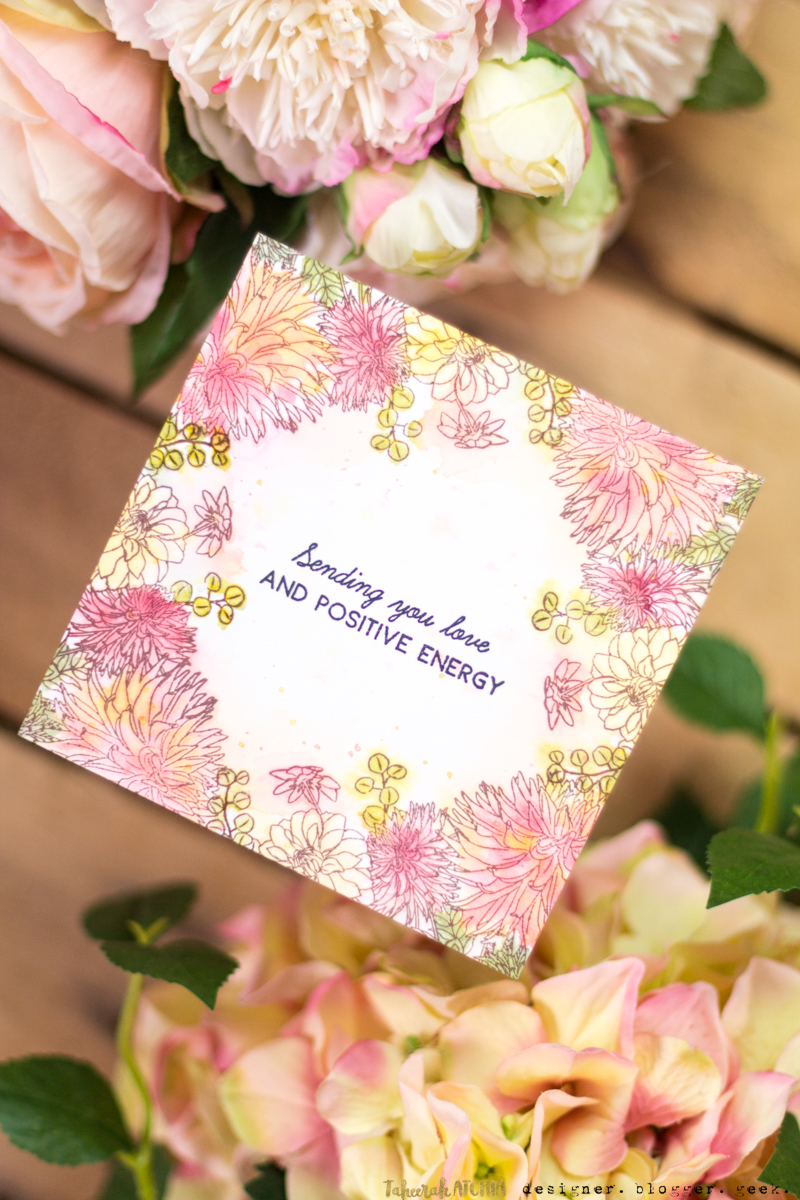 I did some loose watercolouring of the florals, and added a few little shimmer and Nuvo Drops details to accent the results and help lift the design.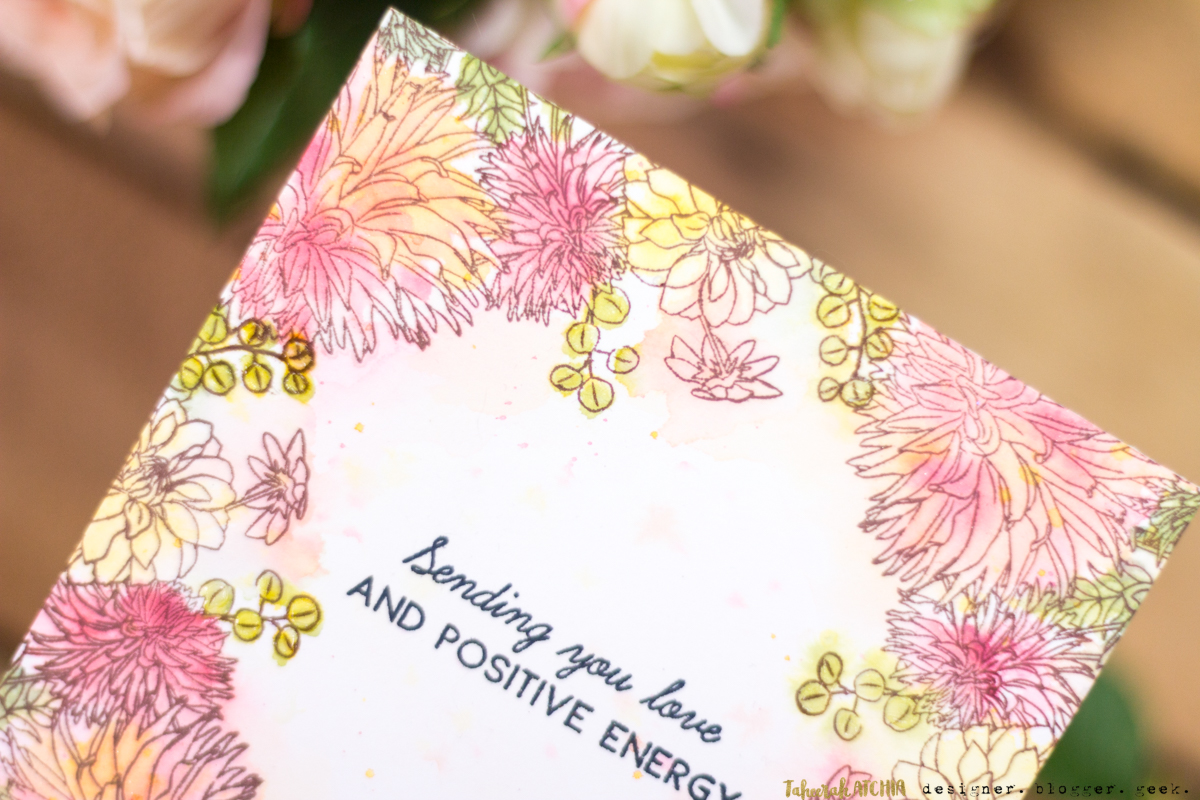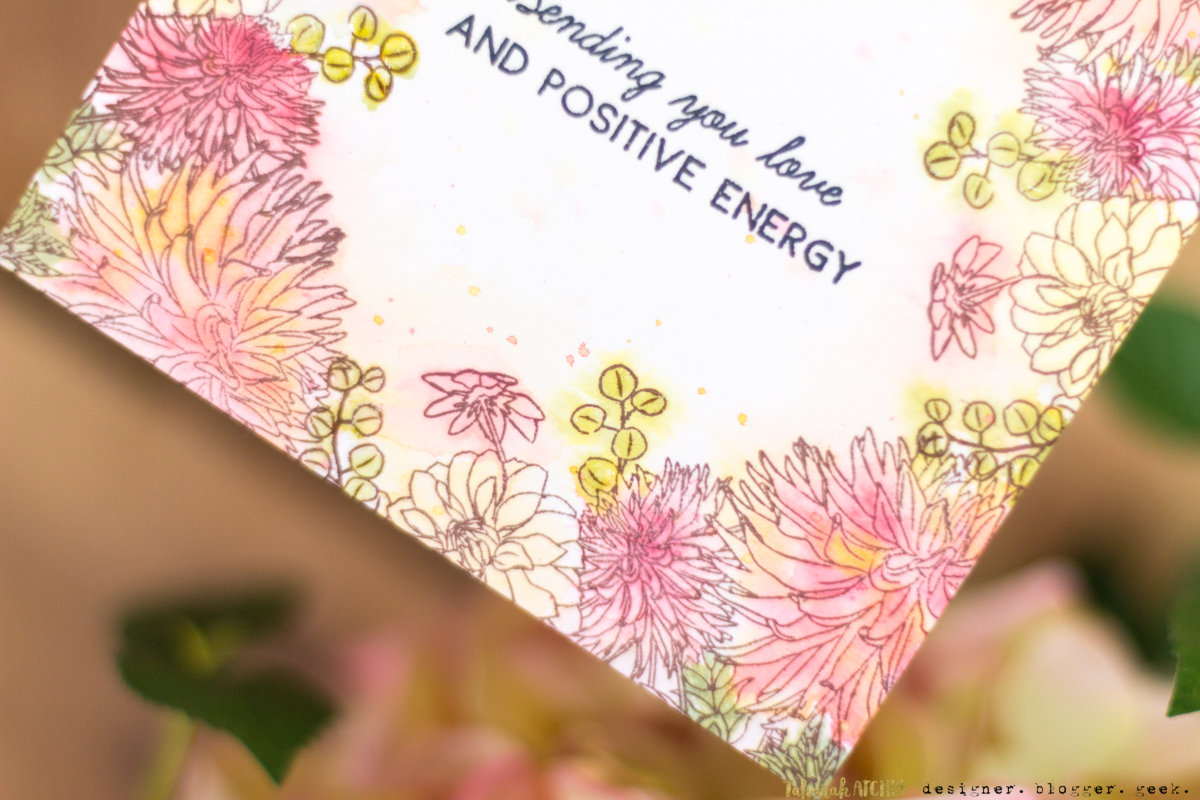 This is quite a muted palette for me as I was going for a more vintage feel, but I still wanted it to have some glam!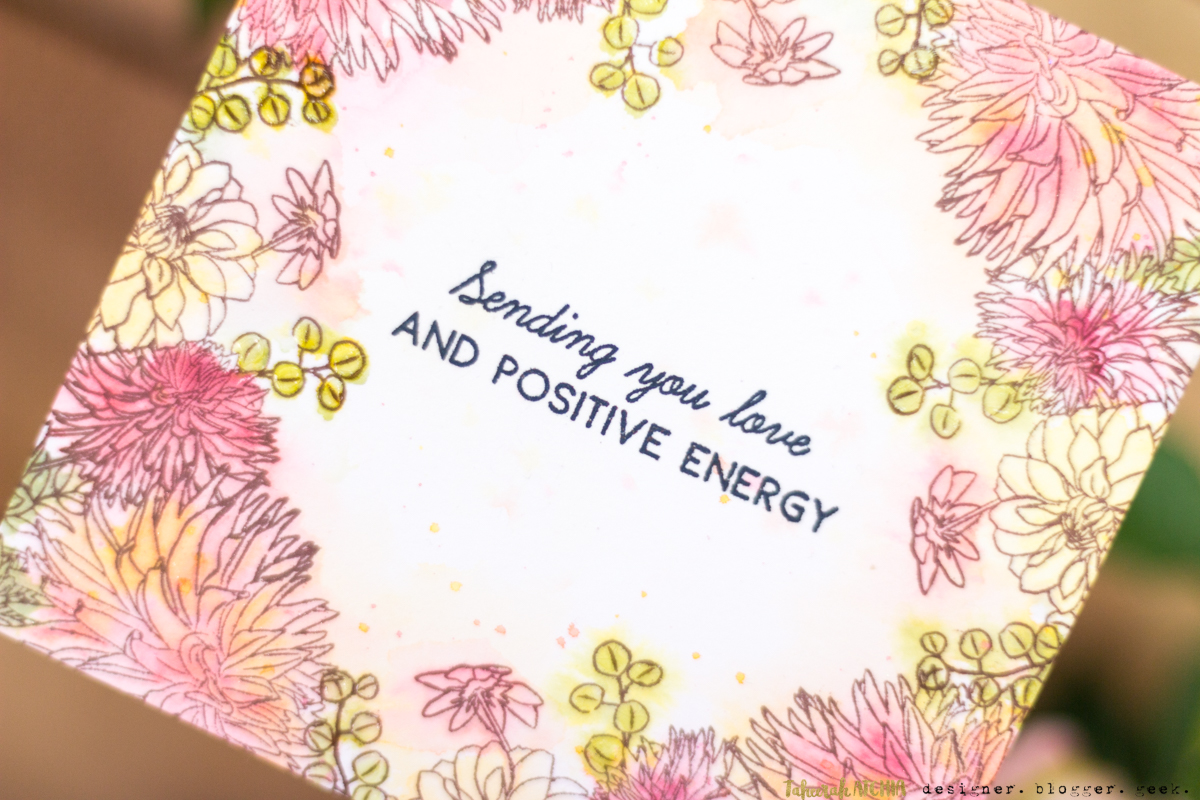 I combined two colours of the Versafine Clair inks to make a sort of custom blue-black colour for my sentiment. A really fun way to stretch your inks! 
Giveaway!
So it really wouldn't be an Blog Hop without a prize! The Ton is celebrating their release with the following prizes up for grabs:
Three new release stamps will be given away to random commenters from the hop participant blogs. To qualify, you must leave a comment on The Ton Blog Hop post. The comment period will close on Friday 6th April at 5pm EST. Winners will be announced thereafter on The Ton's blog.
How awesome is that?!
Here is your hop order:
The Ton
Taheerah Atchia
Mayline Jung
Kymona Tracey
Justine Hovey
Brenda Noelke
Svitlana Shayevich
Lisa Harrolle
Laura Sterckx
Amy Tsuruta
Olga Matyushevskaya
Laurel Beard
Anna Kutsenko
Kay Miller
Vera Yates
Dana Gong
Renee Day
LauraJane
Ilina Crouse
Tae Eun Yoo
Amy Kolling
Eunji Jung
Janette Kausen
See More From The Ton!
The Ton has 14 new stamps, coordinating dies and 5 standalone dies for their new Spring 2018 Release which includes up to two free gifts with purchases (GWP). For more information on The Ton's incentive gifts, head over to 
The Ton's blog
. New release products can be purchased now and all new release orders will begin to ship on Monday 9th April 2018.
Thanks for stopping by – and good luck!
Supplies
Hello, Lovely Siamese Fighting Betta Fish Card
Sending Love And Positive Energy Floral Card