Hey everyone! Happy Tuesday!
Tap, tap – is this thing on?
Yes, it's been such an eternity since I posted anything that you'd be forgiven for forgetting I actually exist! So allow me to reintroduce myself: I'm Taheerah, and I used to be far better at being a part of the papercrafting community than I have been recently. Let's just say that life and a few issues have been putting paid to that quite a bit. In fact, I had been considering my place in the papercrafting world, and had been coming close to hanging up my heat tool, secreting my scissors, and shying away from my stamps altogether.
So it took something rather special to break me out of my funk and back into creating. And that something special goes by the name of Ruby.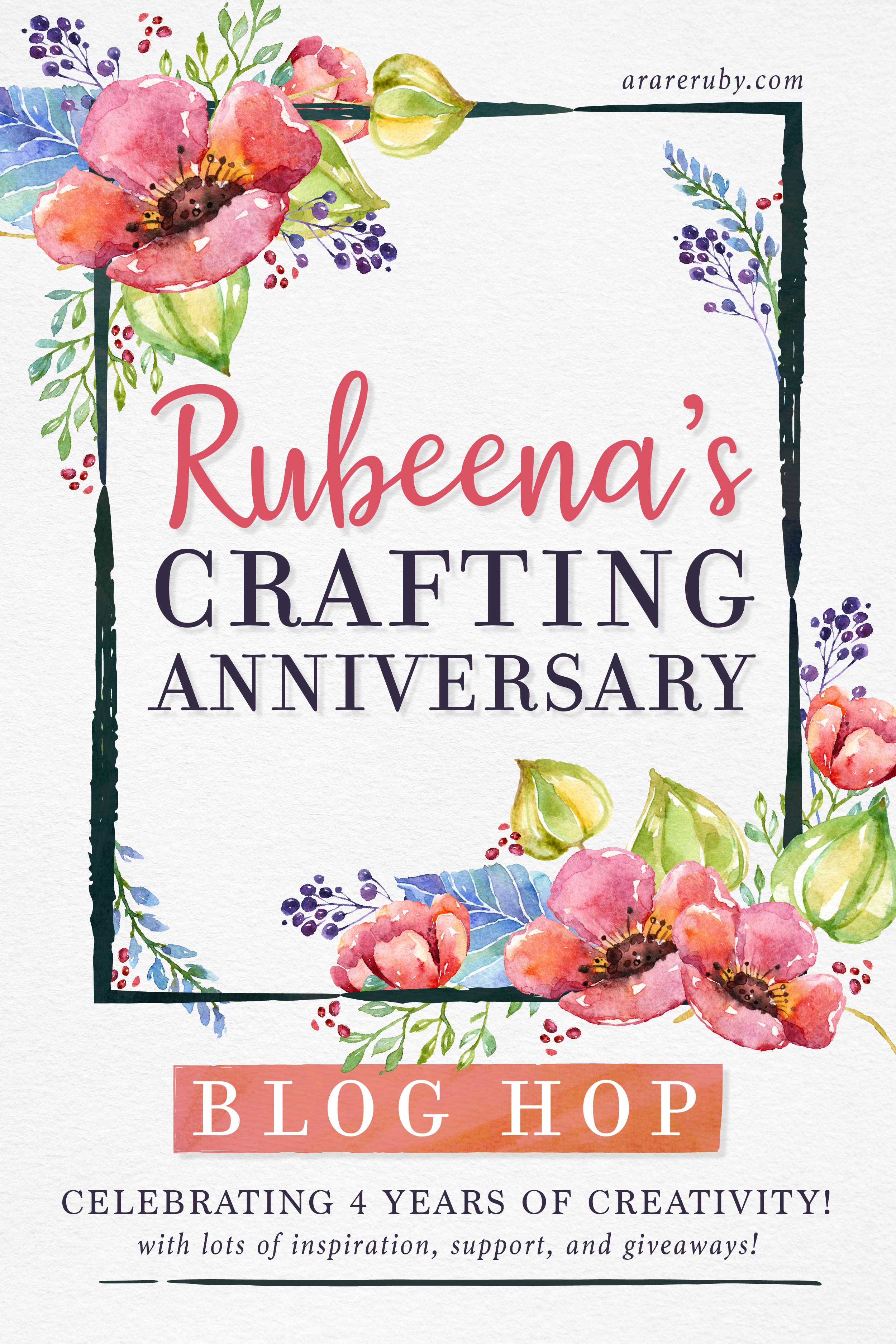 You're probably more than aware of the amazing and awesome talent that is Rubeena Ianigro – she has, after all, been setting the place ablaze with her talent, her style, and her infectious humour. So when she asked me if I'd help her celebrate her 4 year blogging anniversary, I just had to say yes!
So welcome!
Welcome to Rubeena's Crafting Anniversary 2-Day Blog Hop! This hop is epic with more than 70 guests and over $1,000 in sponsored prizes! Not only are we celebrating four years since Rubeena first discovered cardmaking but also crafting in general. This industry is made up of wonderful individuals who are creative, inspirational, kind, and incredibly supportive! Hop along so you can learn about why we create and how much joy it brings us!
So seeing as we're celebrating crafting, I thought I'd talk about what it means to me, and why I love it so much.
To me, crafting has always been a way for me to express myself through art. I see it as anything from a technical exercise, to something to do with my hands to balance out all the cerebral stuff I do at work, to just having fun and seeing where the supplies take me. Through this 'hobby' I found the industry and the amazingly talented individuals that inhabit it. I've seen dizzying heights when my star was in the ascendency, to quieter periods where I've questioned whether I even belong her anymore. But one thing that has always kept my soul fed, was the inspiration and joy of others' work, and the kind souls I've encountered in my journey. I may not be one of the 'big names' – but I won't ever forget some of the industry's biggest hearts. Like Ruby's.
So, before I get all existential again, let's have a pretty card!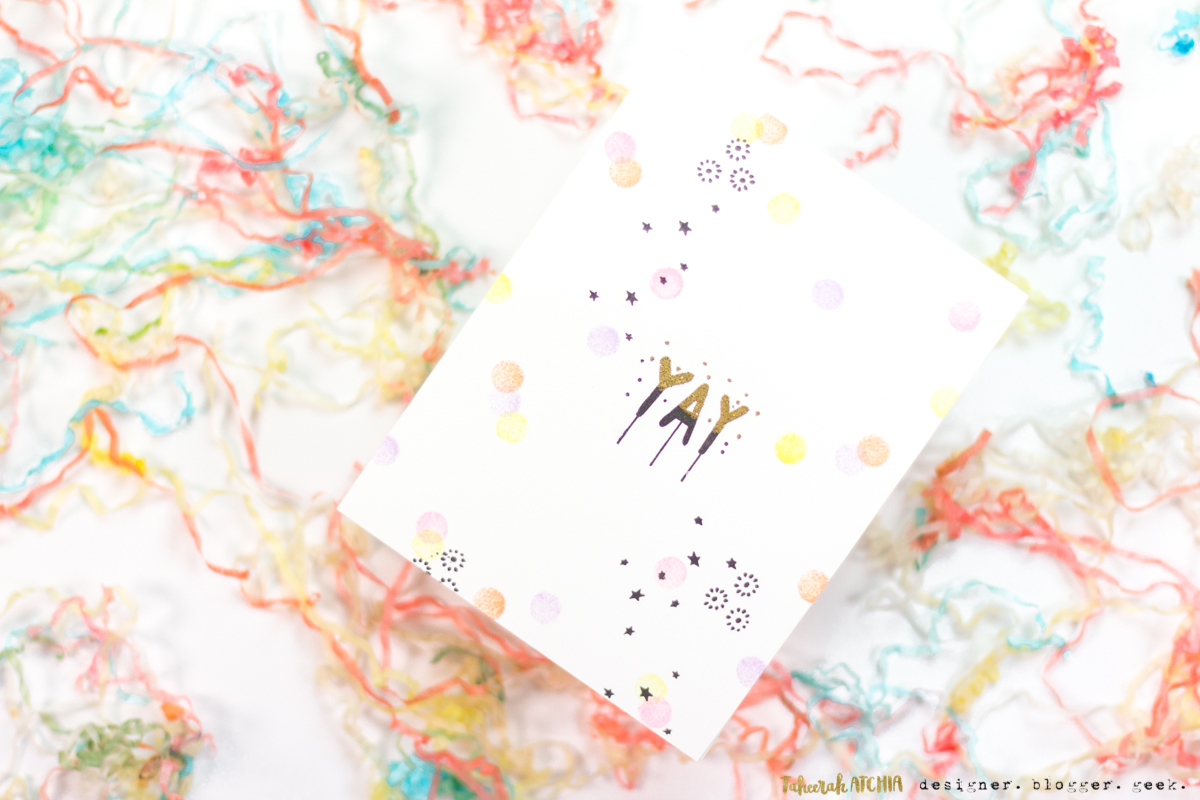 Well, this event called for a celebration so here's my celebration on a card!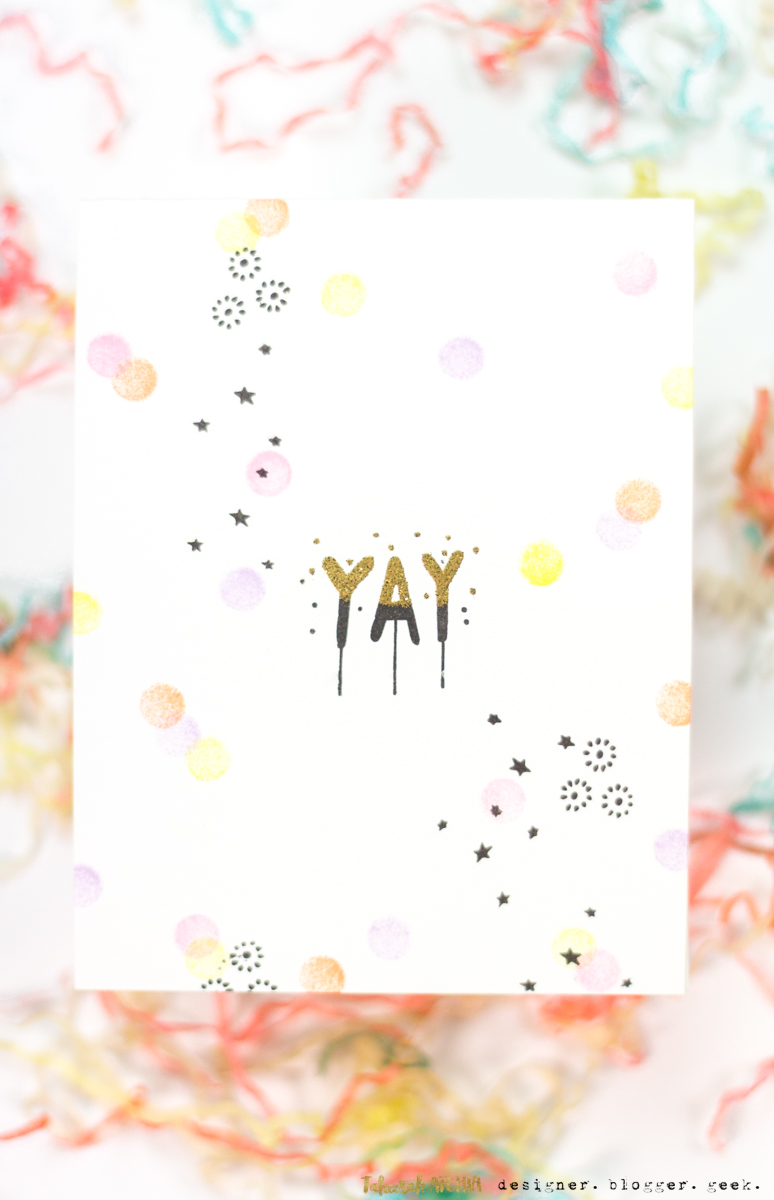 I used some Ranger Detail Blending Tools to add pops of colour to my card base using some of my favourite inks from Catherine Pooler. I love these inks so much!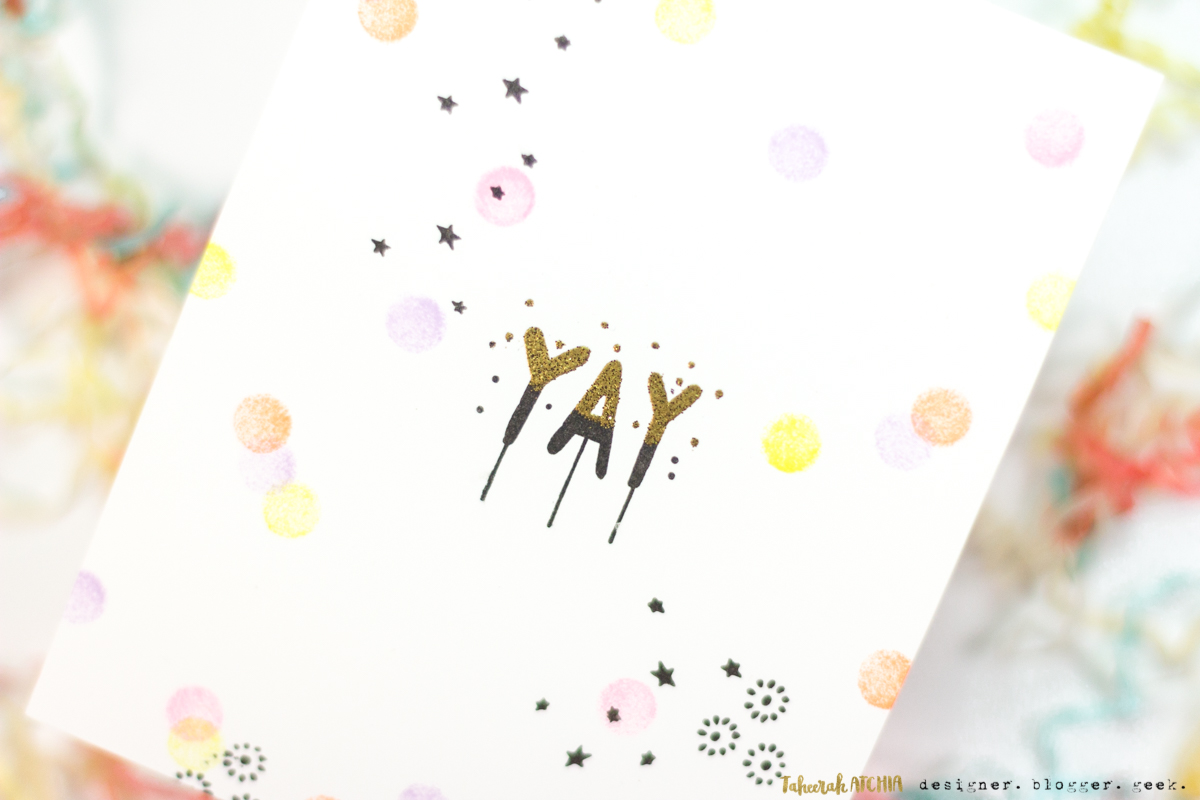 I added sentiment, stars and little circly things (sorry, I really can't think of the names of them!) from the Pinkfresh Studio Sweet Treats stamp set. I also built a multi-layer cake which was originally going to adorn this card, but I settled for just the 'YAY' topper instead, which I partially heat embossed with sparkly gold embossing powder. This card is perfectly 'me' in its style – bold, bright, trendy, and fun!
Giveaways!
So it wouldn't be a party without prizes! Ruby has pulled out all the stops to secure you some amazing prizes!
In celebration of this anniversary, we have several amazing sponsors. Let's thank them for their generosity! Winners will be randomly selected from comments left on all the blogs. The winners will be announced by Wednesday, September 5 on this page. Winners will have up to 2 weeks to contact Rubeena at [email protected] to claim their prize before another winner is selected.
Let's take a look at what you could win, shall we?
Holy prize bonanza, Batman!
All you need to do to be in with a chance to win is to visit all the destinations on the Hop and leave a comment on each one!
Here's your Hop order for today:
Rubeena Ianigro
The Stamp Market Blog
Jessica Frost-Ballas
Nina-Marie Trapani
Neat & Tangled Blog
Cheiron Brandon
Tania Ahmed
Laurie Willison
Barb Engler
Janette Kausen
Carly Tee Minner
Nichol Spohr
Amy Tsuruta
Mayline Jung
Emily Midgett
Kelly Griglione
Caly Person
Stephanie Klauck
Tracy Freeman
Dana Joy
Erica A-B
Channin Pelletier
Kimberly Wiener
Marcie Sharp
Rowena Miniaci
Sharna Waksmulski
Laurel Beard
Miriam Prantner
Leanne West
Tracey McNeely
Marge Yoon
Ankita Gupta
Justine Hovey
Taheerah Atchia
Kimberly Crawford
Lisa Hetrick
Laura Jane
Michele Ferguson
Talk about talent! I'm sure you recognise many famous names there!
I want to thank Ruby once again for inviting me to her Hop, and for just generally being awesome. Happy crafting Anniversary Ruby! Here's to many more!
Thanks for stopping by!
Supplies