Evening all!
Well, tonight is the Papertrey Blog Hop! Are you all as excited as I am?!! Thank you for stopping by and taking time to visit my creation!!
Well, let's get down to business shall we?! This month's challenge was to use buttons in any way we wanted! I *adore* PTI buttons – their sizes, shapes, colours, all those little special ones we get in the packets that have glitter and just the general all-round yumminess of them!! So I couldn't wait to get stuck in!!
I decided to also combine the Blog Hop Challenge with the latest Poppy Seed Challenge:
I really love the idea behind Lisa's Challenge! Because we only have these three seeds it leaves everything else open to interpretation and inspiration!!
I had a think and a play, and finally opted for this colourful creation, featuring my set of the moment – Cupcake Collection!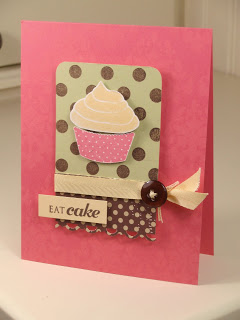 Ah, doesn't that look yummy to you?!! I love the colours and warmth in this card!!
I started with a Berry Sorbet card base which was stamped, front and back, with Damask Designs using Sweet Blush ink. This gave a lovely damask effect I thought – subtle, two-tone and just enough to take a bit of heat out of the overall colour. Love how it turned out!!
I decided to opt for a yellow cupcake frosting and stamped the top with Lemon Tart ink onto Rustic White cardstock. See what a job reinking does?! How bright and zesty is that Lemon Tart?! I paired the top with a Berry Sorbet lining, stamped again onto Rustic White cardstock. I cut both out carefully for later assembly.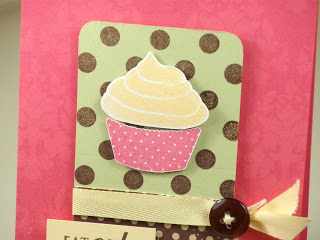 I used a mat of Spring Moss cardstock and stamped the dots from Polka Dot Basics I using Dark Chocolate. I remember how rubbish I was at lining up the pattern when I first got this set months and months ago, guess I must have improved my technique a lot as it came out lovely and aligned!!
I wanted a contrast for the bottom layer of my mat so I chose the polka dot patterned paper from Turning a New Leaf, which also mirrored the colour arrangement on the main mat. Love it when little details like that come together!! I punched the bottom with my SU! punch and adhered to the main mat with Scor Tape.
I decided I wanted quite a simple arrangement for my ribbon and button embellishment, so I tied a piece of Lemon Tart Twill around the mat and knotted at the side. I then threaded a Dark Chocolate button with matching embroidery floss and adhered in place with a Glue Dot, leaving the ends of the floss tailing out at the sides.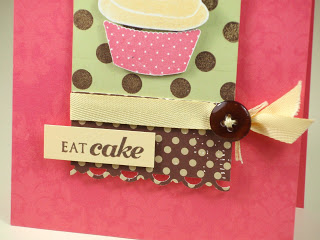 To finish I adhered the cupcake frosting and liner to the mat using Pinflair Glue Gel, stamped the sentiment on Lemon Tart cardstock with Dark Chocolate ink and adhered with Pinflair, and adhered the mat to the base with the same.
I'd absolutely love to hear what you think of this little beauty, your comments always make my day!! Thank you all for stopping by and I'll be sure to look at all your creations really soon!