Hey everyone!
Well, I'm *still* waiting for my Violets set to arrive, so you know what that means … ! Yep, yet *another* card featuring In Bloom! I hope you're not getting bored of these yet, hehe!
For someone who really never used to like orange I'm really digging it lately! I think I've learned to pair it with other colours in a way that doesn't make it stand out like a sore thumb, haha! For this creation I paired Orange Zest with Aqua Mist, with a good dose of white space to balance it out: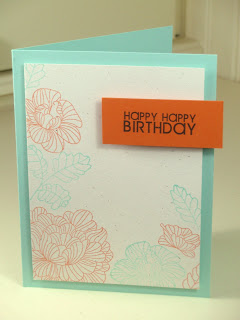 I really like how fresh this looks without being overpowering!! Another colour I just couldn't get around using was Aqua Mist but again I think I'm learning to love it now!
I kept this card nice and simple. I started with a Rustic White panel and stamped the blooms and leaves using Orange Zest and Aqua Mist inks. I wanted a sort of 'open frame' but to still keep a lot of white space. I might have learned to use orange but that doesn't mean I want it jumping out at me too much!!
I adhered the panel to an Aqua Mist card base with Pinflair Glue Gel to give it a bit of depth. Keeping with the simple theme I finished off the card with the sentiment from Fillable Frames #1, stamping it on Orange Zest cardstock using True Black ink, trimmed and adhered with a good dose of Pinflair to really lift it off the panel.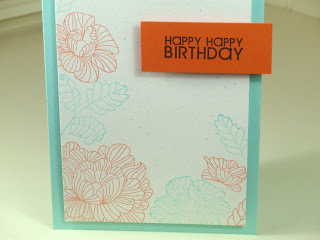 Tonight I'll be collecting my (first) March Release order – can't wait to get all those goodies home and start playing!! Thank you for stopping by and leaving some love if you've chosen to do so, you know how much I appreciate your kind words!
PS: I just wanted to end the post with some good news. I was lucky enough to be picked for an Honourable Mention for Lisa's Poppy Seed Challenge with my last card!! Thank you so much Lisa, it was the perfect start to the week for me and I'm on Cloud 9 and just thrilled to bits!!