Hey again everyone!
Well, what a fab release! A shame that the Forum died again but so thrilled that I managed to get everything on my list! Apart from the Daffodils set that is – I did see that one on the site but thought it was an error so didn't get it! Ah well, I'll catch it when it's back!!
Today I have a lovely card to show you featuring one of my very first sets. In fact it was the set that first hooked me on buying PTI stamps: Cupcake Collection. I just love these cute cupcakes and PTI's ones are just perfect, so much nicer a design and more options than any of the other cupcake sets out there!
I also wanted to try a different colour combination so I decided to base this card on Melissa Phillips' Photo Colour Challenge from a little while back: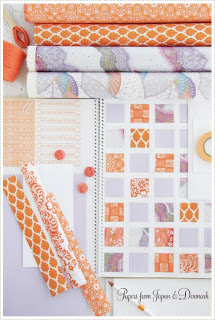 I just love lilacs, lavenders and purples, and really welcomed the chance to pair them with a less conventional match in the oranges! Here's what I came up with: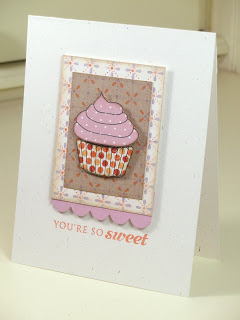 Okay, so I cheated a little and added some Kraft, but I think I should be allowed to get away with that don't you?! I just love how this little darling turned out and it keeps making me hungry whenever I look at it!
I started by stamping the cupcake frosting onto Lavender Moon Bitty Dot Basics paper using True Black ink. I then cut out carefully and edged with VintageTouch Tea Dye Duo. I ordered 3 lots of this with this month's release as I go through them really fast and my current ones are pretty much dead!!
I stamped the cupcake liner onto Autumn Abundance patterned paper, added a small amount of shading with Copics then cut out and edged in the same manner as above. I love how the coloured polka dots on the case contrast with the white dots on the frosting!
I then set about creating my Kraft panel. This was stamped with two different stamps from Background Basics: Tin Type using Orange Zest and Plum Pudding inks. I stamped these straight but then cut the rectangle at 45 degrees to that so the pattern was rotated. I edged that panel with the Tea Dye Duo as well.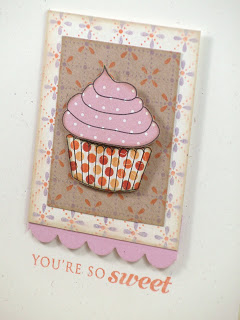 For the Rustic White panel I stamped with the same stamps but swapped the colours around and kept the orientation normal. I edged with the Tea Dye Duo again then adhered the Kraft panel onto it with Scor Tape. This gives a nice co-ordinating pattern on both layers but still a contrast/difference to keep things interesting.
I adhered the cupcake top and bottom to the panel using Pinflair. I love using this glue for cases just like this as I was able to alter the height just subtlely between the two layers. I find I get a lot more control with the glue than I ever have with foam pads.
I die cut some Lavender Moon cardstock using the small scalloped die then trimmed and adhered to my panel, then mounted the whole thing onto my Rustic White card base using more Pinflair. Finally I stamped my sentiment from Cupcake Collection using Orange Zest ink. I have to say I didn't really favour this colour at first as it just seemed too bright an orange for me to get on with, but now I've actually used it more I love the shade it is!
So what do you think of this creation? I had such fun creating it and really love how that colour combo worked out! Thank you for stopping by and leaving some love if you've chosen to do so, really brightens my day to read your sweet comments!