Hi everyone! Happy Friday!
We had one (commercialised) celebration of love this week. But if, like me, you don't really buy into Valentine's Day and you believe that love is a series of actions that should be demonstrated every day, then Wednesday would have just been a normal everyday kinda day. True love is something that should be expressed every day in a thousand little ways and some big ways too when you can squeeze them in!
It's with that spirit that I set about creating something for the Winnie & Walter 4th Birthday Bash Hop which could be used for those little expressions of love, and that don't wait to rely on a contrived reason to be used: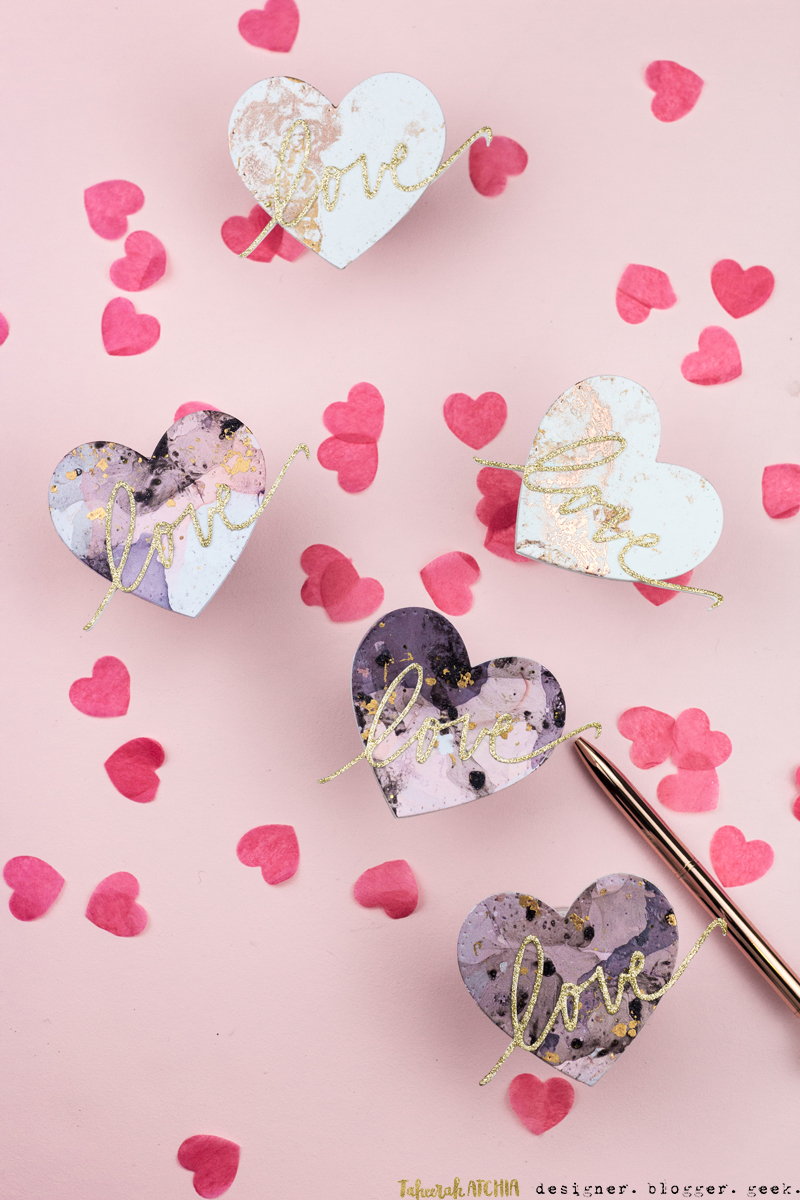 I made a cute series of little love notes! I love these babies!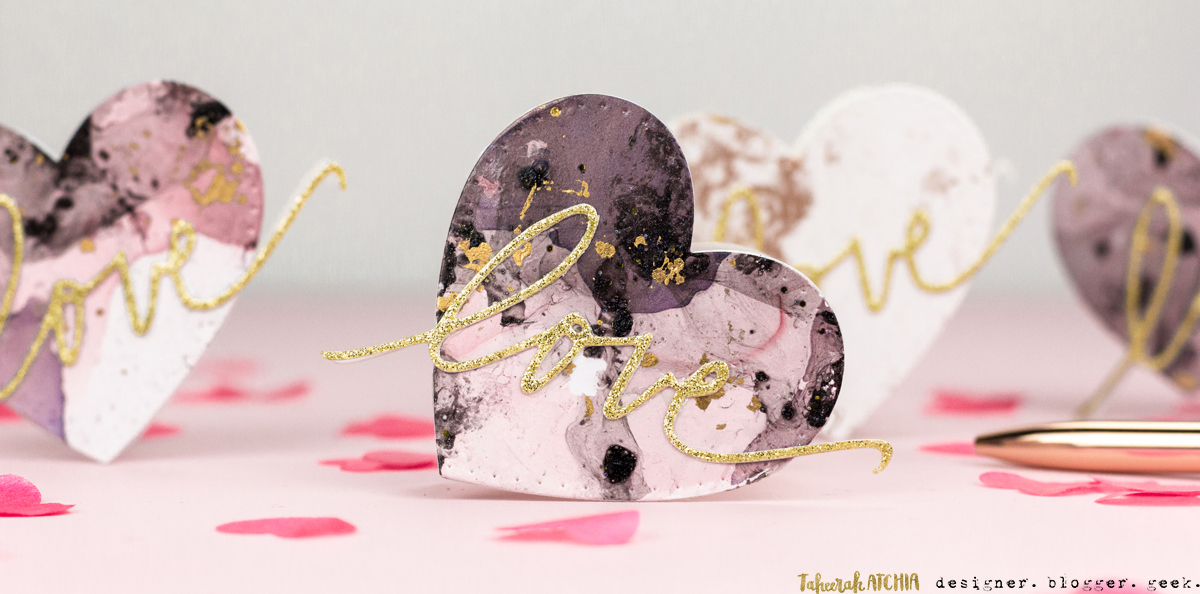 I used some of the handmade marble backgrounds that I created with nail polish last year for The Gossip Column with Taheerah Atchia | No. 6 – Marble. I'd created several different backgrounds and not used them all, instead squirrelling them away for something special. Like these.
The Close-Ups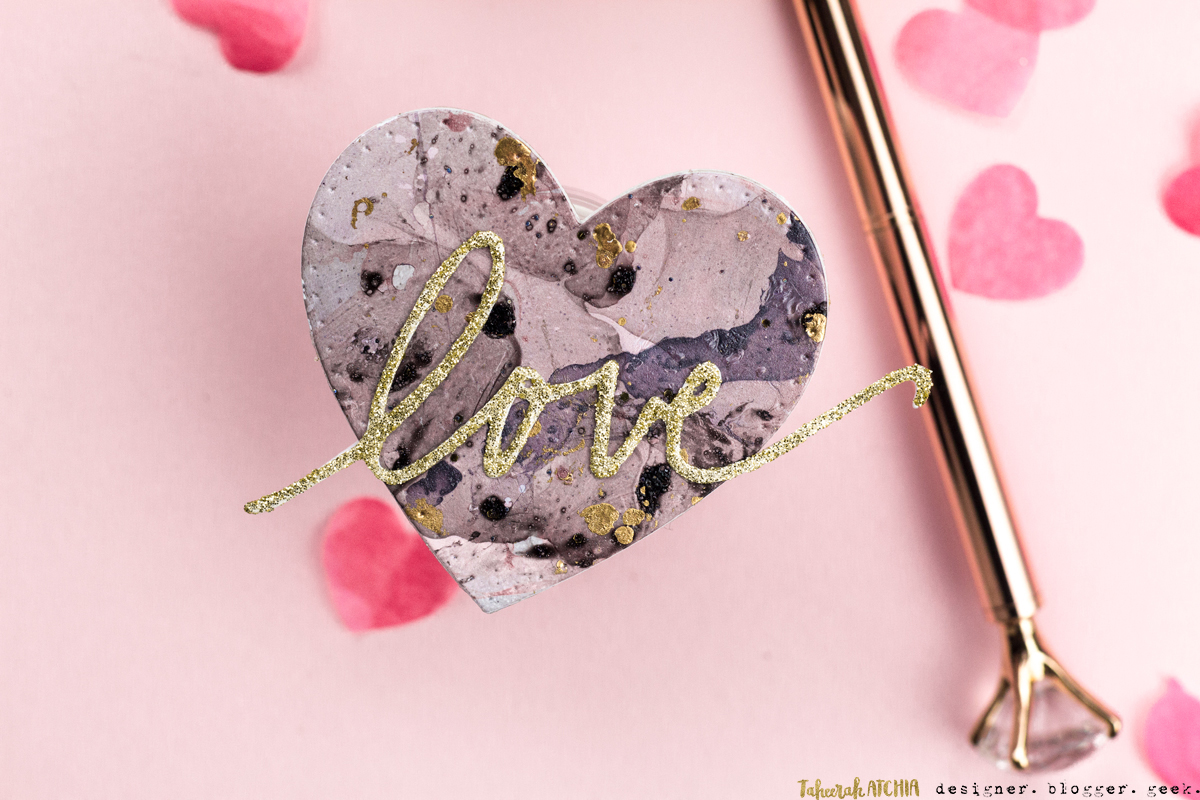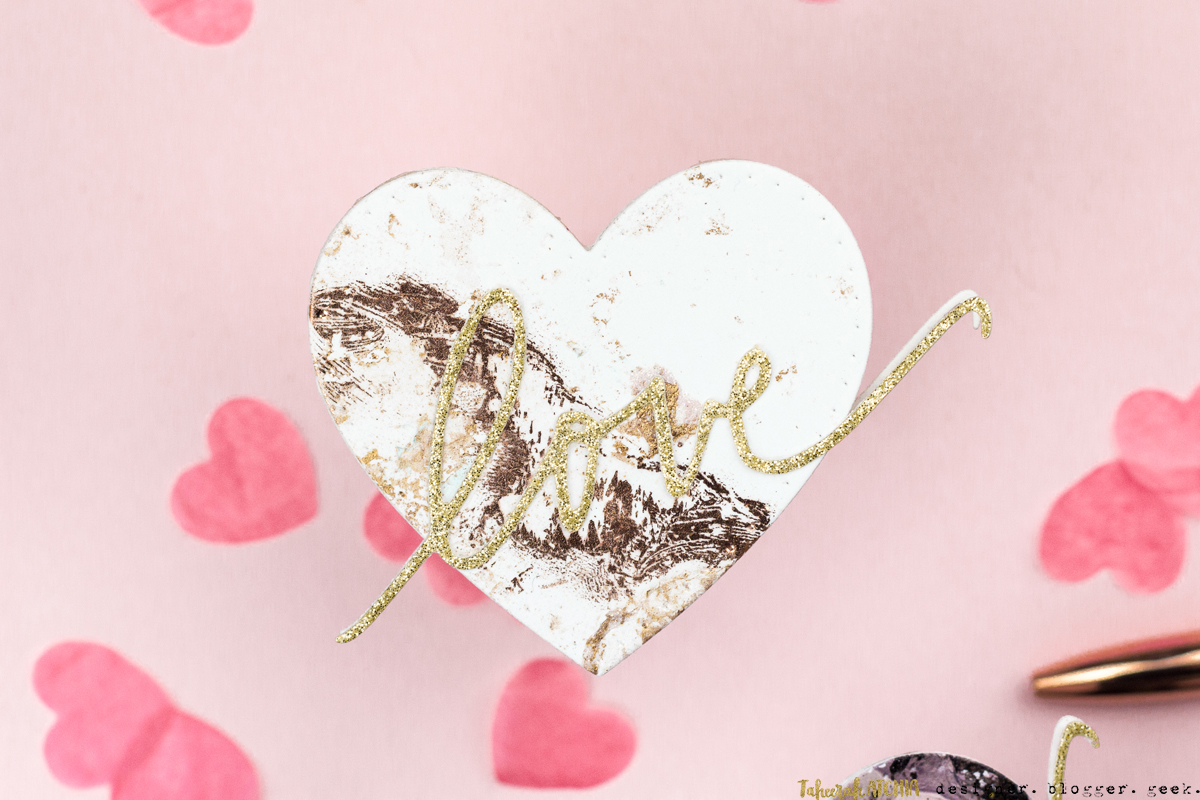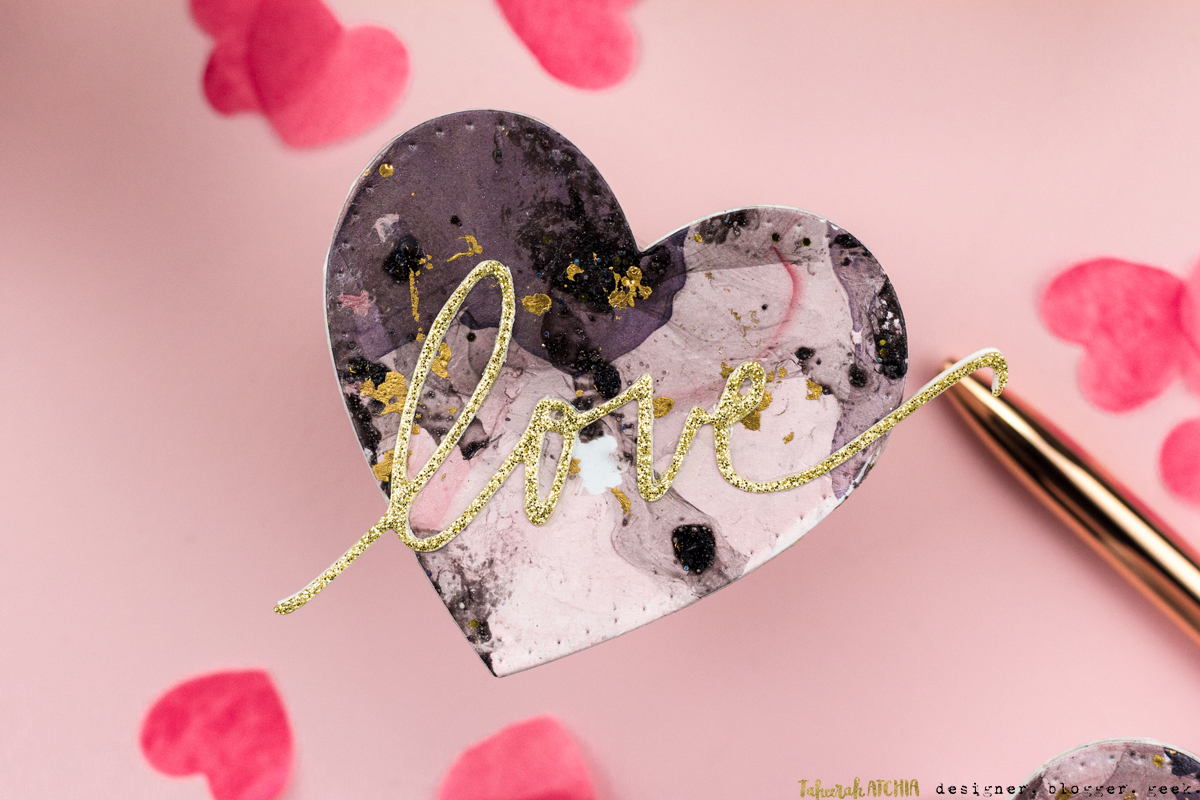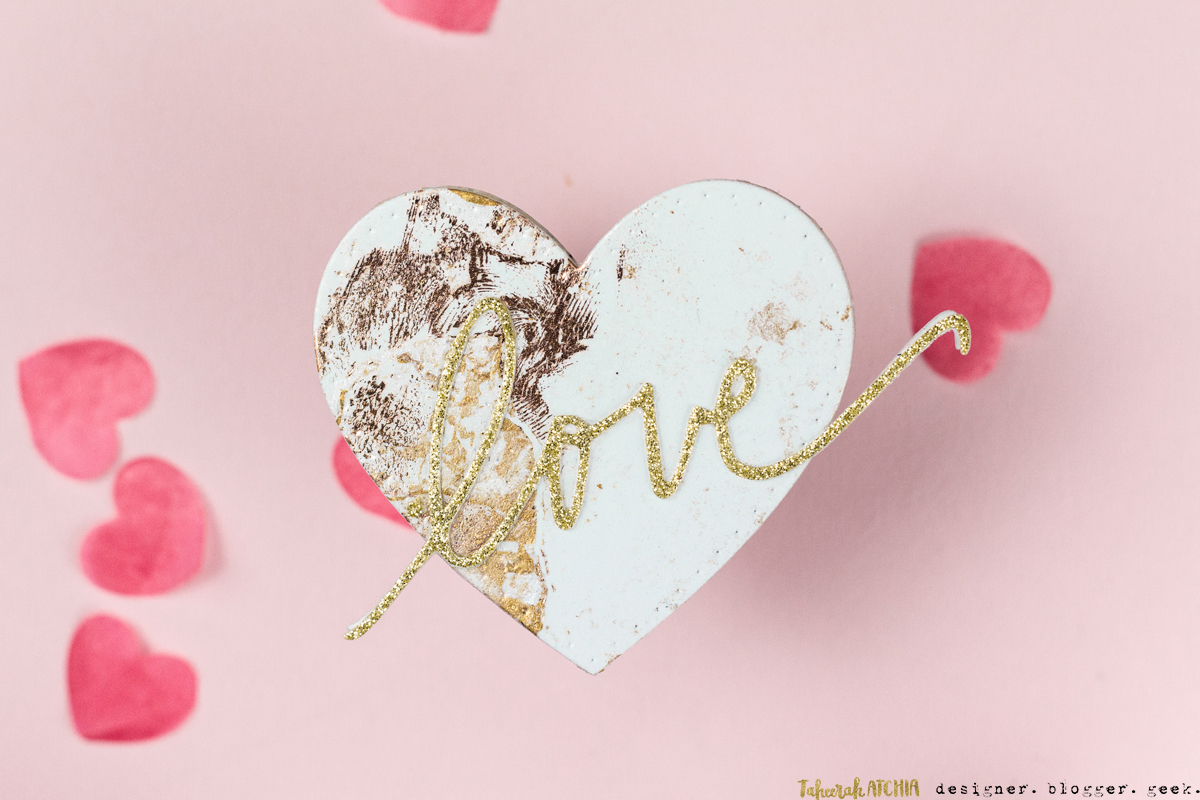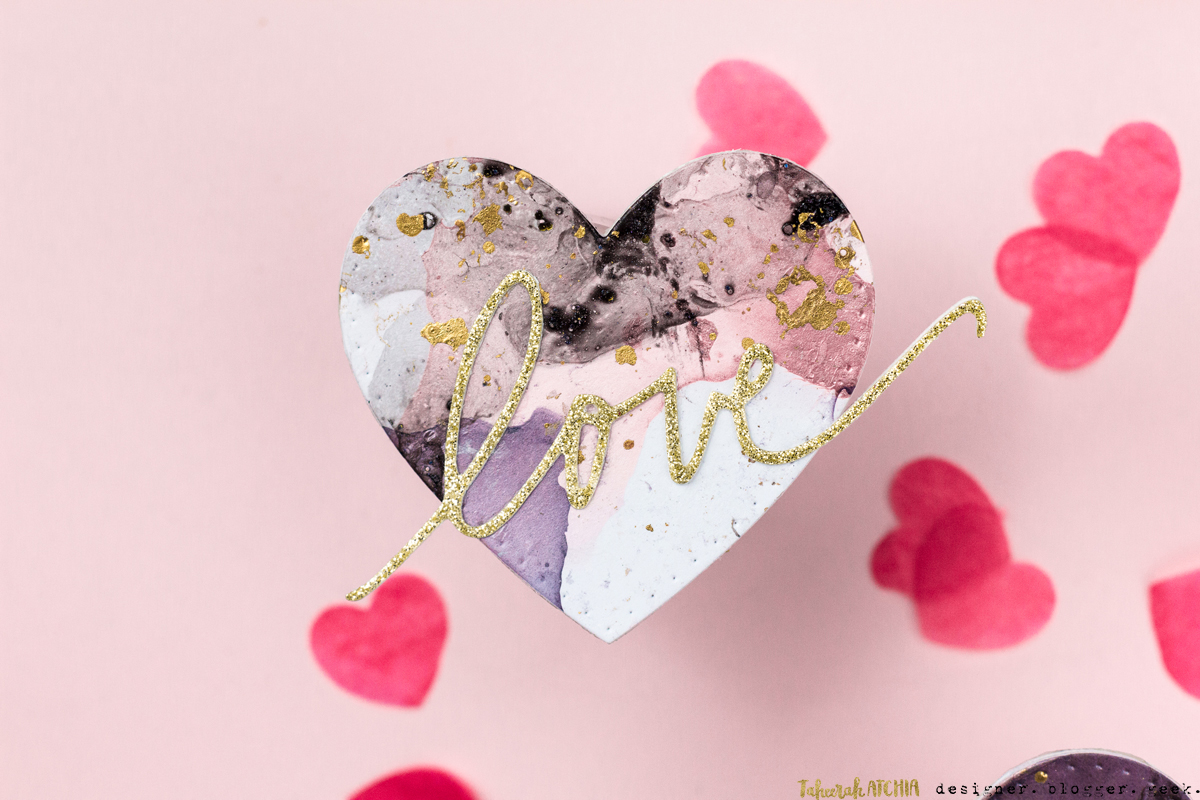 Gotta love those all that sparkly goodness!
So, I'm betting you'd like to know a little more about how these were created, along with some more photo goodness, amirite? Read on!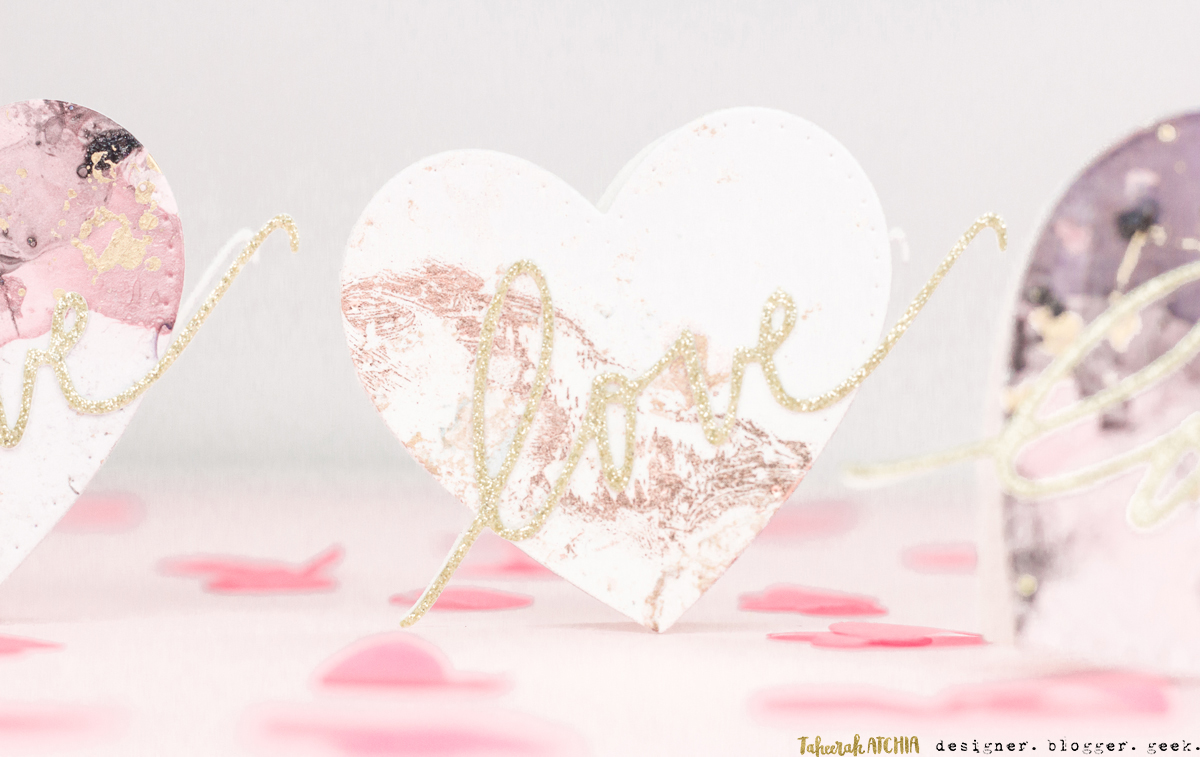 After I dug out a couple of my backgrounds, created with gold, rose gold, and violet tones, I die cut them into hearts using the True Dotty Heart Cutaways, using the heart shape with the little pierced dot detail.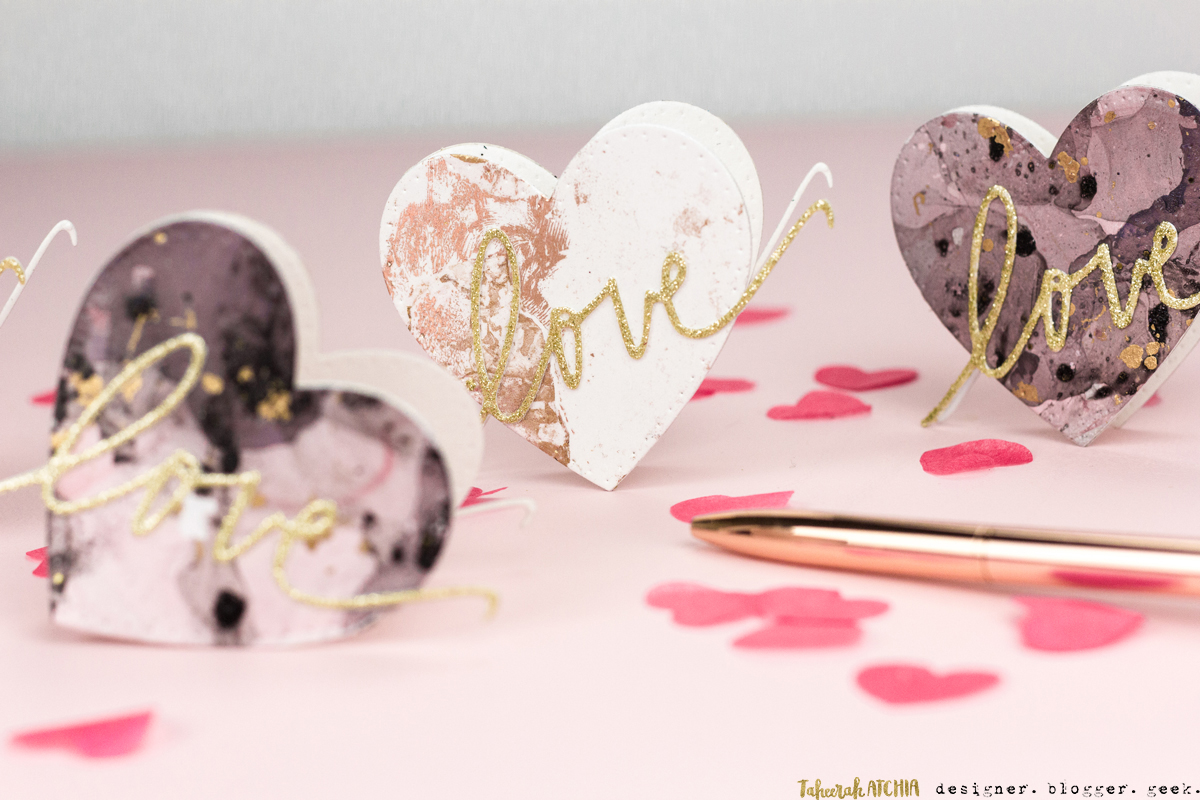 I folded a piece of A2 cardstock in half at 2.75″ and then die cut the heart again, with the left edge of the die hanging off the side of the fold, so I could create a shaped card. I cut a corresponding heart from Rustic White cardstock to keep everything tidy at the back – no-one likes seeing all those 'veins' from your worn cutting plates on the back of a design!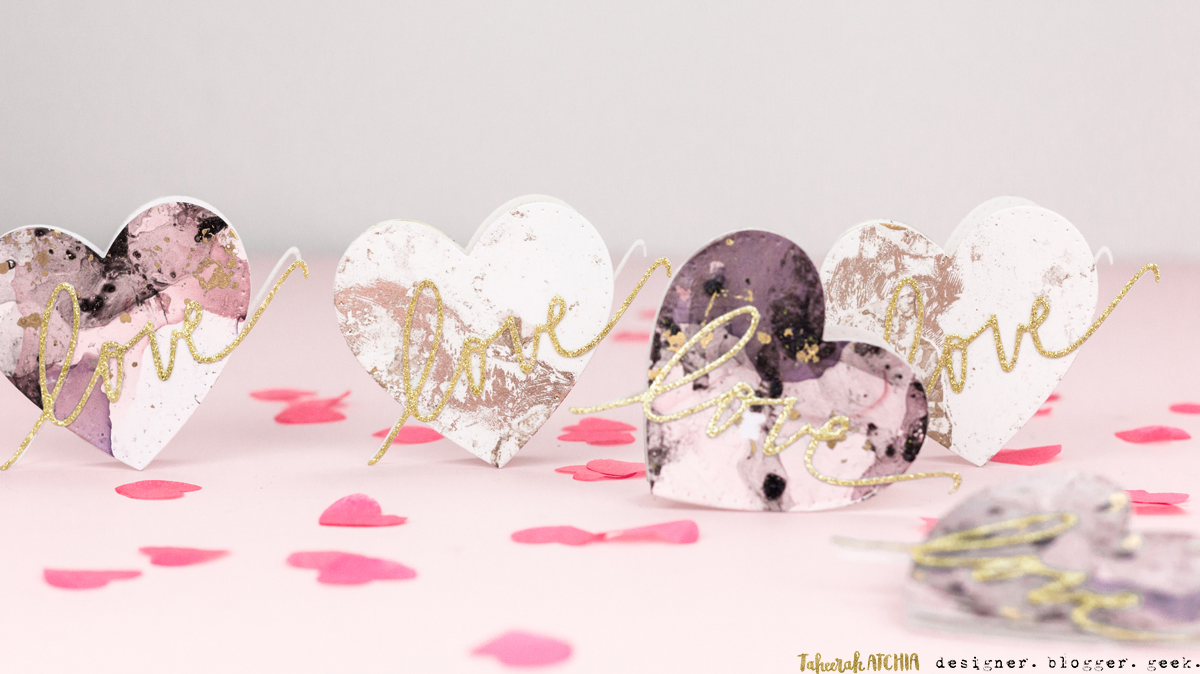 I wanted my notes to stand-up unaided, and the lovely fine cursive 'love' from the In a Word: Love Coordinating Cutaways went so perfectly with the design and works to prop up the hearts too! I created my own glitter paper using Nuvo Glimmer Paste then die cut the words. I die cut a corresponding one from Rustic White cardstock to go on the back too!
Assembly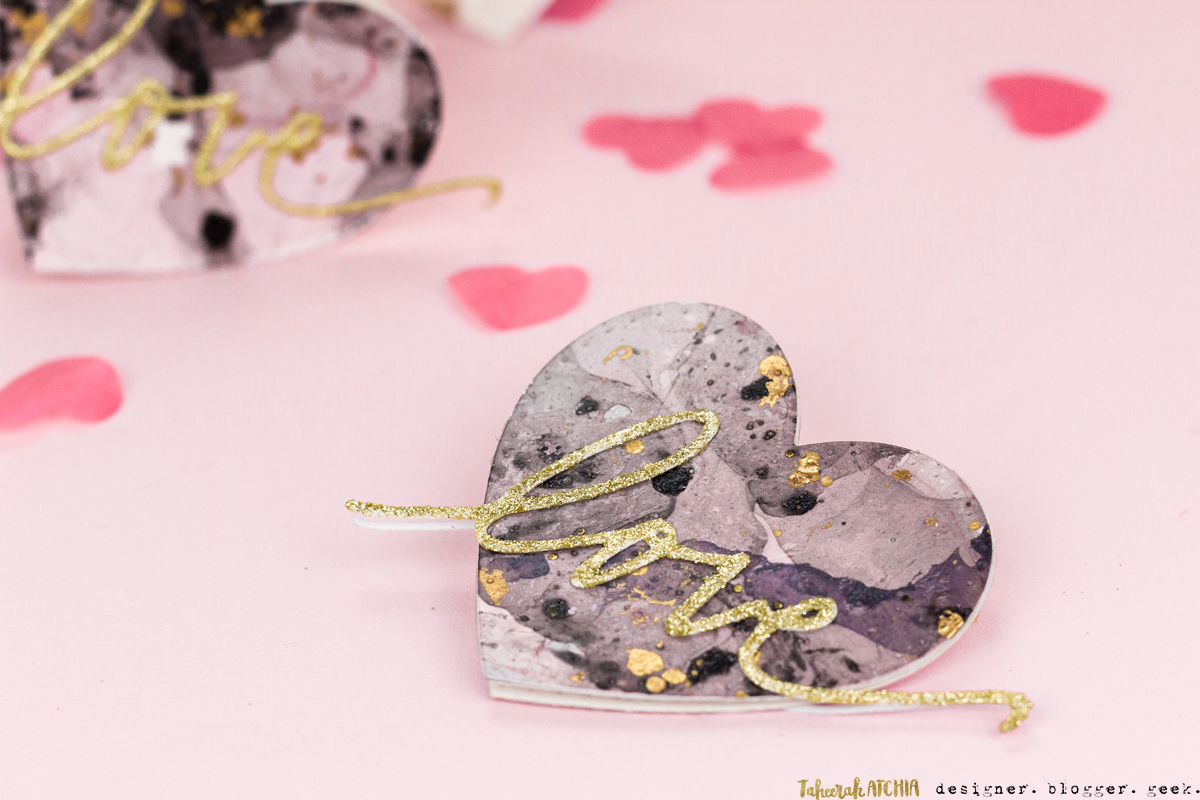 The fronts and backs of the card were adhered to their bases with Scor-Tape. The words were adhered using Multi Matte Medium – first working out the angle that the words should be to enable the card to stand before pressing down to adhere in place.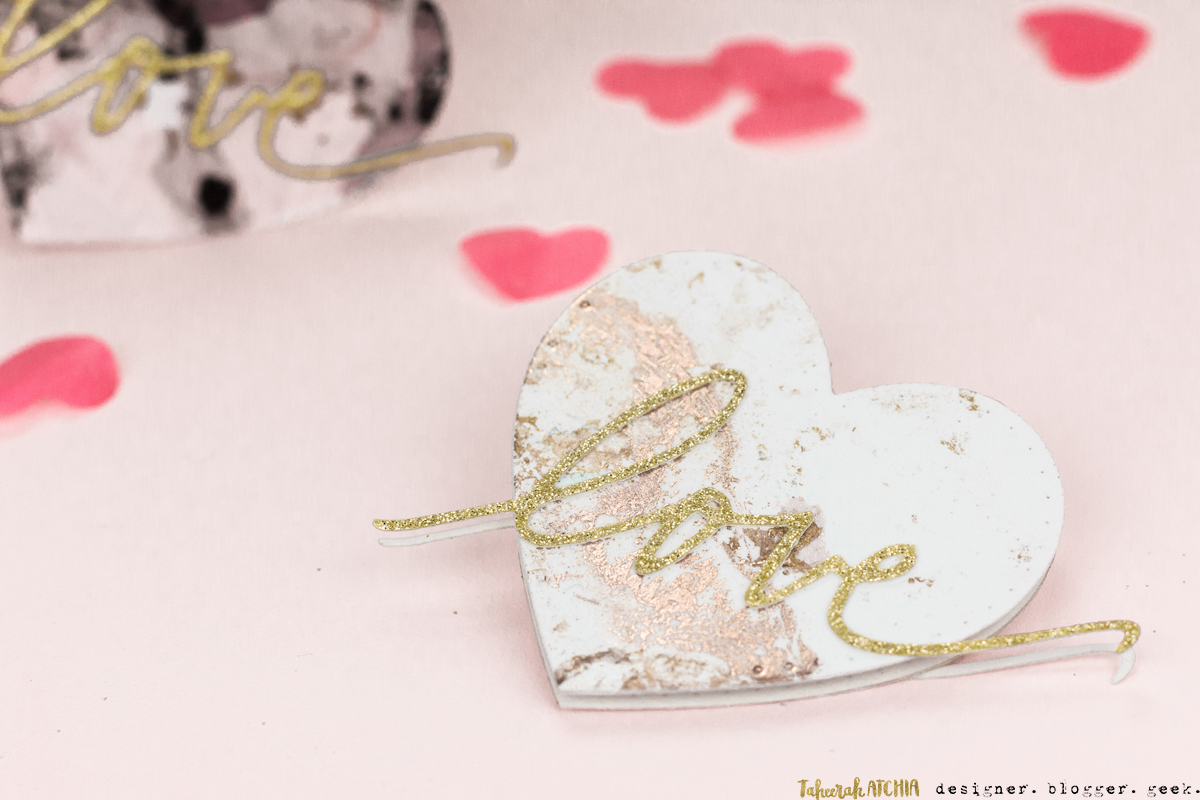 I kept the insides blank, ready to write little love notes to my beau and leave them in random places in the house at random times. See what I mean about those thousands of little actions?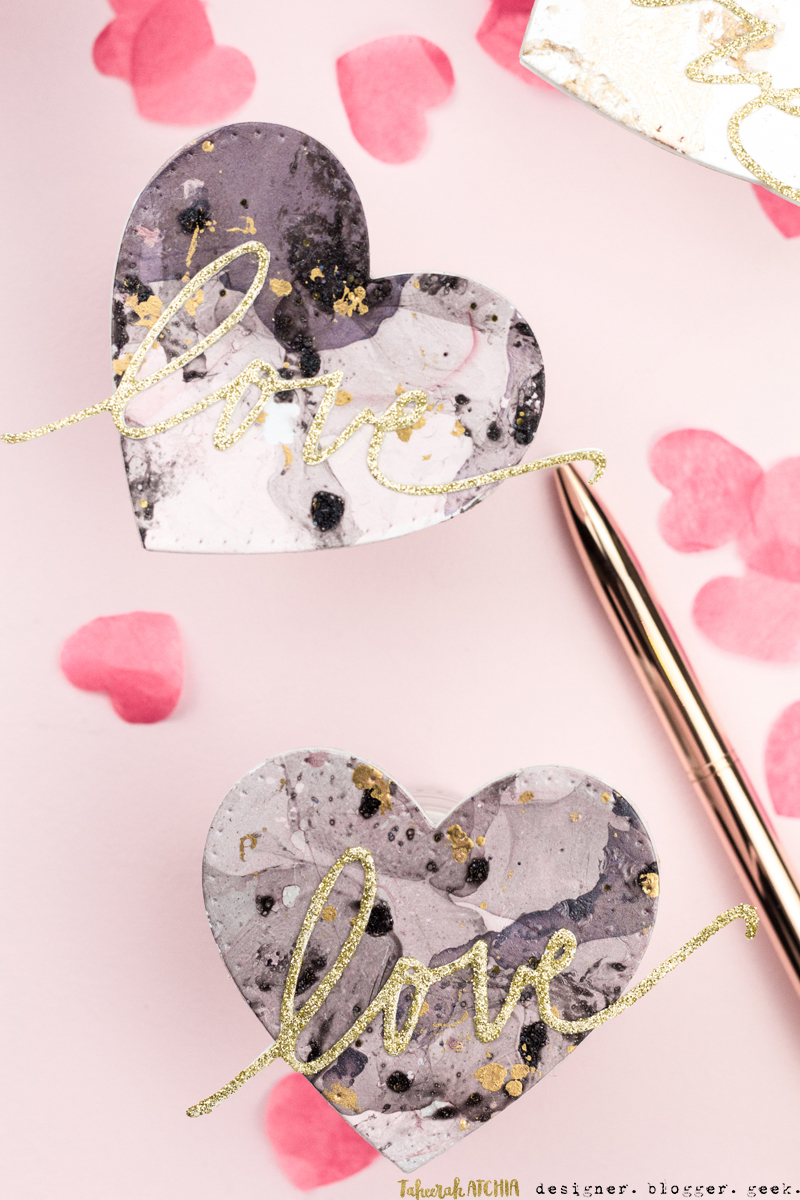 I hope you've loved looking at these as much as I have! Personally I can't put them down!
?????????
Giveaway!
One thing that Winnie & Walter know how to do (other than create *amazing* designs) is how to party in style – giveaway style, that is! Not only has there been a series of awesome challenges (with generous prizes up for grabs!) on the Winnie & Walter blog *AND* A GIGANTIC GIVEAWAY as as a part of celebrating their 4th birthday, but there's also some prizes up for grabs on today's hop!

4 lucky winners will each win a $40 gift certificate to the Winnie & Walter store!
All you need to do to be in with a chance of winning is leave me a comment – and then make sure you visit the other hop destinations too to check out the amazing inspiration and increase your chances of winning by commenting there too!
Here's your Hop line-up for today!
w&w blog
Rubeena Ianigro
Kelly Griglione
Jessica Frost-Ballas
Lea Lawson
Laura Bassen
Heather Hoffman
Cheiron Brandon
Vanessa Menhorn
Amy Tsuruta
Laura Sterckx
Isha Gupta
Taheerah Atchia
Miriam Pratner
Keren Baker
Emily Leiphart
Gayatri Murali
Amy Kolling
Kate Capper
Laurie Willison
Crystal Thompson
Evelin Tee (instagram)
You have until 8am EST on Wednesday 28th February to enter. Good luck!
Don't forget to check out the amazing challenges going on on the Winnie & Walter blog too – there's even a great challenge from yours truly as well!
Thanks for stopping by!
Supplies