Hey everyone! Happy Thursday!
If you've visited my blog before, you know I have a thing for ink. Particularly, especially, now almost exclusively, Catherine Pooler's inks.
I go crazy for colours. Dippy for dye. Potty for pigment. Not-quite-sold on solvent (me and StazOn just aren't friends. Sorry StazOn.).
You get the picture.
I'd probably class myself as a bit of an ink connoisseur. That's a bit of a nicer way of saying I'm picky. I wouldn't go as far as snooty or pretentious – but I can definitely say that some inks would never make it to my table, let alone onto one of my cards.
So when I tell you the Catherine Pooler inks are the best of the best, you get how big a deal that is.
Ever since those inks have come into my life, it's been love at first sight. Or should that be love at first stamp? Either way, I was sold immediately, and now they're pretty much the only inks I use.
So the moment I knew that another collection of inks was on its way, you can imagine how psyched I was.
I couldn't wait to put these new inks through their paces! If you have the Spa Ink Collection, then you will definitely find that the Zen Garden Ink Collection nicely fills in the 'gaps' in the spectrum! These colours are less saturated (more grey) than the vibrant Party inks, but the same formulation of awesome! The colours from both collections won't always play nicely together, but they will certainly expand your stamping possibilities many fold!
Catherine also released a massive bundle of new goodies earlier this week, all of which can be found here.
I paired the new inks with the Doodle Garden Background stamp, the Eat Sleep Create stamp set, and the Thanks die and got to work!
Let's get to the cards.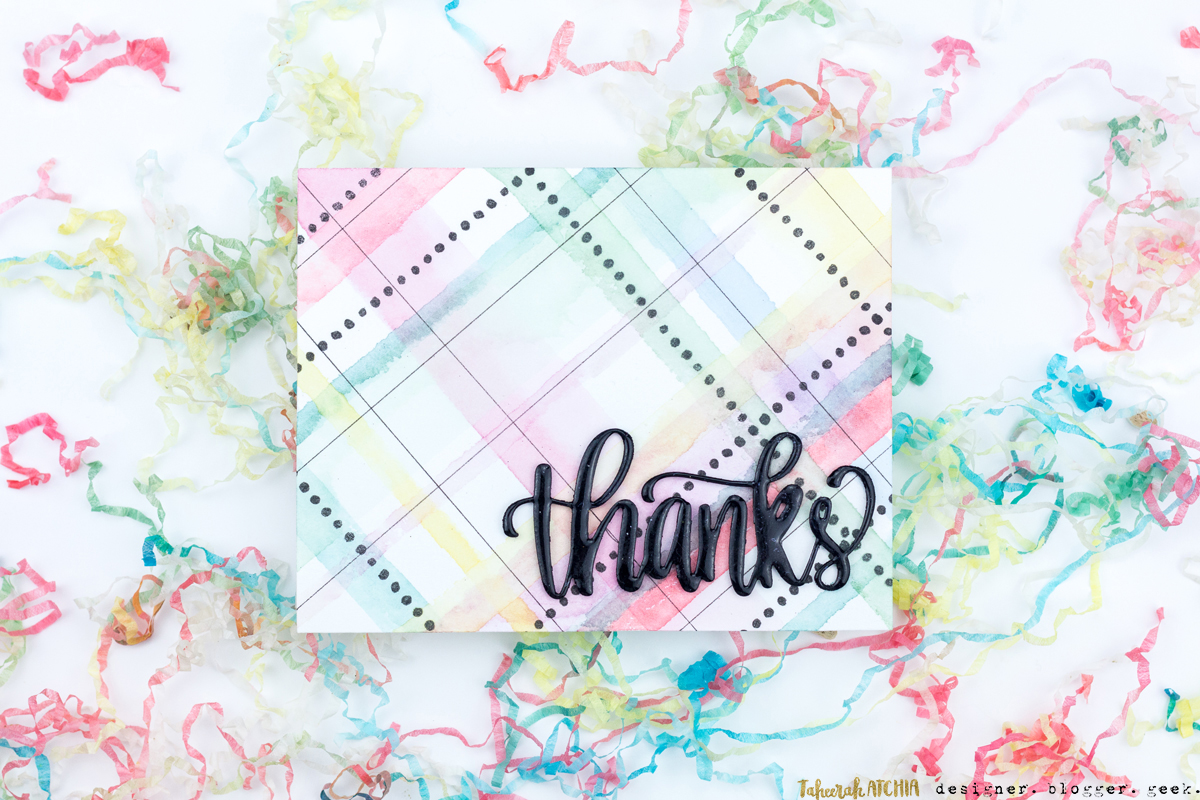 We'll start with this baby, shall we?! I wanted to create something a bit different with the inks and a plaid seemed like the perfect thing!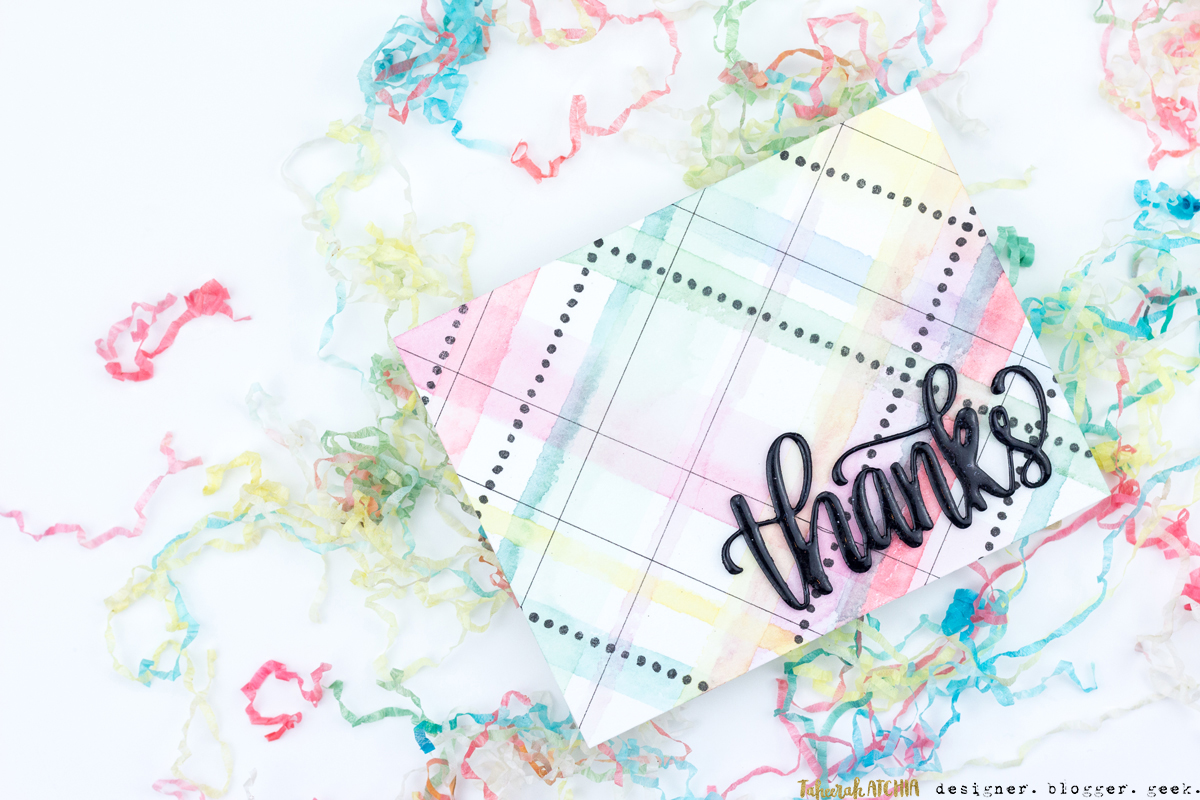 I stamped the lines using some of my long rectangular acrylic blocks! They worked perfectly for the wider stripes! I inked up the blocks, stamped off once, then spritzed with water and stamped them down! I was careful to heat set the stripes between each step so that the colours would not muddy when they crossed paths – you want a nice blend of the colours, not a mess!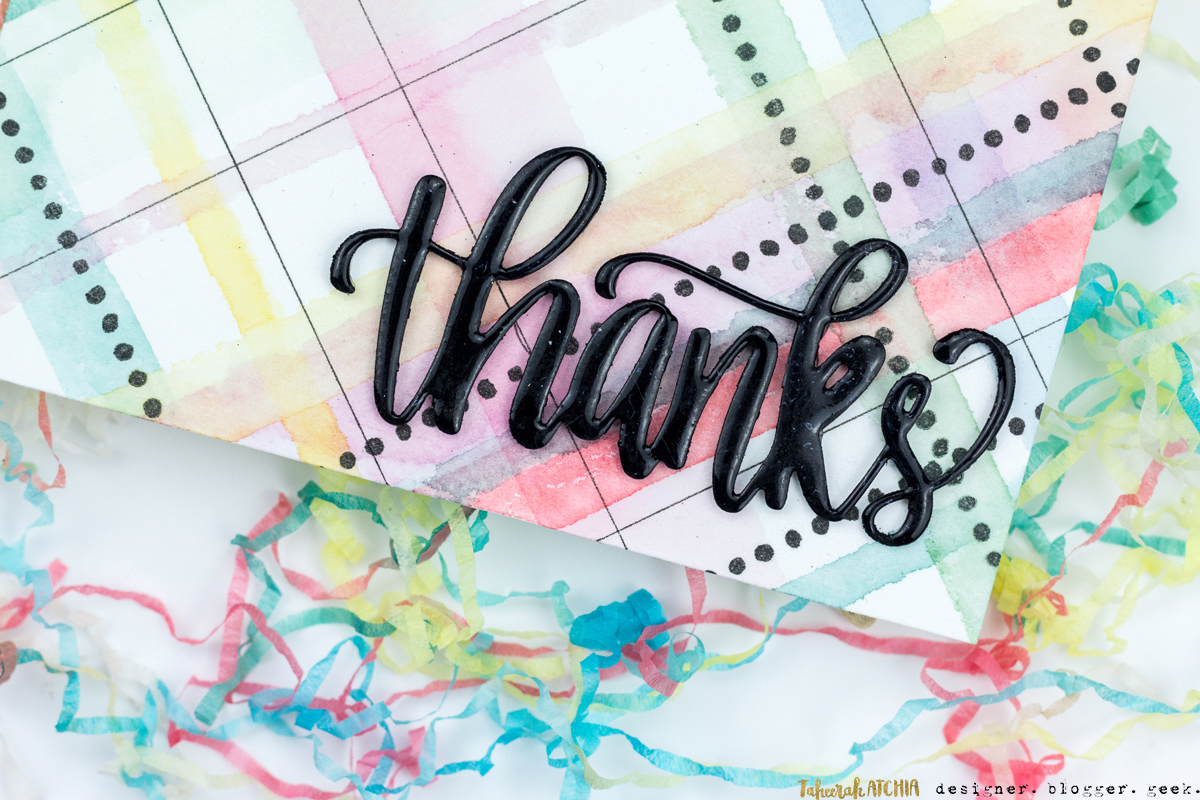 I used the long stripe stamp from Eat Sleep Create, along with the line of dots stamp for some added interest and thinner line detail. The finest lines were drawn with a pen. Then I die cut the 'Thanks' from black cardstock, heat embossed it a few times with black embossing powder for some dimension, then adhered with Pinflair Glue Gel for some dimension. Love how this turned out!
For my next project, I wanted to play with the Doodle Garden Background stamp: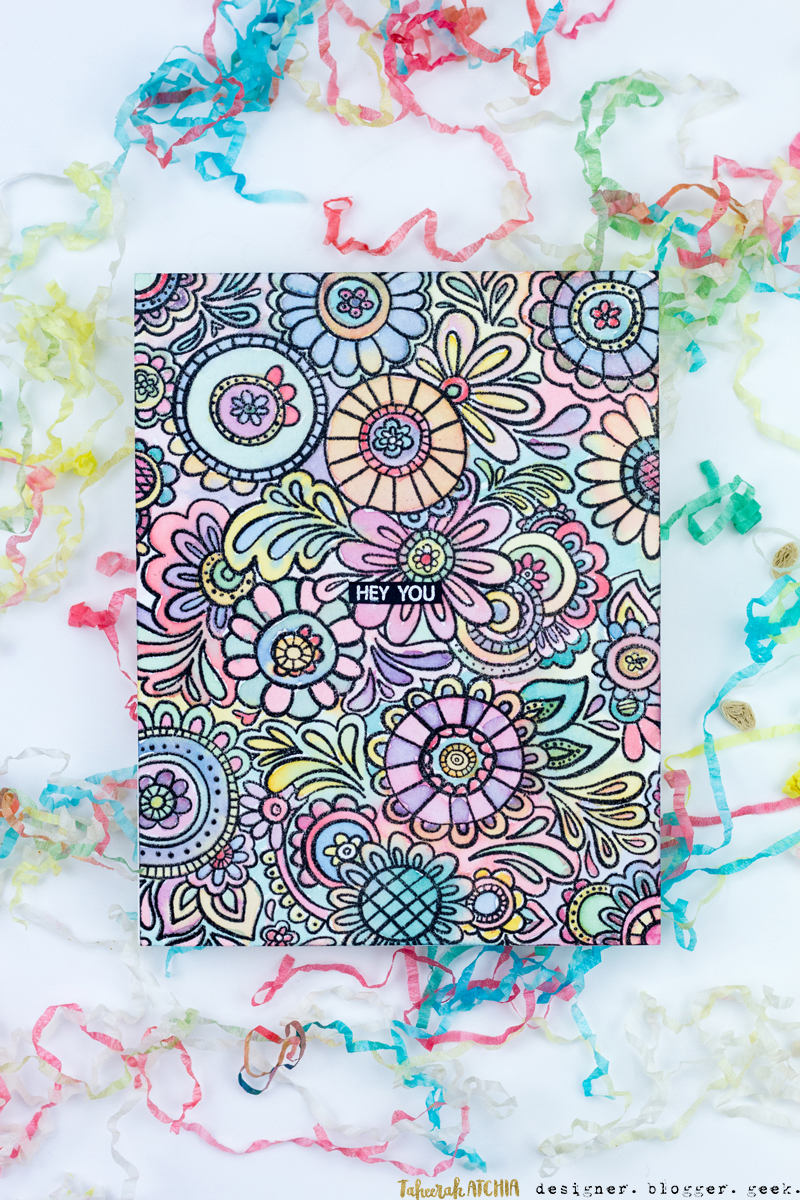 What a stunner! This one took ages to watercolour but it was so worth it!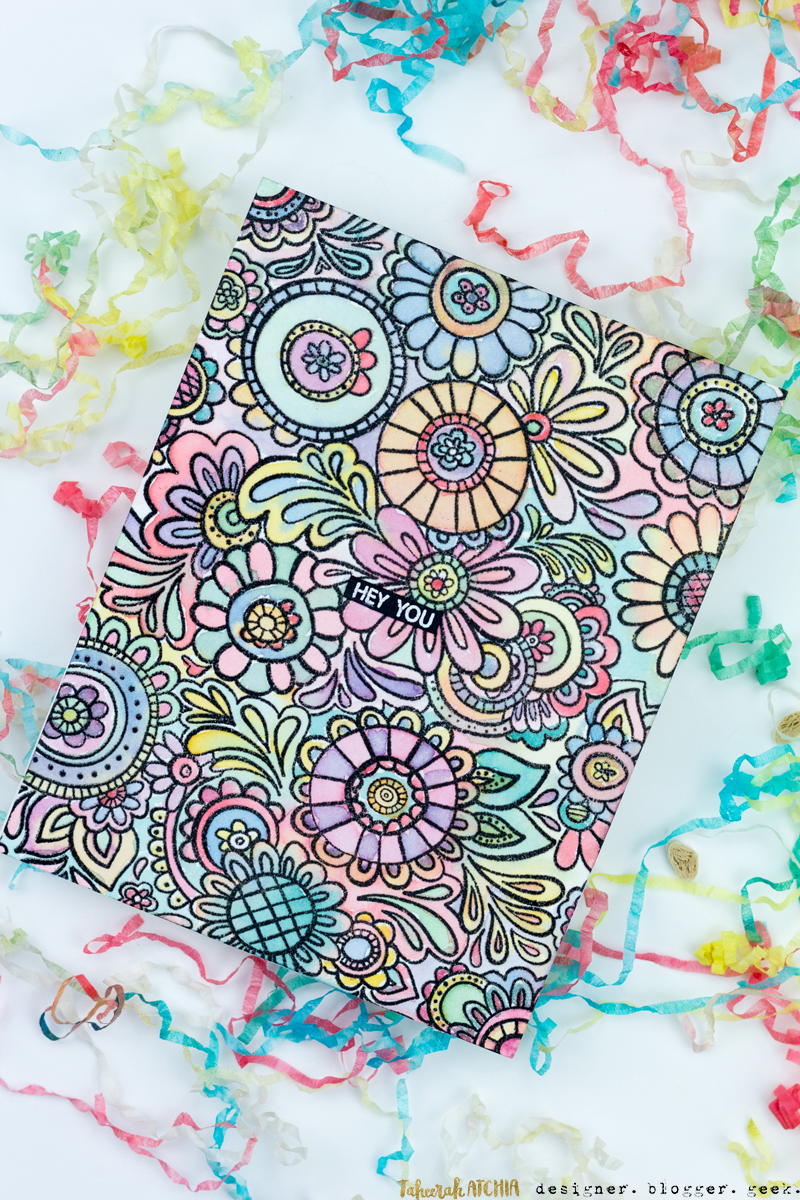 I stamped the background with Versafine ink, then wet my cardstock and went to town! I used every ink from the Zen Garden Collection (apart from Spruce) and had so much fun painting this intricate design!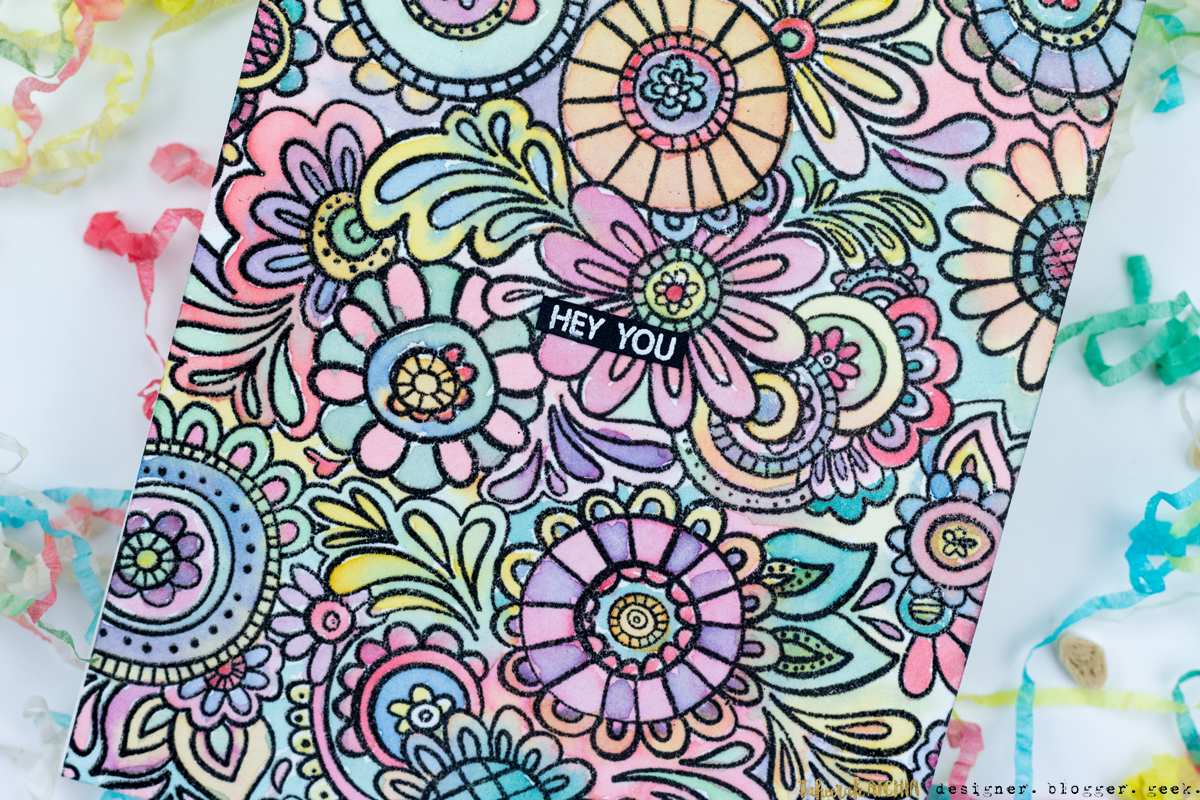 Because that background is the star of the show, I went with a very small sentiment. I built it using two different sentiments from the Faithful Flutterings stamp set and heat embossed it with white embossing powder onto black cardstock. I trimmed it out then adhered it to my design. Perfect!
For my final card, I wanted to go in a completely different direction and put the Eat Sleep Create set through its paces a bit more: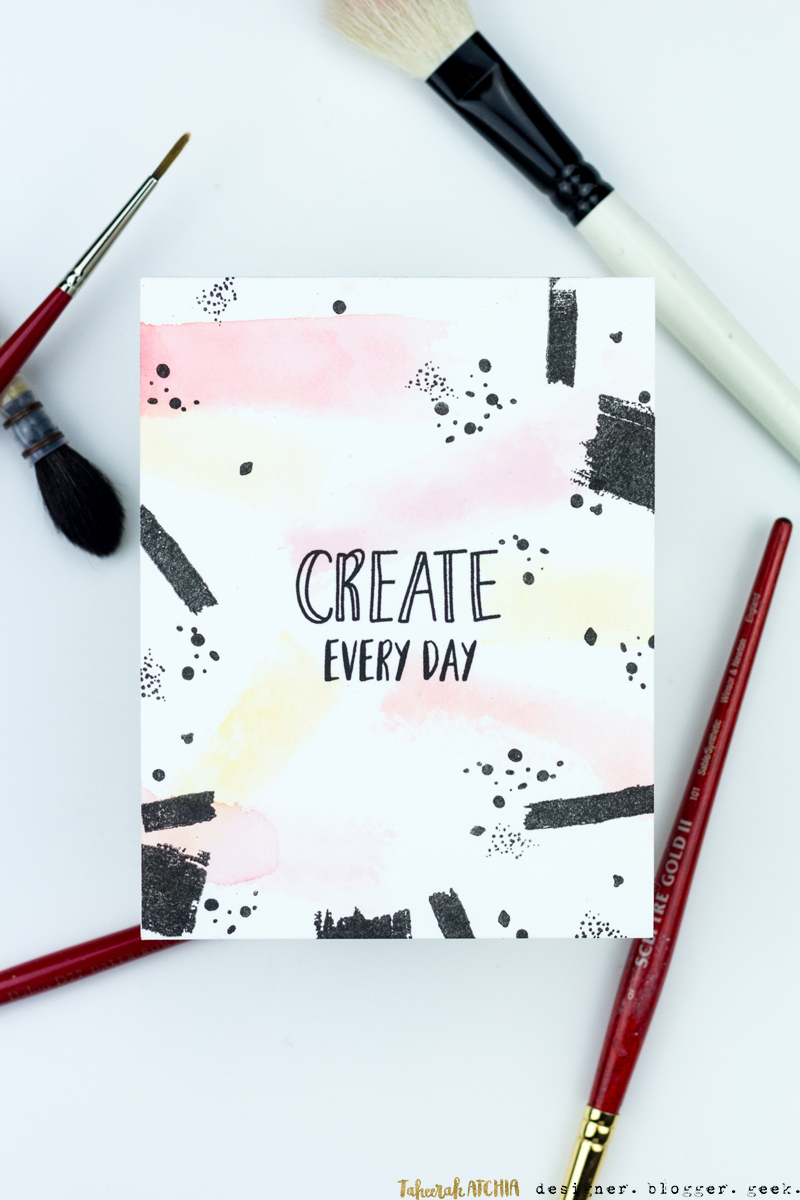 I'm a big fan of Ashley Goldberg and the stamps in this set really allowed me to emulate her style!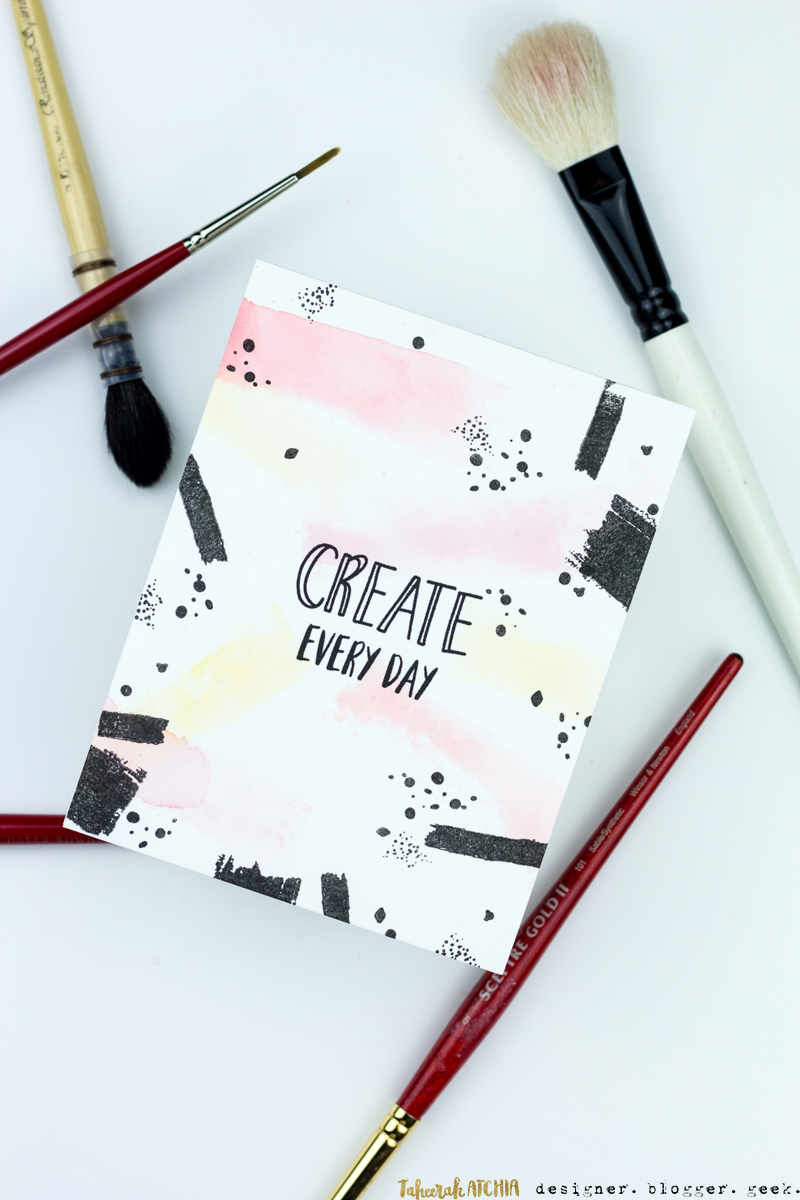 I used the brushstroke stamps, along with the 'ink, stamp off, spritz with water' technique to add the swipes of colour. I then used Versafine ink to stamp the black details and the sentiments.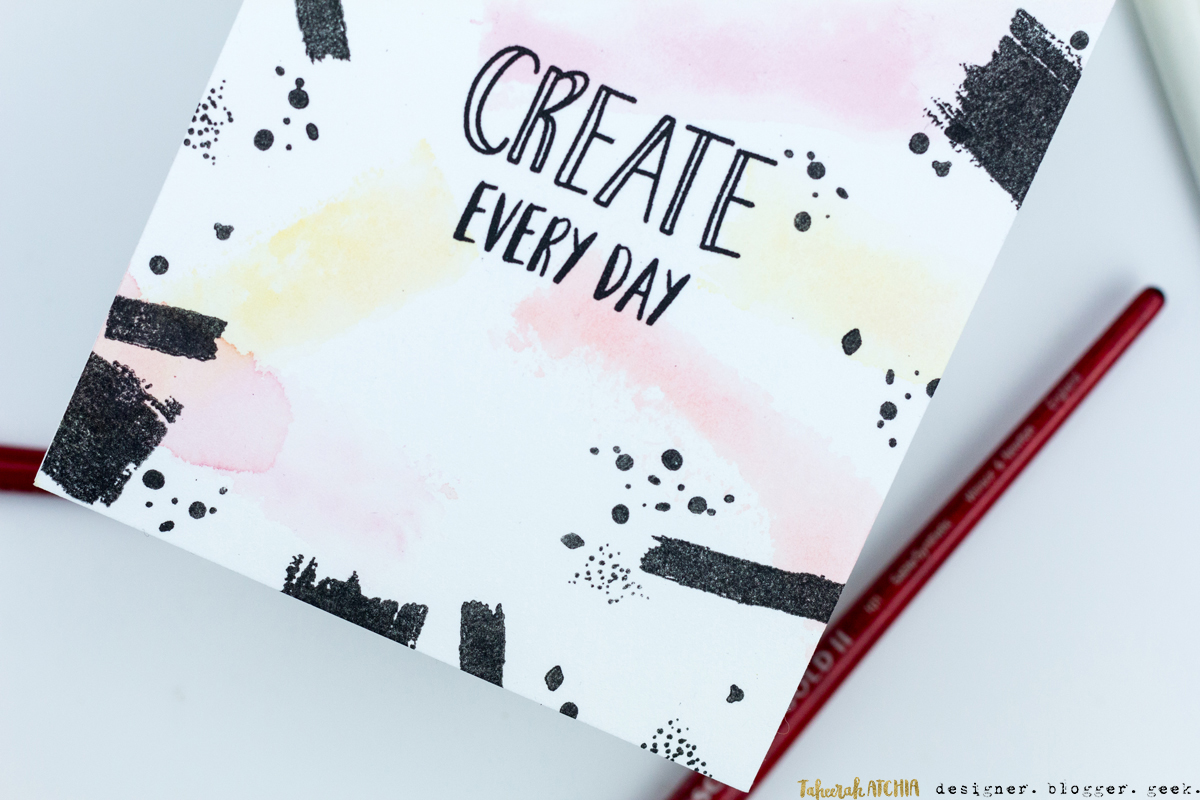 This turned out so fun!
Giveaway!
So I bet you'd like to get your hands on some of these new goodies, right? Read on!

All you need to do to be in with a chance of winning is leave me a comment – and then make sure you visit the other hop destinations too to check out the amazing inspiration and increase your chances of winning by commenting there too!
Here's your Hop line-up for today!
Catherine Pooler
Jen Carter
Tracie Pond
Melissa Miller
Susan Powell
Karen Baker
Ardyth Percy-Robb
Laurel Beard
Allison Cope
Taheerah Atchia
As I mentioned, this is the third of three Blog Hops – and each day's Hop has two prizes to give away! Two very lucky random winners per day will each win a set of Zen Garden inks (or a  $45 gift certificate to spend in Catherine's store if you've already bought them!).
You have until 11:55am EST on Friday 16th February to enter. Good luck!

And don't forget to head over to Catherine's store now to get your hands on those new inks and goodies!
Thanks for stopping by!
Supplies
Rainbow Plaid Thanks Card

Hey There Rainbow Doodle Flowers Card

Create Every Day Brushstrokes Card