Hey everyone! Happy Thursday!
I know that the clocks already went forward a few weeks ago, but it's not until the leaves start to appear on my tree, and the first flowers start to poke their heads out of the soil, reaching for the sun, that I know Spring has come.
Summer may be my favourite season (the long, warmer days just make me happy), but Spring is a close second. The days start to lengthen, the chill in the air is gone, and new life is starting to sprout, or fly, or crawl. Spring is for new beginnings, fresh perspectives, renewed hopes.
Spring makes me think of pastel colour palettes, and it turns out I'm not alone in that thinking. The awesome Catherine Pooler and myself are clearly on the same page. In fact I'm pretty sure she read my mind when she designed the brand new colours for her expanding ink range. 8 new colours in fact! Swoon!!
New inks need new stamps to play with too, so Catherine gave them some new friends in the form of a new stamp release! And new stamps need new die friends too, so there are new dies coming too!
Put that all together and you have the all-singing, all-dancing, all-awesome Spring Fling Release!!
In this release we have:
8 new inks
3 new stamp sets – a sentiments set, a floral set, and a background stamp
2 sets of circles dies
3 word dies (available individually or as a collection)
Holy awesome release, Batman!
If you don't remember me praising Catherine's inks to high Heaven then you really need to read this post. Go ahead. I'll wait.
Convinced? You should be – these inks are seriously my most favourite inks of all time!! If you haven't tried them yet then today could just be your lucky day – read on for a giveaway where you could win the entire new collection!
Right, enough chit-chat from me – let's see these new goodies in action!
Say hello to my first Springtime card!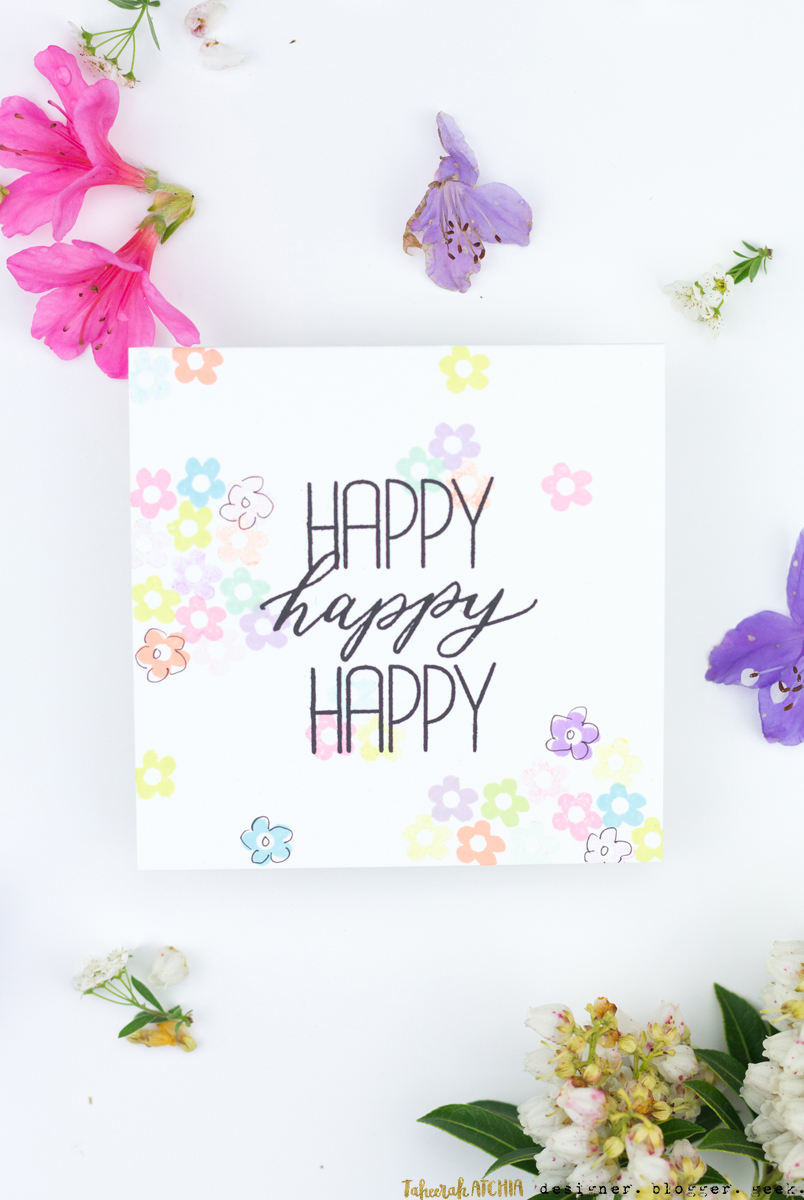 Such a happy little card! And can you blame it, when it has such gorgeous colours all over its little self?!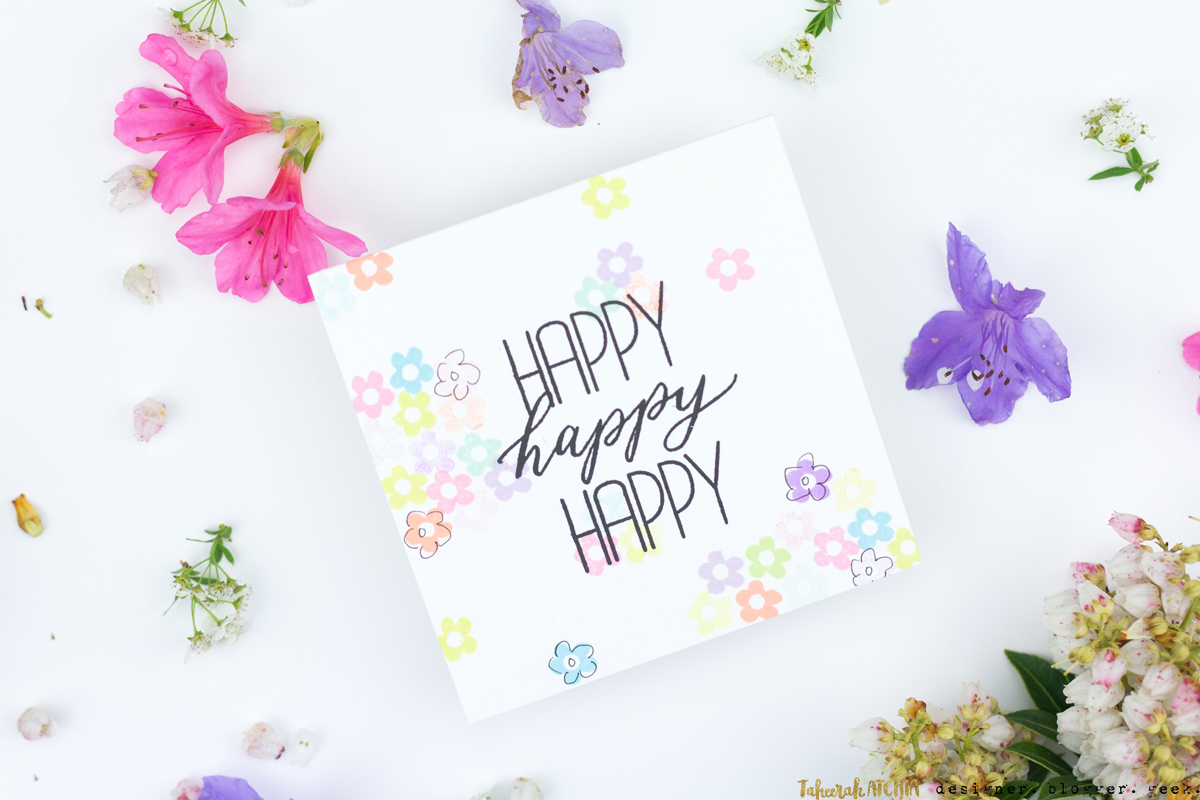 I used *all* of the new Catherine Pooler inks (Melon Ice, Mint To Be, It's a Girl, It's a Boy, Garden Party, Bellini, Sweet Sixteen and Pixie Dust) to stamp my little flowers here, with some generational stamping in some cases to get some extra shades! I also used a fine black marker to add some doodled outlines to a handful of the flowers – such a fun extra detail!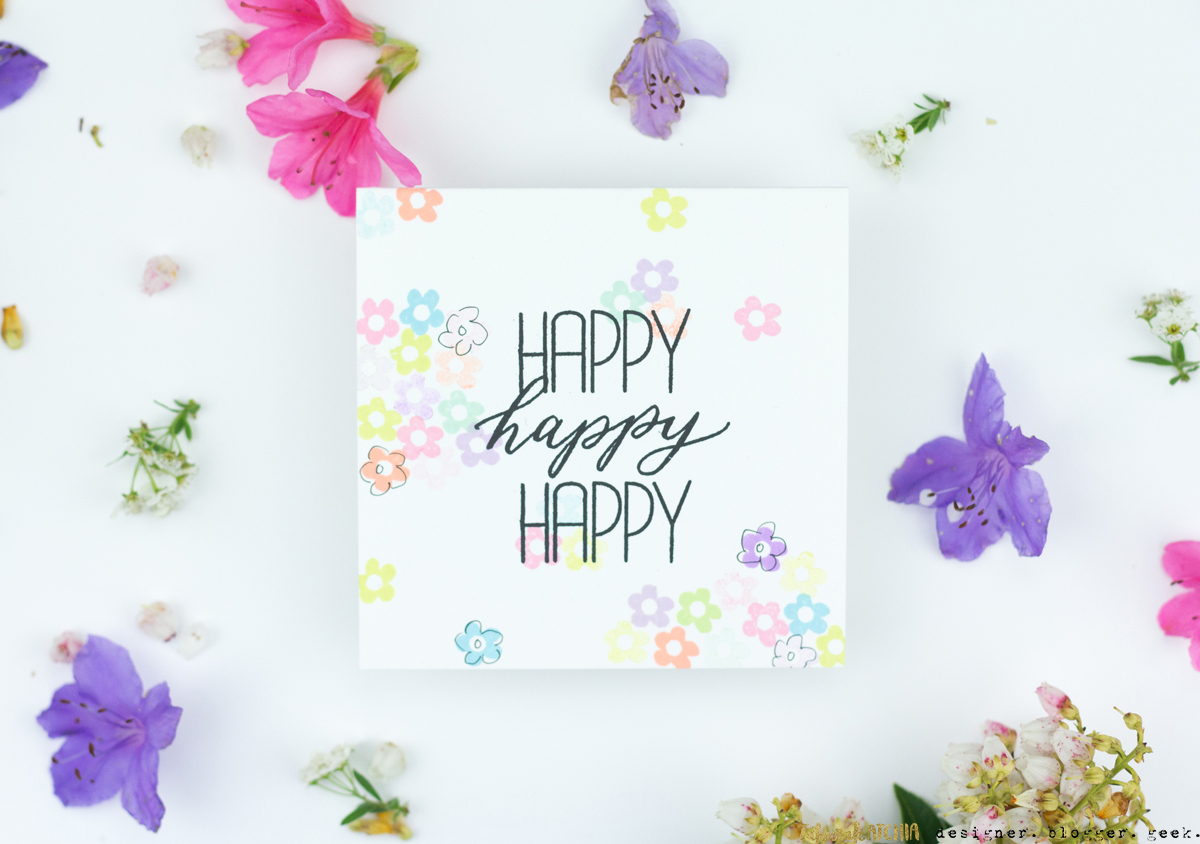 The scripty happy sentiment is from one of the new sets, and the smaller happys from the previously released Spot On Sentiments set. Don't they play so well together?
Next up, I played with the new Circles dies: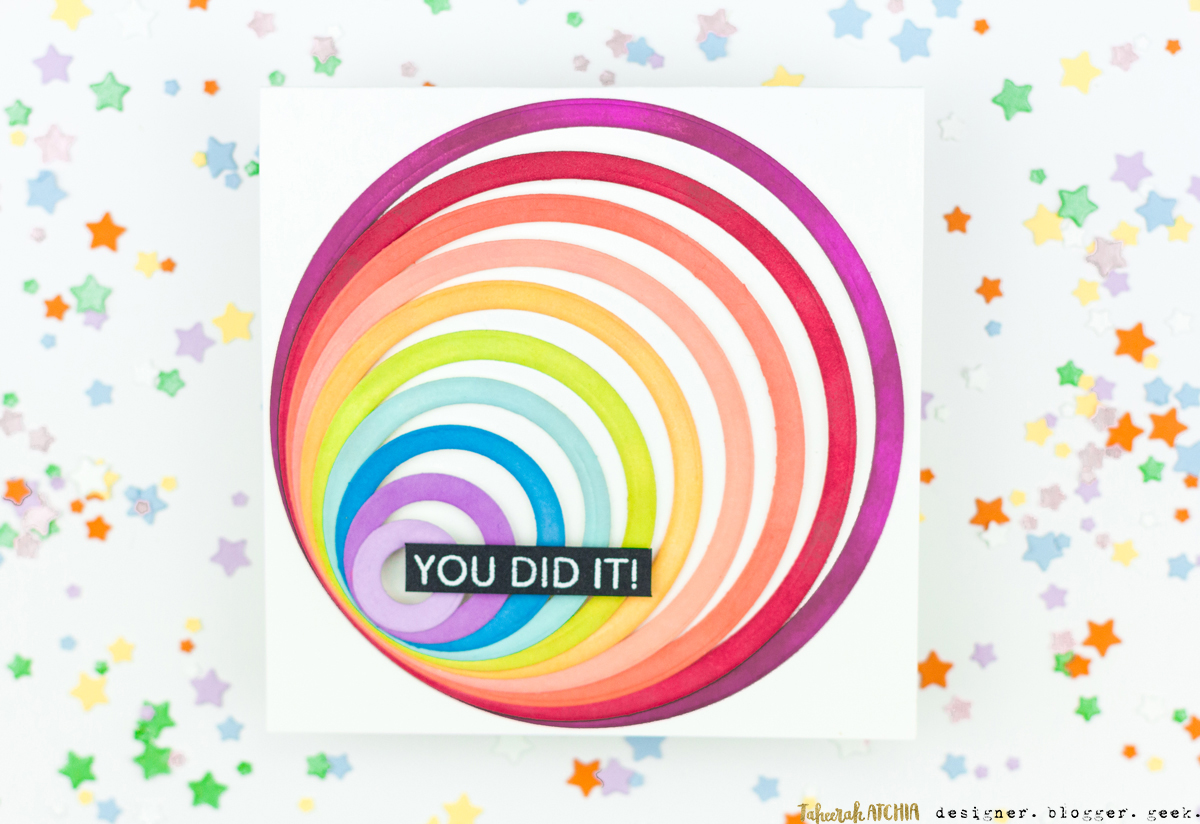 Totally swoon-worthy, right? That rainbow-y goodness can't fail to cheer even the dullest of spirits! I think this one would make Laura Bassen proud!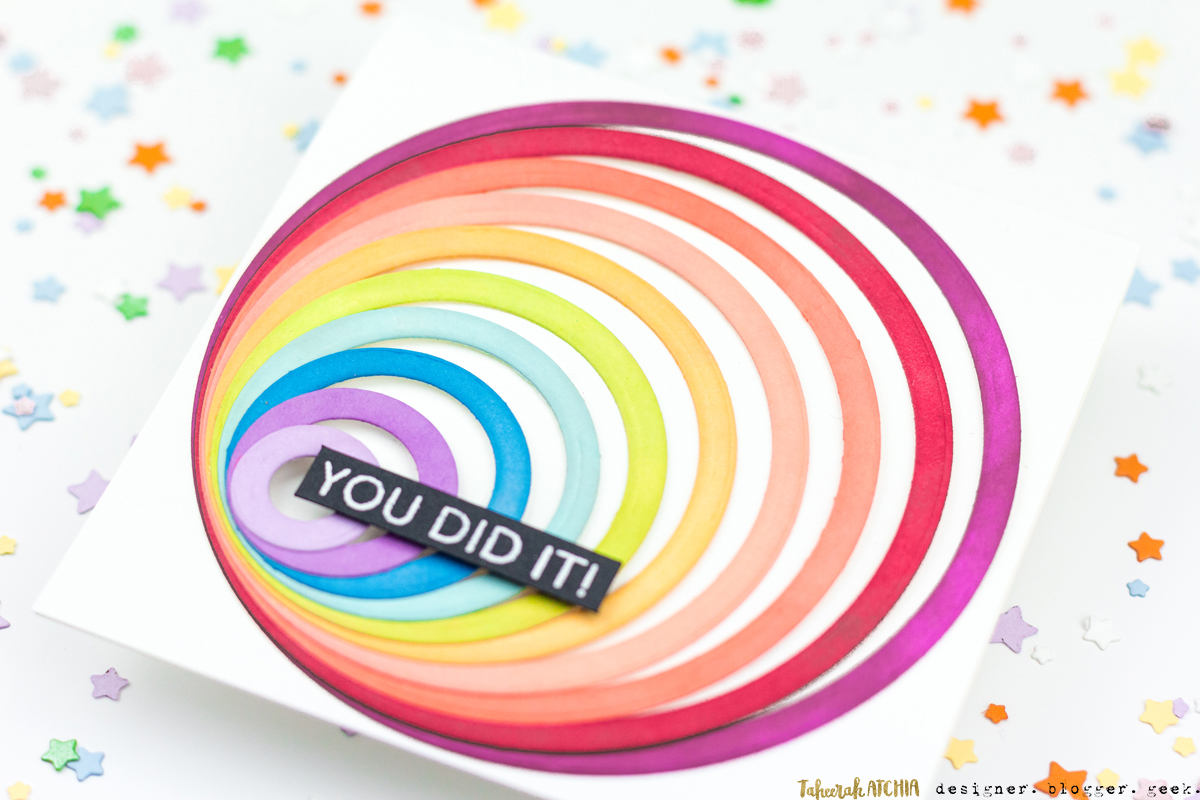 I die cut all the circles together so I had some concentric rings, then blended several of the colours to give a rainbow look. Some of the original inks, such as Rocking Red and Tiara, make a guest appearance here too, but otherwise the inks all all from the new collection. Aren't they gorgeous?!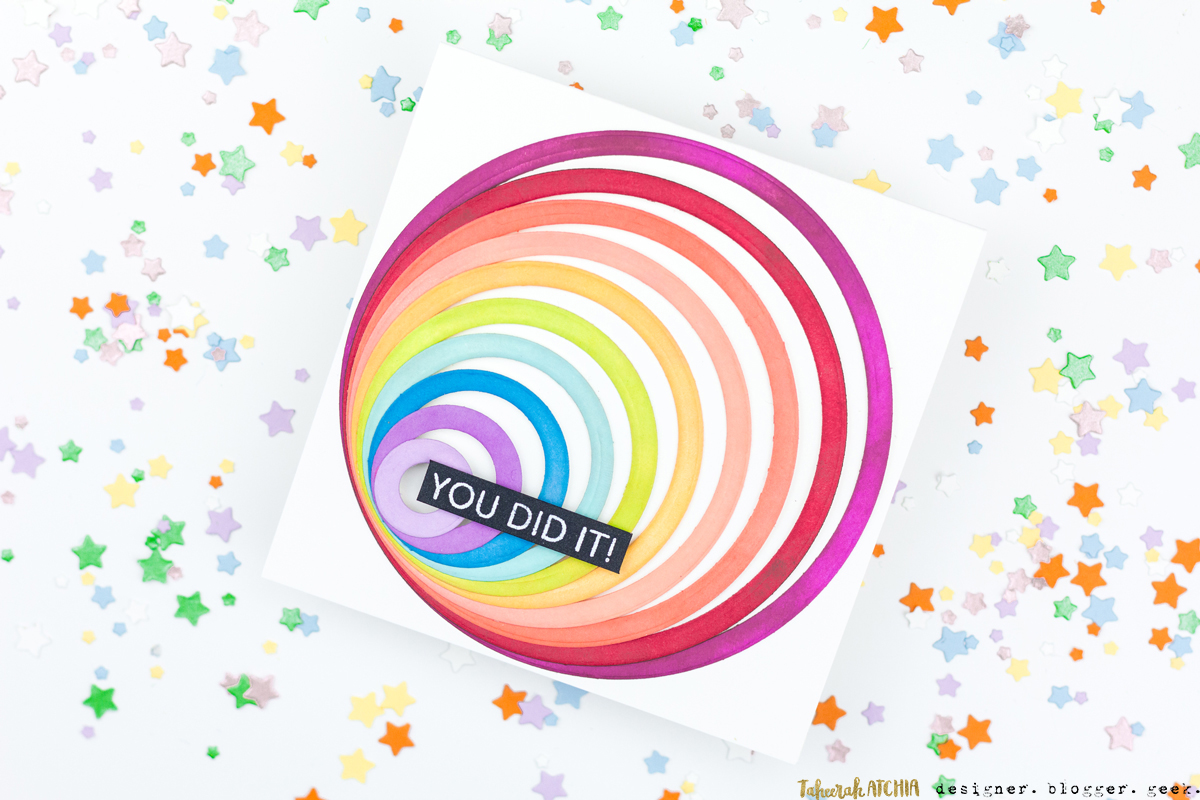 To create some interest I stacked the rings on top of each other so they appear to emanate from a single point, and then I added a heat embossed sentiment on top as a final detail. So in love with how this turned out!
And finally, I left bright colours and pastels behind, and went for a totally masculine card instead: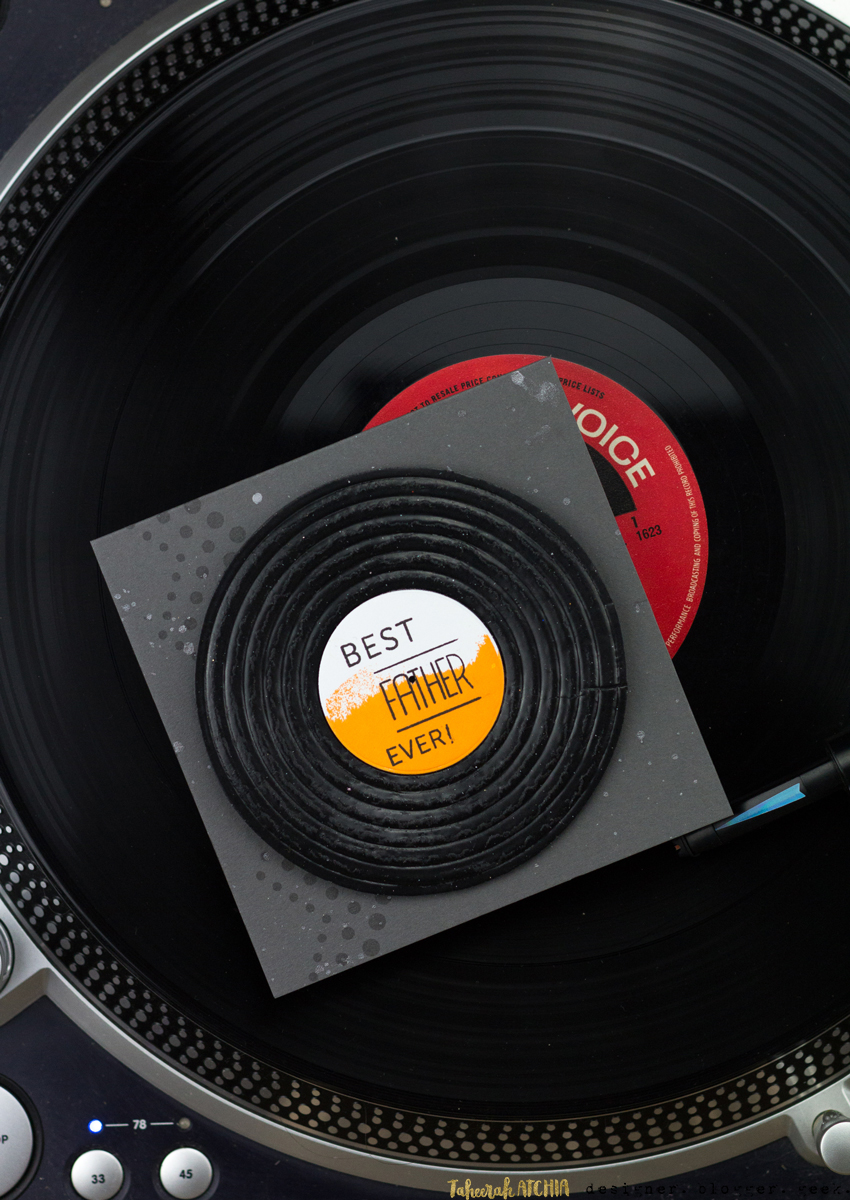 I won't lie – it's a total toss-up between this and the rainbow card for my favourite. I think this one -just- wins.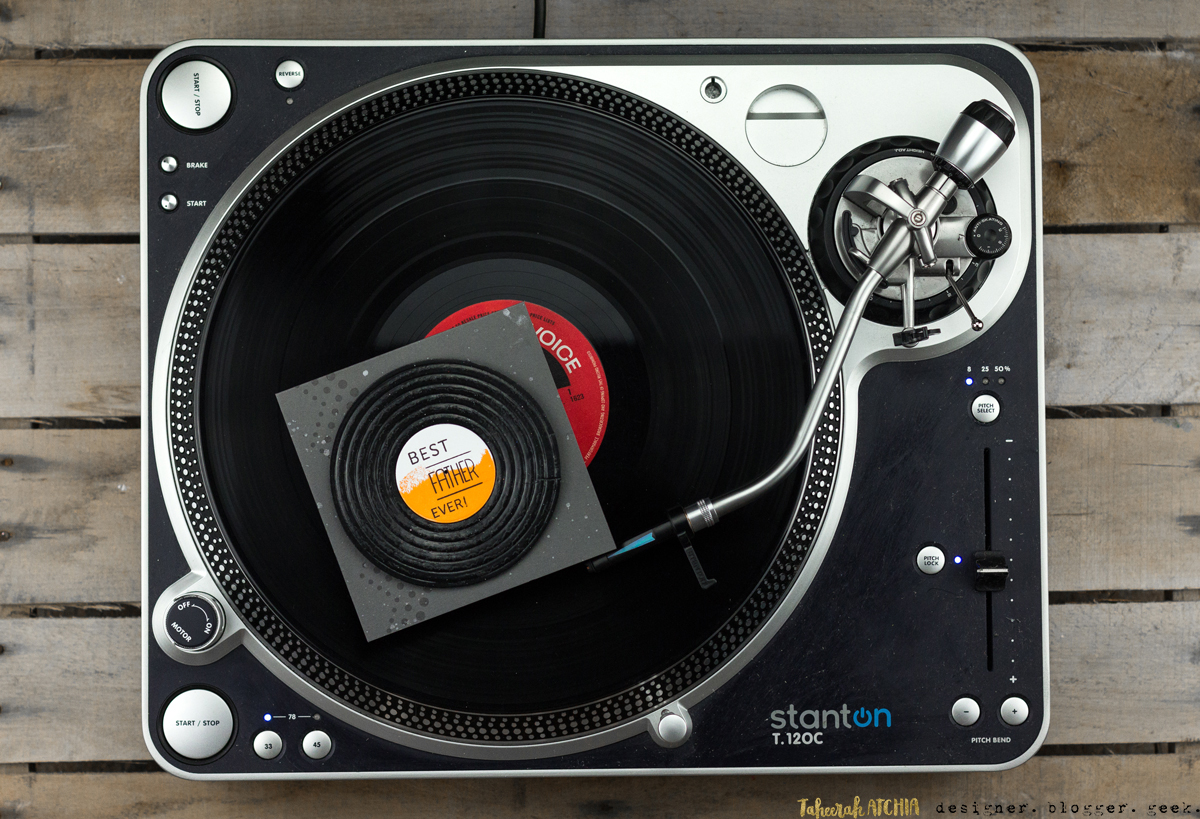 I impressed the rings into some black cardstock then heat embossed with several layers of clear semi-dull embossing powder. The finished look is one that looks very much like vinyl!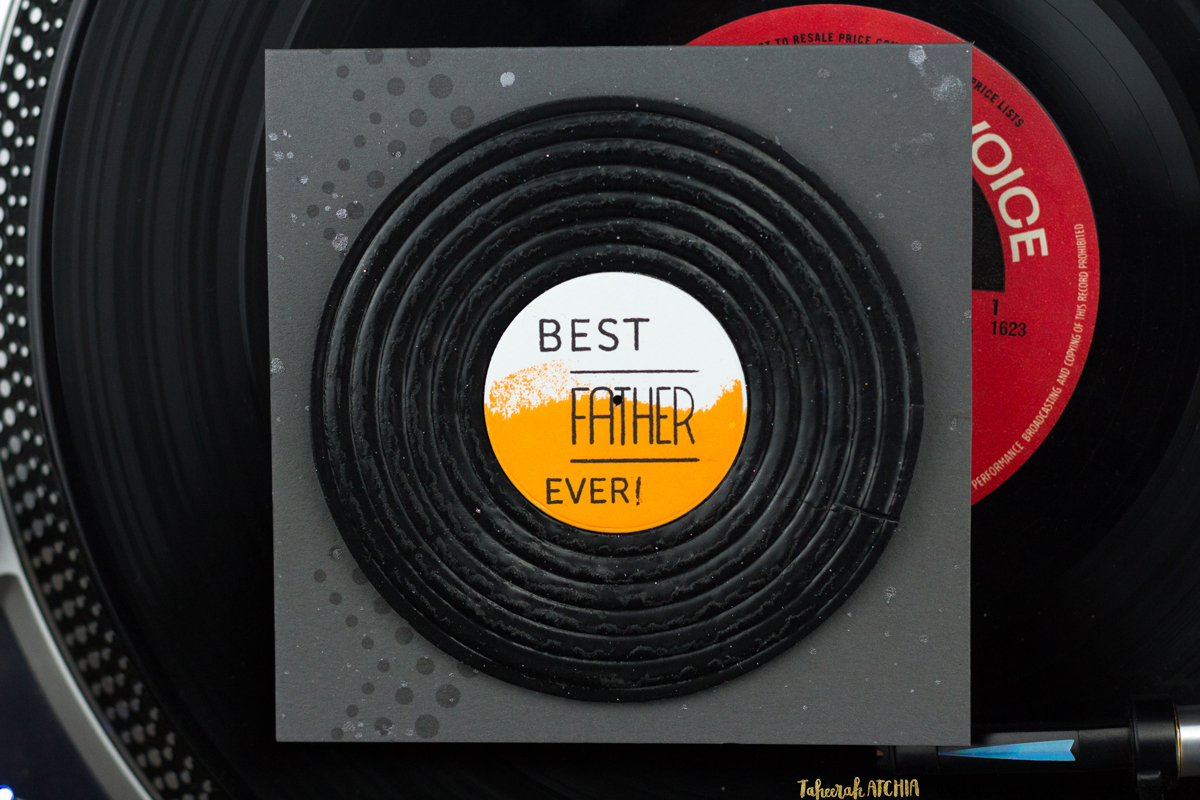 I added a white circle of cardstock to the centre, swiping it with the previously released Tiki Torch ink, before selectively inking some of my stamps to produce this custom sentiment! And I had to poke a hole in the centre, of course, for that authentic vinyl look!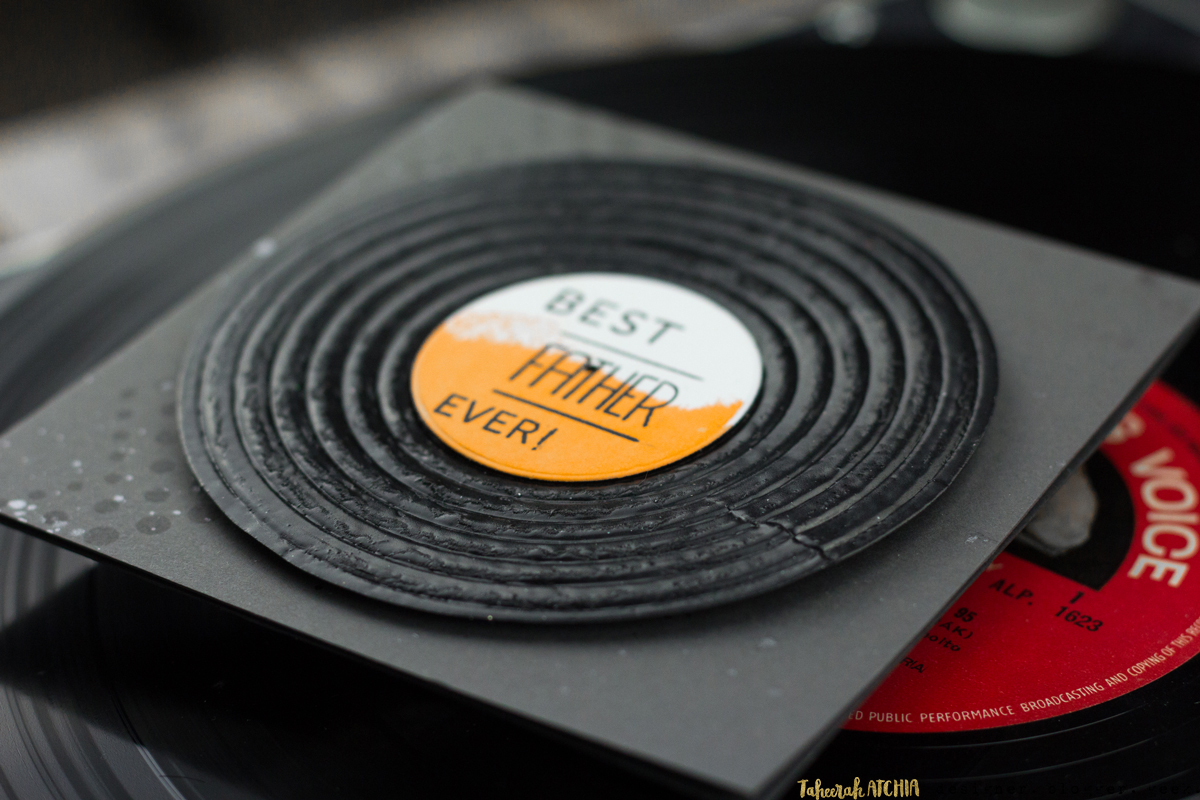 Just look at that texture, eek!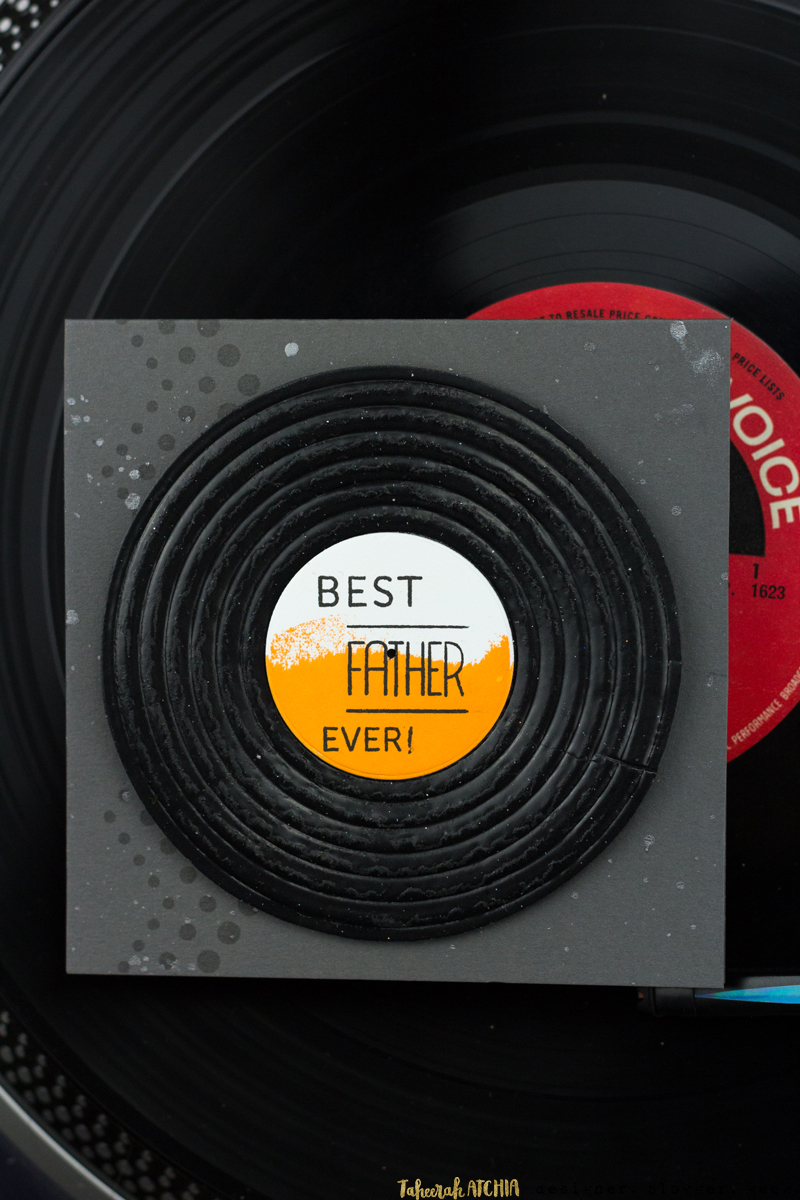 I added some stamped detail to my grey card base using the Yay Stripes! stamp set and some Versamark ink. I flicked on some splatter for interest and then adhered my record to the card using Pinflair Glue Gel for that custom dimension. Totally totally in love with this card. Maybe it is my favourite after all!
I'll have a couple more cards to share with you from this release soon, but in the meantime, let's head on over to the giveaway!
Giveaway!
So, how would you like to grab some goodies from Catherine's store? I bet you'd love to grab some of these inks before they fly off the shelves! We've got an awesome giveaway today if you comment on every hop destination! THREE lucky winners will each win the ENTIRE new ink release, or a gift certificate of equivalent value to the Catherine Pooler store if you've already purchased them! WOW!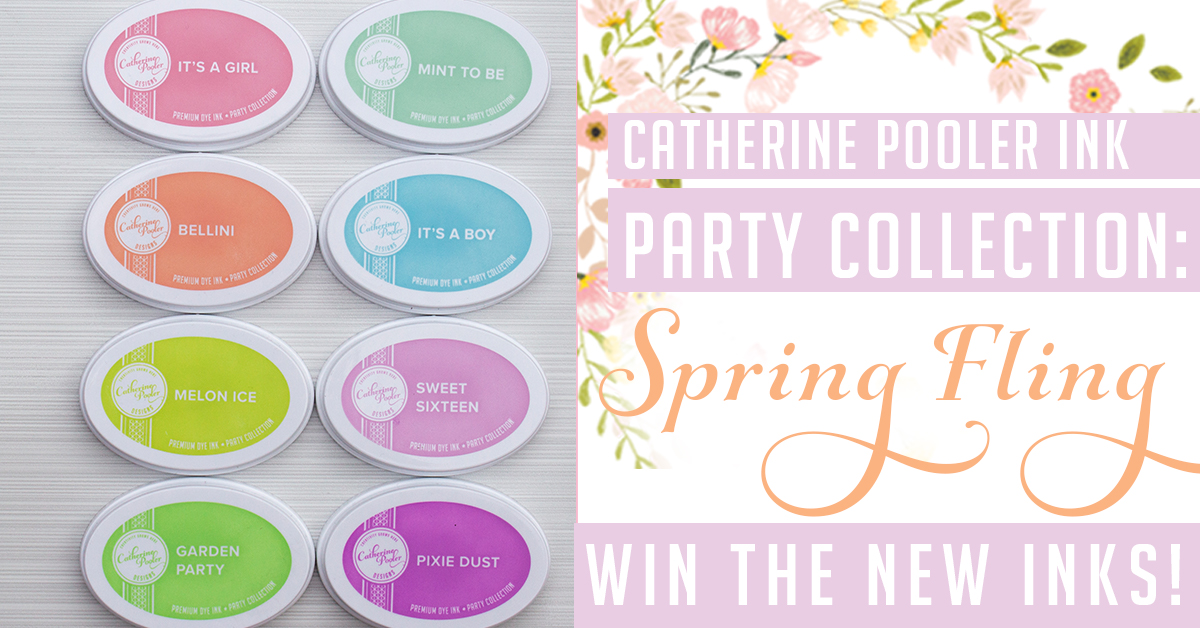 Just look at those colours! Drool!!
Here are your hop destinations – be sure to leave a comment on them all so you're eligible to win!
Catherine Pooler
Lisa Harrolle
Kristie Goulet
Laurel Beard
Maureen Merritt
Taheerah Atchia
Ingrid Blackburn
Chrissie Tobas
Melissa Miller
Deepti Stephens
Lydia Evans
Heather North
You have until Midday EST on Monday 24th April 2017 to leave a comment, and the winners will be announced later that afternoon on Catherine's blog.
One other thing before you leave – if you are already giddy for these inks and other goodies and want to snap them up – you can! The release is available in the Catherine Pooler store right now – and if you are new to shopping at Catherine's store, this link will even give you 15% off your first purchase!!
Thanks for stopping by! Good luck and happy hopping!
Supplies
Happy Happy Happy Springtime Flowers Card
You Did It! Rainbow Circles Card
Best Father Ever! Vinyl Record Card