Hey everyone, happy Thursday!
You might recall me mentioning that I feel like I've ODd on flower designs. It's not that I dislike flower stamps or anything like that – some of them are very beautiful. But after years of seeing florals churned out as a staple by pretty much everyone, and owning a great many of those products, well, they have to be something a bit different to catch my eye.
I also like it when my supplies can do double duty. Floral stamps can be used for background or focal points etc etc… but there's no getting away from the fact that they are still flowers at the end of the day.
Dies on the other hand, if done right, can have multiple uses. I'm not talking about the ones that coordinate to cut a stamped image necessarily, but the ones that can stand alone in their own right give you a lot more possibilities: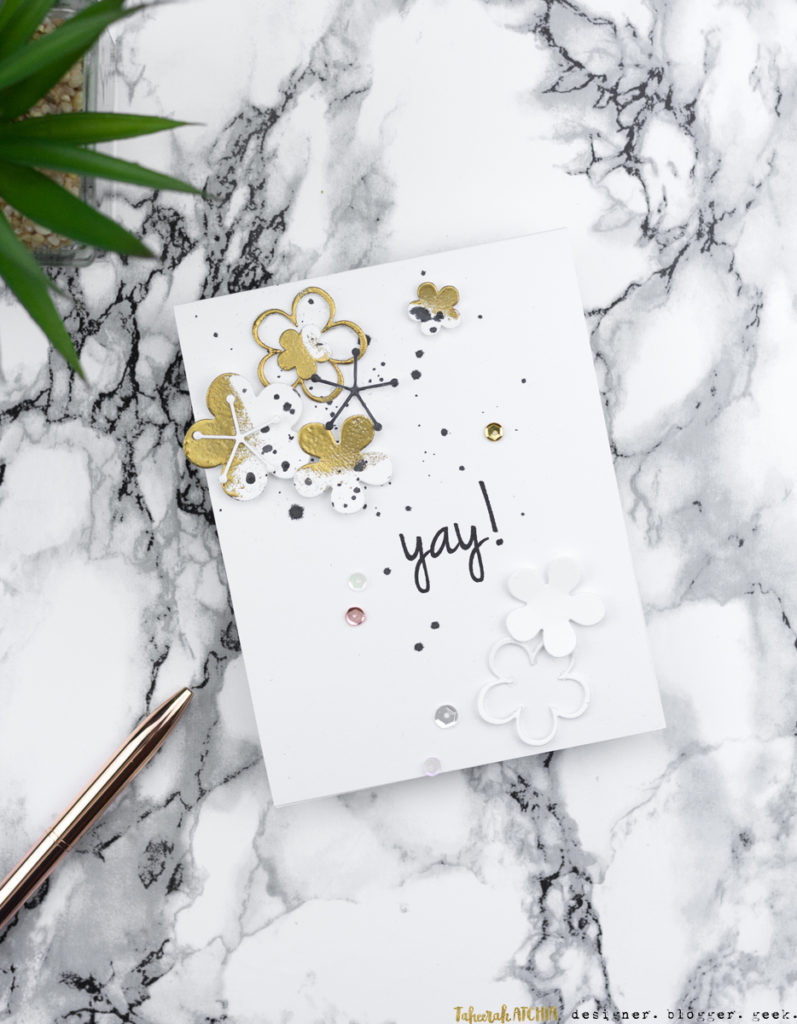 Here's such an example. I know I've still used these die cuts as flowers, but they can take on a more artistic, abstract feel if you put your supplies to good use!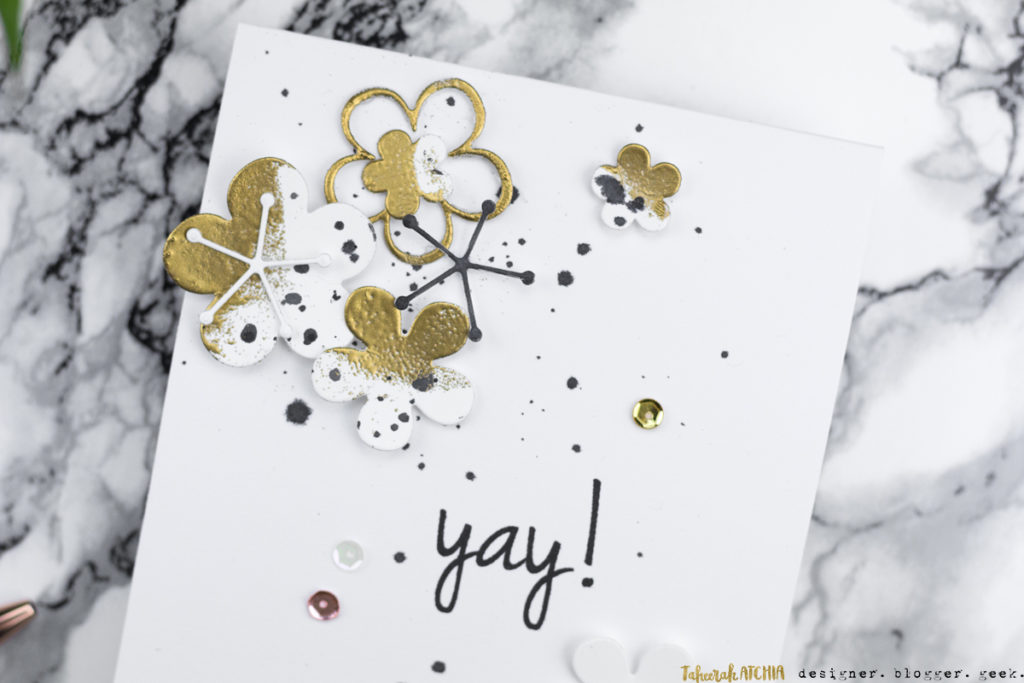 I swiped my die cut pieces with Versamark ink and heat embossed them with gold embossing powder. Some black splatter takes them me from 'nonplussed' to 'now you're talking!'.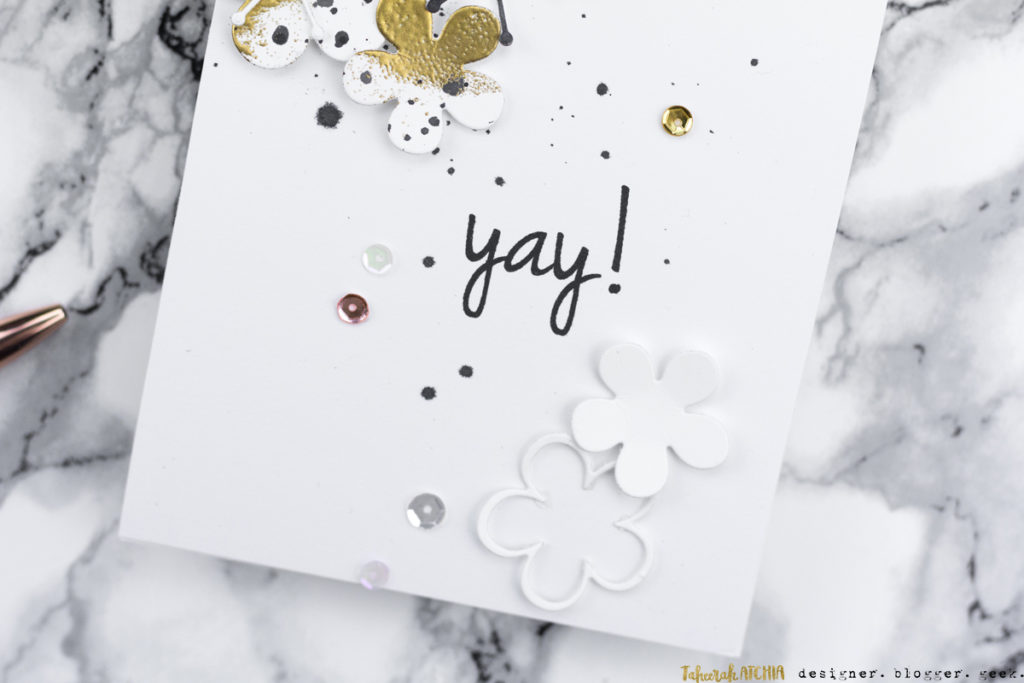 I carried the black splatter through to my card base as well, leading the eye to the sentiment and down the card with scattered blooms and sequins. I can't think of a more delightful trail of breadcrumbs, can you?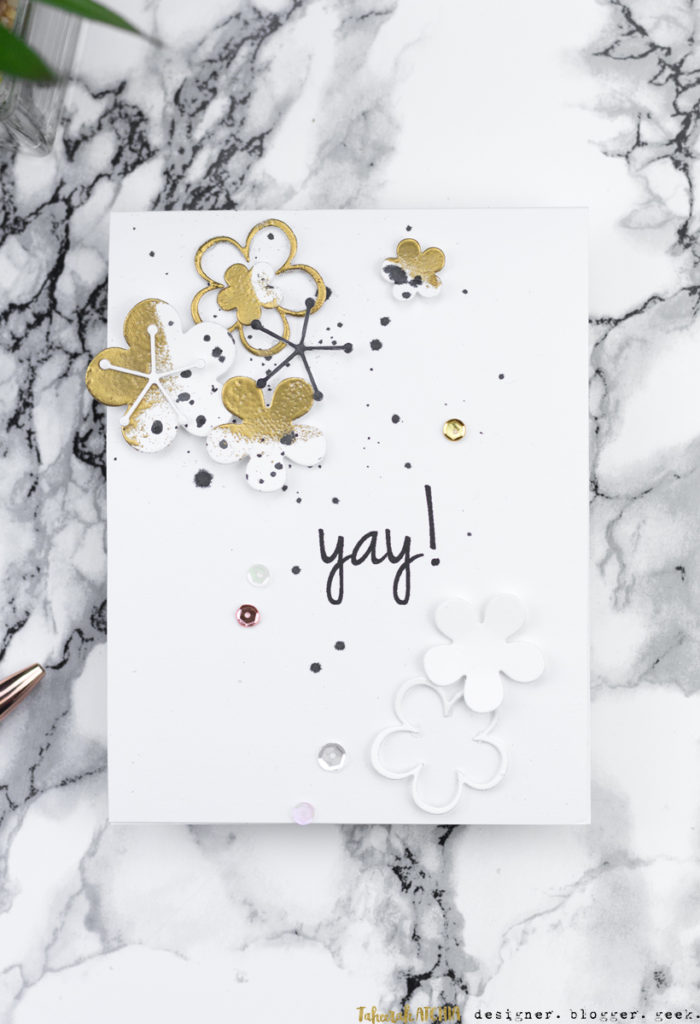 Finally, back to that idea of 'double duty'. The asterisks in this Friendly Flowers die set work perfectly as flower centres, but also can be accents in their own right, or punctuation, or just a little added extra, you know? Even the flower shapes can be something different – a few clever snips and you could turn them into leaves, 3D shapes and more. You just need to think outside the box.
I'm over on the CAS-ual Fridays blog today, showing this baby off. Remember you can save 15% off your goodies there by using my special discount code! Just use the code TAHEERAH2017 when you checkout to  save!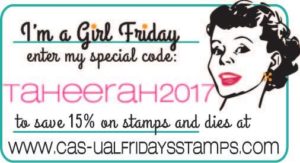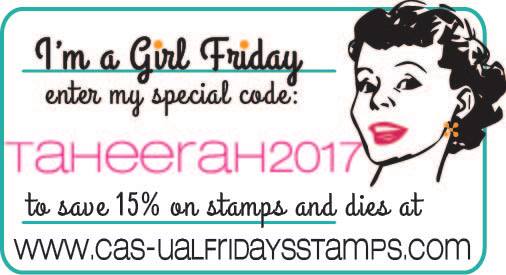 I'll be back again soon with something new! Catch you later!
Supplies