Hey everyone! Happy Saturday!
2017 may go down as the year of dreams for me.
At least, I really hope it does.
Without spilling the beans, I've had a number of things I've wanted to do/achieve/make happen this year. Three months in and a few of them have already happened, and with others on the cards slated to happen too, it's a pretty exciting time. Of course, I'm stupidly ambitious and also a dreamer, so I've set my sights recently on a number of big dreams recently, some of which may never come to pass. But I believe in dreaming, imagining, believing and flying – and you have to try to even have a skin in the game to begin with, so that's what I intend to have.
2017 may be the year of dreams.
One such dream was to work with a number of companies that have been on my 'wishlist'. Some are big. Some are newer. Some I've wanted to work for *for. ever.*. All are amazing.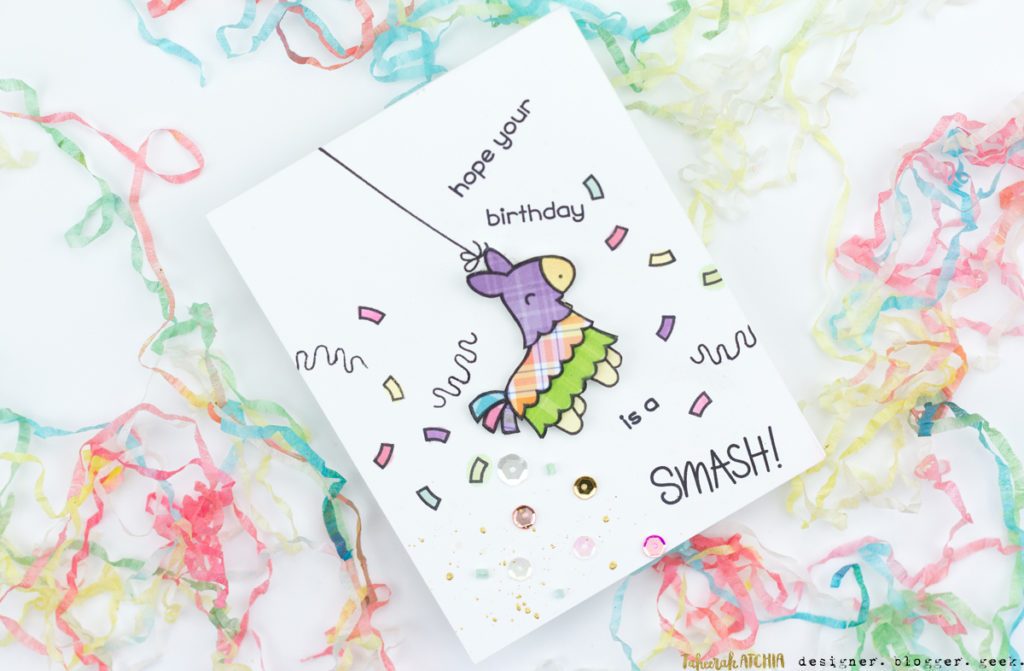 I could sit here and gush forever about the company who designed that adorable little piñata – and the lady behind it. I knew Kelly Marie back when this company was a dream of hers, one that she had just begun to realise. Seven Years later and just look where they are now. It seemed only fitting that I used her Year Seven stamps to celebrate that in style. Plus, just look at the *cute*. Kelly Marie brought 'cute' to the stamping world when there was a gaping hole in the market for it. And now there's cute everything, everywhere. And yet, no other company epitomises cute like hers does.
This card, along with some close-ups and details of how I made it, are over on the Lawn Fawn blog, where I'm Guest Designing today. I'll actually be Guest Designing for them for the next three months, once a month, on the first Saturday of the month. I'm still pinching myself, and having to cover my mouth so that my squeals aren't too loud.
Dream. Come. True. Achievement unlocked. Winning.
I do hope you'll join me over there to check it out! See you there!
Supplies