Hi everyone! Happy Thursday!
What the world needs now, is love, sweet love.
I know you know the words.
This song was is one of my favourite 60s tunes. It harks back to an age where there was a shift in culture, music, politics and more, and the lyrics are definitely timeless and are as relevant now as they were then. We could learn a lot from the 60s, particularly the movement for peace and love.
Today we're showcasing a couple of 60s, flower power themed sets. Flower Power features some awesome, large-scale sentiments in a flowery font – perfect for grabbing your attention and also perfect for colouring. Peace Out continues this theme perfectly, with a large flowery peace sign and a few complimentary images. They definitely speak to my inner 60s child.
Let's get straight to it and see what these babies have to offer: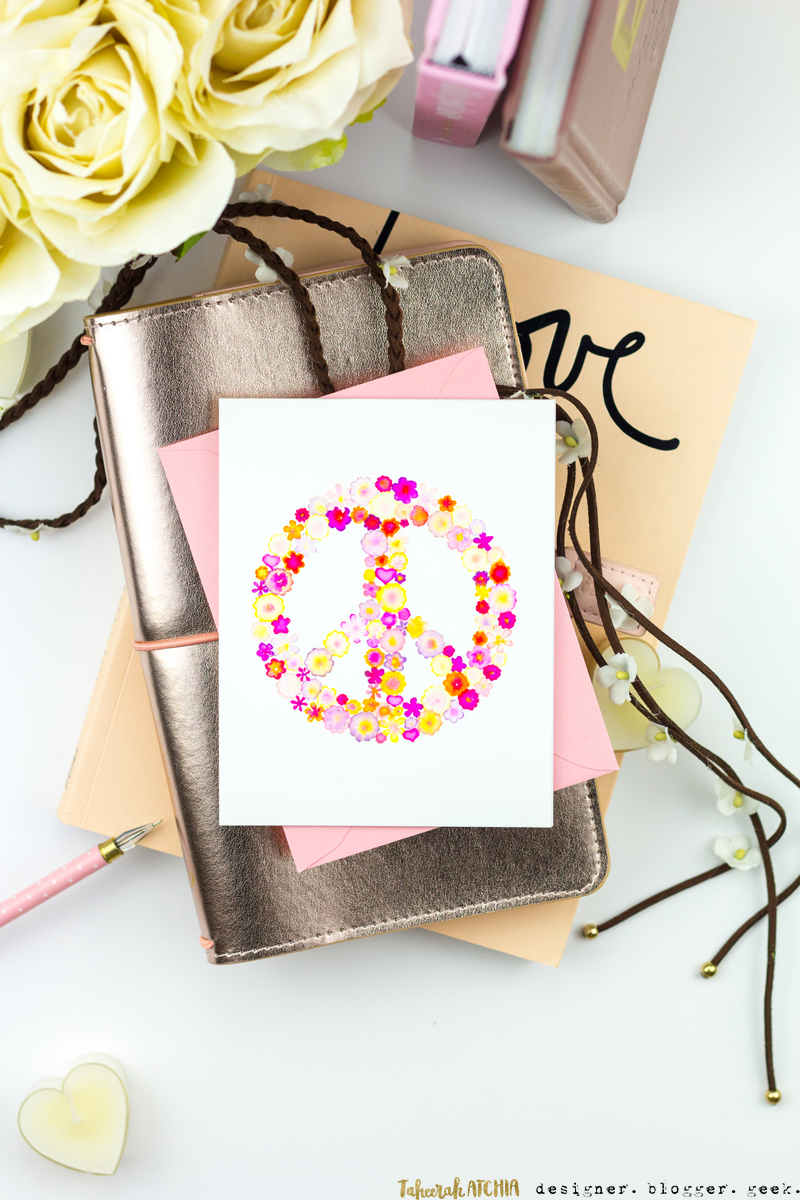 This is definitely my favourite of the two cards! I mean, just look at it!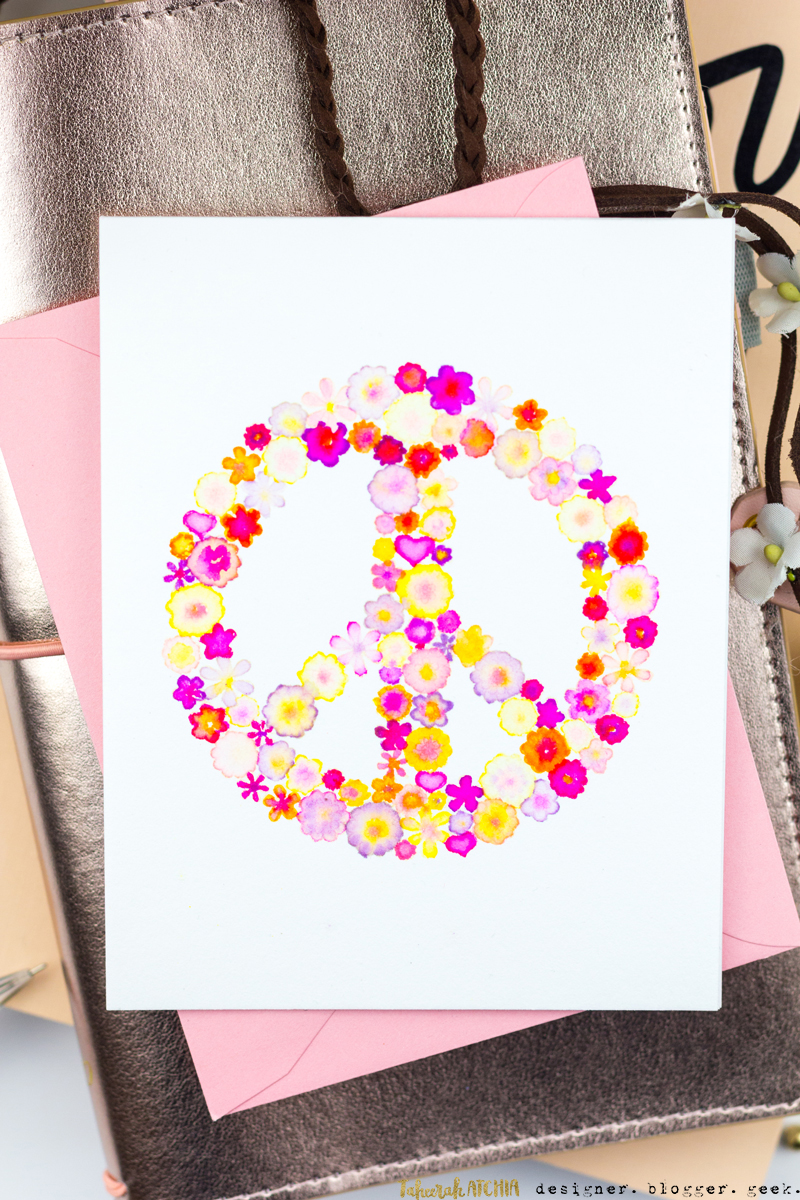 I stamped the peace sign with Antique Linen Distress Ink so that it was a pale impression. I then pulled out my Zig Clean Colour Real Brush Markers and did a lot of no-line watercolouring. It was time consuming for sure, but totally worth it.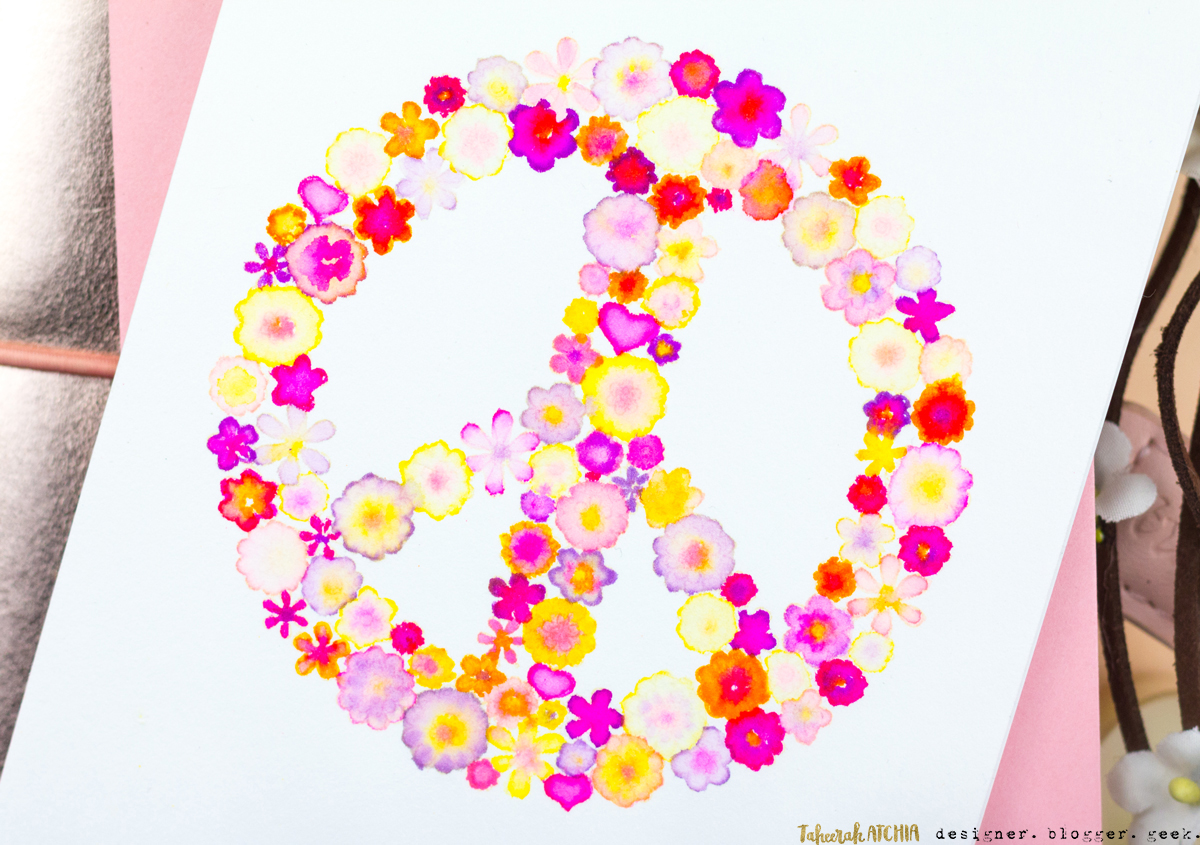 Those vibrant colours. Love.
For my second card I again wanted colours that would remind me of the Sixties: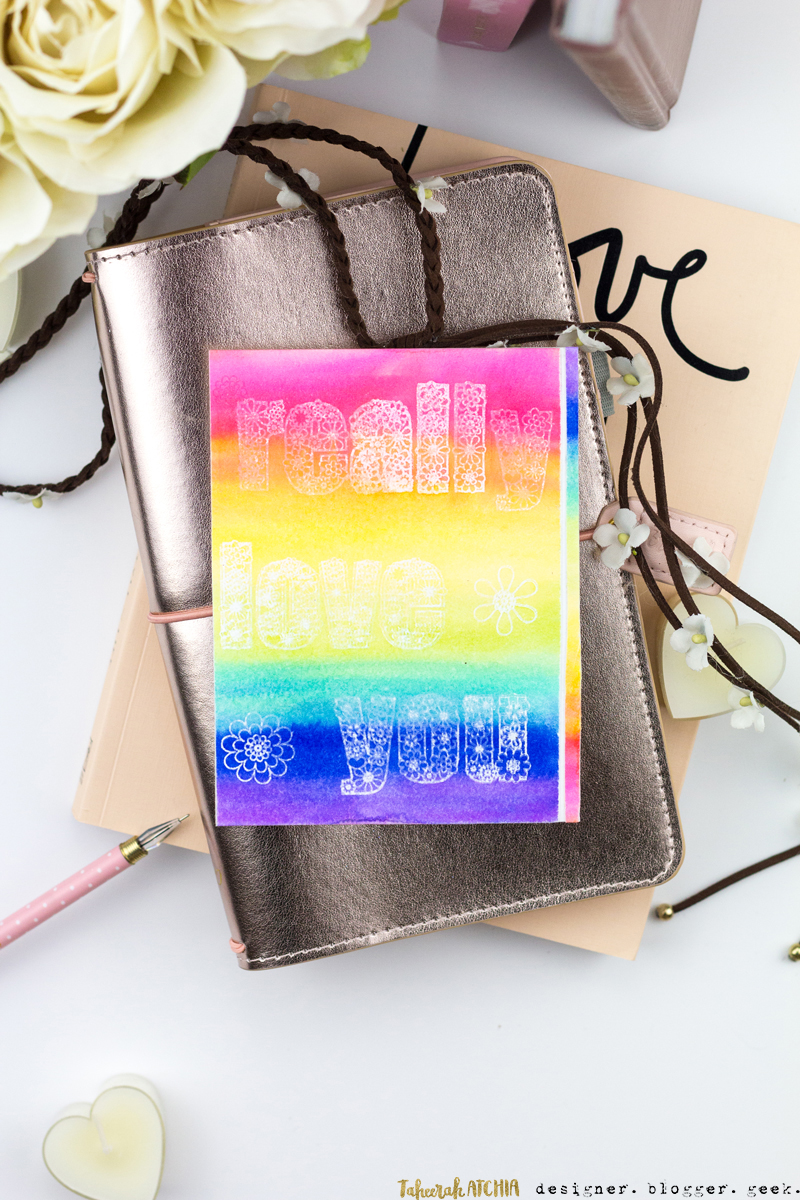 I heat embossed the words with white embossing powder, then watercoloured over them in a rainbow of colour. Far out, man! Okay, that's more an 80s turn of phrase. What can I say? I'm an 80s girl really.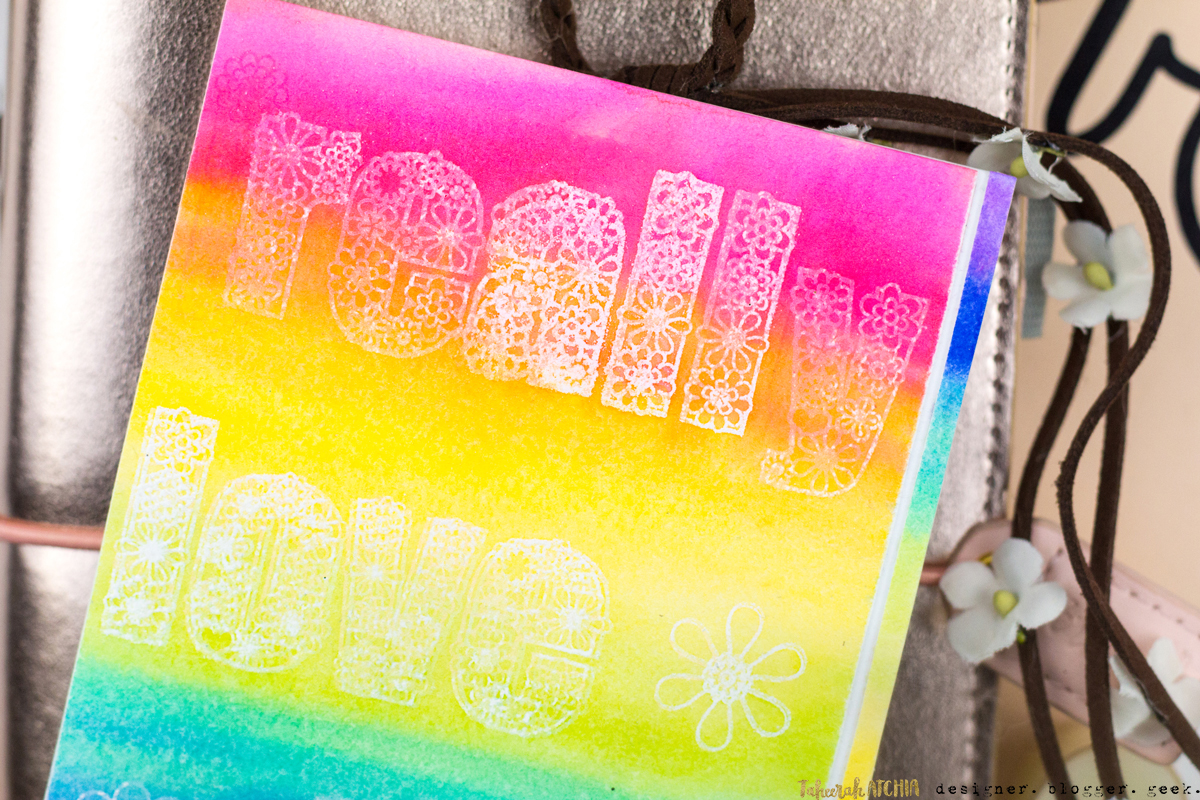 There is no 'Really' word in this stamp set, so I made it by selectively inking letters from the other words! And the letterpress paper I used reacts differently with embossing powder – the powder kinda sinks into the surface, so I ended up with this sort of bleached look. I'd call that a happy accident, wouldn't you?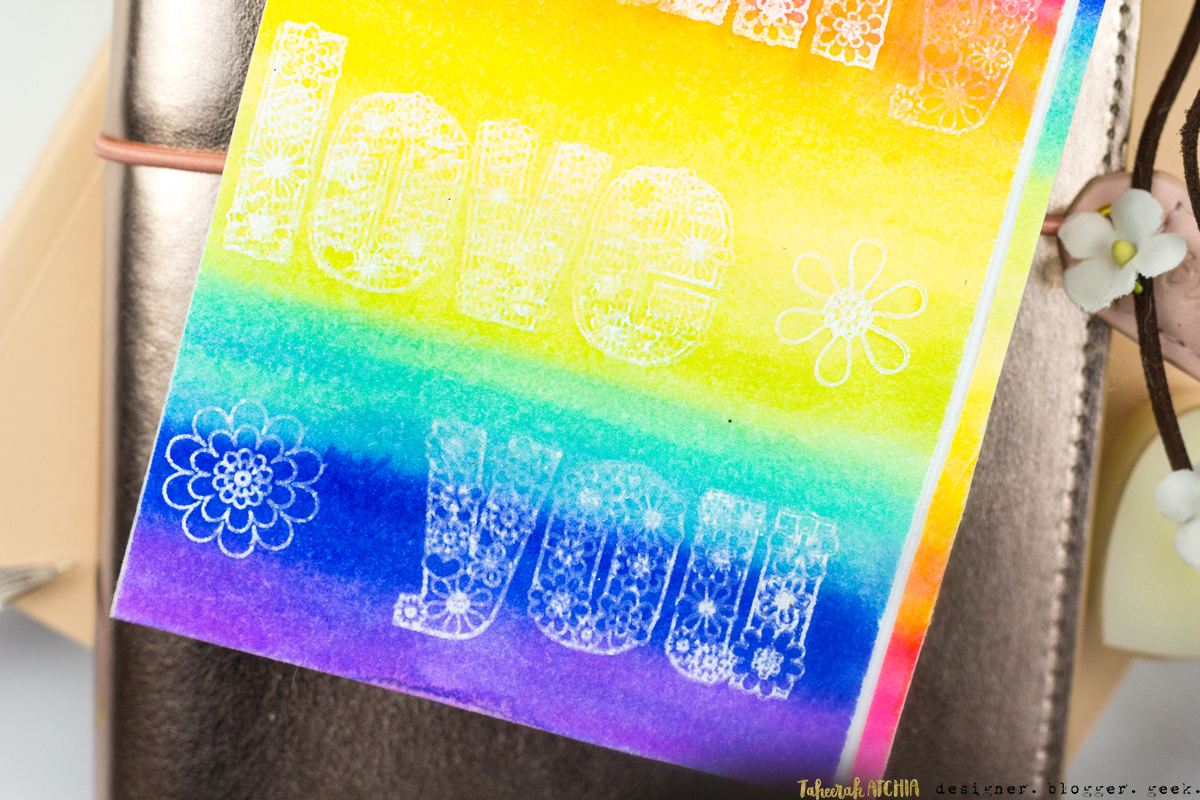 I trimmed off a strip from the end of the panel and mounted it upside down on the card base. I like how it gives an unexpected finishing touch and at the same time doesn't waste any of that spectrum of colour!
I do really encourage you to hop over to the CAS-ual Fridays blog to see more from this release – there are some truly amazing projects to see! And don't forget I have a little incentive for you to use when you order – my own exclusive 15% discount code, for you to use throughout my term, on any items in the CAS-ual Fridays store! No minimum order, no catch – just go load up your cart and have fun!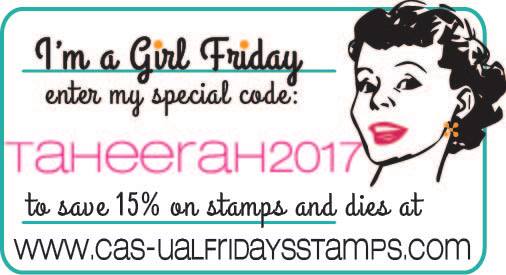 Simply use the code TAHEERAH2017 when placing your order and you're good to go!
I'll be back with more for this release tomorrow so I hope you'll join me then!
Supplies
Flower Power Peace Sign Card
Really Love You Card