Hi everyone and happy Saturday!
I've a very special post today, as part of a very special blog hop for a very special friend!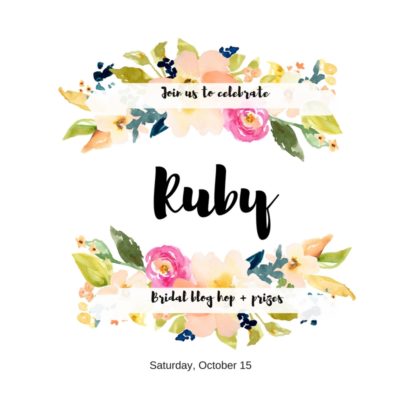 My dear friend Ruby got married on Saturday 24th September to the love of her life, Steve! And so, a whole bunch of us decided to get together and throw Ruby a post-wedding Bridal Shower – papercrafter-style!
Before you hop around, here are a  couple words from the blushing bride:

"Steve and I are very excited about starting a new life together. We look forward to beautiful memories in a new home and lots of adventures overall. We are grateful for the support and love from our family and friends. My heart is full, and I truly feel so blessed and loved. :)"
I am so incredibly happy for you Ruby, and I wish you and Steve a lifetime of happiness together! I hope you can see here just how loved and treasured you are by all of us, and enjoy this little hop we put together for you. 🙂
Here's what I created in honour of Ruby's special day: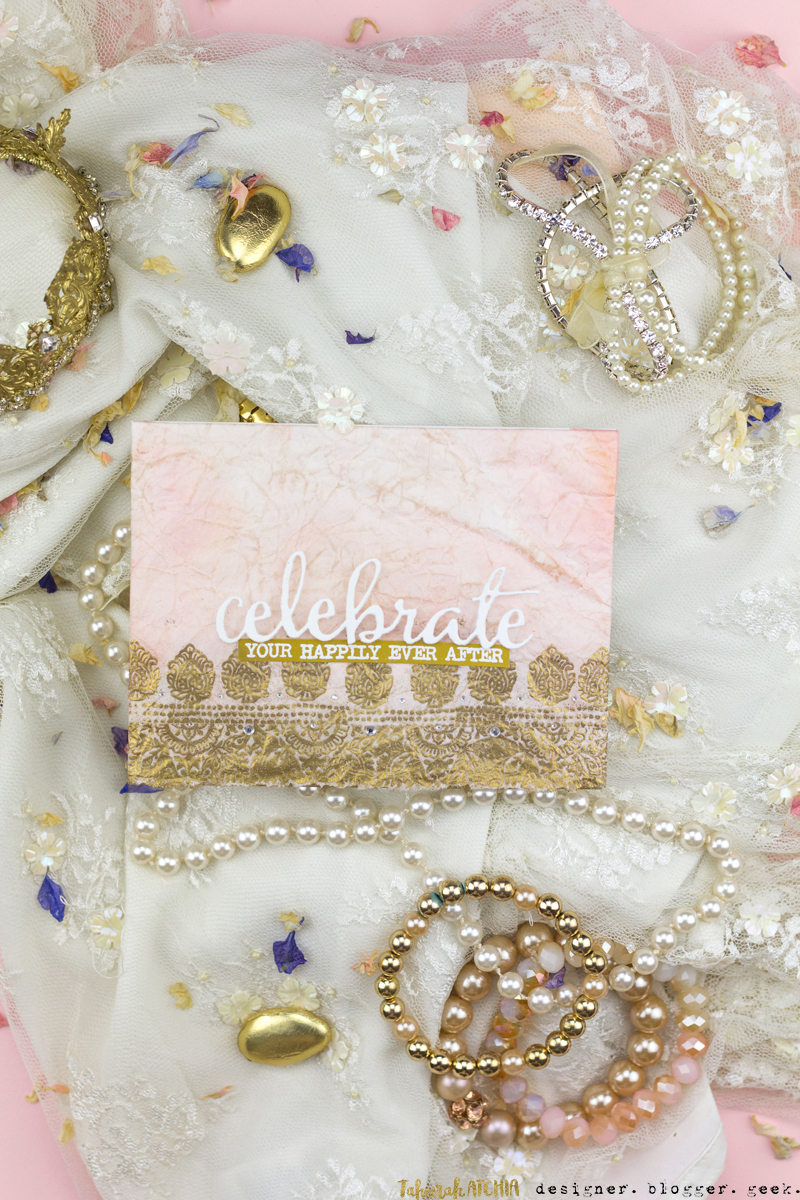 I knew that Ruby dressed traditionally for her nuptials, so I wanted to create something reminiscent of her dress, colours and all!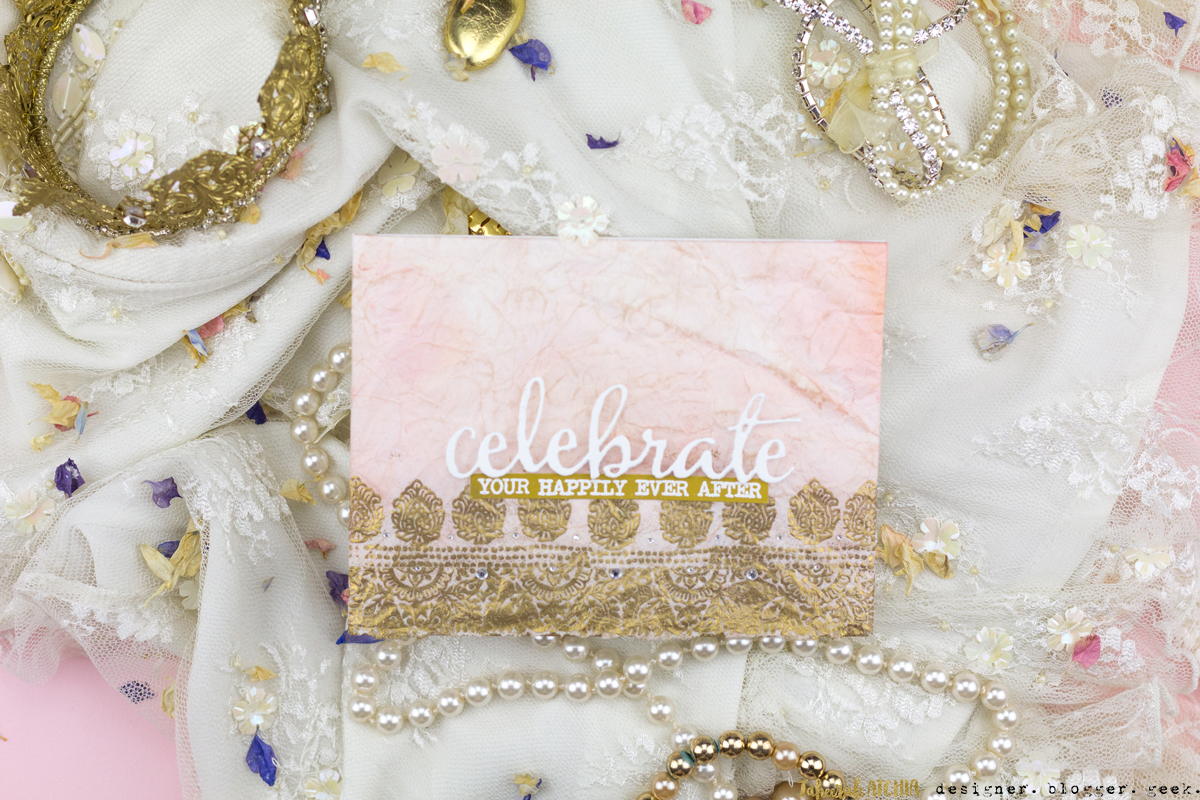 I used a few different techniques for the fabric texture – I started with some white tissue paper, which I dip-dyed into some water which I'd mixed some watercolour into. I dried it with my heat tool and then crumpled it up and then flattened it out again. I did this a couple of times to build up the crumpled texture, then lightly blended some Rose Gold ink over the paper to bring out the texture. It looks stunning in real life!!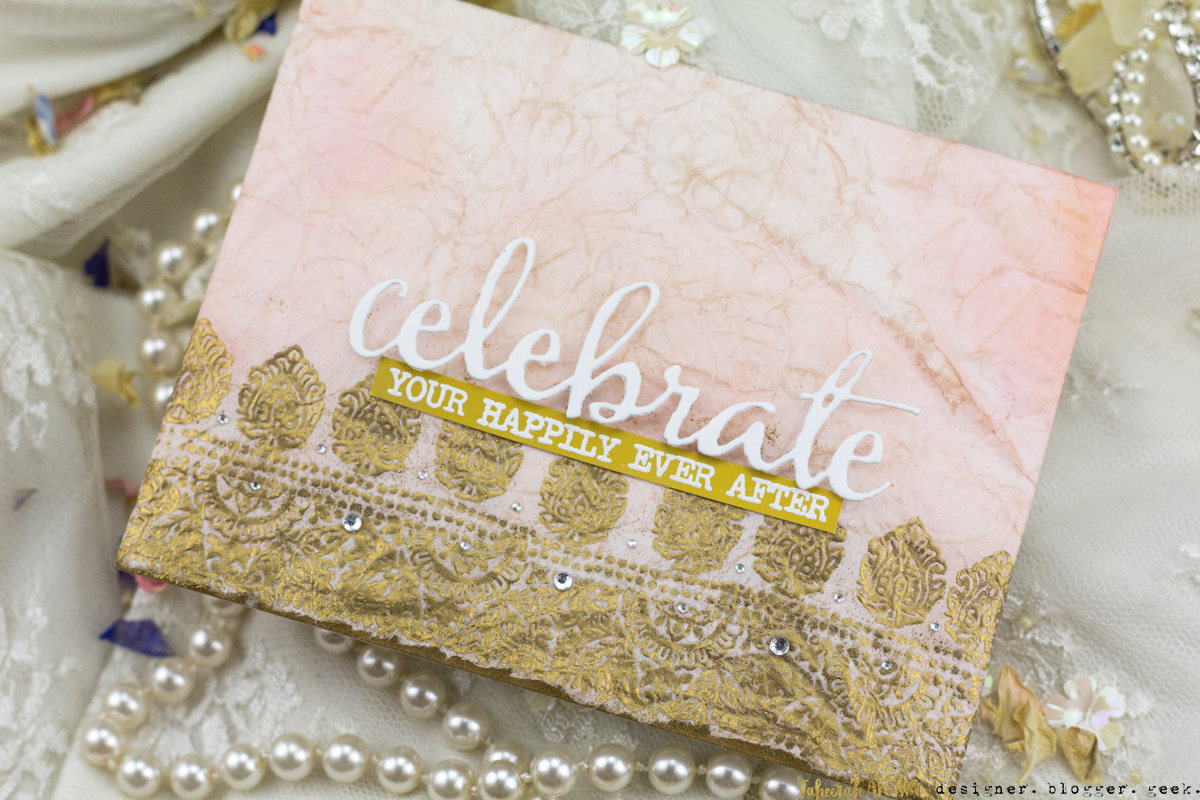 I used the Woodblock Prints stamp set from Papertrey to stamp and heat emboss my pattern. I used a little masking for the square stamp so that I only included the bottom half of it. You'll see that the mandala shapes are not quite evenly spaced – this is deliberate to make it look more like a hand-woven/designed fabric, and to introduce a sense of movement. 🙂
Once everything was heat embossed I tore off the bottom edge and folded the tissue paper over a panel of cardstock. I adhered it only on the reverse of the panel so that the 'fabric' could be loose and flowing! I spritzed the entire thing with some Iridescent Gold mist as well, so this beauty really sparkles! I also added a few elements that I haven't dusted off in about a million years – rhinestones! What can I say? They might not be a trend anymore but they are totally at home here. 🙂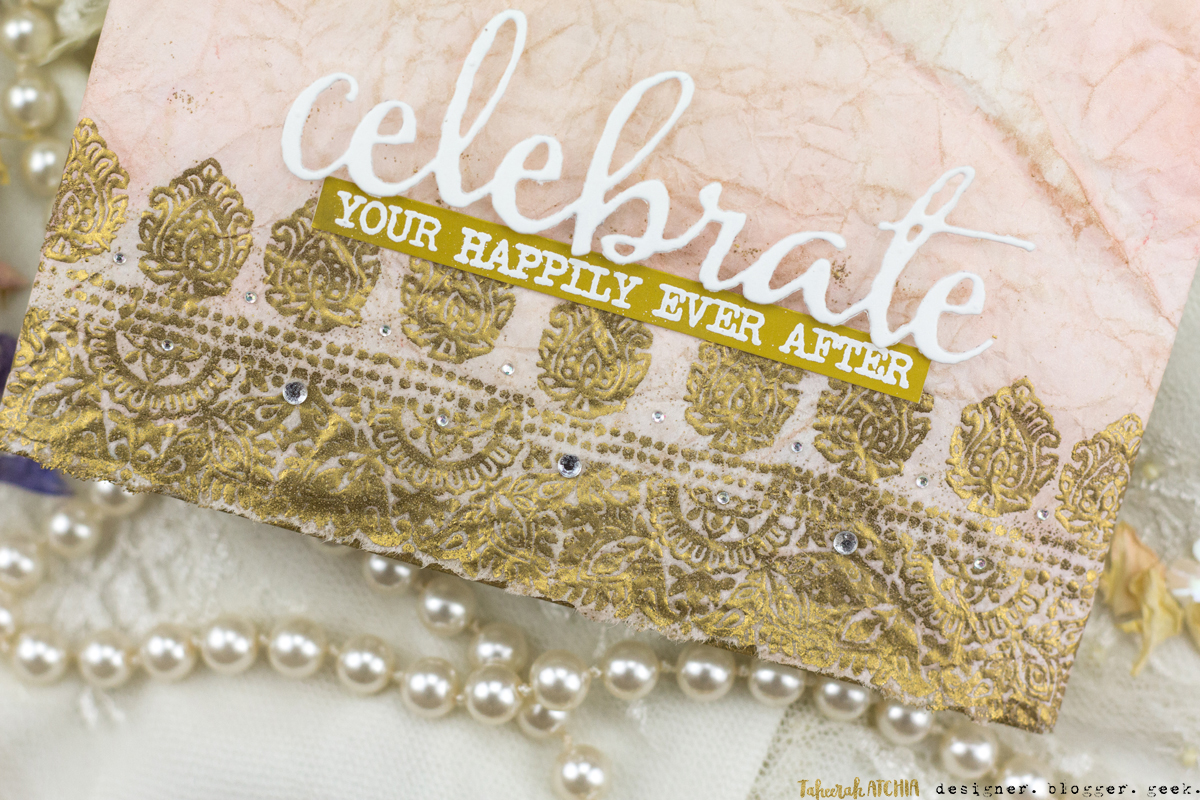 For my sentiments I combined a die from Winnie & Walter, and some sentiments from the Concord & 9th Happy Day set, and then stepped back to admire the finished look!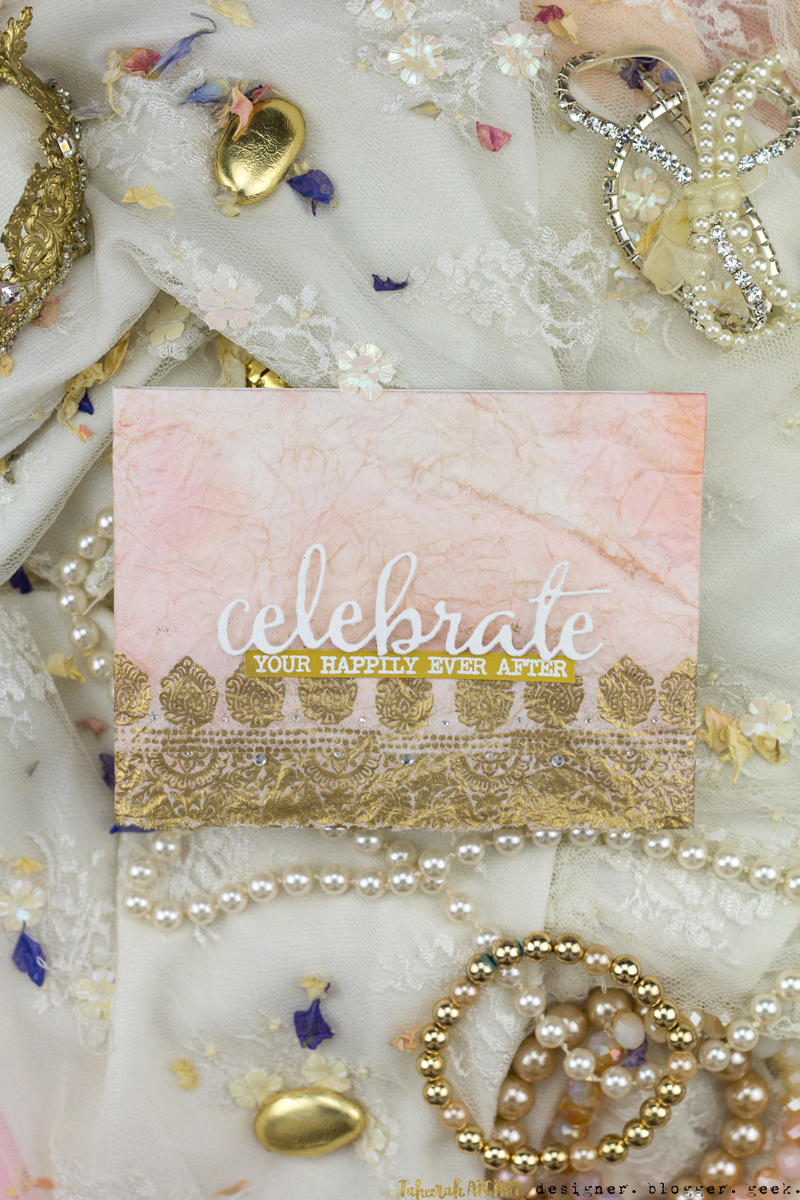 And one more shot, because I can't get enough of this card. 🙂
Giveaway
It wouldn't be a hop without prizes! We're thrilled to be offering a couple of awesome ones up for grabs:

Kennedy Grace Creations $20 Gift Card
Mama Elephant $25 Gift Card
Winnie & Walter $30 Gift Card
Winners will be selected from the comments across all of the blogs in the hop!  Commenting will close on Saturday 22nd October at 11:59pm PST.  Winners will be posted on Amy's blog on Sunday 23rd October.
Here's all your Hop destinations for today!
Amy Tsuruta
Keeway Tsao
Erum Tasneem
Taheerah Atchia
Tracey McNeely
Tiffany Au
Nina-Marie Trapani
Darnell Knauss
Rachel Bergfeld
Thanh Vo
Jessica Frost-Ballas
Jenny Lee Yamasaki
Stephanie Gold
Jessica Martell
Maria Peters
Yuki Yoshioka
Isha Gupta
Mayline Jung
Emily Leiphart
Shay
Miriam Prantner
And just in case you were curious or wanted to send Ruby and Steve some items from their registries, here's where you'll find them:
Thanks everyone for stopping by – and happy hopping!
Supplies