Hey everyone! Happy Thursday!
I'm crazy about bokeh. You might have gathered that from the old way I took my photos of my cards. There is just something so magical and special about bokeh, and I was thrilled to see it become a trend in cardmaking a little while back. Whilst not as prevalent now, it still is a popular technique, and one that makes for magical cards.
As you know, I love coming up with think-outside-the-box ways to use my supplies. So when I saw the new Polka Stencil that is part of the latest Neat & Tangled release, I didn't want to use it in a straight-up polka dot way. The stencil (and its counterpart, the Scoops Stencil) are designed to go with the ever-popular Scandinavian Prints stamp set, and you'll see plenty of great designs created with this in mind from the awesome N&T DT. Me? I decided to combine my love of bokeh, and my love of thinking-outside-the-box, with something I don't love at all… coffee.
Please don't leave.
I absolutely *love* the smell of coffee. But my very sweet tooth just can't cope with the bitter taste. I tried to get on board with coffee culture when it first started popping up. There was one occasion, at university, where I bought a mocha. I sat there for half an hour, trying to drink it. The only way I managed to have even half of it was to add about a million sugars, and to take tiny sips at a time followed by big bites of chocolate. I'm sorry. I tried. But I love that lots of people love coffee.
Anyway, digressions aside, I combined stencil, bokeh, and coffee – and came up with this: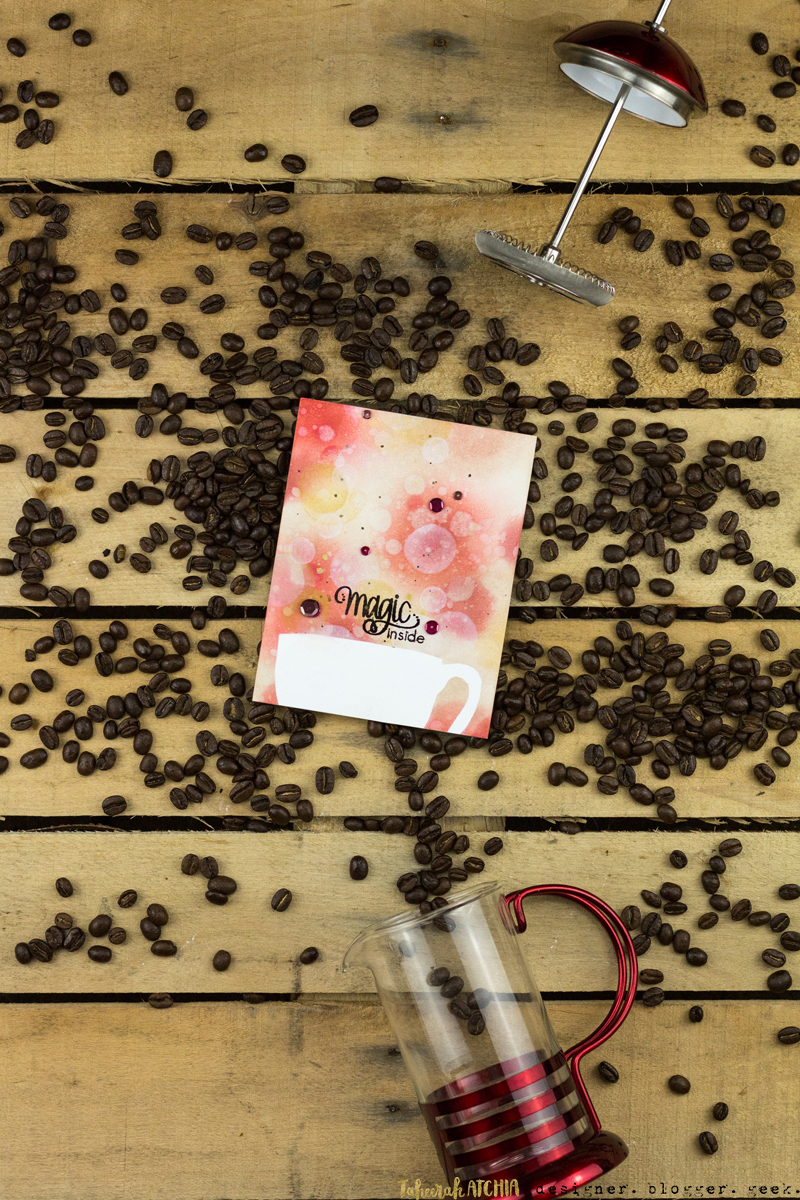 I'm kinda gaga about this one. Not just the card, but the photo too. I mean, it could pass for an ad, right?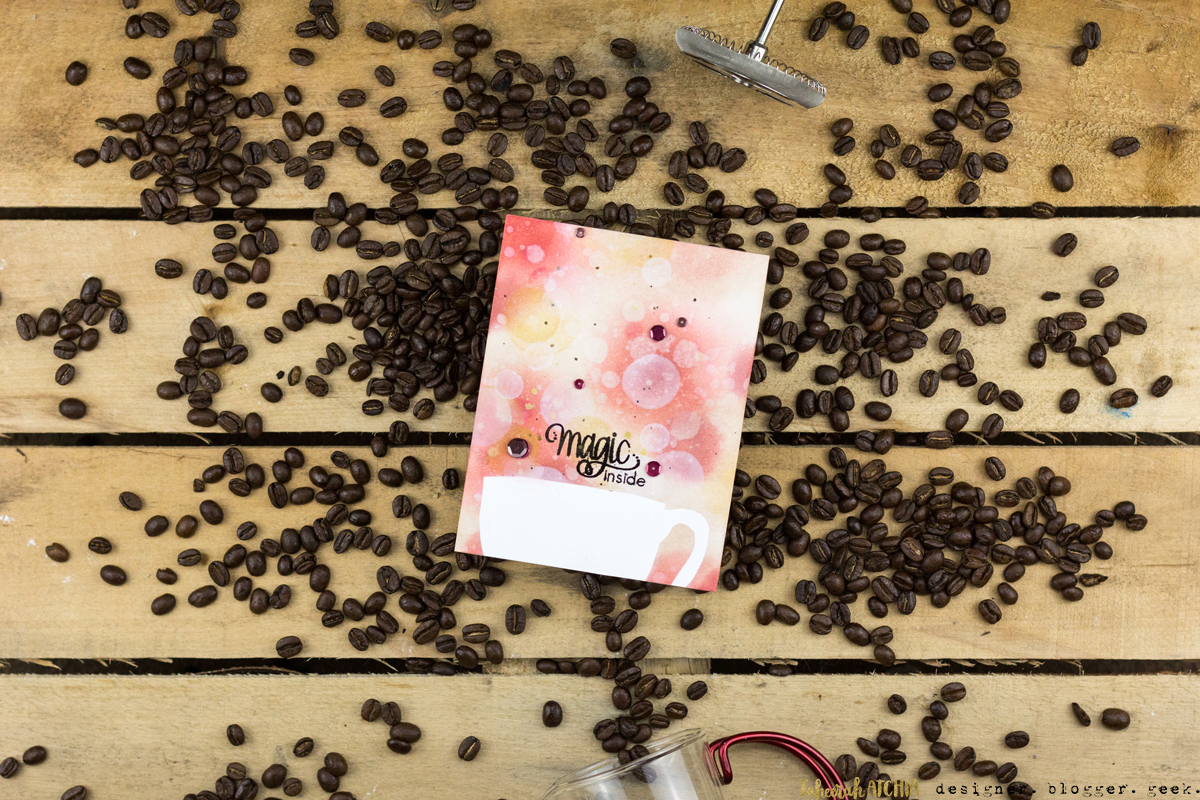 I freehand drew and cut a coffee cup shaped mask and adhered it on top of my card panel. I then blended a few Distress Inks in circular motions over the entire panel, and a lot of my favourite Rose Gold Bangle ink. This makes the panel super-sparkly in real life! I splattered on some drops of water to remove some of the Distress Ink, then blended over again, before dropping some more droplets on and then leaving those bare. I complimented with some mist splatter too (of course), then left it all to dry.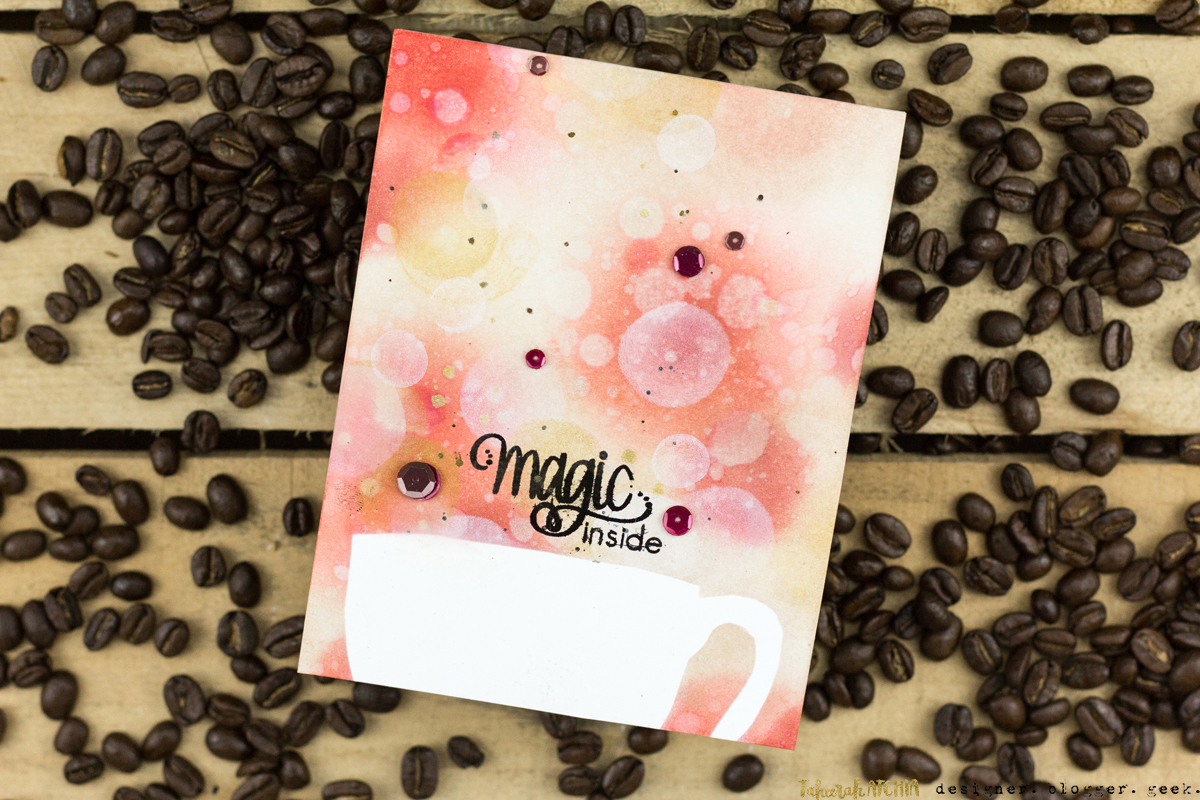 Once everything was dry, I used some of the large polka dots of my stencil to add some white and gold bokeh dots! The effect is incredible and looks so much like the effect I was after! I added some stamped dots using the smaller of the stamps from Scandinavian Prints so that I didn't just have big dots, then admired the finished look once I'd peeled off my mask.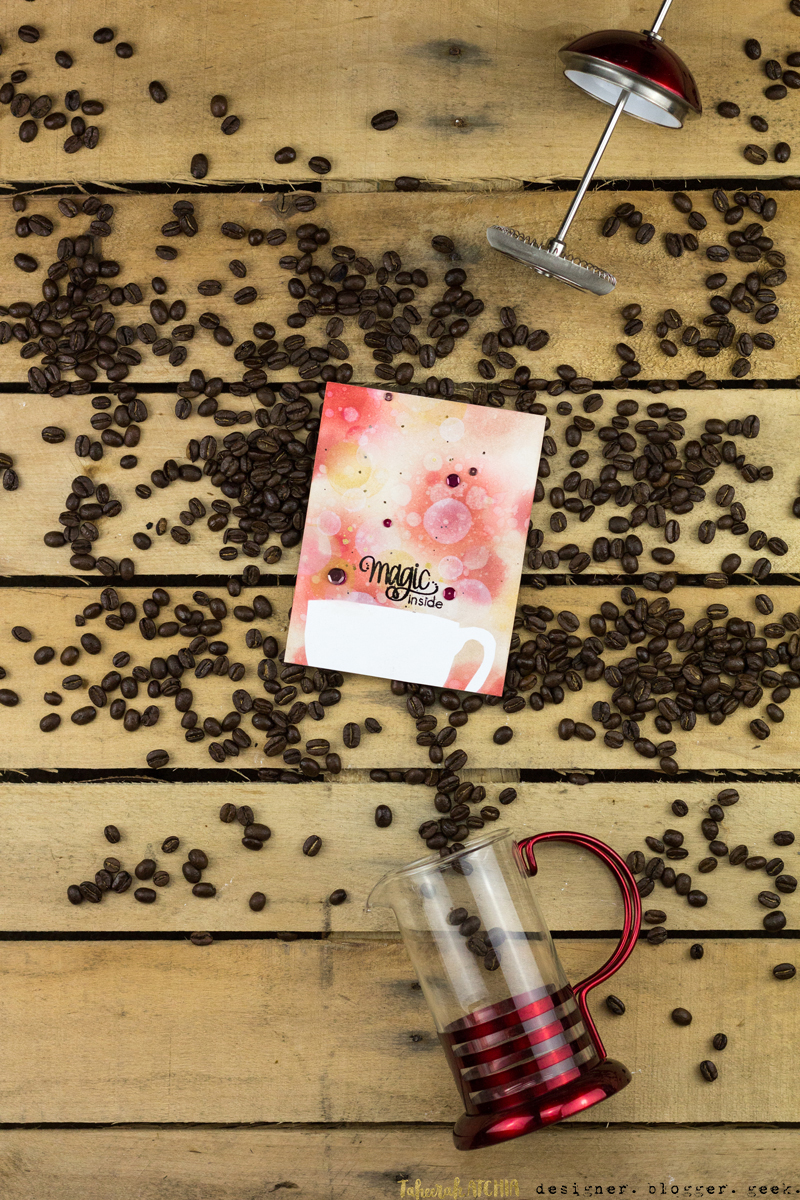 There was only one sentiment I could think of that would be perfect for this card, and it comes from the Santa's Tags set. Just because I don't think there's magic inside that drink, doesn't mean I don't acknowledge that there is for a lot of people! A few sequins from some new mixes finished things off nicely too!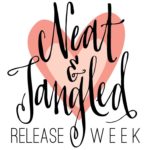 I do strongly encourage you to visit the Neat & Tangled Blog to see what the rest of the DT has created and to hop along and leave them some love! There are prizes in it for you!
Tomorrow is Release Day so I hope you'll be filling your basket with a lot of goodies! What's on your shopping list?
Supplies