Hey everyone!
Happy Monday! I know, I know, Mondays are tough. We all need a little tonic to help us get through the day. Luckily there's a new challenge in town to help us do just that – the Cure For The Monday Blues Challenge!!
This is a challenge which I've created myself, yay me! Every Monday I will bring you a photo inspiration challenge, with images that focus on lifting us out of those Monday doldrums and all inspired to create!! I'll be asking you to play along as well and linking up your creations! At the end of each week I'll pick a Top 3 who'll be my Cures For The Monday Blues and receive a special badge to add to your blog!!
This challenge is in its fourteenth week now – over 3 months old!! Wow! Thank you to everyone who has given it love and support and helped it to grow!

In case you missed this previous post, please read on for some of the recent changes made to the Challenge – including info on how to be in with a chance of becoming a Guest Designer!
Right then. Back to business, lol!
Before we get to this week's challenge I want to once again thank all of you that submitted entries for the last challenge. I am always especially happy to see some new faces to the Challenge, as well as 'regulars'! They were all truly beautiful entries and you did not make my life easy when choosing the winners!! I really wanted to pick you all!! Here are my Top 3 Cures For The Monday Blues:
Winners please contact me to be sent your challenge winner's badges!
Yet again I had some absolute stunners for entries, you really have no idea how tough it is picking out only a Top 3! All of you have really been putting in some amazing designs and it makes me so happy when you play, so please keep playing along!
So are you excited to get this week's challenge under way?! Let's see what's up for this week's inspiration: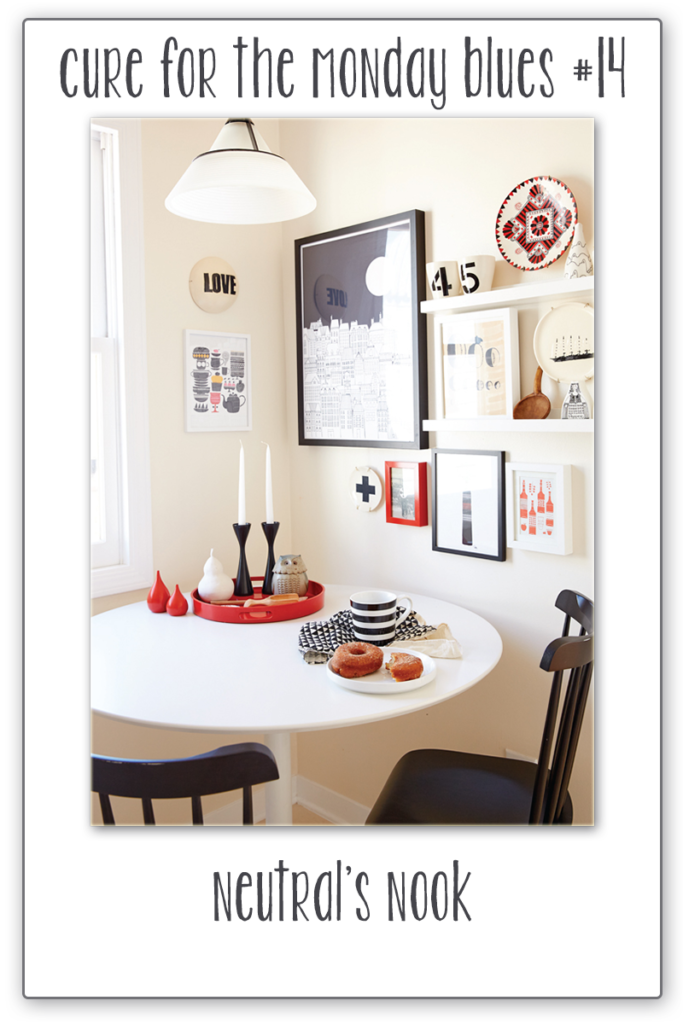 Regulars of this Challenge will know how I love my bright colours and modern mix of patterns – so I thought I'd keep you on your toes and mix it up by giving you something a bit more neutral this week, lol! This still has so many points of interest though, and is chock full of patterns and still manages a splash of colour too!
Here's my take on the inspiration: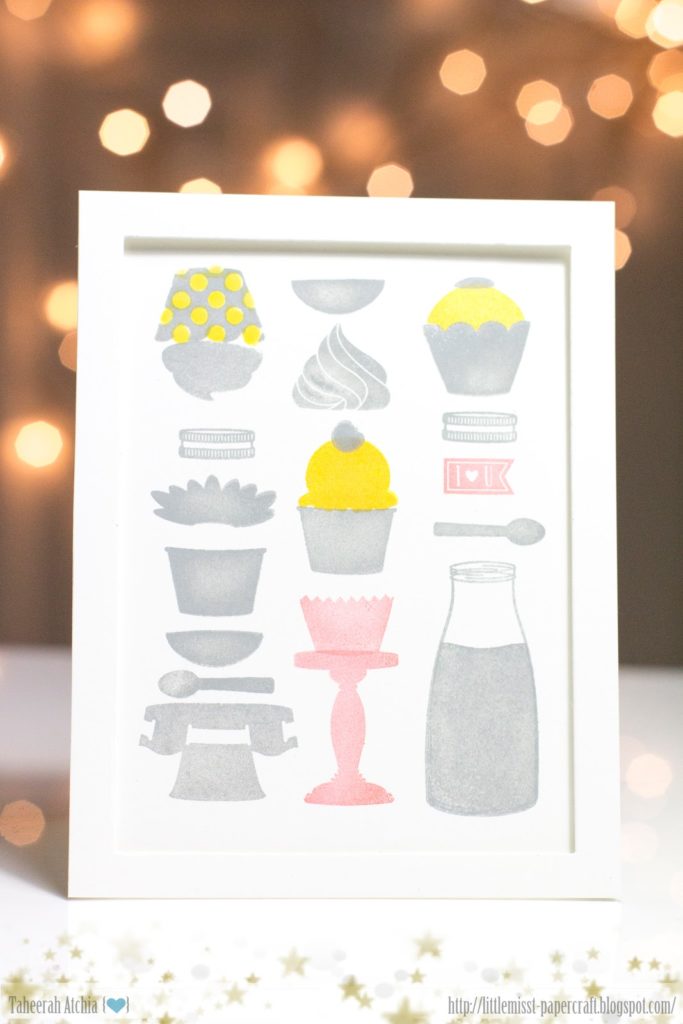 I so love how this turned out!! Always a stickler for detail, I decided to focus on the framed print on the wall with the hints of cookery and little pops of colour! I couldn't be more thrilled with my interpretation!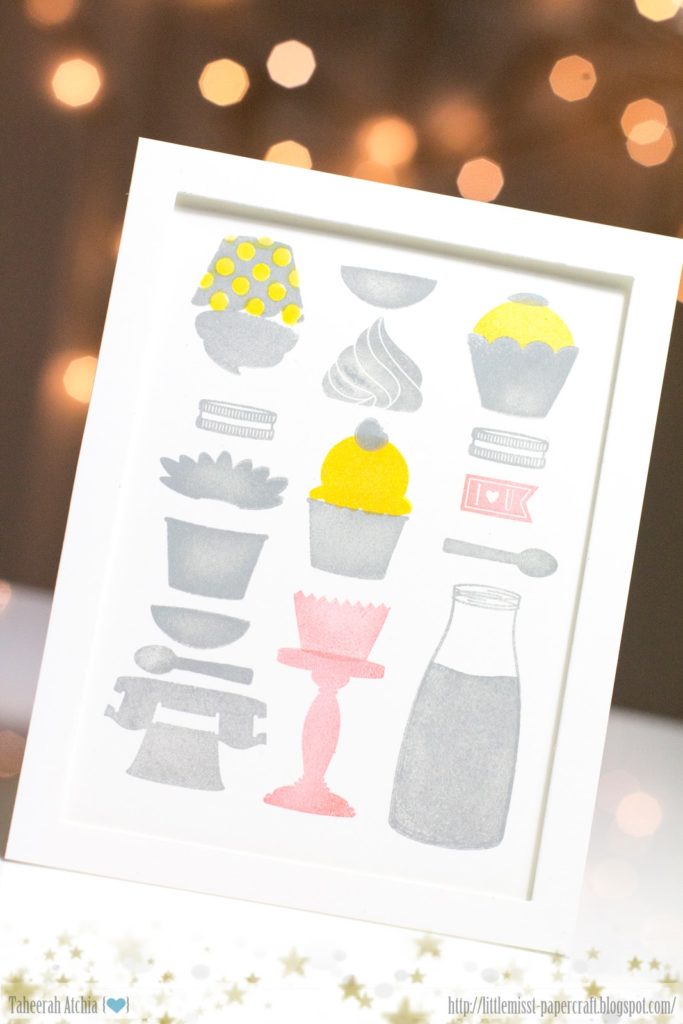 I started with a Pure White card base and stamped it full of images from the WPlus9 Sweet & Treats, Sweet & Treats Fillers and Milk & Cookies sets. These were all inked for the first time, can you believe it?!
I used Mama Elephant ink in Smoke for the majority of my stamping, adding pops of Mama Elephant ink in Orangeade to some of the images. I know these look kinda yellow and that's because the first batch of this ink colour didn't stay true to the orange colour. They've since fixed that but I love using this ink anyway for a warmer yellow than Sunshine. 🙂 I used pops of A:Muse ink in Burano to add the coral look for the sentiment flag and the column/cupcake stand. I *love* how this turned out!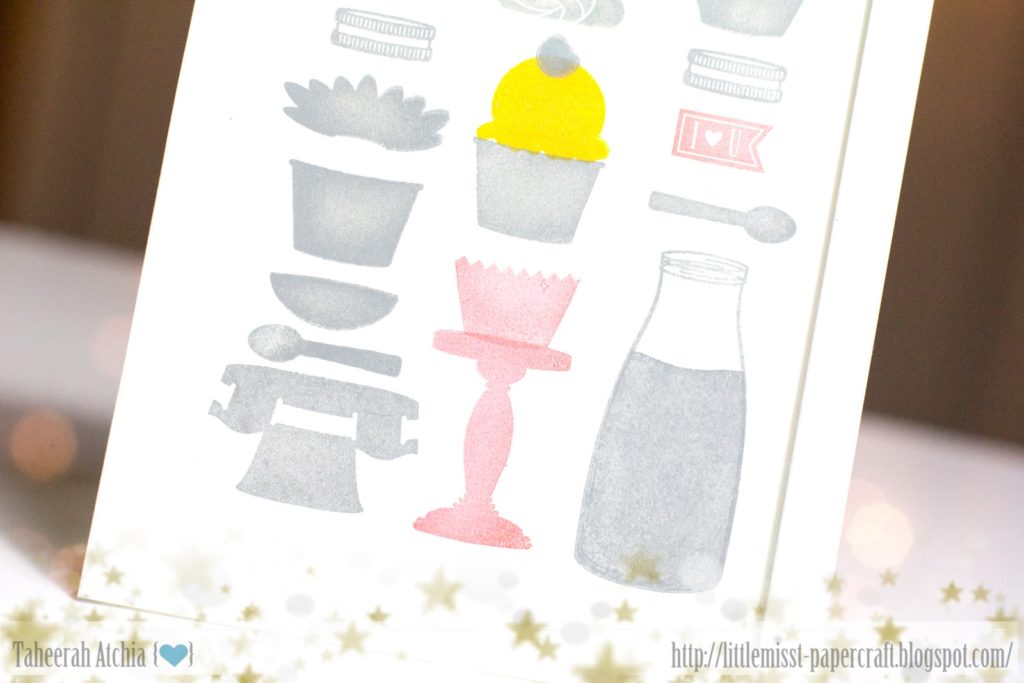 Finally, to give the look of the frame itself, I trimmed a panel of cardstock to the same size as the card front then used the Femme Frames die to cut the negative space. I adhered the frame using Pinflair Glue Gel and I was all done!
So now it's your turn to cure the Monday Blues! Here's how to participate in the challenge!
The Rules
Create a brand new project using the photo inspiration
Post on your blog or to an online photo album. Ensure you link up to this challenge post in your blog post and include the inspiration photo
If it is not obvious how the image inspired you then please explain your process in your post
Link up your creations to this post using the Inlinkz below. Please use the link to your actual post rather than the link to your blog
You can enter as many times as you like!
The deadline for linking submissions is Sunday 27th April at 11pm BST/6pm EST
So are you ready to play?! I can't wait to see your creations!!
PS: if you would like to check out all of the previous challenge images you can see them here on my Pinterest board!
I'll be back again soon with something new! Thanks so much for stopping by – I would love it if you left some love before you went on your way! And I would love some feedback on the challenge itself!!
document.write(");