Evening all!
This is the first of my very rapid-fire posts today. I missed World Card Making Day on Saturday, but I couldn't miss the fabulous challenges on Nichole Heady's blog in honour of World Card Making Day! Nichole took the name literally and posted 4 amazing challenges, each to create a card based on different countries/themes across the world! How inspired is that?!
The first of these challenges was Japan. Here is the challenge from Nichole's blog: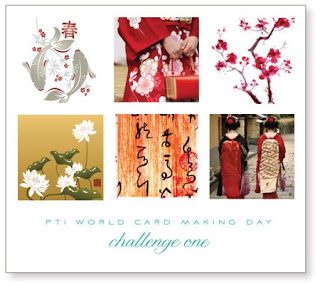 "I've always found the Japanese culture fascinating. From the unique style of artistic expression and it's meaning & history behind each traditional routine that they incorporate into their lives on a daily basis. Your challenge is to create a project that is inspired by either the colors, the design or the themes that are prominent in the Japanese culture."
I decided to take my inspiration from various cherry blossom artworks from Japan and came up with this: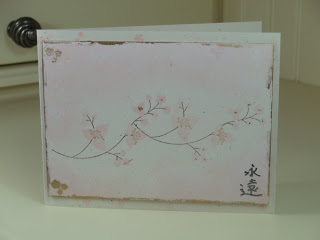 I love the colours and gentle feel of this card so much! I feel more relaxed just looking at it!
The images are from Floral Fusion stamped on Rustic White cardstock, with the branches stamped in Dark Chocolate and the blossoms in Sweet Blush and Vintage Cream. The centres of the blossoms were stamped in Brilliance Galaxy Gold, with other accents added with a Bronze Sparkle Sakura Stardust Pen, and with a Krylon 24K Gold Leaf Pen.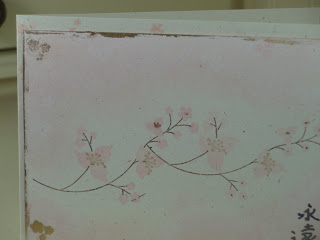 The panel was then sponged gently with Sweet Blush and with SU! Blushing Blossom, before tapping Pallette New Canvas over the top to lighten the colours. I then overstamped a few flowers using Blushing Blossom, Snow White and my Krylon pen. I also edged the panel with the Krylon pen too. The symbols were drawn by hand using Sakura Bronze Sparkle and Black Sparkle Stardust Pens and means 'Eternity'.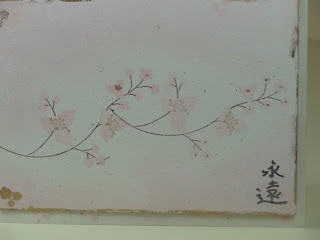 The panel was then mounted onto a Rustic Cream cardstock base, on which I had stamped some of the blossoms again using Blushing Blossom.
As I said thee are going to be rapid-fire posts as I need to get these all posted before bed! I would love to hear what you think of this card and my other entries for the challenges!