Hello again!
I'm continuing with my entries for the PTI WCMD Challenges. Next stop – Mexico!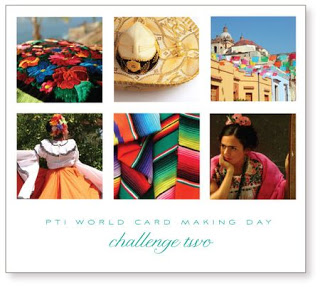 "I got the pleasure of visiting Mexico last year during our stamping cruise event. It was such a beautiful place and I would love the opportunity to go back again one day! The vibrant colors of the food, decor, art & fashion are some of the most prominent memories I have of Mexico, perfectly suited for interpretation into paper crafting! Oh, and who can forget all those fabulous Mexican tiles
(I'm thinking Guide Lines!)
Your challenge is to create a project that is inspired by either the colors, designs or even themes that are prominent in the Mexican culture."
I decided to use the vibrant colours that Mexico conjures up and came up with this: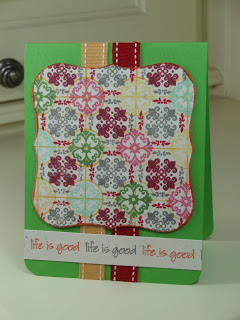 I think that's pretty Mexican – I hope!
The main panel was stamped using Guidelines II (of course!) onto Rustic White cardstock. The grid was stamped with Summer Sunrise and the medallions with Hibiscus, Lemon Tart, Aqua Mist, New Leaf, Pure Poppy and Smokey Shadow. I used my largest of my Labels 1 Nestablities to cut out the panel before edging it in Orange Zest.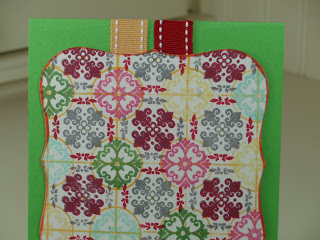 The panel was mounted onto New Leaf cardstock with strips of Summer Sunrise and Pure Porry Saddle Stitch ribbon behind. The sentiment is from the Day At The Beach stamp set and was stamped with Orange Zest and Smokey Shadow onto Rustic White cardstock. The bottom corners were rounded using my large corner rounder.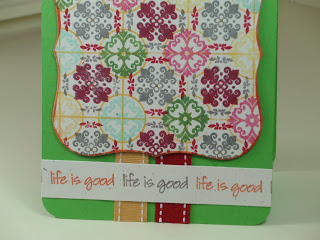 The worldwind tour continues! Would love to know what you think so far!