Evening everyone!
I don't usually make one-layer cards but I have one to share with you today. I wanted to try doing something a little different, so I also went for a different, richer colour palette too.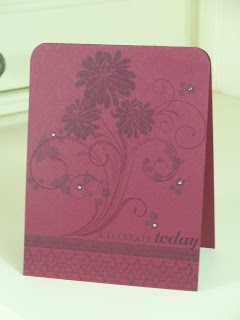 I'm really pleased with how this card turned out! I *love* that Scarlet Jewel cardstock, it's so rich and yummy!
I decided I wanted an understated look, so I stuck to muted tones. The flourishes are stamped in Versamark ink and all the flowers are stamped with Smokey Shadow ink. I found that the cluster of flowers from Floral Fusion flowed with the flourishes almost perfectly!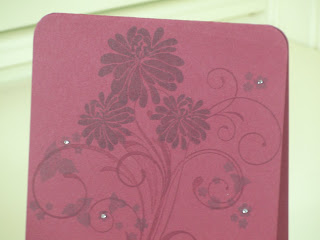 The patterned strip and solid line are also stamped in Smokey Shadow. The diamonds and strip are overstamped with Background Basics: Text Style.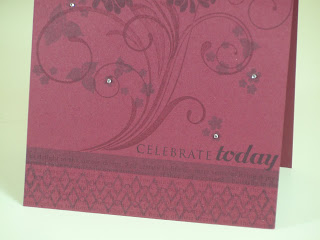 I added a few tiny rhinestones to the centres of some of the flowers for a delicate accent. The three main flowers were also a little pale for my liking so I went over them with a Versmark Pen to give them more emphasis.
The sentiment is from Cupcake Collection and stamped with True Black.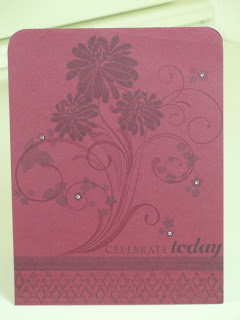 As I said, a simple card, but I think it does the trick, do you?