Evening all!
Tonight I'm sharing the first of two very special thank you cards for two very special people. I won't go into all the soppy sentimental reasons, lol, but recently I had one of those epiphany-type moments and whilst experiencing it felt the need to reach out and say thank you to two people in particular who've made a significant difference to my life, especially recently.
So to those two very special people – you know who you are! – thank you. I'd not be where I am now if it wasn't for you.
Right, that's enough sentimental stuff, lol! Onto the first card!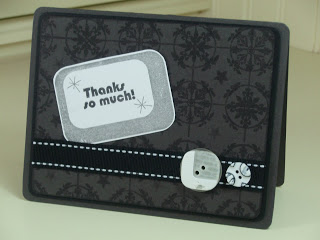 How's that for a masculine card that's still uber-stylish?! I just *love* how this card has turned out, it's exactly how I pictured it in my head!
The base is Smokey Shadow, onto which is a mat of True Black. On top of this is another piece of Smokey Shadow, stamped with my continuing favourite, Guidelines II!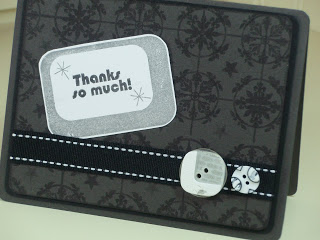 The pattern was stamped with Versamark ink and True Black. The little stars are from Star Prints and stamped in Versamark and Smokey Shadow. The piece of cardstock is also edged with Versamark. I'm just loving using Versamark on everything at the moment!!
I added a strip of Black Saddle Stitch ribbon and two fabulous buttons from my White & Cream mix buttons.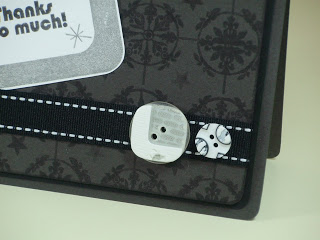 The sentiment, frame and stars are all from Mod Squad. The frame and stars were stamped with Smokey Shadow and the sentiment in True Black. I adhered the sentiment at an angle and very slightly tucked in behind the ribbon.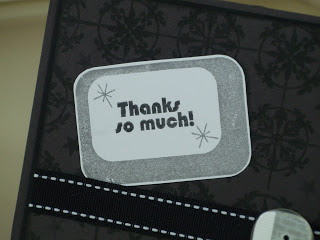 And voila – a simple, understated card that still really make a statement I think!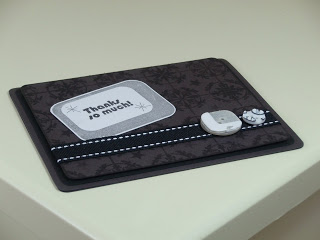 But I'd love to know what you think!!