Evening all!
Well, it's been some time since I last posted. Felt like my mojo had taken a little holiday, I've seen plenty of inspiring creations all over the web (especially from the amazing Ms. McVey, she's without doubt my inspiration!) but I just couldn't seem to get started on anything.
Well, I decided to finally break my duck and just *create* and see what happened. I played around with this card for absolutely ages until I finalised it the way I wanted, and I'm really pleased with the result!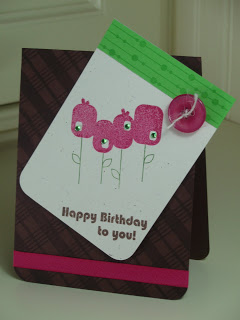 After seeing some great cards created by Dawn in the run-up to the latest Papertrey release I really wanted to try a couple of the ideas she'd had but put my own slant on them. I loved her plaid background that she created (first card posted here and second card posted here) and the candy stripe background (first card posted here) and was especially thrilled that I already owned the sets that she used to create them: Background Basics: Retro and Faux Ribbon!
I decided to create more of a 'tartan' pattern, but I wanted all the stripes to be really subtle. So instead of stamping with colour I stamped all of the lines with Versamark ink onto Dark Chocolate cardstock. I'm really loving the effect that this creates! I rounded the bottom edges of the base to keep in line with the focal 'tag' on the card.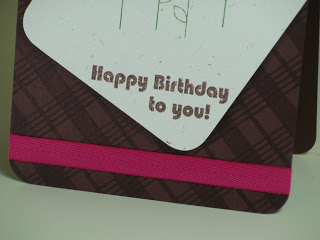 The 'tag' is Rustic Cream cardstock, the ends rounded with my large corner rounder. I spent ages trying out different orientations and layouts for the tag then finally decided to 'think outside the box' – literally! – and have the tag at an angle, off the edge of the base! I think it works really well to give added interest! It also means that all of that hard work on the background isn't 'lost' underneath the tag!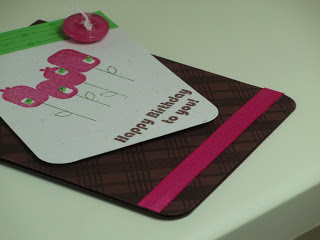 The top of the tag is a small piece of New Leaf cardstock stamped with one of the stamps from Background Basics: Retro, again using with Versamark ink. I've been wanting to try a splash of green with pink and brown for a while and finally dared to do it!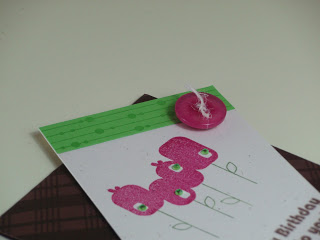 The main image is from Mod Squad, stamping the flowers in Raspberry Fizz and the stems in New Leaf. I added little green gemstones to each of the flowers for a finishing touch. The sentiment is also from Mod Squad and stamped with Dark Chocolate ink.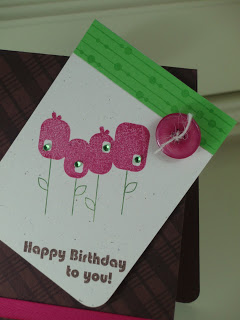 Finally, for some finishing touches I added a strip of Raspberry Fizz Topnotch Twill to bring the colour scheme together and added a sparkly Raspberry Fizz button tied with Rustic Cream Button Twine to the tag. It's a subtle sparkle and doesn't photograph well, but it's there!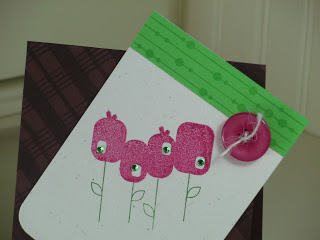 So what do you think? Would love to have your comments!