Hello again everyone!
Well, I really need to finish getting my GSS entries up so that I can catch up with all the rest of the cards I have to post! So here's my 4th entry for the 'On My Couch' category: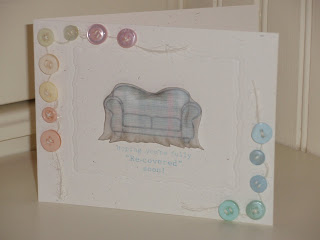 Once again a couch stamped on fabric! I used the same fabric as in my 'Patchwork Couches' card, but I wanted to do something different for this one. I kept think about the 'Re-covered' sentiment that came with the On My Couch set and it kept making me think of moving/re-decorating, and when you do that you tend to cover your furniture with dust sheets!
So I made my own couch 'dust sheet' by tracing the stamp onto vellum and adding shading with various Copic markers. I really like how the couch does look like it's covered!

I adhered the covered couch to a Rustic Cream cardstock base which I'd embossed using one of the Deckle Edged Rectangle Nestabilities. The couch was adhered with extra height to make it really stand off the base. I did this by applying a higher level of Pinflair Glue Gel than usual.
The sentiment was stamped with SU! Bashful Blue (as my PTI Spring Rain ink cube doesn't quite come out right!). Finally to add a finishing touch I threaded loads of buttons in pastel colours onto two lengths of Rustic Cream Button Twine and glued each button with a bit of Pinflair. I love these buttons!! The colours used were Summer Sunrise, Lemon Tart, Spring Moss, Sweet Blush, Spring Raing and Aqua Mist.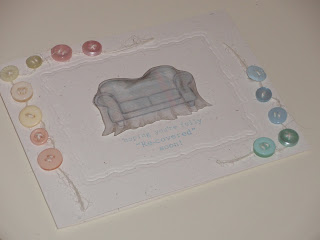 Just one more of these to post and then I can start catching up on everything else!!