Evening all!
Stil lots to post, still way behind etc etc, but I had to get this card up tonight in time for the Papertrey Blog Hop!

This month's theme is Autumn and we were asked to incorporate anything inspired by Autumn, be it colours, textures or images etc.
Not owning much in the way of Autumn stuff I needed to improvise! Here's what I came up with: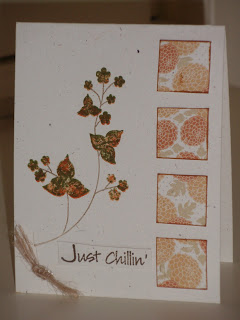 I really like the way this little card has turned out. The base is PTI Rustic Cream and I stamped designs from the Floral Fusion set in Autumn colours. I wanted the flowers to actually look like Autumn leaves so I stamped three times using SU! Old Olive, Pumpkin Pie and Really Rust.
I created the mottled effect by dabbing off some parts of the ink with a tissue. The technique actually came about by accident as my Old Olive pad was too inky and went on the stamp in splodges so I had to tissue some off. It was a real Eureka! moment!! The stem was stamped using SU! Soft Suede, loving this colour!
The little image squares are from the free downloadable sample of the PTI Autumn Abundance paper pack. I didn't get the paper in my August order but I think it might have to go in my September order! I printed the samples onto Rustic Cream cardstock, trimmed and swiped the edges on my Pumkin Pie inkpad to edge them for definition.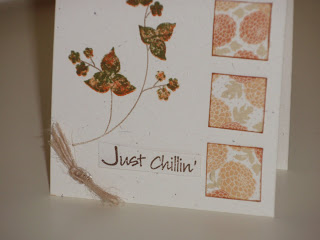 I stamped the sentiment from Day At The Beach using Soft Suede and cut out roughly/not straight on purpose to give a bit of a suggestion of free flowing, lazy days. I adhered using Pinflair Glue Gel for dimension. Finally I tied a few short lengths of PTI Rustic Jute Button Twine together and adhered using Pinflair Glue Gel.
So what do you think? I think the colours really capture the feeling of Autumn and really can't wait to get that paper pack!!