Evening all,
Up tonight is another of my GSS submissions for the 'On My Couch' category. After successfully stamping couches onto fabric for my last card I wanted to do it again!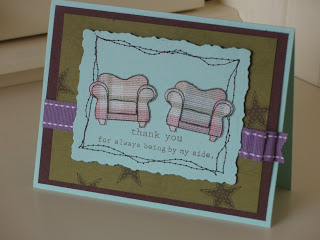 This time the couches were stamped onto a patchwork-type fabric. It's not actually patchwork but I can't think of the name for it! The couches were stamped in PTI True Black, Fray Stop applied to the reverse as before then cut out and adhered to cardstock using Hi-Tack Glue.
The couches were then stuck to a piece of Aqua Mist cardstock which I'd cut with my Deckle Edge Nestabilities die. Before attaching the couches I did random stitching again! Really fun to do!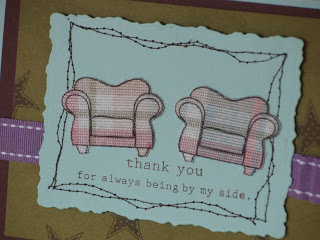 I wanted to explore funky colour combinations again with this card, so I opted for Aqua Mist, Dark Chocolate, Ripe Avocado and a bit of Plum Pudding thrown in!
The base layer is Aqua Mist. I then took a layer of Dark Chocolate and adhered a layer of Ripe Avocado cardstock on which I had stamped large stars (in VintageTouch Chai – just visible) and small stars (in Dark Chocolate).
I wrapped a piece of Plum Pudding Saddle Stitch Ribbon around both layers, finishing with a series of pleats on the right hand side, before adhering the whole lot to the Aqua Mist base. The couches layer was glues on using Pinflair Glue Gel for dimension and the sentiment stamped in Dark Chocolate.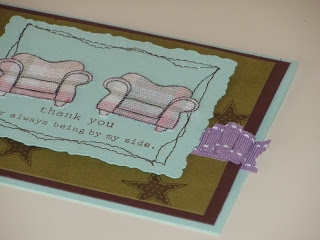 I have two more cards to post that were entered in the contest, but please let me know what you think of this entry and which is your favourite so far!