Hello again!
Thought I'd keep up my posting momentum and show you another card I made for the PTI GSS Contest! It's another 'On My Couch' card – can't get enough of this set!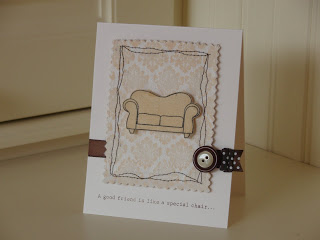 Seeing as the image is a couch I decided I would try stamping on fabric, and I think it turned out really well! The couch is stamped on some pale gold (yellow really) dupion using PTI True Black. I'm really pleased at how the ink took to the fabric – no bleeding!
I applied a product called 'Fray Stop' to the reverse of the fabric before carefully cutting out and adhering to some PTI cardstock using Hi-Tack Glue. When dry I then cut out the couch again.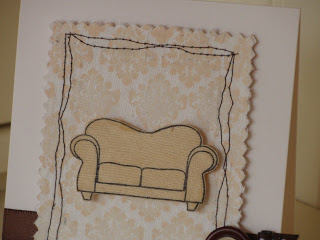 The back panel is also dupion but in an off-white colour. I definitely need to get more of this stuff! I stamped the fabric in Vintage Cream using one of the stamps from Damask Designs – *love* how it turned out! I applied Fray Stop again and glued to a piece of PTI cardstock and then trimmed with pinking shears.
Then I did something I've never done before – I sewed on a card! Nothing fancy, just some crazy stitching with brown thread, but I really like how it turned out!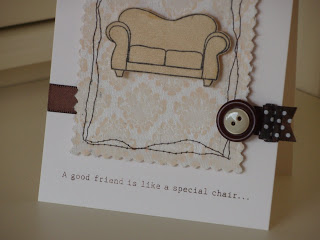 The couch was glued to the damask base using Pinflair Glue Gel for a bit of dimension and that was then adhered to a Vintage Cream card base in the same manner. Before adhering the damask base I attached a length of Dark Chocolate satin ribbon. I then created a pleated effect with a piece of Dark Chocolate Swiss Dot Ribbon and adhered that to the edge.
I added a Dark Chocolate button with a Lemon Tart button glued inside, and finally stamped the sentiment in Dark Chocolate ink.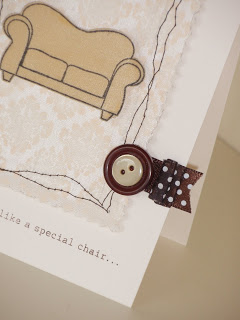 I realised after creating this card that the idea looks a fair bit like a card Nichole Heady designed using Cupcake Collection, but I swear I didn't know/realise until I'd finished!! Honest!!!