I was commissioned to make a card for one of my friends at work who has left to go on maternity leave. Knowing her quite well I knew she wouldn't want the 'traditional-looking' type of card so I decided to go for a completely different look!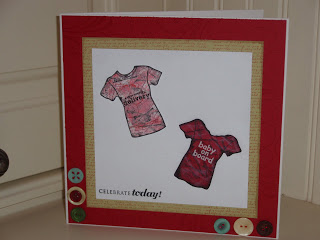 I broke out my GinaK Little Tees set as I knew it would be perfect for what I had in mind – something modern and funky to celebrate the pregnancy. I created two different tees.
The first had the outline stamped onto PTI's Stamper's Select White cardstock. I then used the solid tee and inked it unevenly with PTI's Hibiscus, Raspberry Fizz and True Black ink cubes, using just the edge of the latter two to create arcs and rough lines and texture. I was careful to leave some white space as well to create a more grungy look. I rolled the True Black ink cube round the edges before lining up the with the outline image by eye (as detailed in Melanie's blog) and stamped on top of the outline. It came out perfect!
Next I used one of the flourishes from PTI's Fancy Flourishes set and overstamped across the tee using Veramark, covered with Crysal embossing powder and embossed. Did the same with the sentiment using True Black ink and clear embossing powder this time. The sentiment is from PTI's Faux Ribbon stamp set.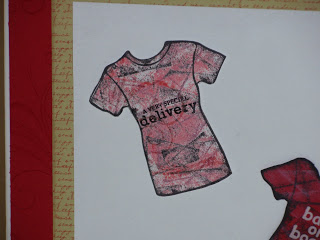 The other tee was stamped just with True Black onto PTI's Pure Poppy cardstock. Wow, what a red! I did the outline and overstamped the solid tee as described above. After this was stamped I used my PTI Fresh Snow ink cube to add some arcs and lines for a slighly softer look. The sentiment was from the Little Tees set and embossed with Detail White embossing powder. When I cut out the tee I cut the neckline a little deeper and more ragged (same with the sleeves and bottom) and edged again in True Black to give a slightly different take on the design.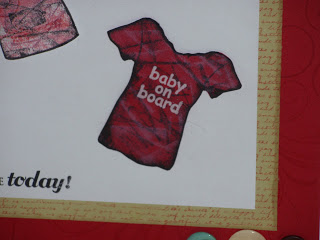 The card needed to be 8″x8″ so that everyone could sign it, so I decided to plump up the design using matting and layering. The base card started as an A4 card blank which I then trimmed to size. I added a mat of Pure Poppy card stock which I stamped with the largest flourish from the Fancy Flourishes set, using Versamark.
The next mat used PTI's Spring Moss which I then stamped repeatedly with one of PTI's Background Basics: Text Style stamps using PTI's Melon Berry ink and then inked the edges using my VintageTouch Tea Dye Duo ink cubes.
The final layer was PTI's Stamper's Select White which I then dragged my Pallette New Canvas inkpad over to give it a slightly different texture. The sentiment on this mat came from my trusted Cupcake Collection stamp set. I mounted the tees using Pinflair Glue Gel. All the mats were affixed with a tape runner.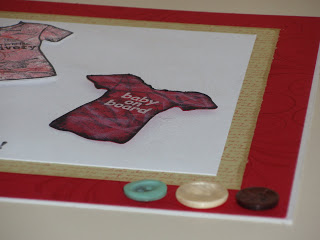 To finish I added a few PTI Vintage Mix buttons, picking out from Dark Chocolate, Lemon Tart, Aqua Mist, New Leaf, Scarlet Jewel, Spring Moss and Spring Rain.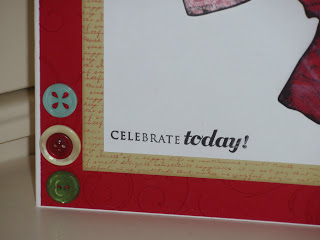 I made a co-ordinating envelope using some 12″x12″ patterned paper and using one of the PTI True Black buttons with double-sided tape on the back to act as a closure!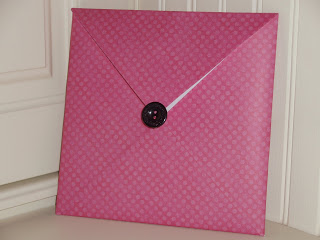 Definitely not your standard maternity card, but it was very well received!!