Afternoon all! I'm well behind with my posting, have meant to put loads up already!
As you'll all know I love my American stamps! They're just so different and versatile – and fun! Whilst Papertrey Ink are still my absolute favourite company by a country mile (you'd never have guessed would you, lol) there are a couple of others that I order from that I adore. This card is using stamps from one of these companies – Flourishes.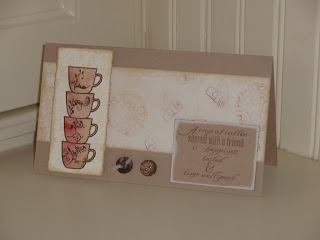 This card was created using their wonderful 'Coffee with Friends' set. Isn't that sentiment fantastic?! The set comes complete with several different coffee cups, swirls and sentiments. The one I've used here is the stack of cups. I stamped it onto Basic Grey Porcelain paper with black Versafine and carefully cut out, cutting the gaps between the handles and cups with a craft knife. I then mounted onto a piece of cream hammer card which I'd pre-stamped with the Flourishes Damask stamp using Antique Linen Distress Ink. I used my Mega Long Deckled Rectangle Nestabilities to cut the rectangle then edged it with PTI's VintageTouch Tea Dye Duo.

The larger rectangle in the background started off as a piece of white hammer card which I used my Antique Linen ink on again, applied with a foam applicator to create a muted look. The faded stamp images were created with a Starbucks logo stamp I found on eBay and Inque Boutique's Chai Latte set. They were stamped with SU!'s Creamy Caramel and Close to Cocoa, stamping off once each time before stamping onto the card. I used the VintageTouch Tea Dye duo on the edges again before mounting onto a piece of PTI Kraft cardstock.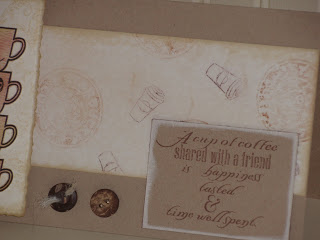 The sentiment was stamped using Close to Cocoa on PTI Kraft, edged with PTI's Vintage Cream ink, then standing the edges on the Close to Cocoa inkpad to give definition right at the edges. The card was assembled using Pinflair Glue Gel and finished off with some PTI Rustic Wooden buttons with a little bit of Rustic Cream Vintage Twine threaded through the back of one of them and deliberately frayed.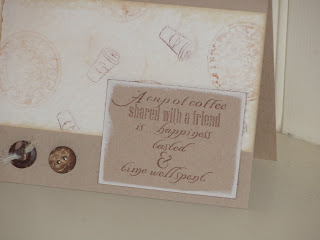 Doesn't this just take you back to sharing a hot mug of your favourite drink with a friend?!