One last post from me today, then I should be all up-to-date!
I wanted to demonstrate that even if you have just one stamp set that there are so many different looks you can achieve. I know that when I started out crafting I wanted to try and create a card to a certain design or style, and after that I wouldn't be too sure how to make the most of it. As stamps are such a huge investment the more you can make that investment count the better!
As you all know I absolutely *love* my 3-Step Teddy set from Kitchen Sink Stamps. I love how clever the design is and how life-like the little bears look thanks to building up those detailed layers. When I first got the set I stamped quite a few bears using different colour combinations, but I wanted to make each card look unique and indivdual.
Below is a photo of pretty much every bear I've stamped with this set, and a variety of cards created in different looks using the stamps (bear with the photo as it's difficult to get everything in the shot without sacrificing zoom or clarity! It should look better if you click on it):


You'll have seen the Teddy Warhol card in a previous post, but the rest of these have not made it onto my blog yet as I created them sometime ago, so this gives me the perfect opportunity to give them all their time in the spotlight!
Bear Hugs Card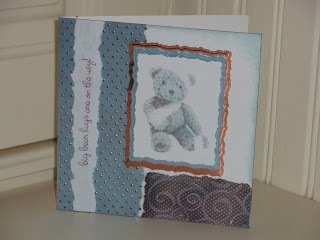 This bear was stamped in muted shades of blue and grey and uses patterned paper, cuttlebug embossing and nestabilities to add detail.
You're In My Thoughts Teddy Card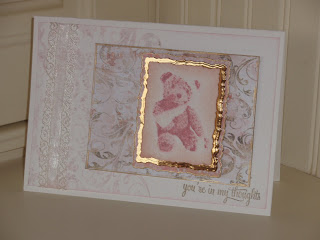 This bear is stamped in shades of pink, still cut with nestabilities but the white space around the bear has been inked with Tattered Rose Distress Ink and a foam blender. Much richer in design, with ribbon, gold (mirri card and also edging with a Krylon 18K Gold Leaf Pen) and patterned background created on a Cuttle-Wax resist piece of card (using Glimmer Mist on the resist to add colour and bring out the pattern before overstamping with the overall pattern).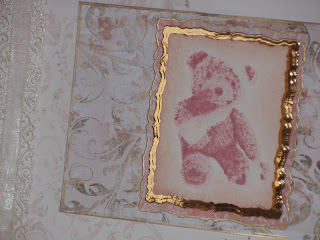 For You Teddy Card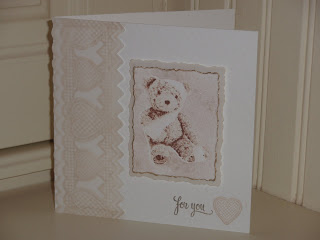 Muted shades of cream and brown were used to stamp this bear. I then masked him and used Old Lace Glimmer Mist to colour around him. The larger nestability mat was cut from vellum to give a softer look. The heart pattern is stamped from Joanna Sheen's Border Hearts Lace stamps.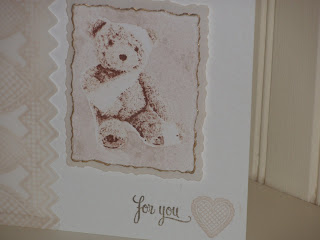 Masculine Teddy Card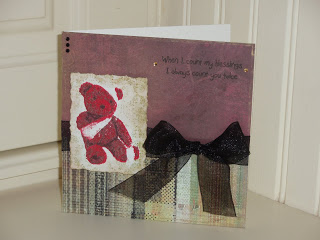 Shades of red make this bear quite different from the others. The background around him was created by masking him off and then stamping roughly with the 'Vintage Wallpaper' stamp from Flourishes in shades of muted green, and then taking the same colour and sponging over a little to make the pattern more muted and less defined. I chose a couple of patterned papers which gave the sort of masculine feel I was after, but I had to use a bit of ribbon and some bling to pretty it up! The sentiment is from a Personal Impressions set.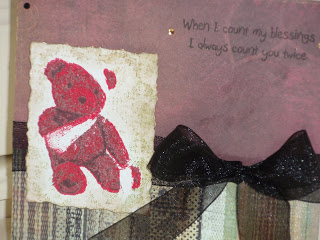 Newspaper Bear Card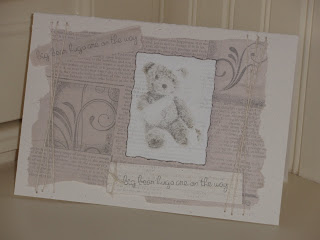 I really love this card and went to town making it. I stamped the bear in a mixture of pale grey tones and used one of the stamps from the PTI Background Basics: Text Style set to give a newprint feel behind him, masking him off first. The card base is PTI's Rustic White and I used a piece of packing paper from my PTI package to create a 'faux-newspaper' by repeatedly stamping the text stamp, allowing spaces for images and accents. The squares were created by just inking up the edges of my acrylic block and stamping and I then created rough masks and stamped flourishes from the PTI Fancy Flourishes set to give me my newpaper 'images'. I used PTI Rustic White Button Twine to 'pin' my image up (but in reality had already attached the newpaper background and just stitched the twine through to create a sort of noticeboard look). The main sentiment was stamped on a piece of PTI Rustic White which I'd created from several offcuts of my card base – proof that you should save everything!!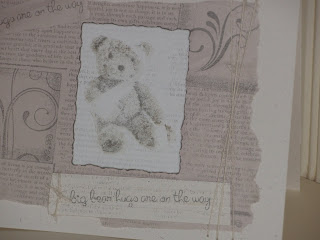 Other Bears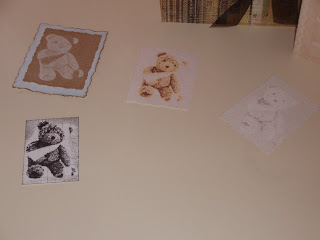 These last pictures are of bears I've stamped that haven't made it onto cards yet, but they will get their turn!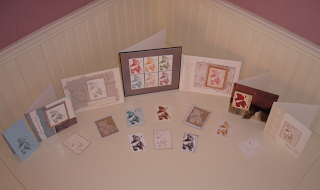 I hope you've enjoyed looking at all of these cute little bears. I absolutely *love* them – they are probably my most used stamp set that I own and they're such fun to create with!