Hi everyone, Happy Wednesday!
I've a bit of a different post for you today, but hopefully you'll still find it interesting as it still involves creating pretty things with paper!
I was contacted last year about a new book about to hit the shelves and was asked if I'd like to receive the book and review it.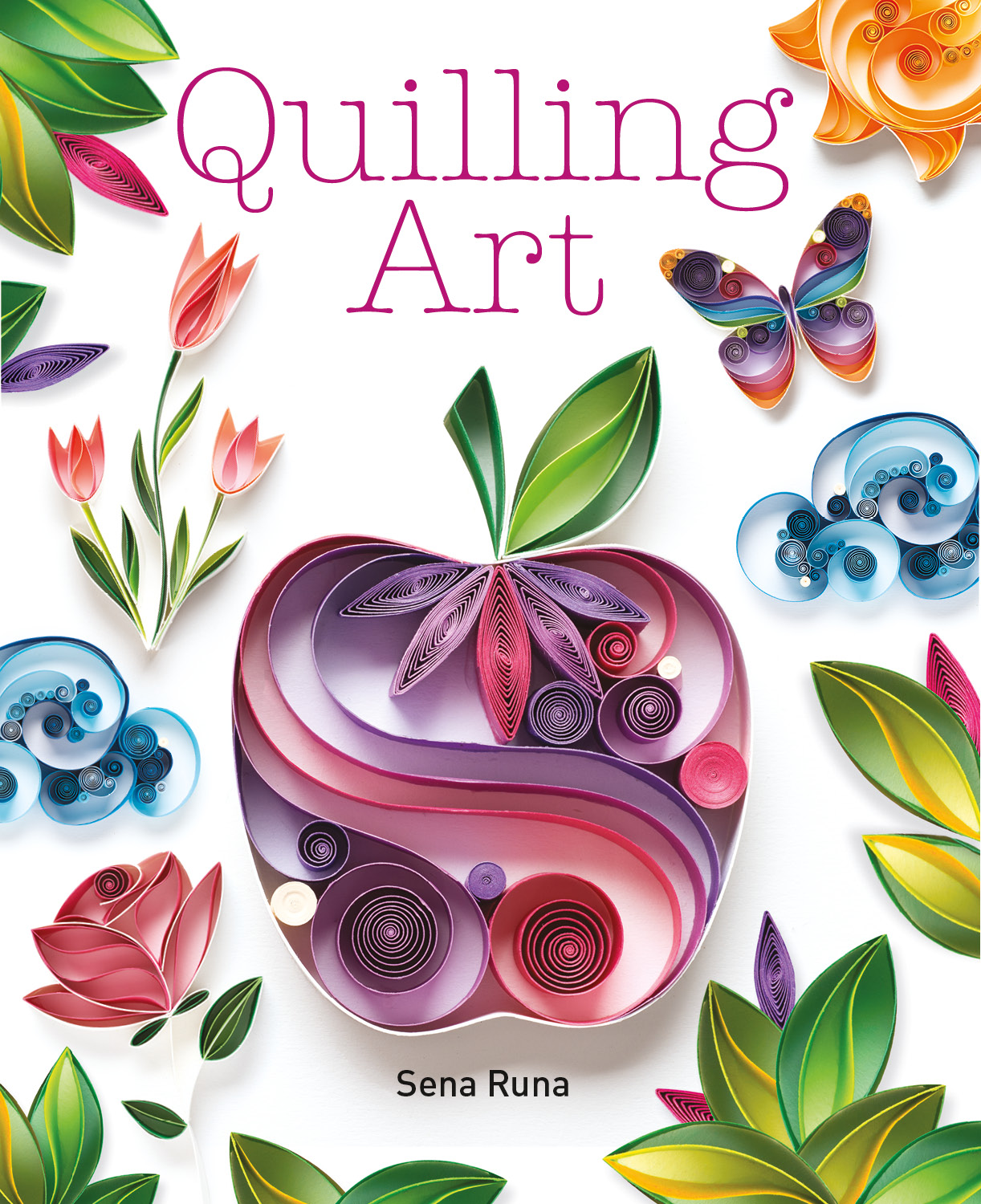 Quilling Art by Sena Runa, published by GMC (£14.99, available from www.thegmcgroup.com) takes on an exploration of quilling, the art of creating designs using curled strips of paper. Here's the blurb from inside the cover:
"Unleash your creativity and follow the illustrated steps in this fabulous book to make 20 beautifully stylised quilled designs. Sena Runa uses bright pops of colour and graduating shades  to create exciting effects and guaranteed impact. The projects look striking framed or make wonderful greeting cards. They can also be hung by ribbons and used as decorations around the home.
Once you have mastered the techniques, you can use them to create your own unique designs. They make fantastic gifts for loved ones and offer the perfect way to mark an occasion such as a christening, anniversary or college graduation. The possibilities are endless with this relaxing and absorbing craft."

Having done some quilling when I was a child I was intrigued, so I hopped over to Sena's Instagram to check out her work – and was immediately blown away.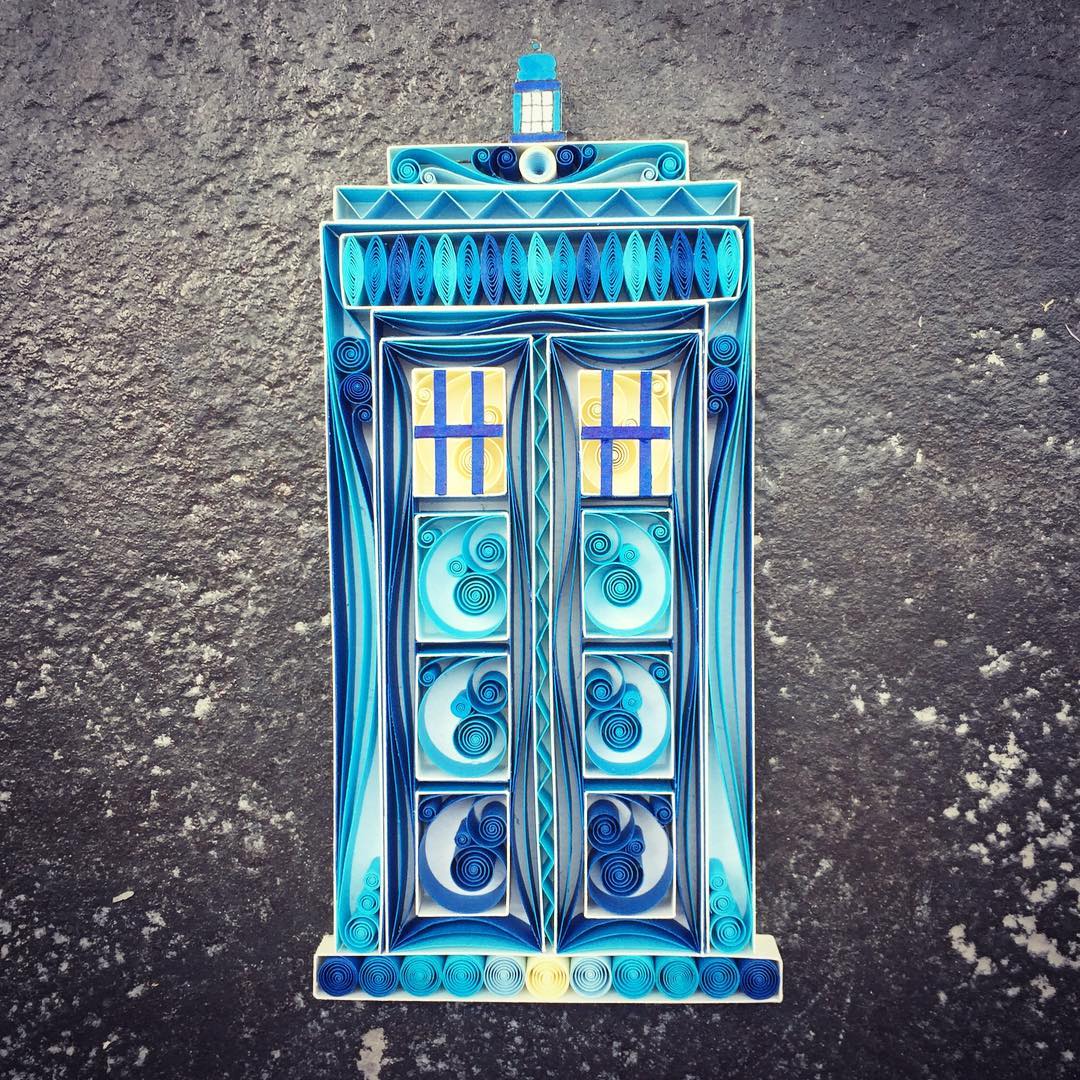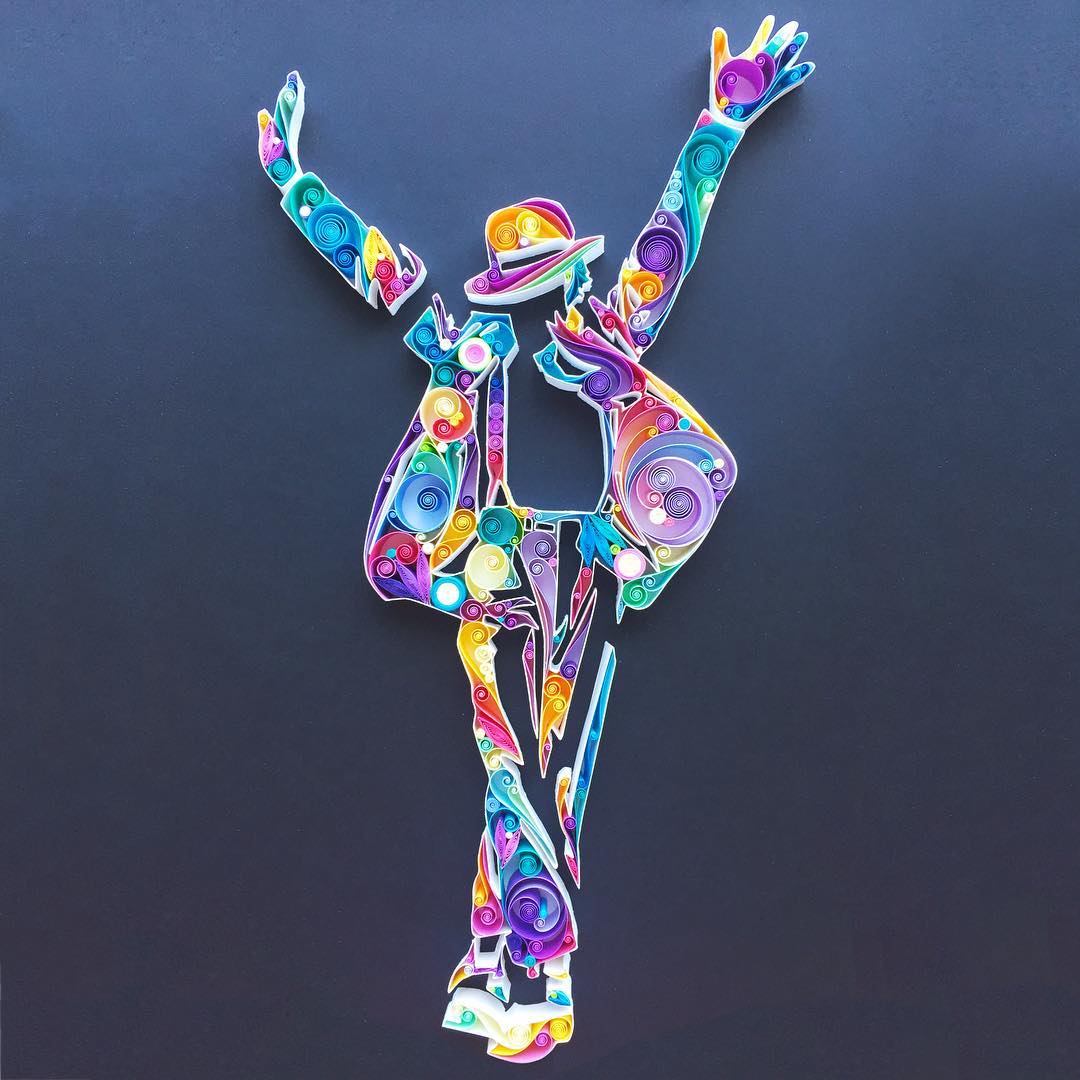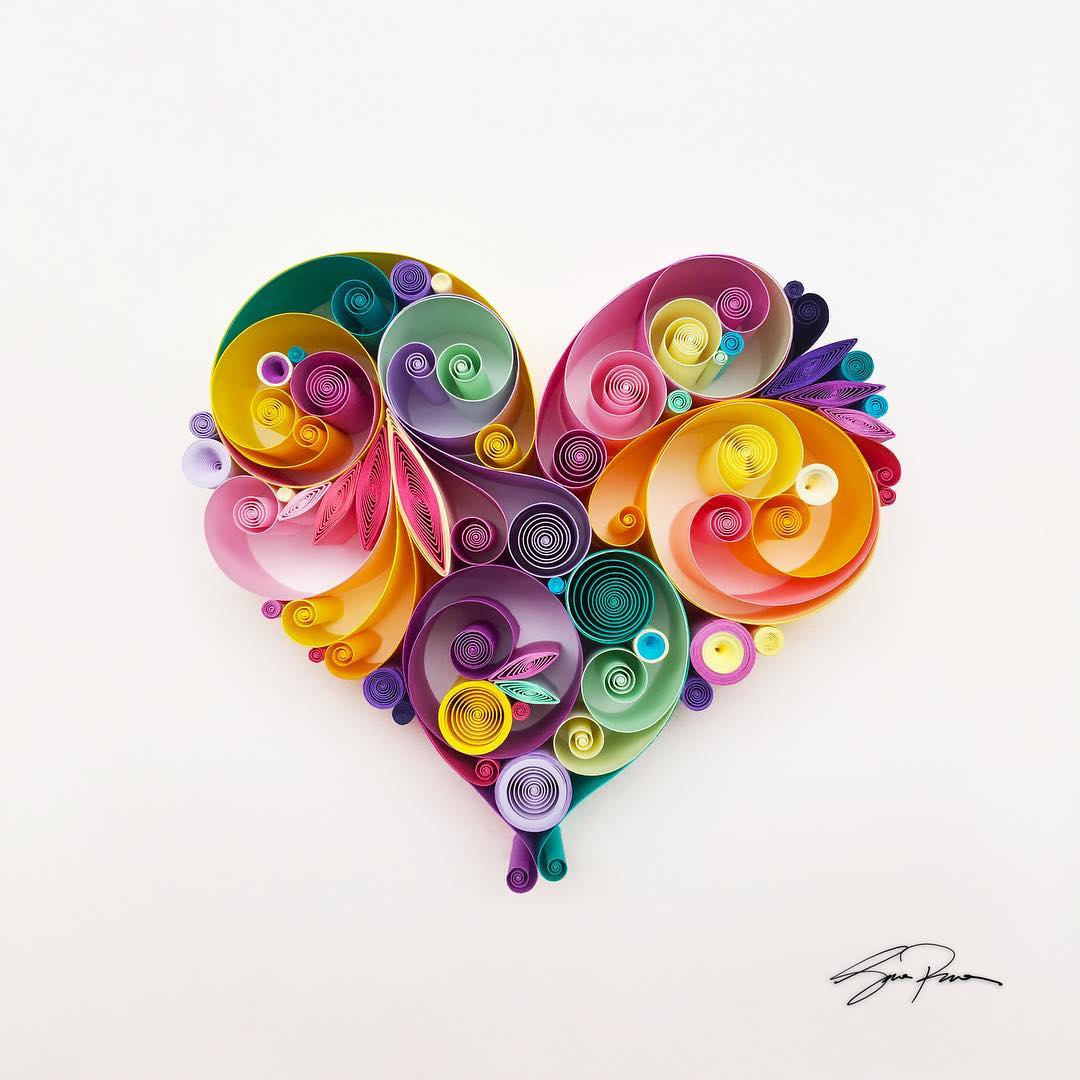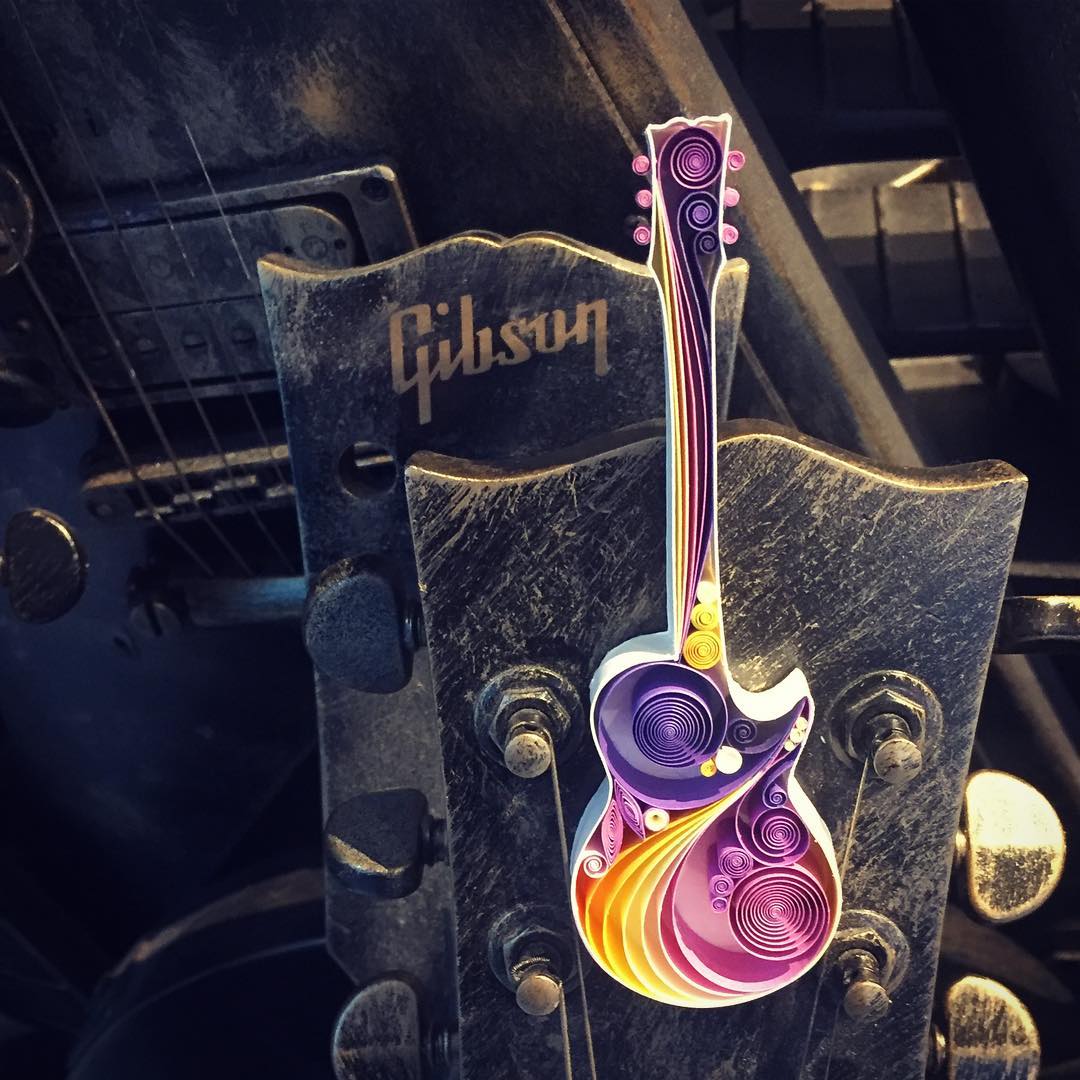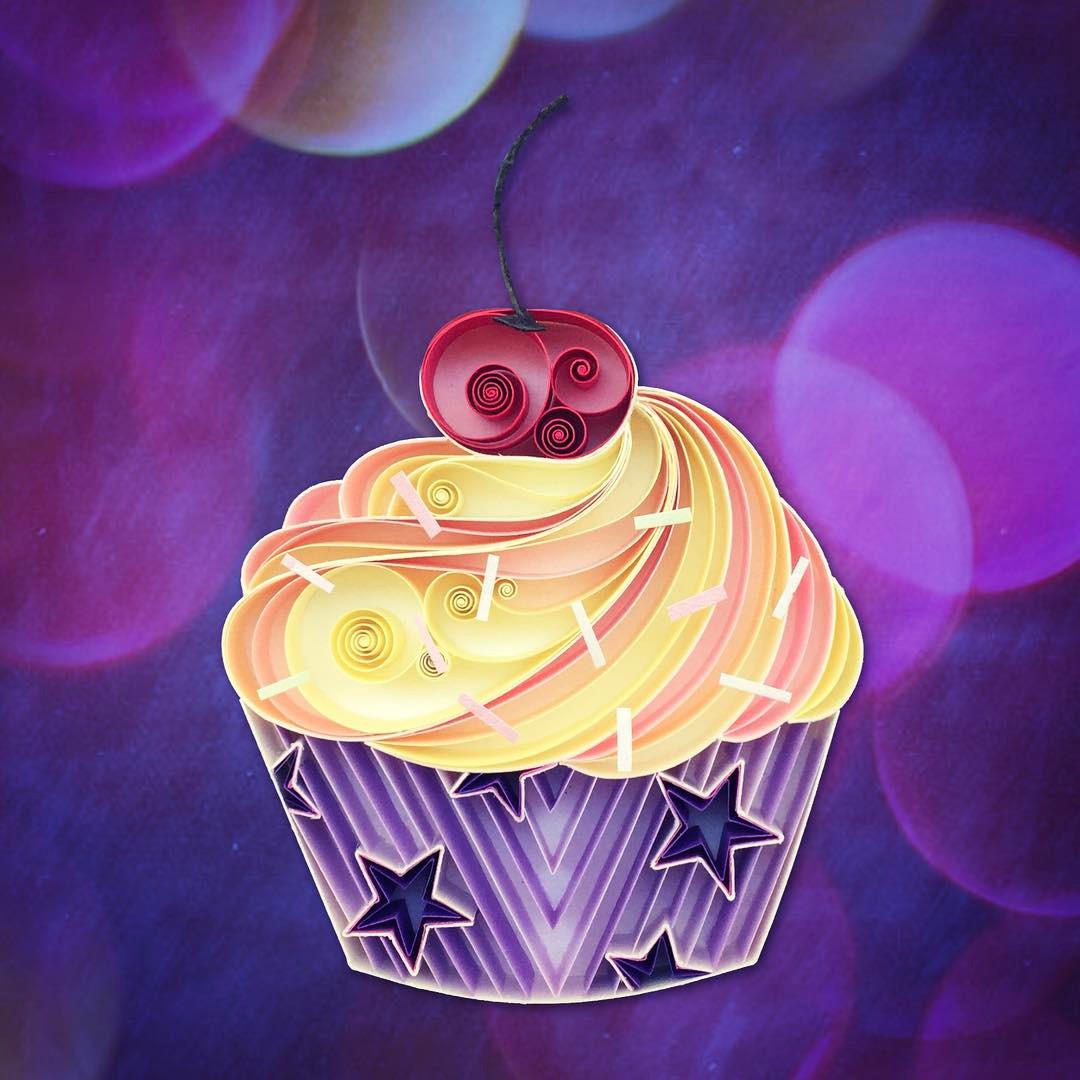 (All images © Sena Runa)
These were not the designs I'd created in my youth with a quilling kit. These were true works of art; bursting with colour, imagination, movement, and talent. A book, written by the same designer, that would teach me how to create like her? Sign me up!
Disclosure: I received a copy of this book in order to review it. I was not asked to endorse or praise the book or its contents, or Sena's work itself. All opinions expressed in this review are my own, and my review is an honest, objective view of the book and my experiences of using it.

Want to create like Sena too? Stay tuned to the end of this post for a giveaway!
Tooling Up
I decided that the best way to review Quilling Art was to put it through its paces – crafting style!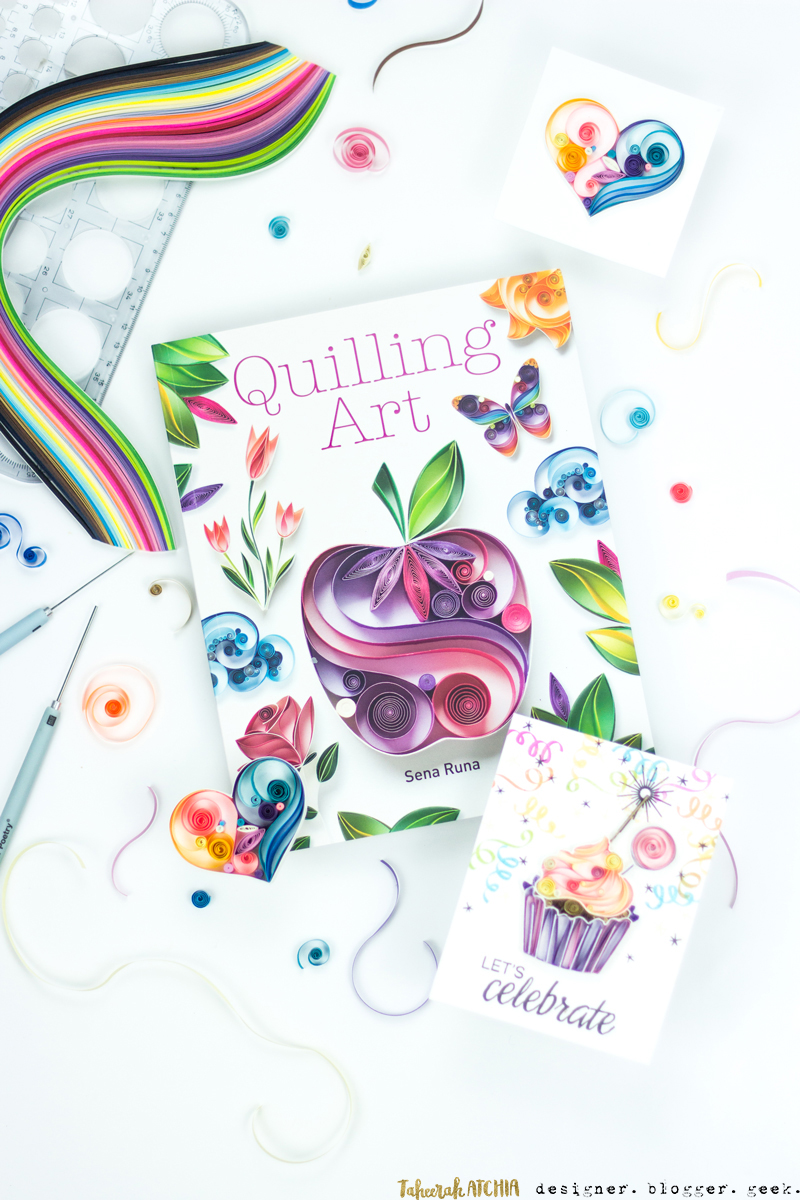 And that meant tooling up to get the supplies I needed before getting started.
A quick search through Amazon and I found a bunch of quilling supplies that didn't cost the Earth. The designs in Sena's book all use 1cm wide strips, but this is not compulsory.
I purchased:
a pack of strips that contained a variety of widths (including 1cm)
a quilling tool and quilling needle (using the suppliers list in the book to find ones I liked as I didn't want the ones on Amazon)
a circular ruler (basically one of those plastic tools with lots of circles of different widths – used in quilling to check the diameter of your coils)
and
some yet-to-arrive tweezers (just because I liked the look of them).
If you're a cardmaker you probably already have a ton of adhesives (I used Multi Matte Medium with a fine nozzle tip for these projects) and obviously I already had cardstock, scissors and a craft knife. The outlay for specific quilling supplies was not significant, and you can quill using your fingers so you don't even need the quilling tool if you wish. I found a craft pick/poking tool worked in place of a quilling needle (and actually preferred it), and I used vellum in place of tracing paper to trace the templates. So really the only supplies I *had* to purchase were the strips and the circular ruler. What can I say? Evidently my crafting spending habits aren't limited to stamps. *wink*
Getting Started
The book starts with an Introduction and a listing of Tools and Materials, before diving into a ten page section on Techniques.
The Techniques section covers how to create a cardstock outline (which you then fill with quilled strips to create your design), a tour of how to create the various quilled shapes, and how to measure and place the shapes to fill the outline.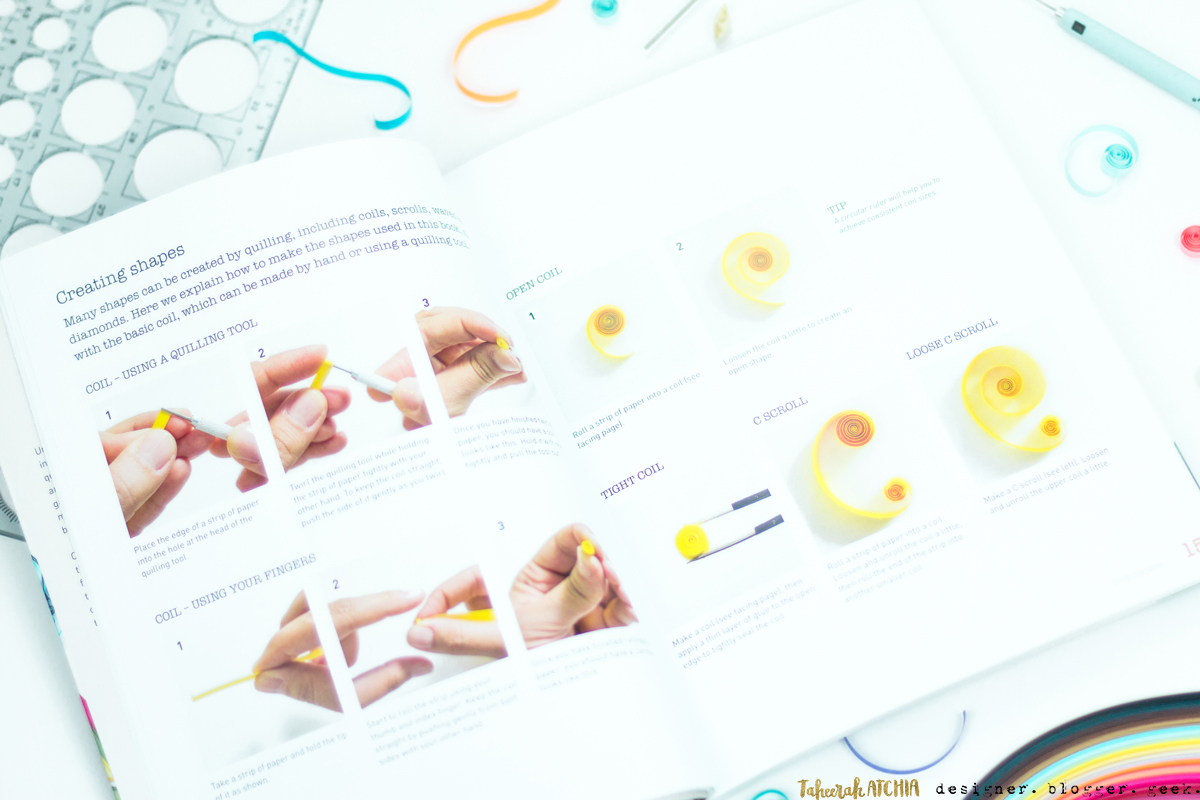 Having done some quilling before the basics were familiar to me, however my one piece of advice would be to not skip this section even if you're a novice or experienced quilling artist. I skimmed this section on first read and it meant I made  a few mistakes later on when recreating one of the designs. Lesson learned!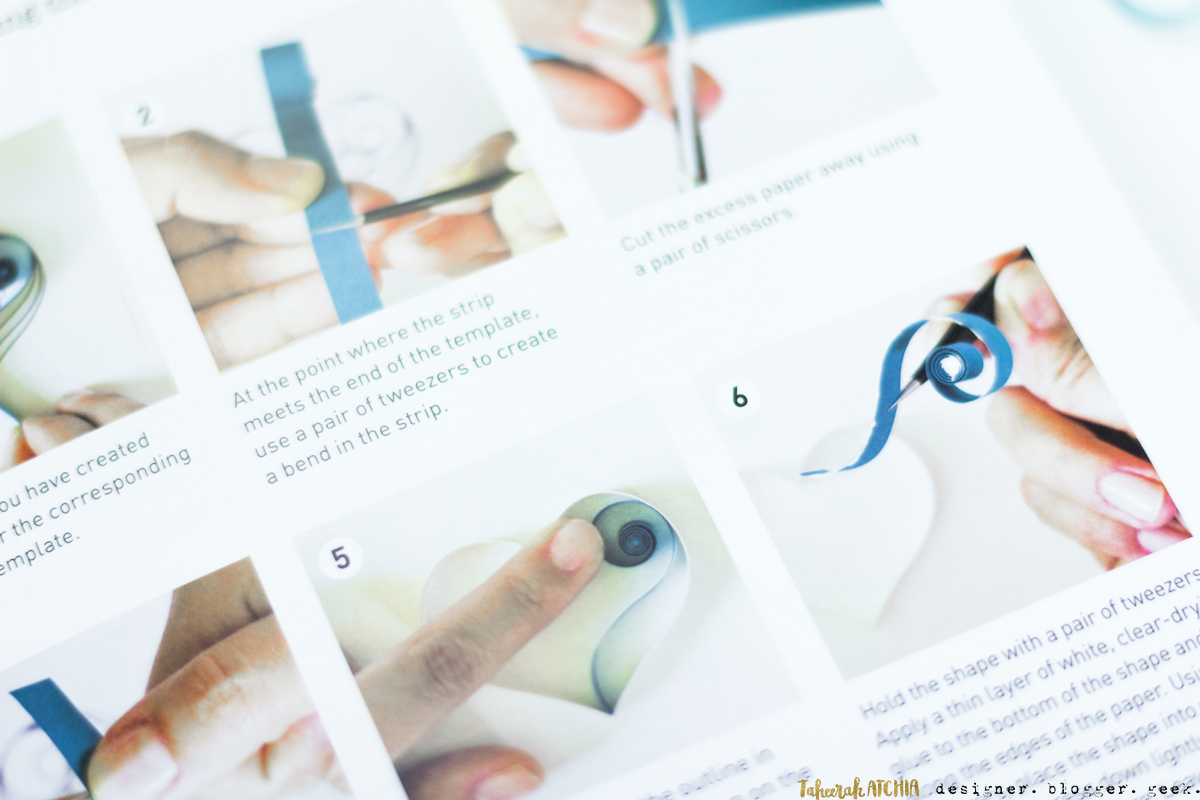 After you've (ahem) read the Techniques section, the remainder of the book focuses on 20 different designs you can recreate. The designs are nothing short of gorgeous – bright, modern, quirky, and challenging. The difficulty level increases as you progress through the book, so complete beginners should start with the first project before attempting something more ambitious.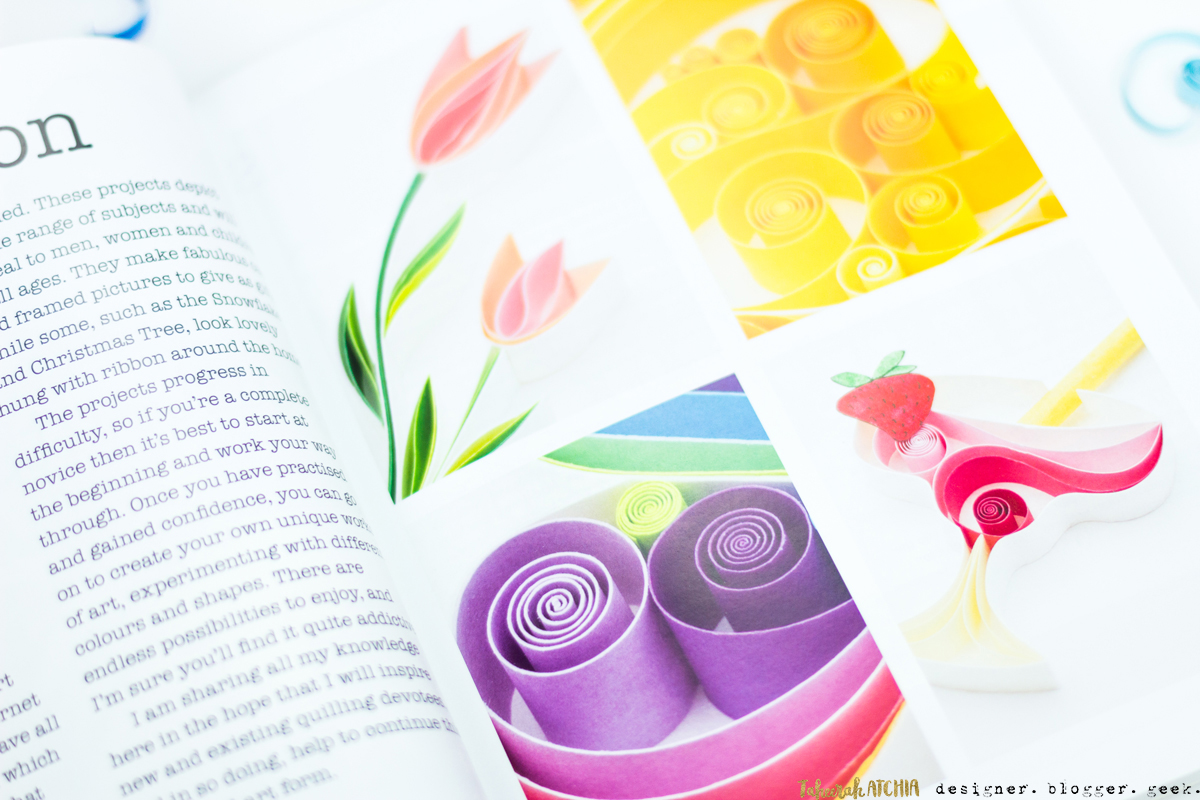 Each design is illustrated with step-by-step photographs and instruction set. The instructions were clear and easy to follow, and once familiar with the quilled shapes I was able to progress a bit faster. Where a specific quilled shape is used the instructions reference which page to find it. I found this useful but it got a little annoying having to flip back and forth as it disrupted the flow of the creation process. Once you're familiar with the shapes this is no longer a problem though.
There is a Templates section bringing up the rear of the book, with templates represented at full size for you to trace, cut out, or photocopy. I found a number of the templates to be a bit small for my liking which meant that the designs themselves could be a little fiddly to create, especially for a beginner. You could get around this by photocopying the designs at a larger scale, or using the outline shown at the beginning of each project (which were often at a larger scale than the templates themselves).
Recreating A Quilled Design from The Book
I decided to recreate the heart design from the book.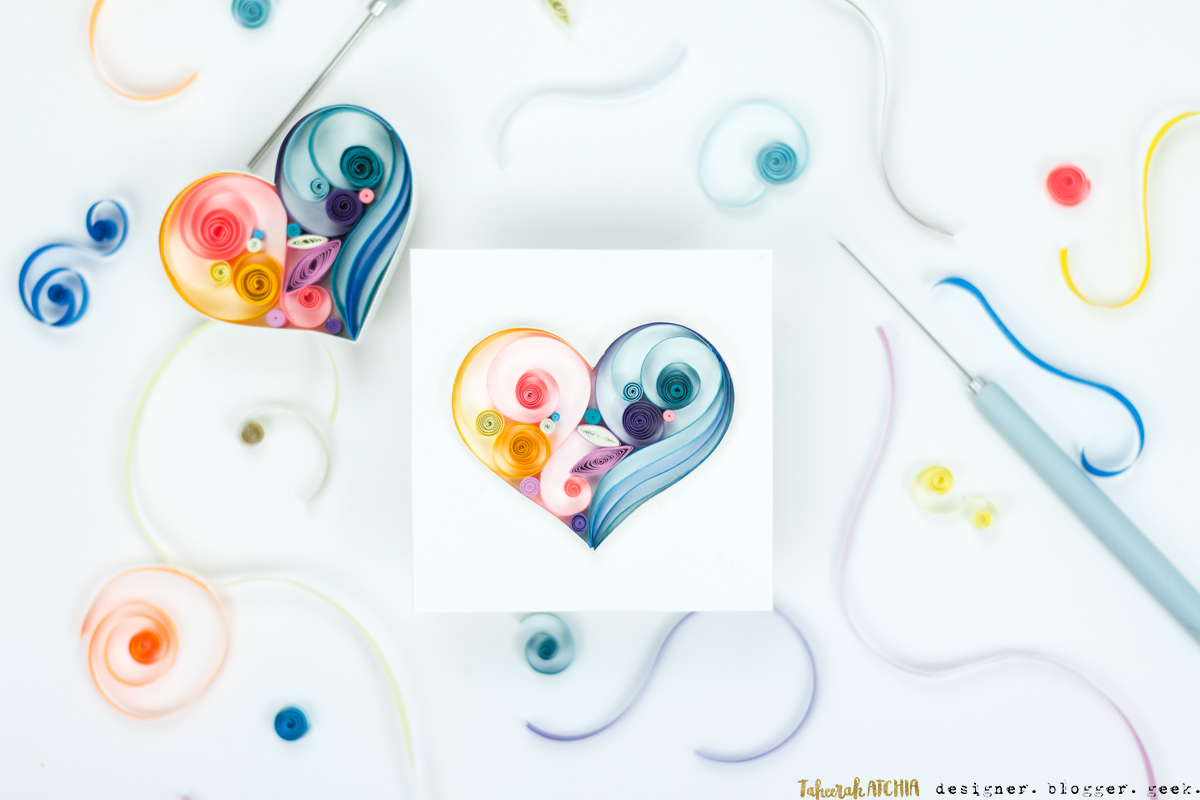 The opening page for each design starts by listing the supplies needed. I found it useful that it listed the different colours of strips used, although the names of the colours are a bit subjective in my opinion ('violet' looked more purple to me, and just how dark is 'dark blue'?). Any strips that I didn't have the right colours for I 'created' myself by colouring a strip with Copic markers.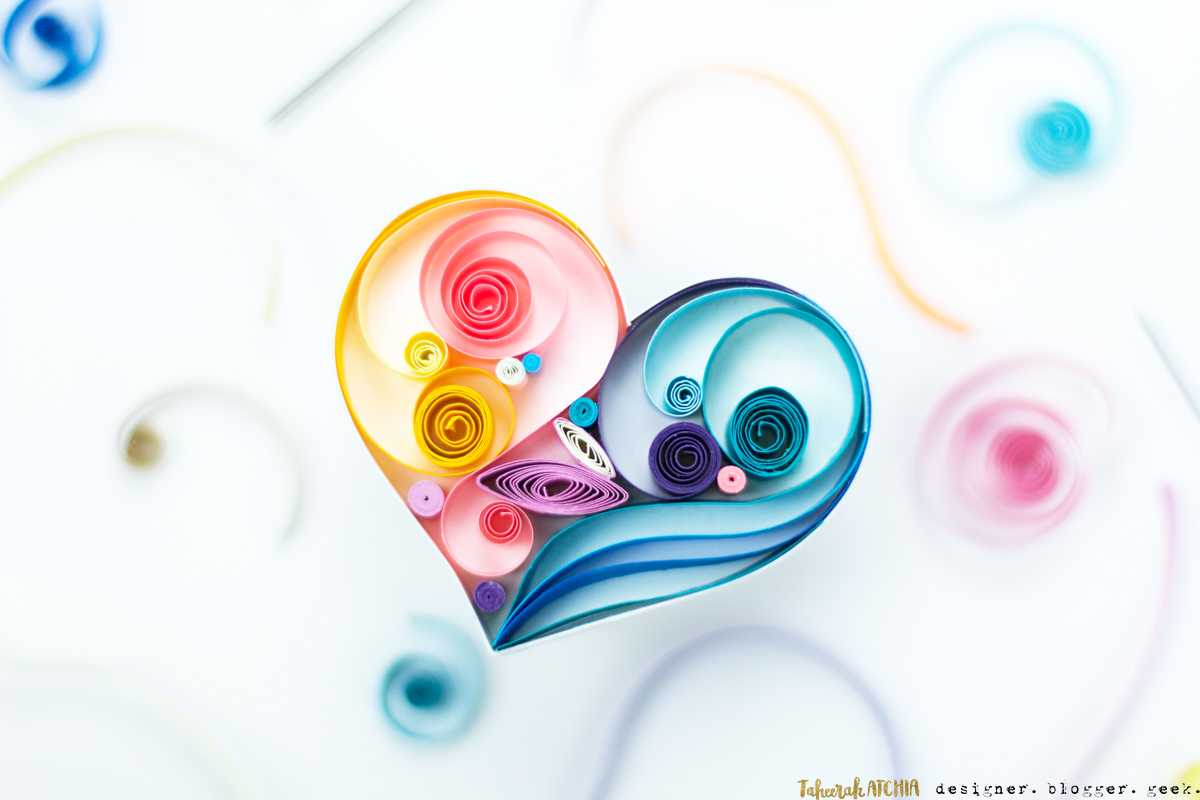 The book says to trace the outline of the template onto a piece of cardstock by using a quilling needle to deboss/scratch the design into it. I found this method to be a little inaccurate in application and personally didn't really like scratching the design in, particularly as the lines were then very difficult to see. Tracing the design lightly with pencil might be easier on the eyes and on the wrist next time. But the method does work. The instructions say to just trace out the outline of the shape, but as a beginner/novice I really think you need to include all of the loops and coils as well so you have an idea where to place them.
I found gluing the outline and coils to the base to be somewhat fiddly and frustrating. My cardstock is a little heavier weight than the book recommends, which did not help. The instructions say to apply glue to the edge of the cardstock/paper and then glue it to the base. For a beginner/novice I found it easier to apply glue to the base, using the traced template as a guide, and adhering the shapes in that way. This meant less instances of my paper or cardstock moving and adding extra little lines of glue to my base when the shapes 'misbehaved'.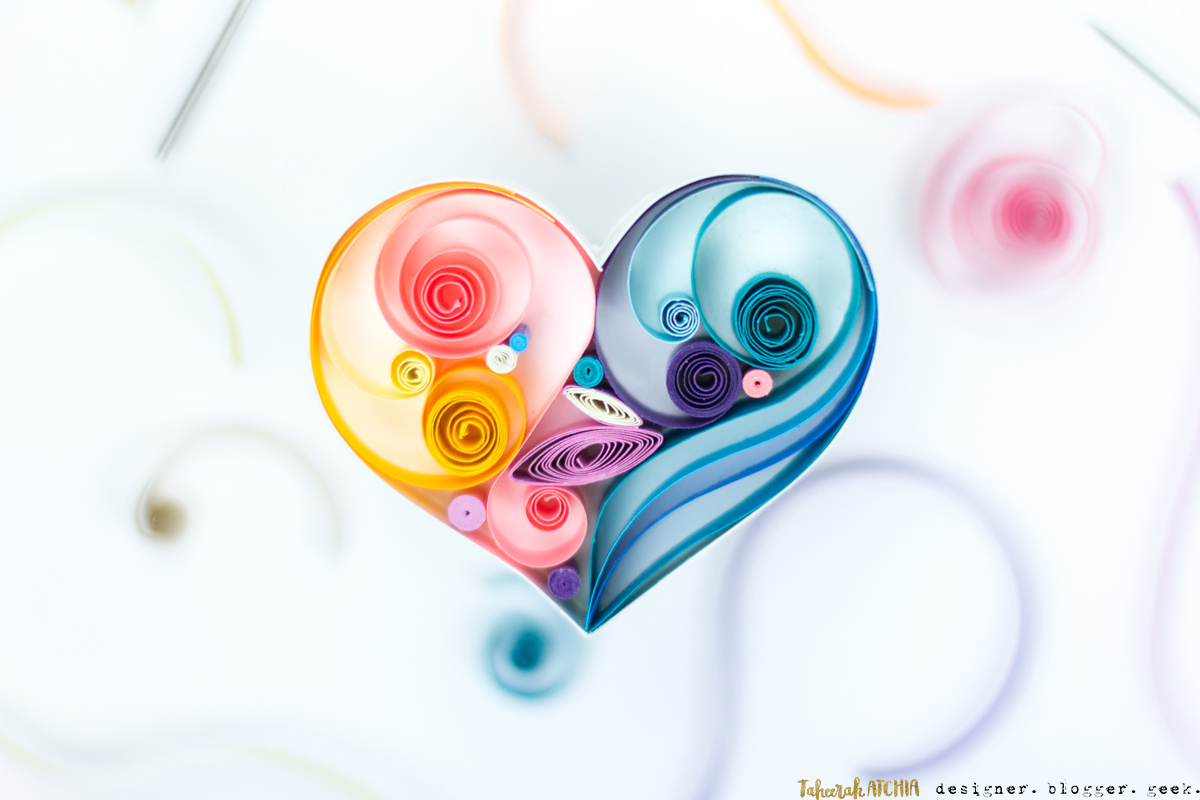 I found creating the coils to be straightforward enough, though I did find that for a couple of the shapes I needed a longer length of paper to create the design as closely to the original as possible. For an experienced quiller such as Sena she can probably do the same thing with the lengths listed, but I'm still finding my feet fingers with this. *wink*
The heart took me a good while (maybe 90mins?) to create the first time. I wasn't completely happy with my results as I was still learning how to approach the design and I kept making mistakes. My coils weren't tight enough/the right shape sometimes, and I used too much paper in some places. Other times I just couldn't get the shapes to match the perfect example in the book, so I was a little frustrated.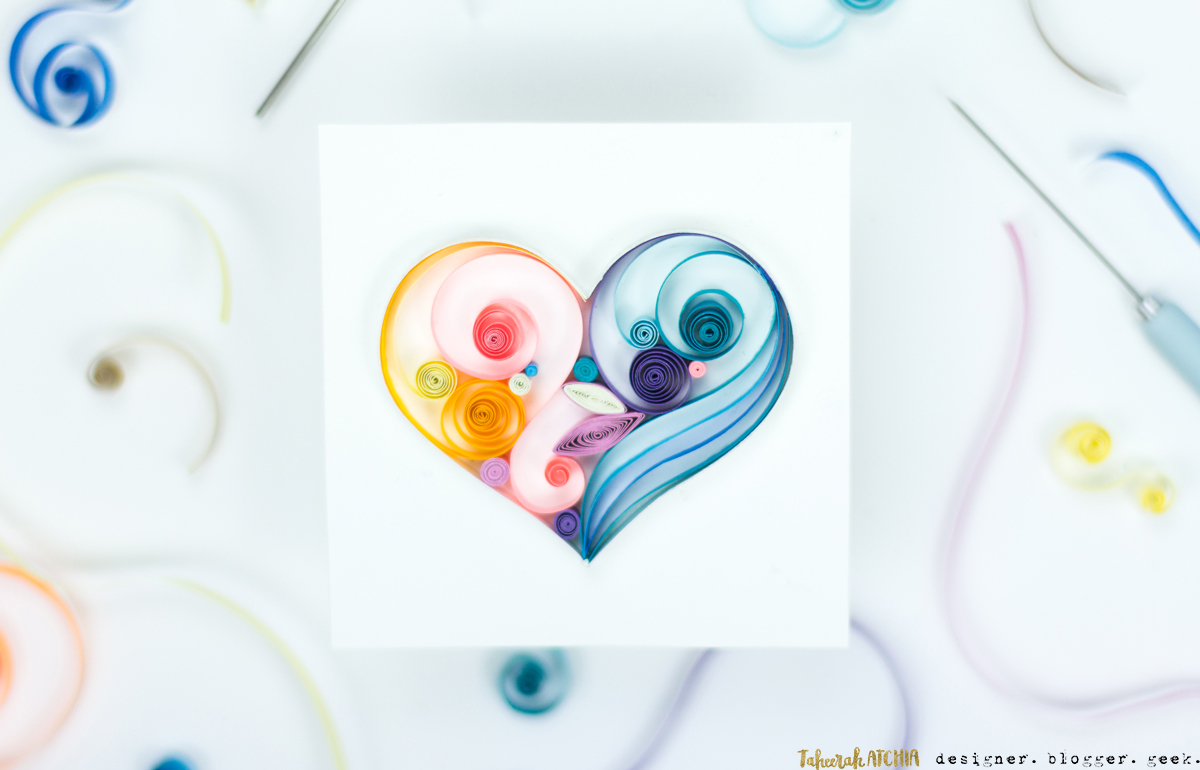 I made a second attempt though (with thinner strips) and was much happier with that.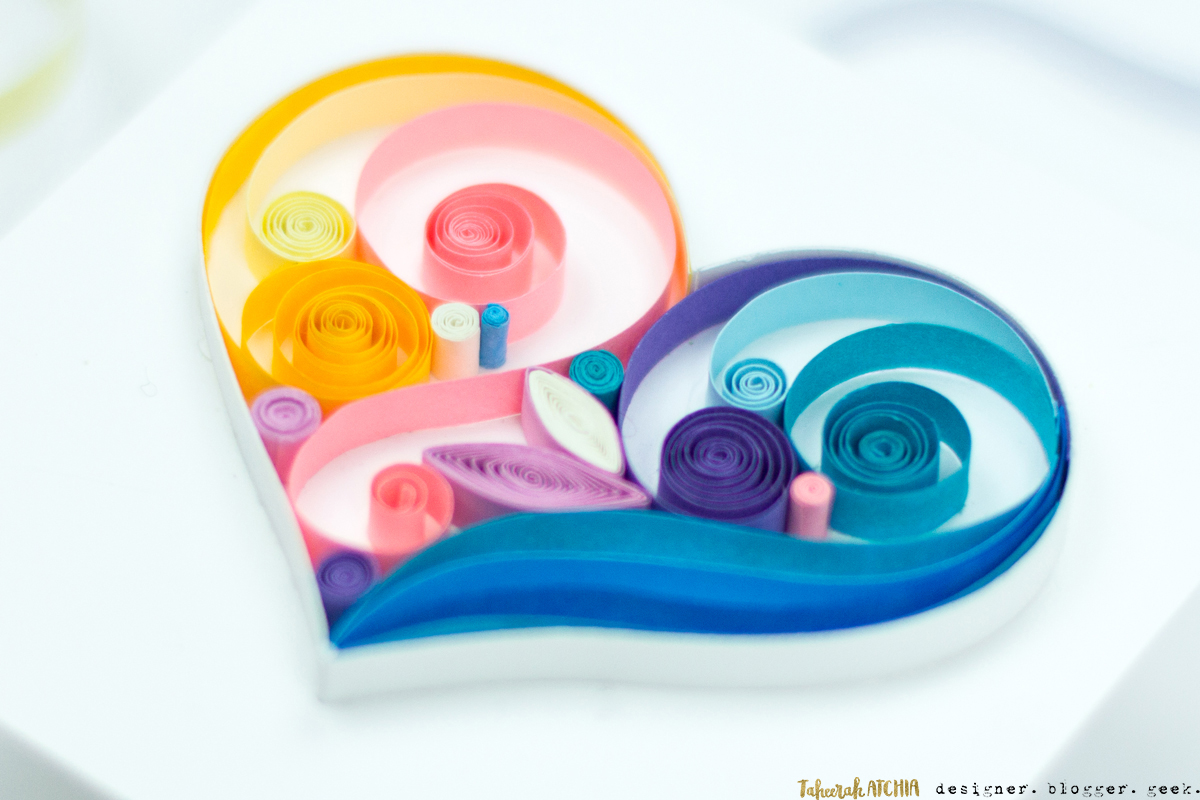 Much better! Tighter coils, better placement, more accurate shapes… practice really does make perfect!
Going Beyond The Book
The book promised me that I could create my own unique designs once I'd mastered the basics – so I decided to do just that. Instead of tracing a design onto a card though, I thought I'd pick out an outline stamp and stamp that in place and use that to create my outline, then fill the shape in with loops and coils in a more experimental manner.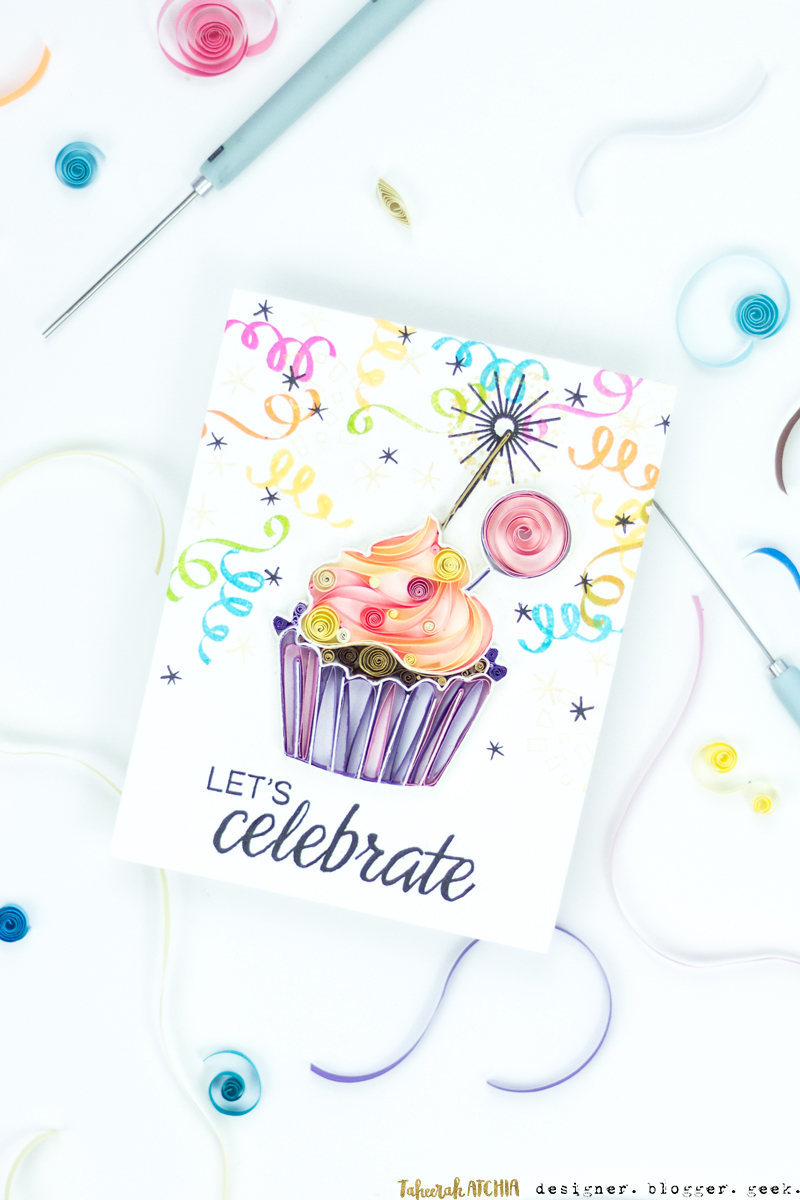 I'm pretty thrilled with the results of this, especially as it was only my third quilled project since leafing through Sena's book!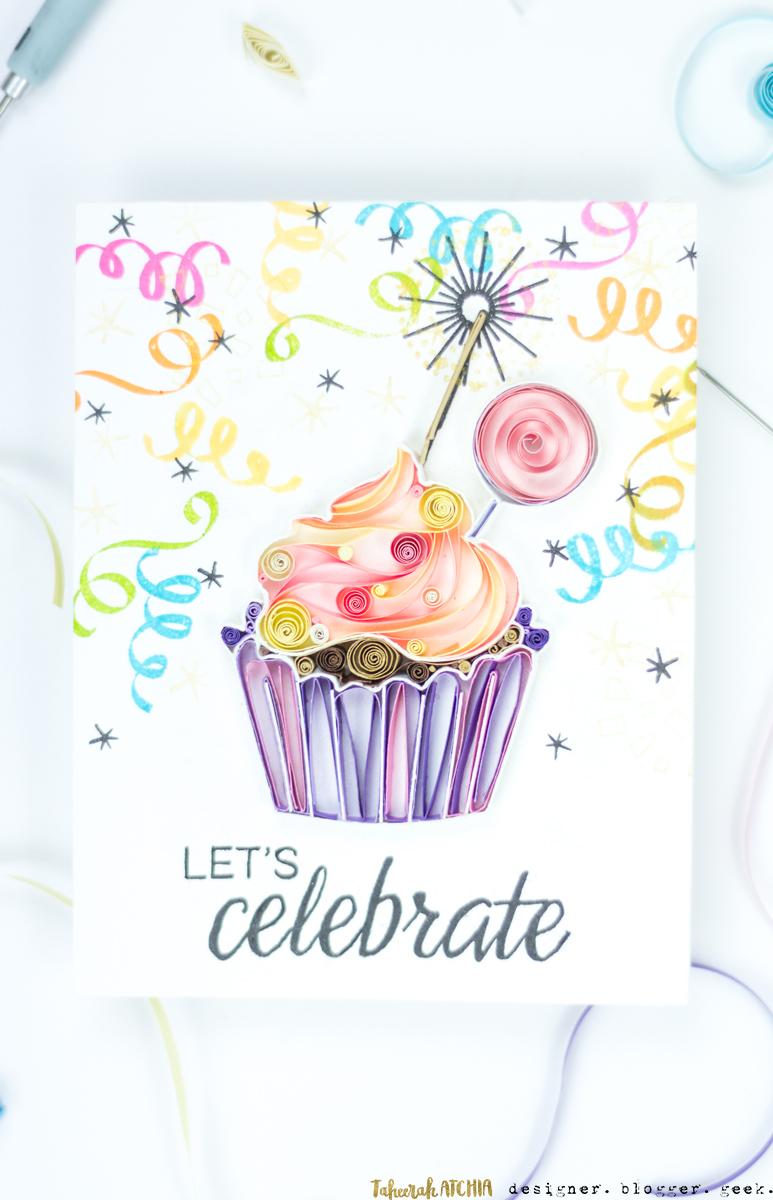 I started by stamping the cupcake from the Winnie & Walter Wish Big with Evelin T stamp set. I stamped it with Antique Linen Distress Ink so that the outline was visible, but faint. I masked the cupcake and added the lollipop from the Sweet Holiday with Evelin T stamp set, and the sparkler from the Sparkle set. I then watercoloured the base lightly with a mix of mists, and finally stamped all my confetti and sparkles from The Party set (and a few stars from Sparkle too).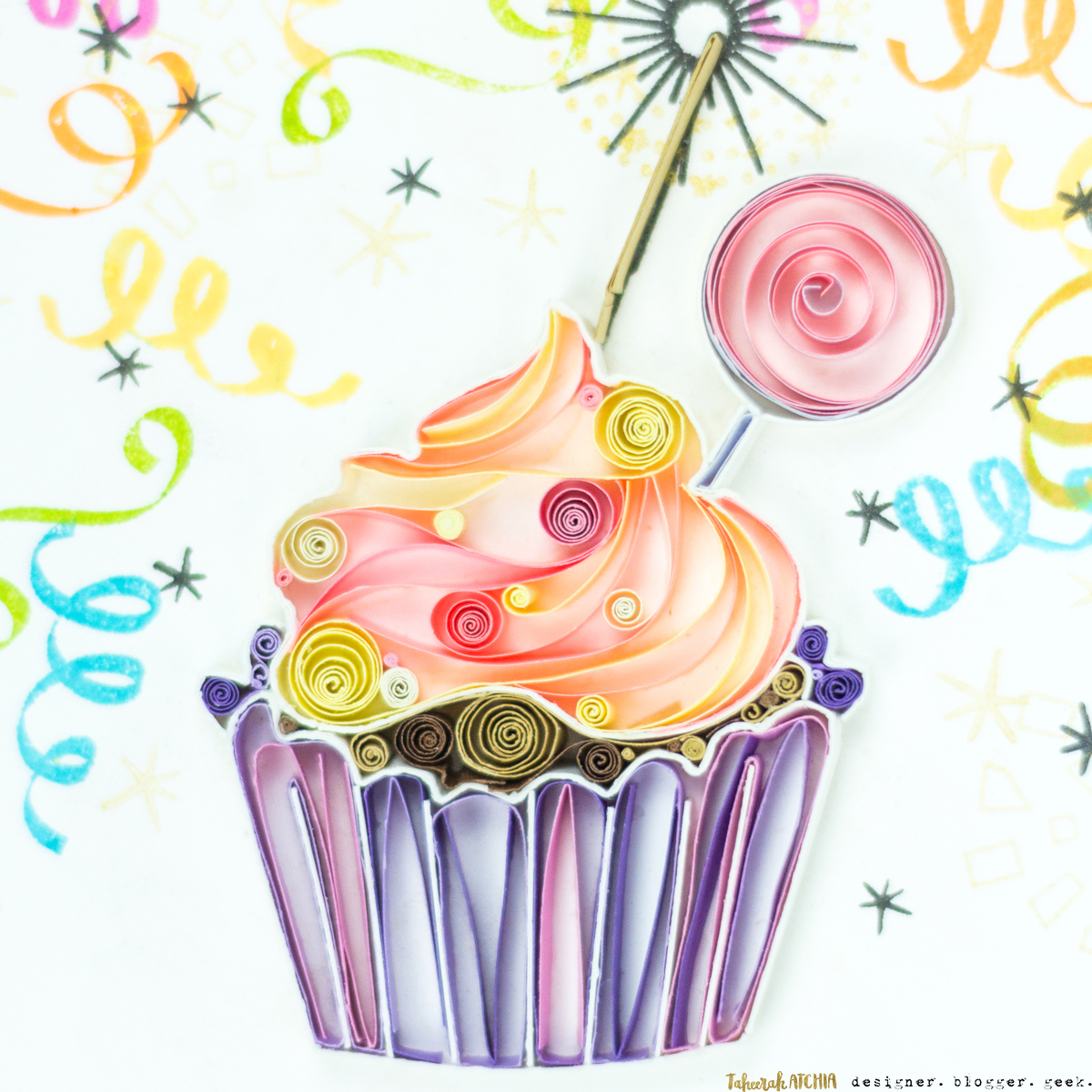 With my design all finished, it was time to build my quilled shape. I started with the outline, gluing 5mm strips of cardstock to form the shape. Once that was done I picked out some colourful quilling strips and just went where the inspiration took me.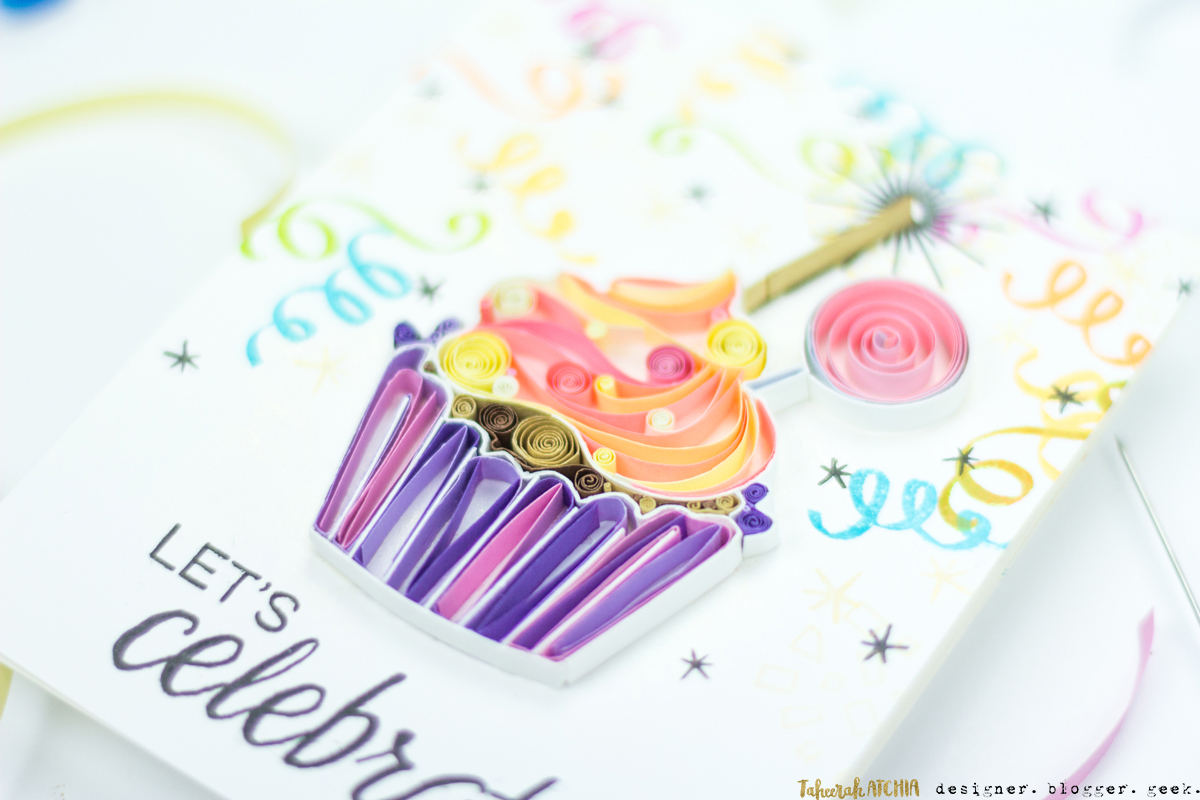 I was able to use some of the stamped lines of the frosting to guide some placement, but most of this was planning what type of swirls and coils to place where and just going for it! This time I did apply the adhesive to the paper and then adhere to the base, rather than the other way round.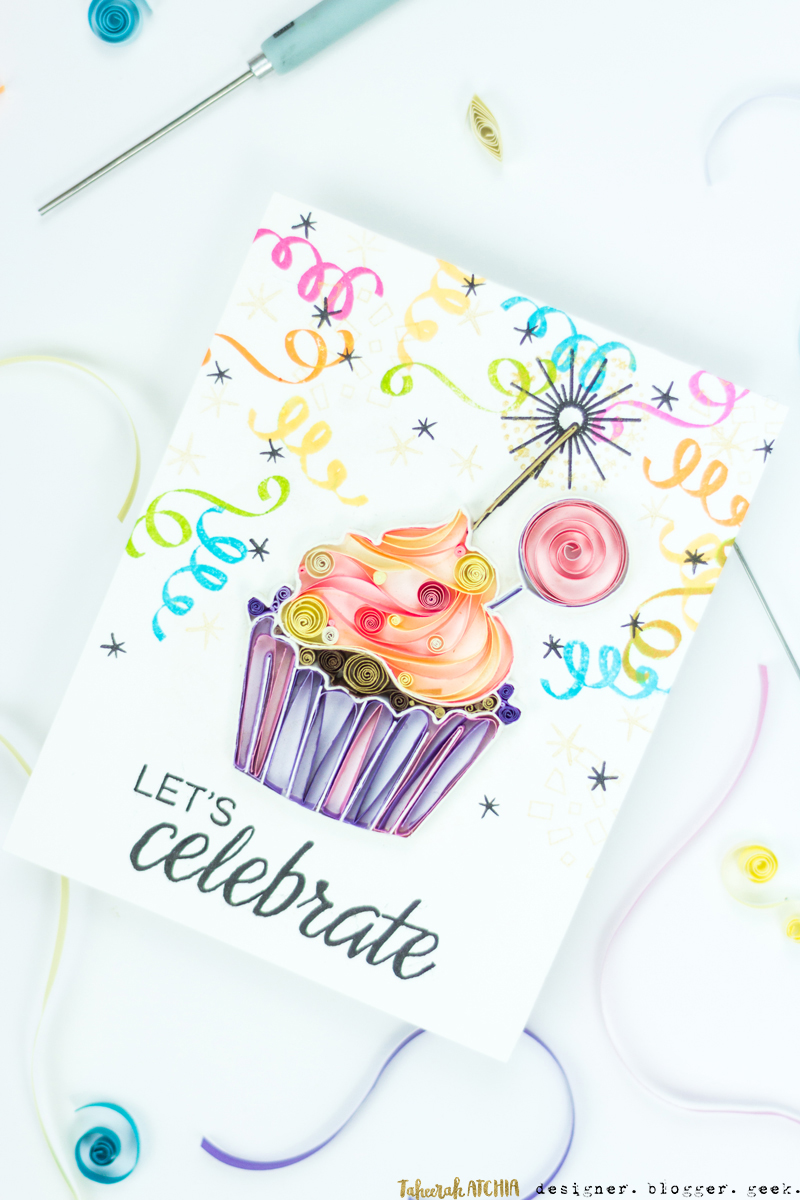 I stamped my sentiment to complete the card when I was done with the quilling.
The entire process was enjoyable and challenging, but definitely time consuming. The entire project took something like 5.5 hours without a break, so I was definitely tired after that! I have to admit that the final result is quite a showstopper, so this kind of project would be ideal for a card for someone special. It's a bit involved to go creating these as a regular project though.
Impressions And Conclusions
Quilling Art by Sena Runa is an inspiring read, well illustrated, and with a variety of challenging projects. The book takes you through first principles of quilling but the projects do feel a little advanced for a beginner. A novice should find it to be a useful resource, albeit not comprehensive.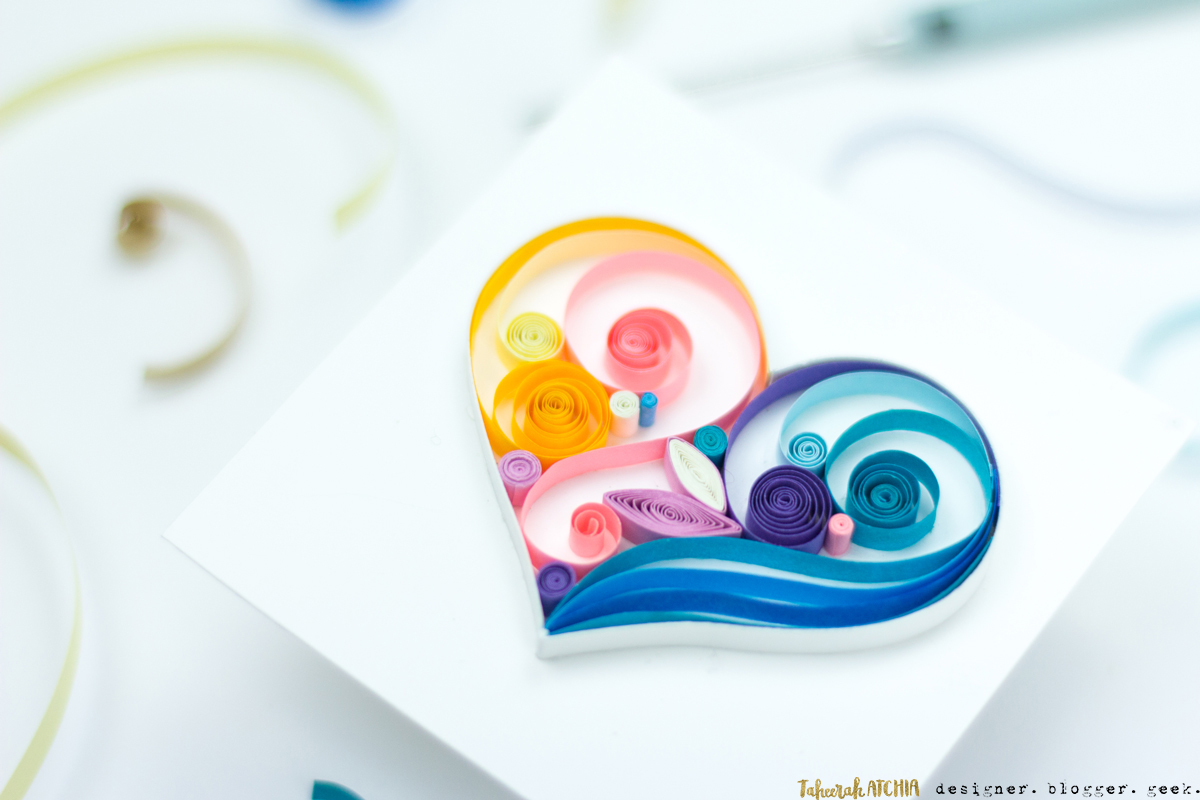 The projects are beautiful and imaginative, with clear step-by-step instructions. The templates are a little on the small side for my liking, meaning that some of the smaller coils and shapes can be very fiddly to make. However with some practice and a lot of patience, you can produce a reasonable facsimile of Sena's work.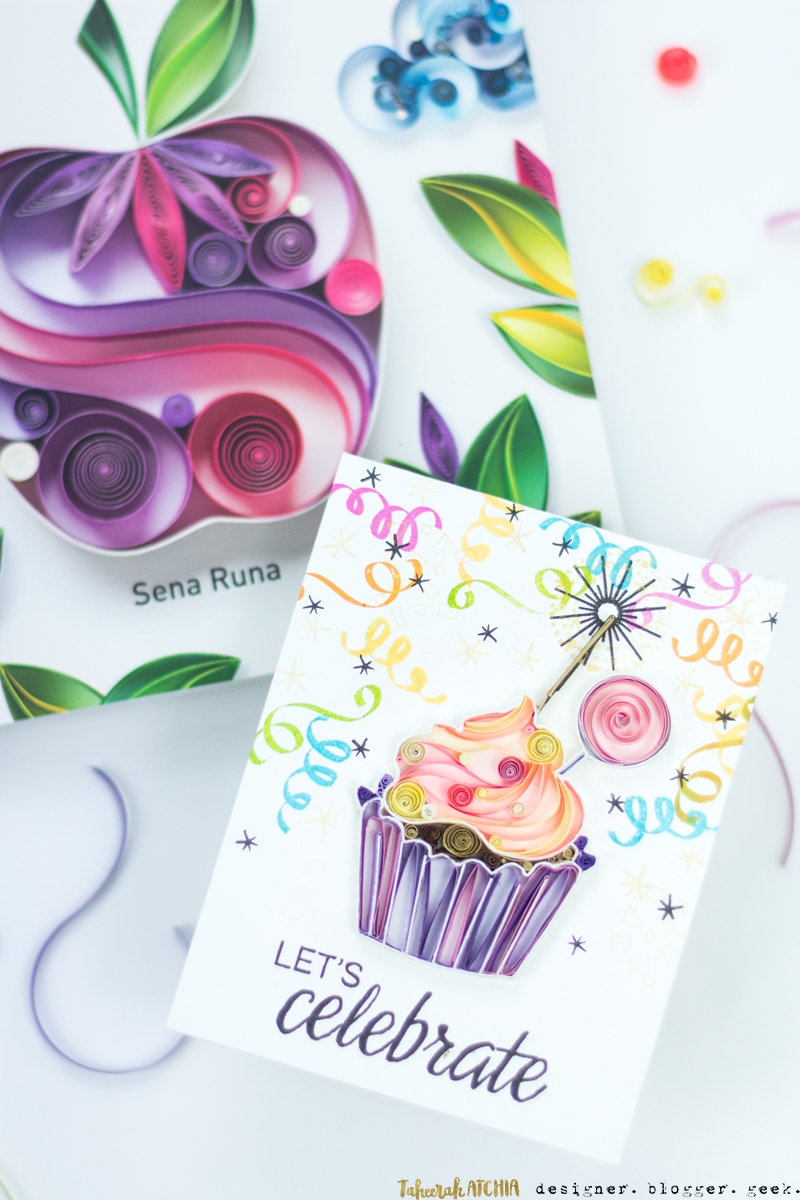 The book definitely equipped me with the basics well enough to create my own quilled art, and I definitely learned a lot about composition from studying Sena's projects both in the book and on her Instagram. With a lot of time and patience I was able to create something I am truly proud of.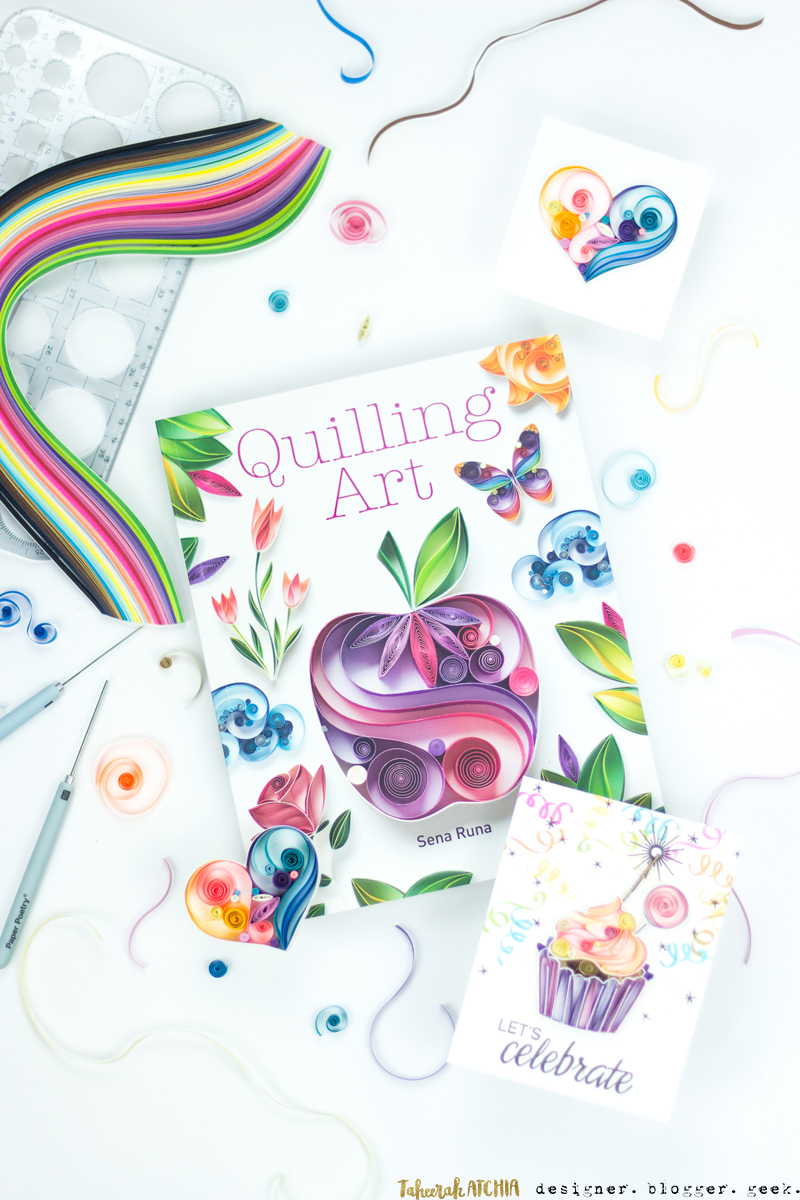 I certainly would recommend Quilling Art by Sena Runa to anyone who is already a little familiar with quilling and wants to learn beyond what a kid's kit would teach. Though not comprehensive, Quilling Art by Sena Runa does cover enough of the basics for someone to get started with quilling – but the projects are definitely challenging for a beginner. Sena's style and modern take on quilling is certainly more than enough inspiration to keep you going long after you've mastered the basics.
I'll be hoping for a follow-up version in future with additional basic shapes to learn, and some more challenging/ambitious projects for the more confident quiller. In the meantime I have definitely added a couple of extra strings to my (paper) bow – though I don't think I'll be giving up stamping any time soon. *wink*
Giveaway!
Hopefully after reading my review and seeing my projects you're feeling inspired! Would you like to get a head start on quilling with a copy of Sena's book? I have *two* copies to give away!
To enter simply leave me a comment telling me what's left you feeling inspired from this post. You have until 23:59EST on Wednesday 7th March to enter. I'll draw winners shortly after that.
Good luck, and thanks for stopping by!
Supplies
Basic Quilling Supplies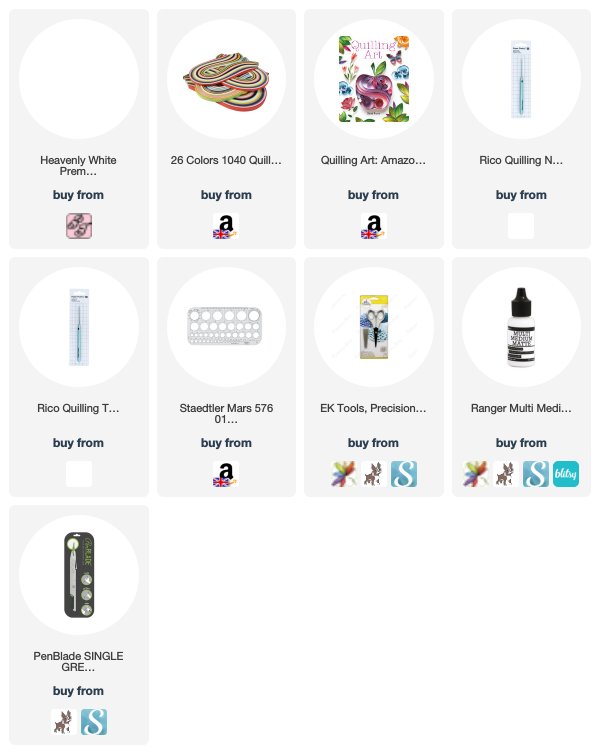 Let's Celebrate Quilled Cupcake Card