Hey everyone! Happy Friday!
It's always fun when I get to play with supplies from my favourite companies. It's even more awesome when it's for a fun release celebration! Well, today is one of those days as I'm joining a bunch of other talented ladies in celebrating The Ton's third Anniversary!
I think if you've visited here before then you'll already know just what I think of this amazing company. From Day 1 I fell in love with their stylish, unique designs – and I've been in love ever since! And though The Ton has hit three years old, I can say with certainty that they're definitely not going through a 'toddler phase', lol! In fact, from humble beginnings, they are bigger and better than ever, boasting a collection of 254 stamps (in three years!! Effie is the most prolific designer I have ever known!!), an amazing and vast collection of inks, a fantastic selection of embellishments, and even some superb glittery papers! Outstanding for such  young company, it truly is!
So I'm delighted to have been invited to participate in their Anniversary celebrations today. Happy Birthday, The Ton! Here's to many more!!
I have a number of cards for you today, and a fun giveaway to boot! Let's get the party started!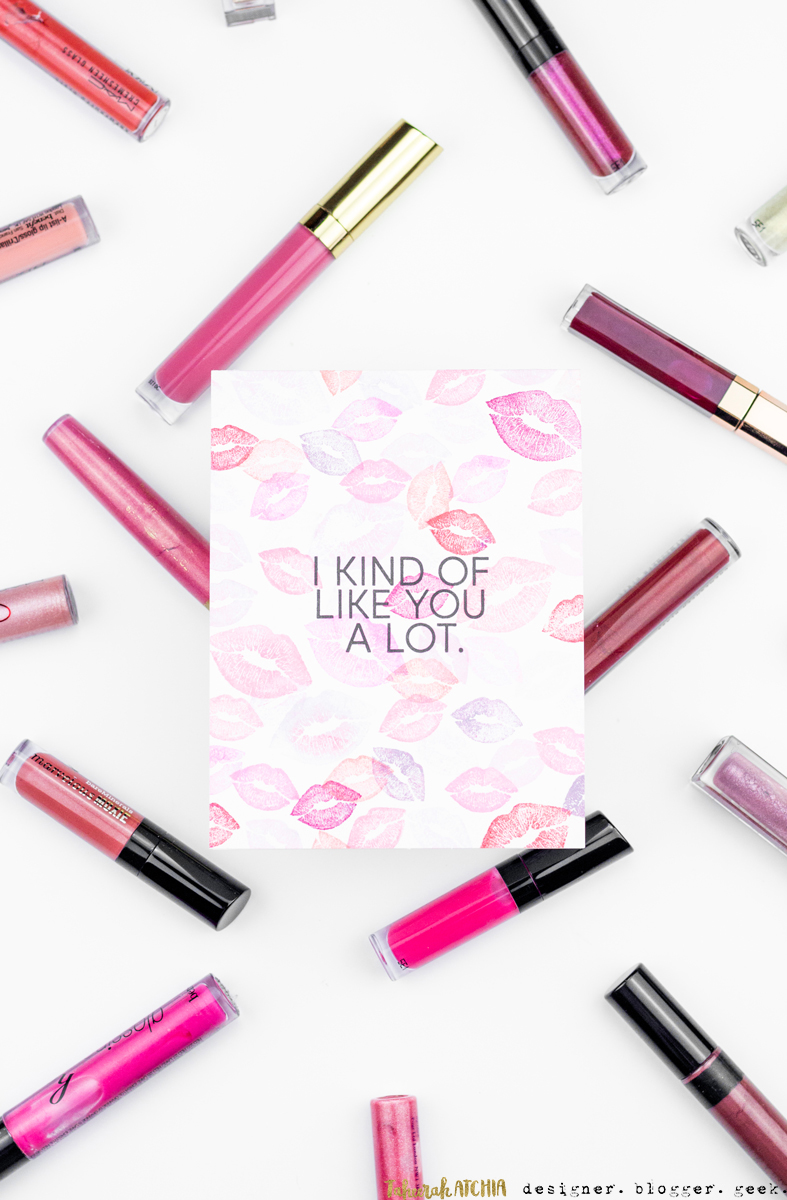 I'm starting with a really loved up card, featuring the awesome new Smooched stamp set!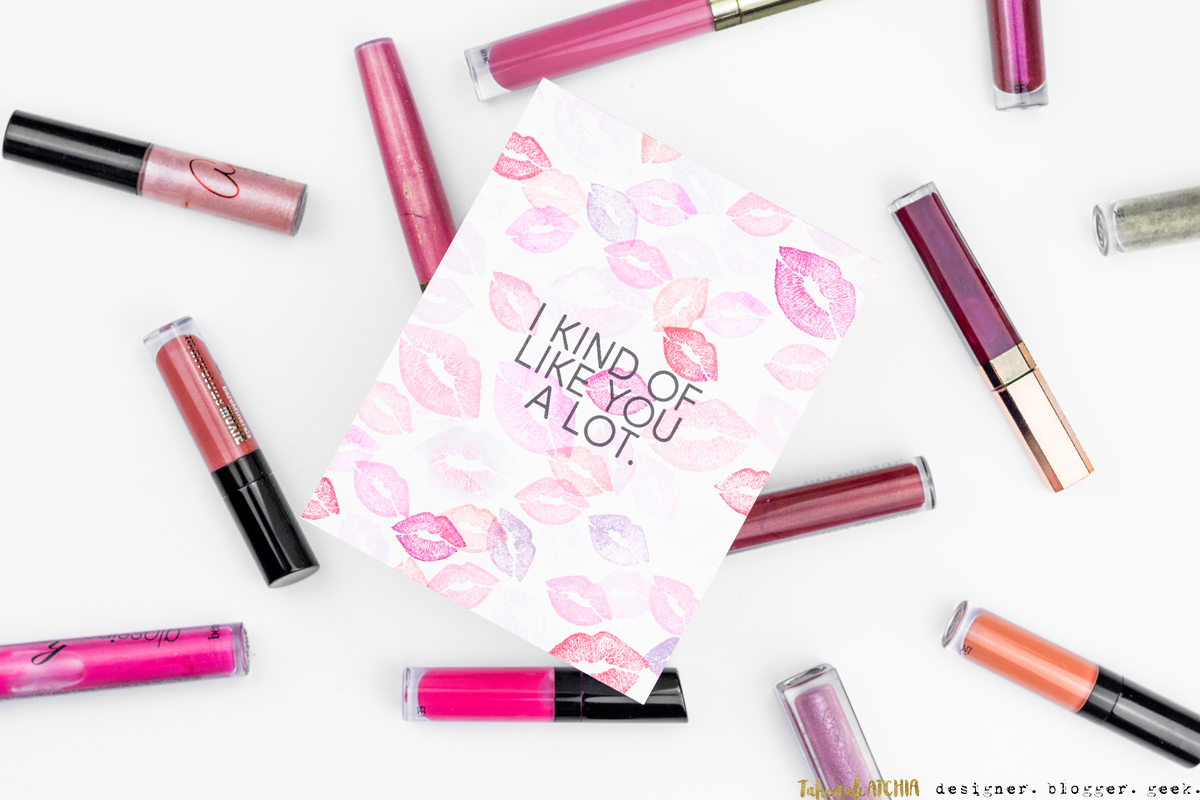 I love lips stamps and really enjoyed creating my background using a variety of pigment inks for an authentic lipstick look!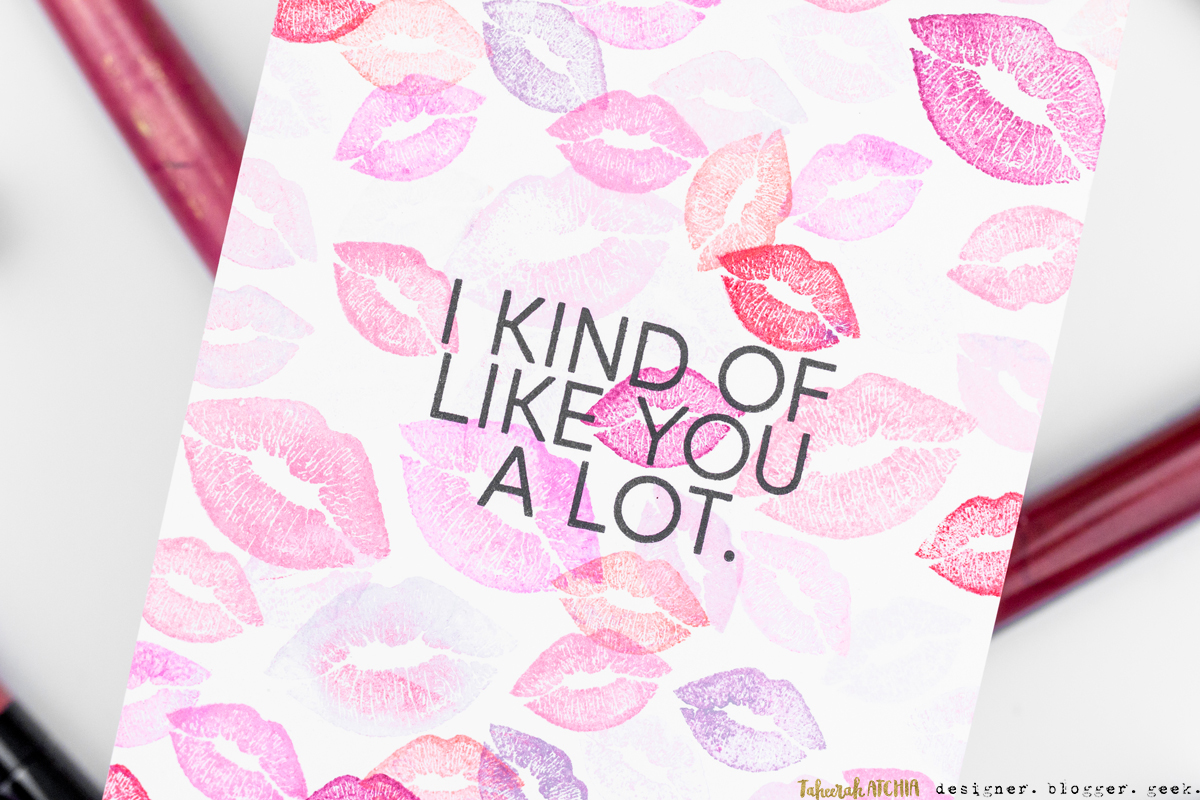 The set comes with a number of sentiments! Methinks the sender is slightly underplaying their feelings with this one! *wink*
My second card uses the same set, but with very different results:
Anyone recognise the inspiration for these lips?! I took my cues from The Rocky Horror Picture Show – and I love the results!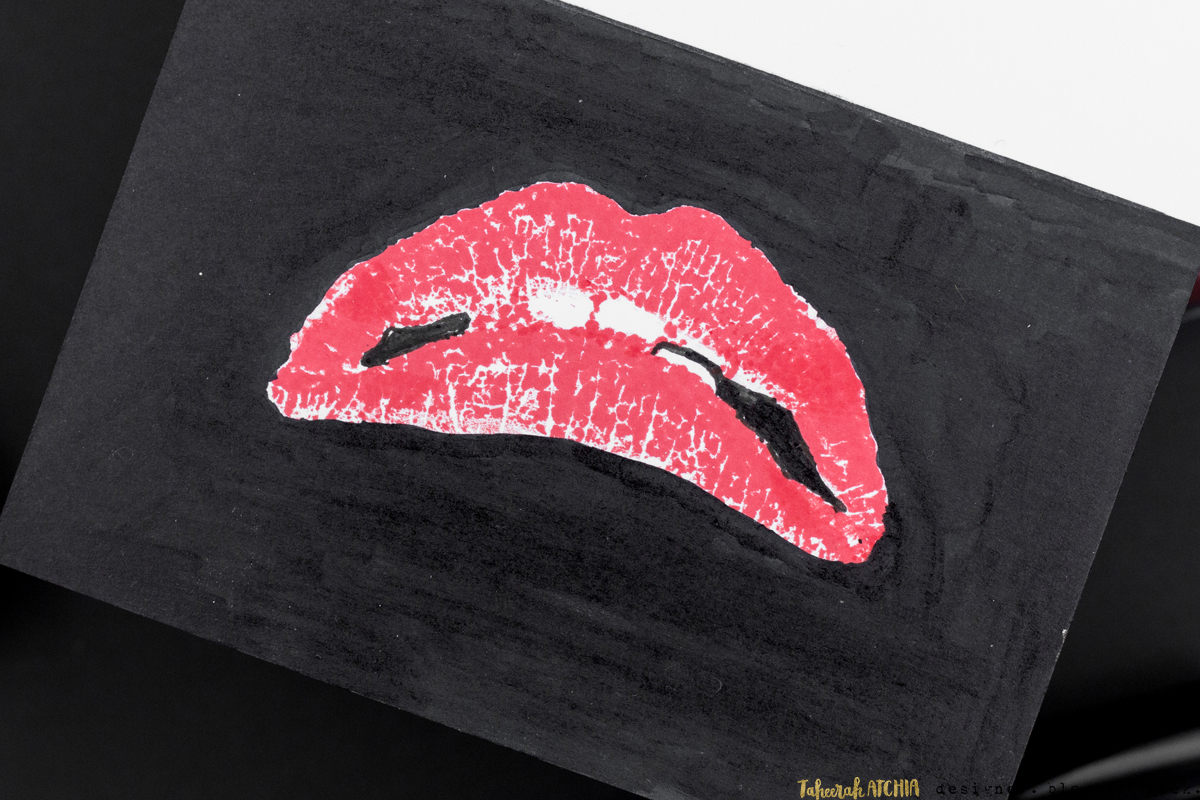 You might be looking at the Smooched set and wondering where this lips image is! Well, I created it using the largest lips stamp, and some creative inking! I stamped part of the top lip first, then turned the stamp upside down and stamped part of the bottom lip! I then kept inking alternate corners from top and bottom of the lips, rotating my stamp until I'd produced the lip effect I wanted! A little dotting of ink in the white space created the teeth, and a bit of black colouring did the rest! I am *so* pleased with how it turned out!!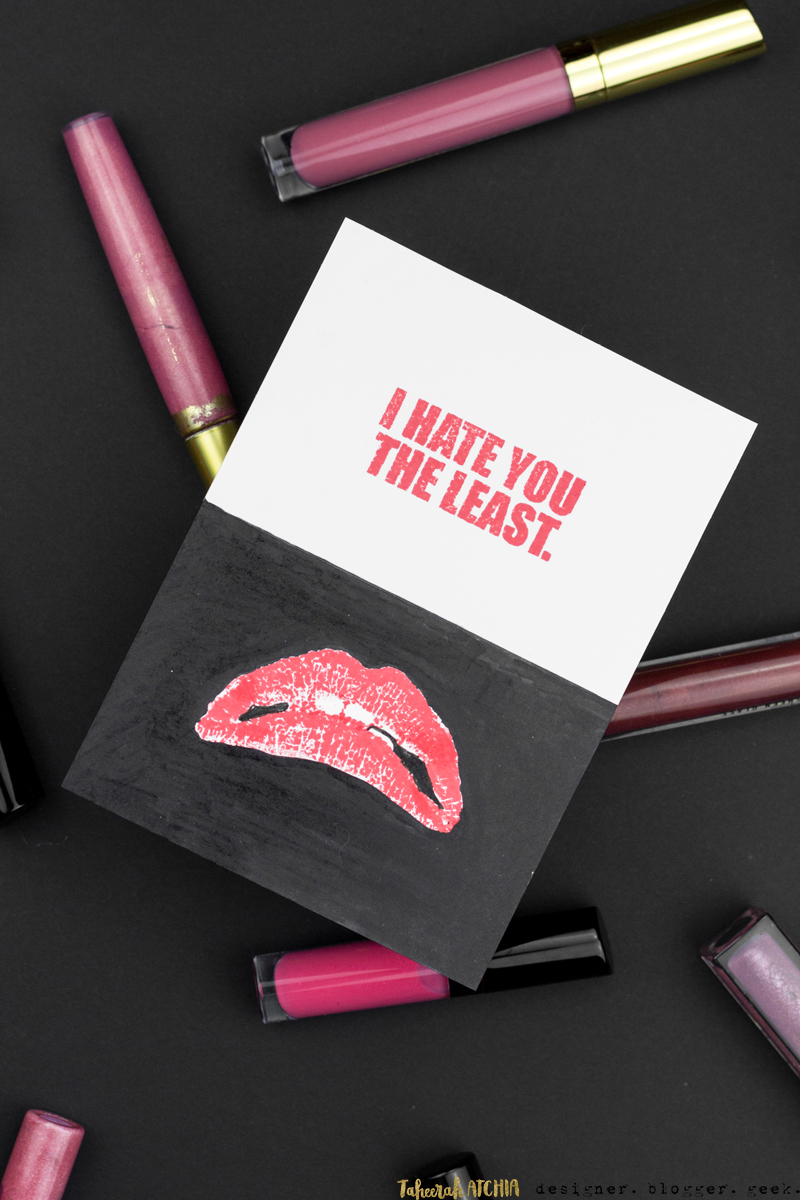 I wanted the rest of the card to resemble a movie poster, so I coloured the bottom half of the card black, leaving the top half white. I used the same red ink from the lips for the sentiment. This one is going on display in my house!!
Next up, I inked up the *awesome* Fresh Cut Daisies set: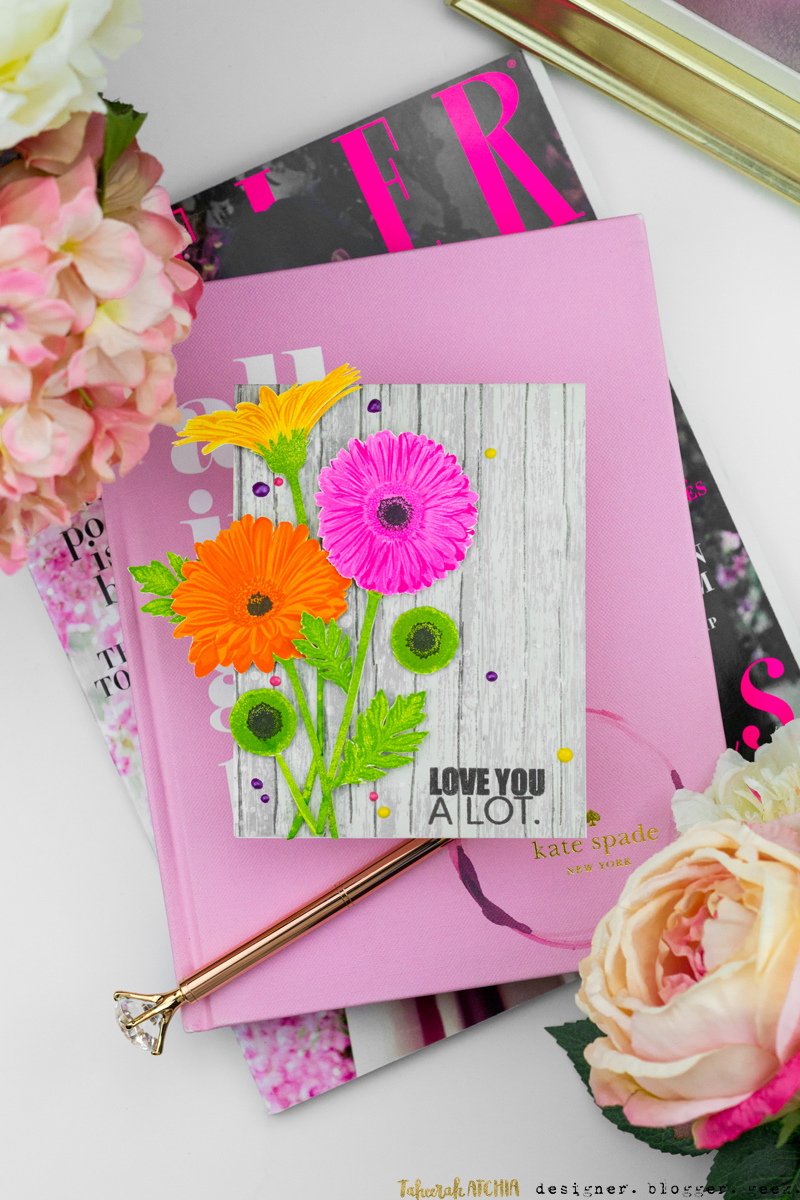 I just *love* Gerbera Daisies and had been one of a few people who requested a set of them from Effie, and she certainly didn't disappoint! Just look at the detail on these babies!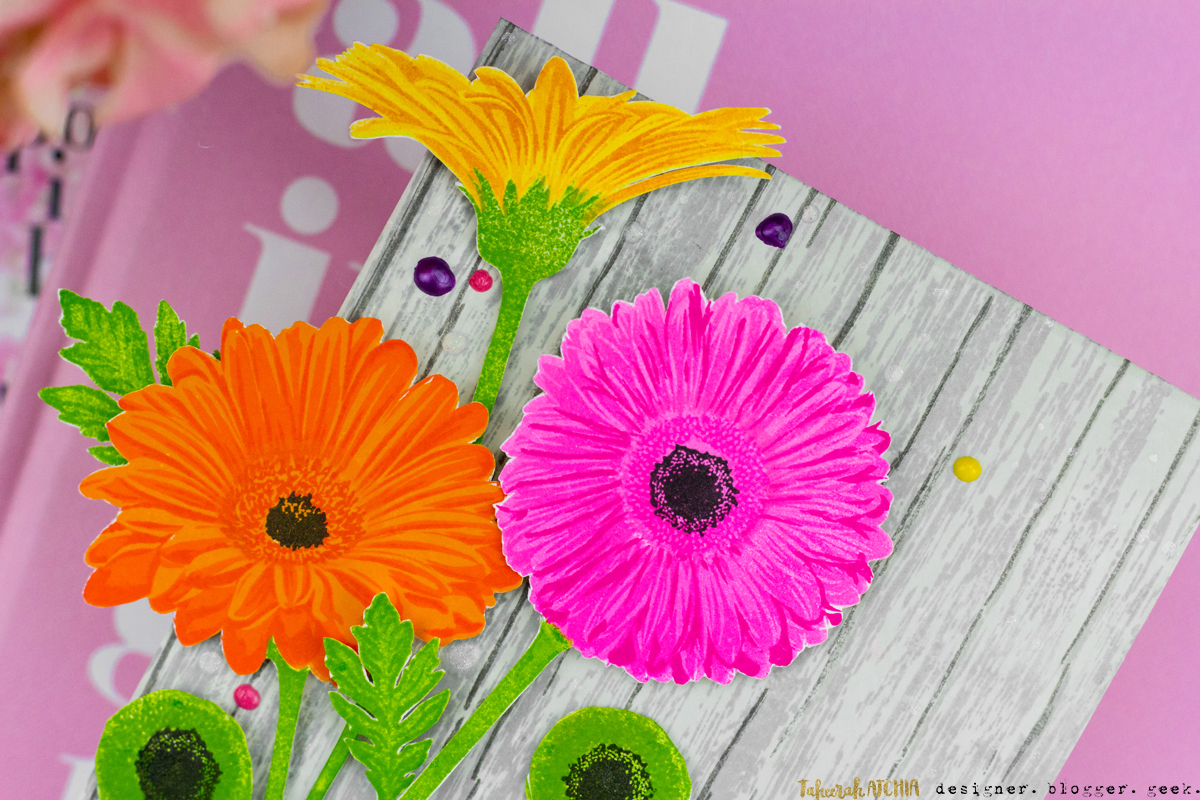 I stamped one of each type of daisy, using shades of pink, orange, and yellow for my bouquet. I also quite liked the look of the centres as types of flowers in their own right, so I stamped a couple of those in shades of green too!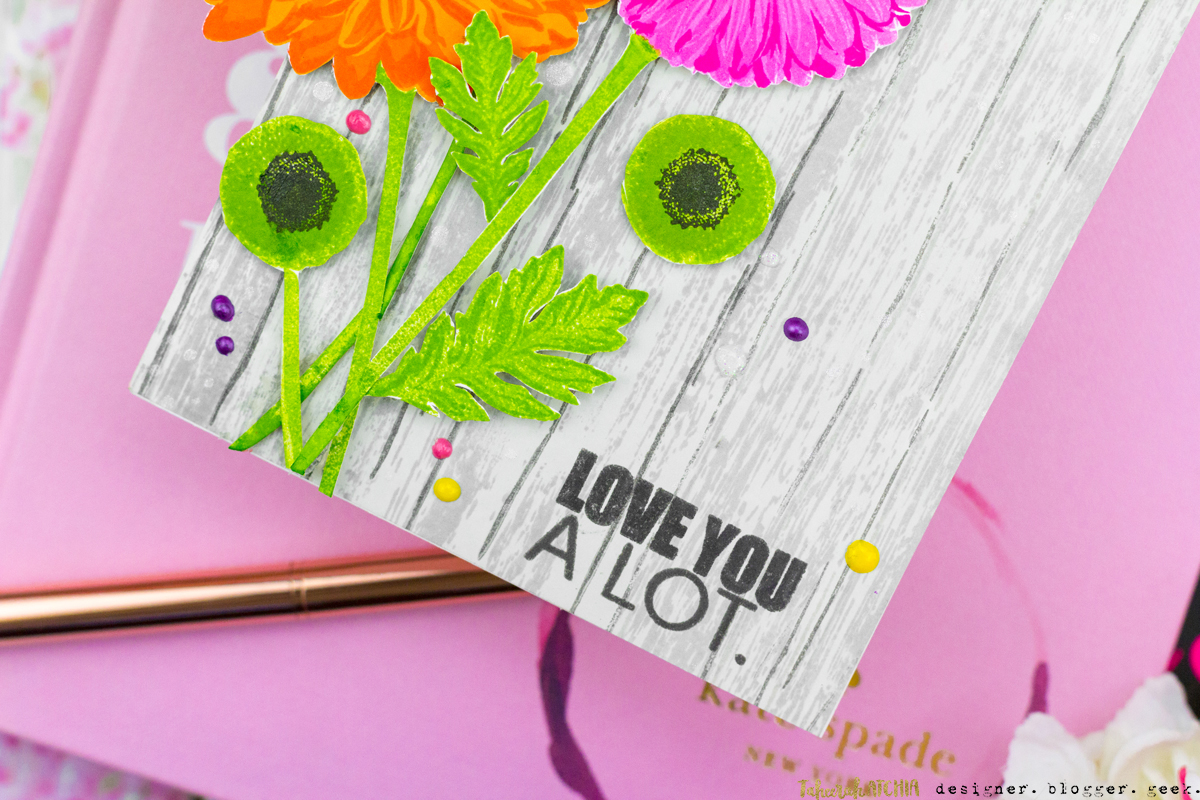 I stamped just the base stalk from the sets, then when trimming out my flowers I extended the stalks and inked them in the same shade. This really gives more options with bouquet creation and flower placement! A couple of leaves, and some Pinflair Glue Gel for custom dimension, and my bouquet was all assembled!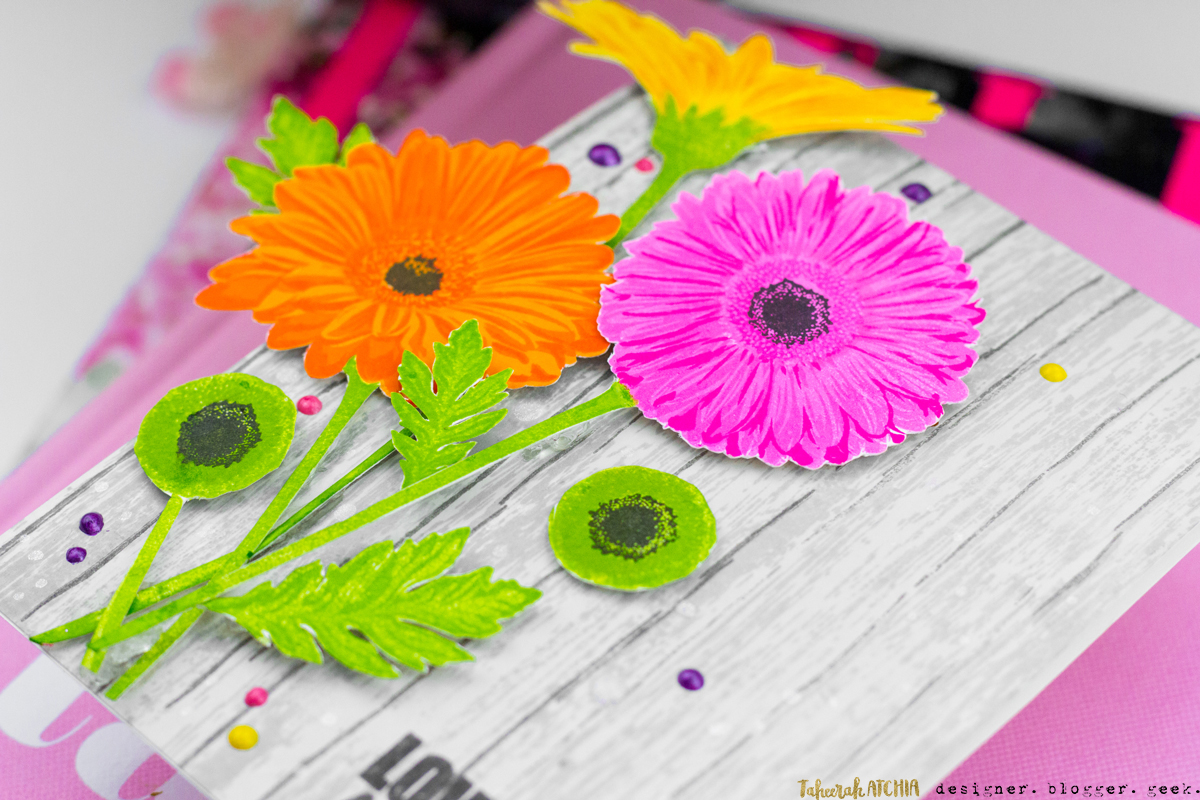 Let's talk about that background, shall we? It feature the Buildable Woodgrain stamp set, which is set to become a staple in my stamping arsenal! I just love how I can create a number of different looks with it!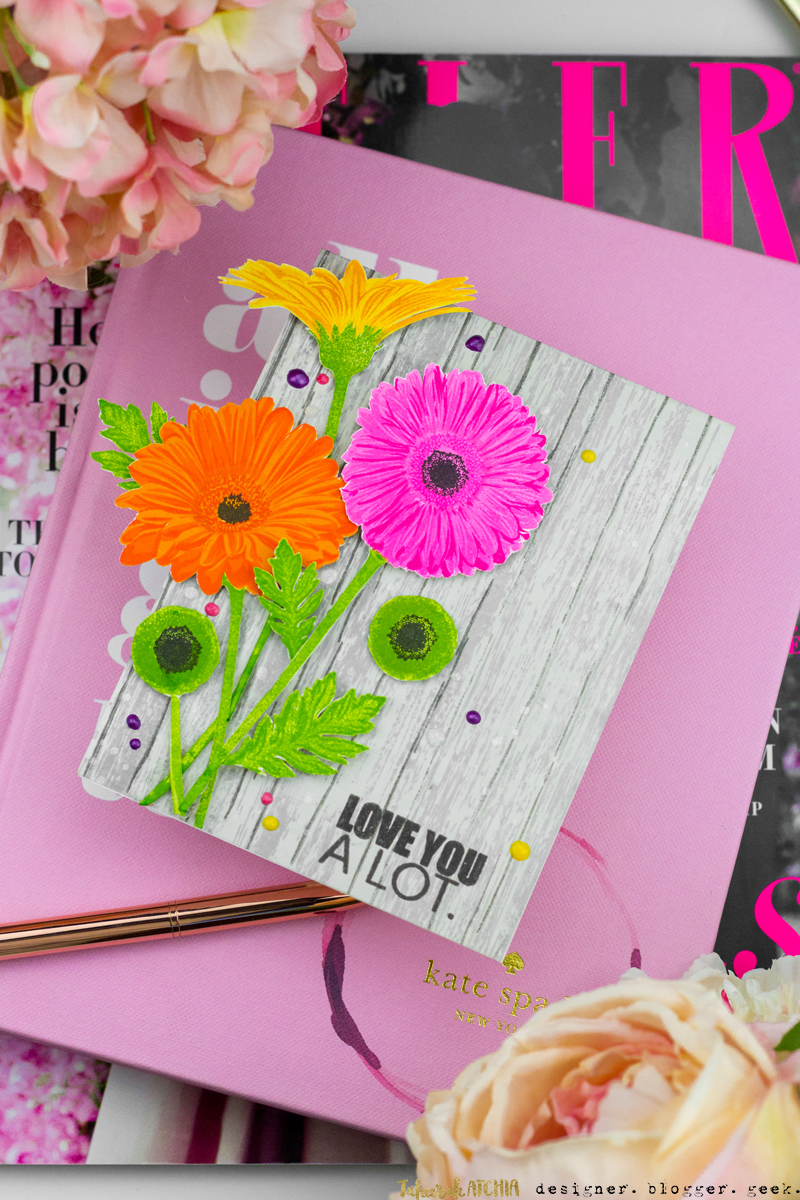 Some Nuvo Crystal Drops finished off my card nicely, along with a little mist splatter, both of which helped frame my bouquet nicely!
Finally, I used the Buildable Woodgrain set again, for a completely different look: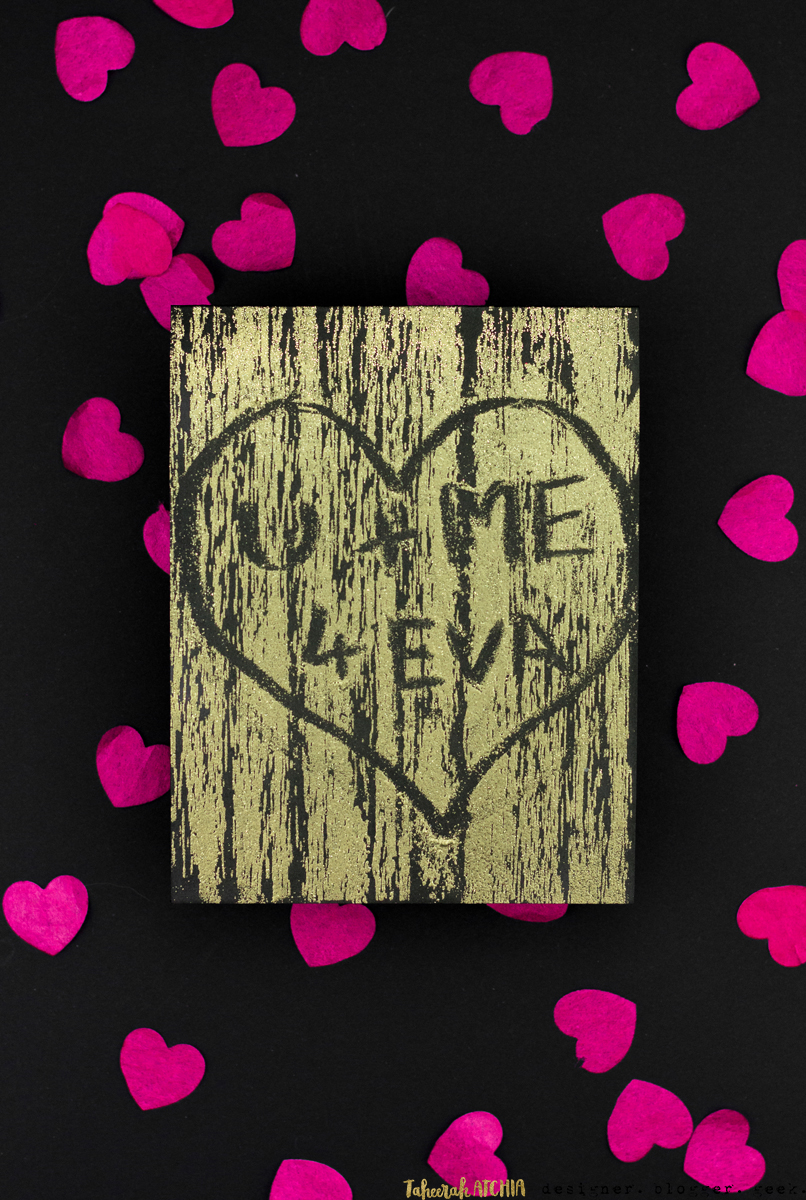 Kinda swooning over this one! That black and glittery gold combo is divine!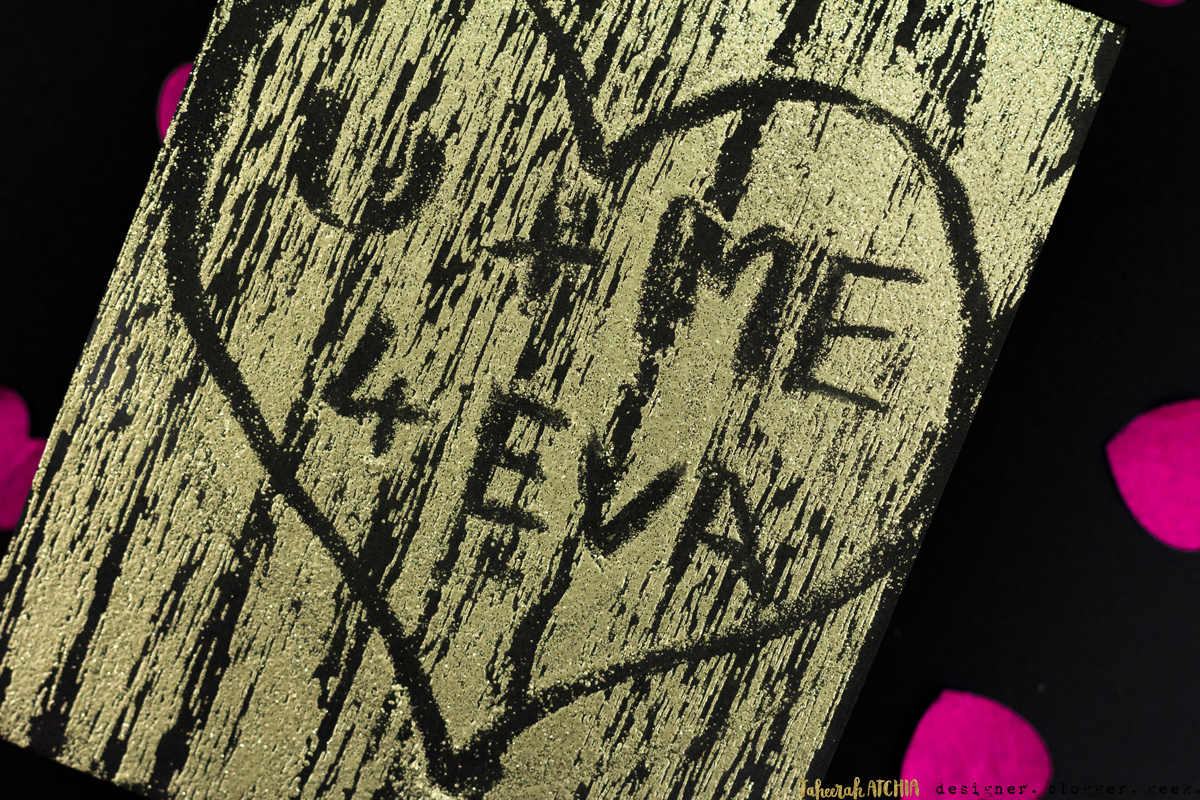 I used several stamps in the set to build up my woodgrain pattern, then sprinkled on some sparkling gold embossing powder. Before I heat set it though, I used a tool to scrape away some of the powder to 'carve' a love heart and sentiment, just like you would on a tree!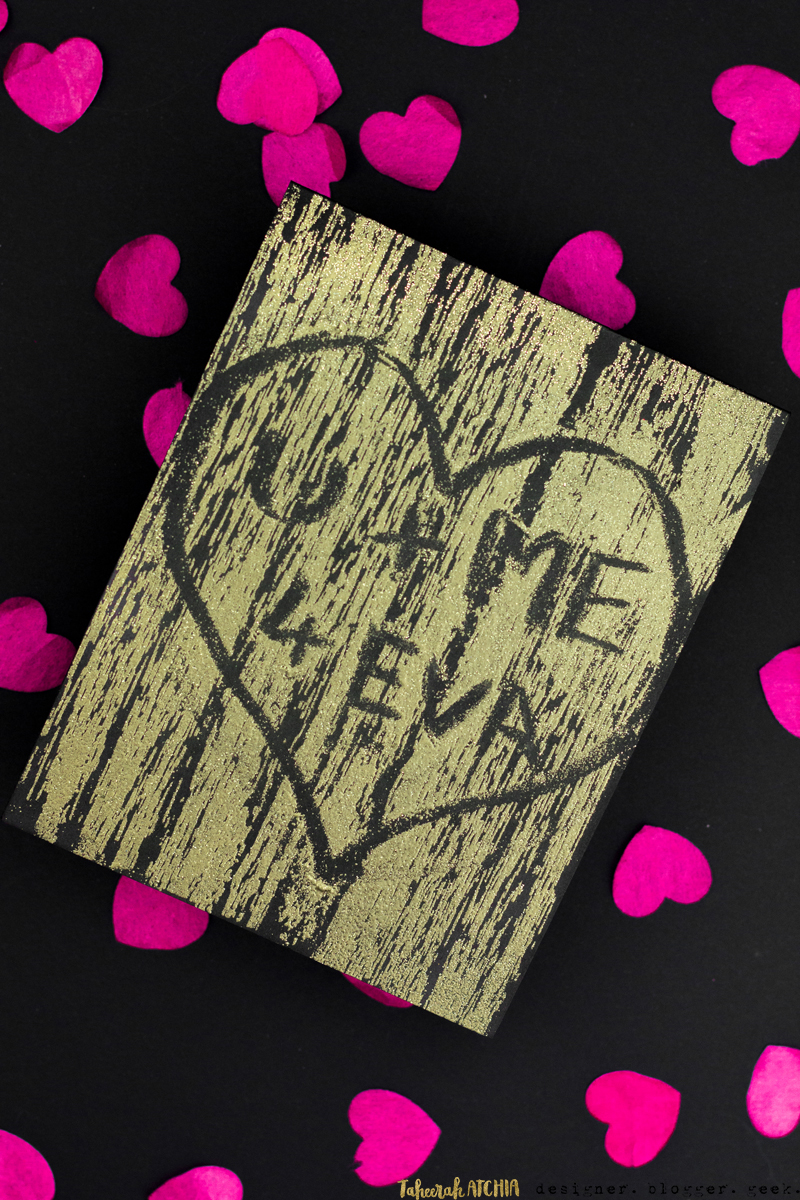 Still swooning over this one!!
Giveaway!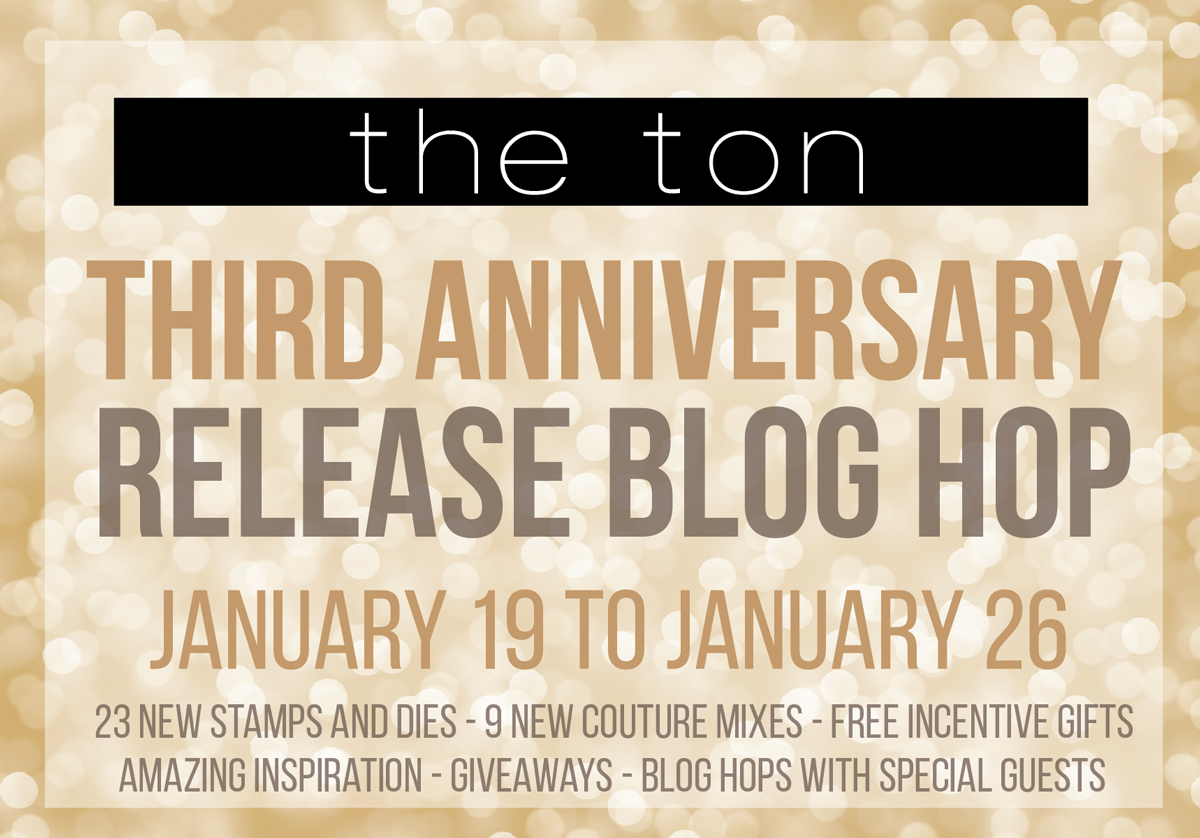 So it really wouldn't be an Anniversary Hop without a prize! The Ton has been having an extended celebration this year in honour of their special day, with the following prizes up for grabs:
For each day of The Ton's blog hop festivities (1/19 to 1/26), Effie is giving away a stamp set of choice to a lucky commenter. To qualify, you must leave a comment on each blog stop for the respective giveaway day for which you are entering. The comment period for all giveaways closes on January 28, 5pm EST.
Wowee!! Talk about amazing!!
Here is your hop order:
The Ton
Svitlana Shayevich
Taheerah Atchia  
Olga Matyushevskaya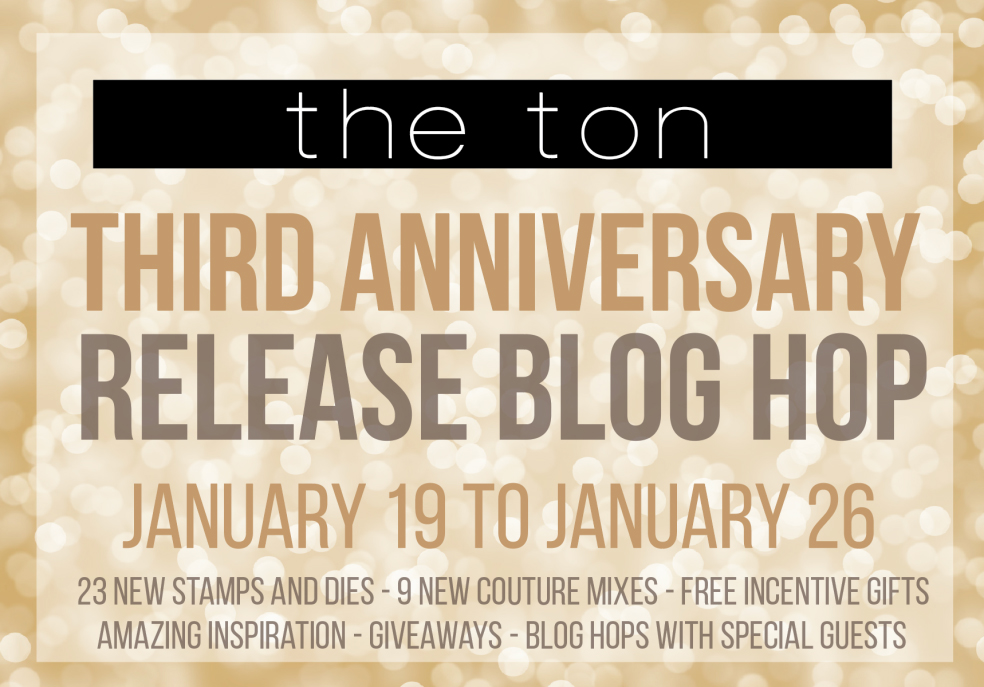 The Ton has 23 new stamps for their Third Anniversary Release which includes up to two free gifts with purchase (Daisy Duet and Peony Notes Bundle A+B+C). For more information on The Ton's incentive gifts, head over to
The Ton's blog
. All new release products are available now!
Thanks for stopping by – and good luck!
I Kind Of Like You A Lot Lips Card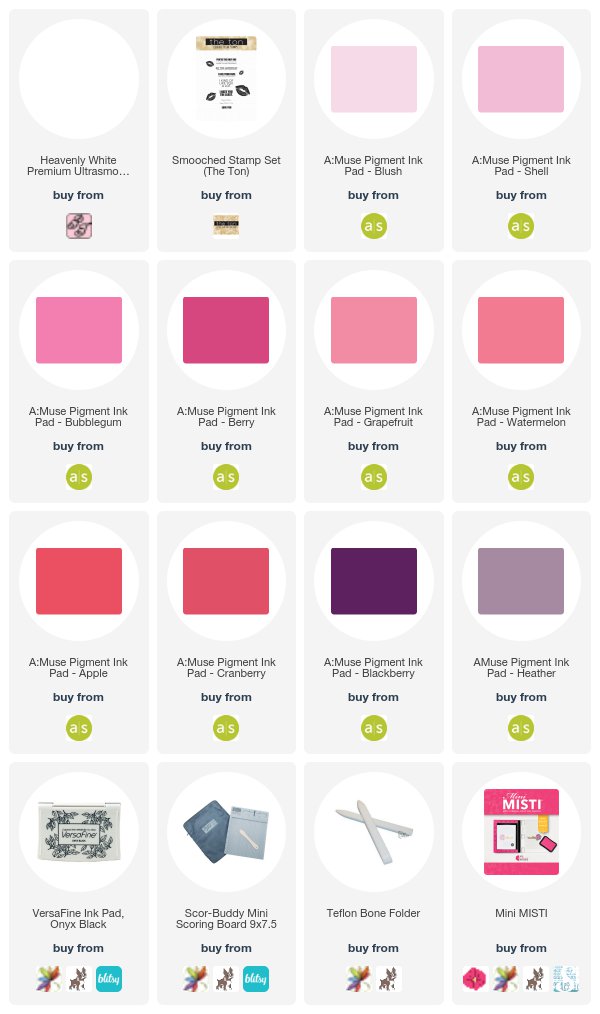 I Hate You The Least Rocky Horror Lips Card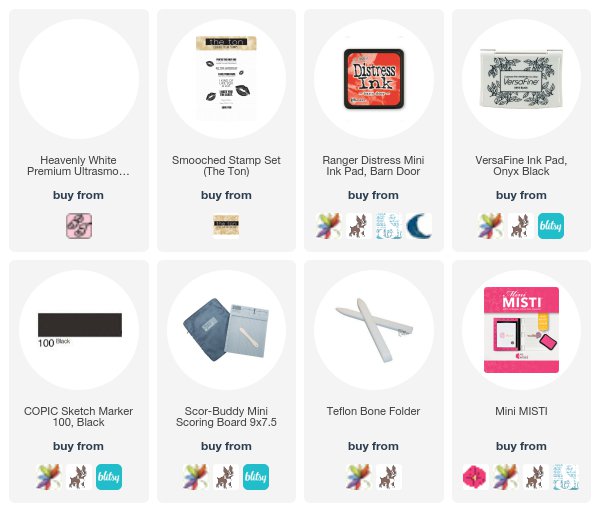 Love You Gerbera Daisies Card

U + Me Carved Tree Card