Hey everyone! Happy Saturday!
I know the last couple of posts you've seen from me have been Christmas-themed. So today I'm gonna mess with your heads and bring you back to Autumn instead.
You're welcome.
I'm always super-excited for stamps that have a different feel about them. The crafting market is full of really creative individuals, but we do tend to see a lot of themes and ideas come up again and again. So if you have a concept that's trending, it can be difficult to put a spin of your own on it.
Enter that uber-talented crafty genius: Julie Ebersole.
I love everything Julie creates. It's all just, -brilliant-. She is without a doubt one of my most favourite designers, and I pretty much fangirl over everything she does – cards, and stamps.
So when I was invited to participate in one of the Essentials by Ellen releases, and to play with one of Julie's new stamps, my answer was of course a resounding yes! Followed by some hyperventilating, but we won't go there.
There have already been a few days of hops for this awesome release, and if you missed out on the action there you really should head over to the Ellen Hutson CLASSroom blog for all the details. This is Day 4 and I'm so excited to be sharing the limelight with some awesomely talented ladies!
I mentioned I'm playing with one of Julie's new sets. This one is called Snailed It, and it's a woodland theme based on lino cuttings. See, I told you that Julie was innovative! *wink*
I have two cards to share so let's get straight to it!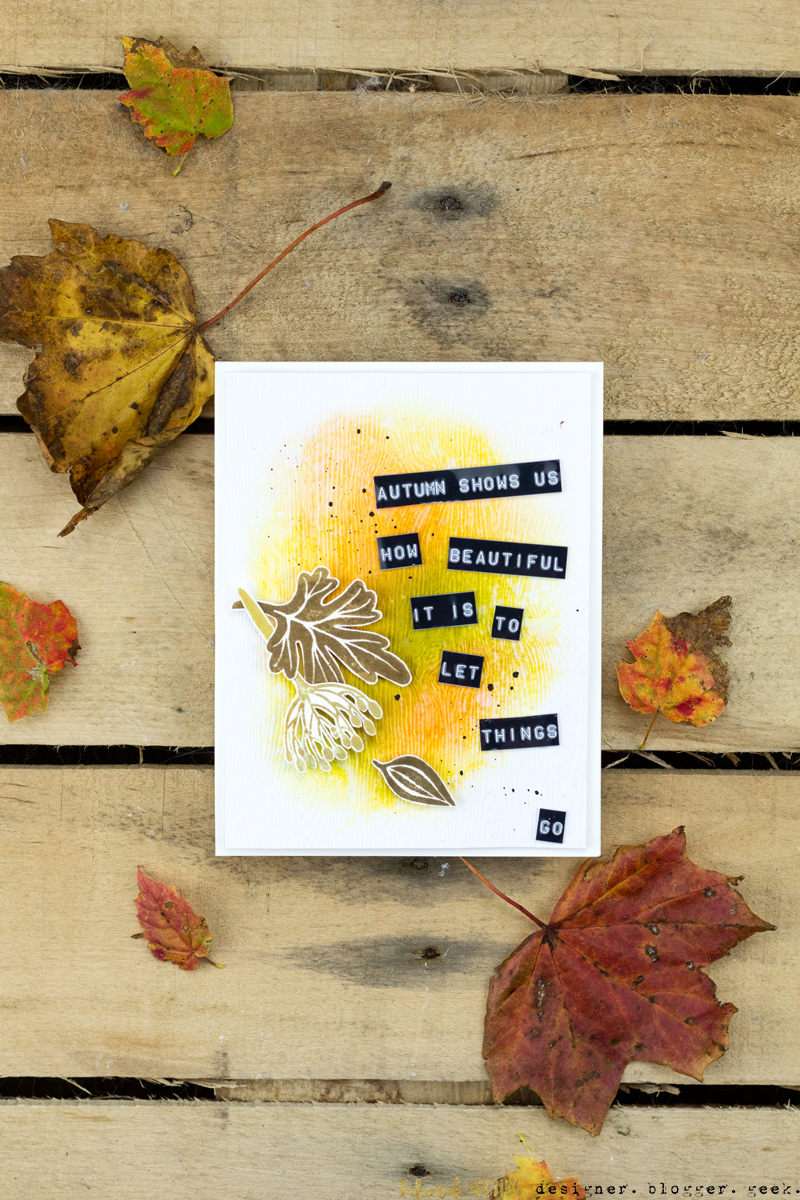 I'm kinda gaga about this card. I love everything about it, and it was definitely inspired by Julie's style!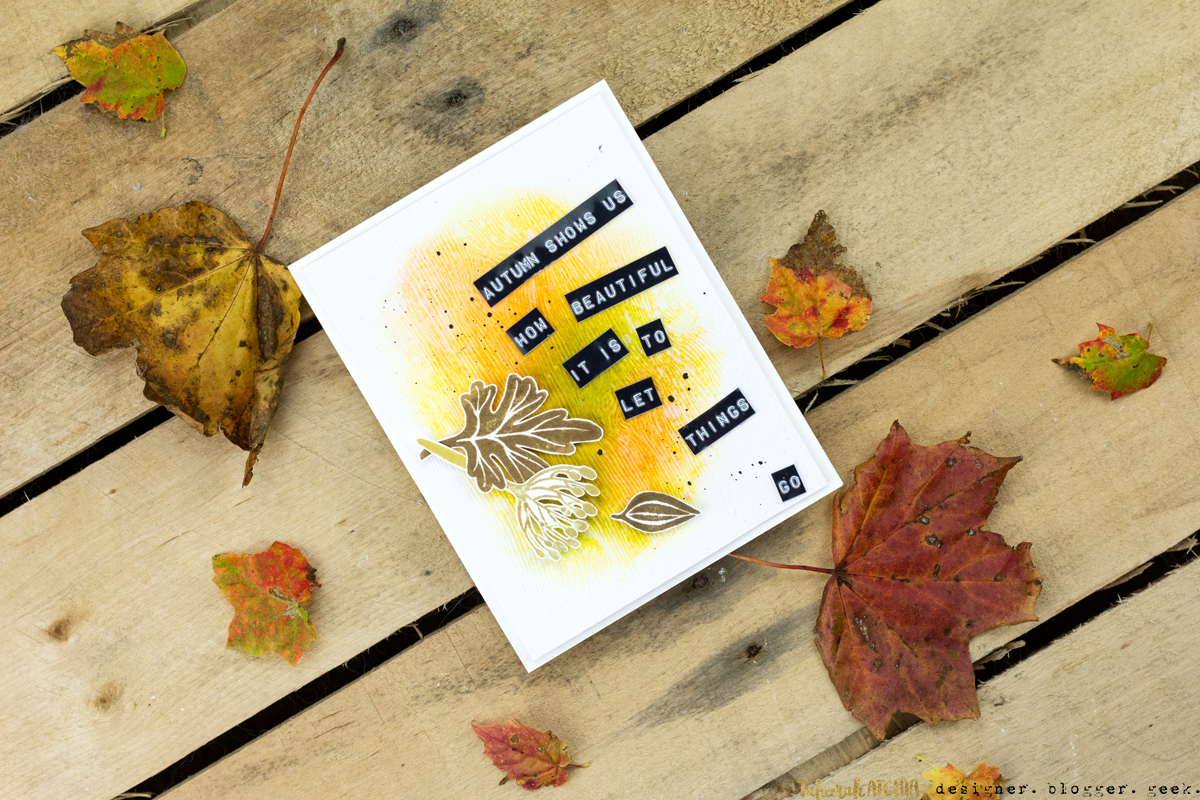 I began by blending some Distress Inks over some woodgrain cardstock, then flicking on a little water to remove some of the ink. I flicked on some black Distress Paint for some fun splatter.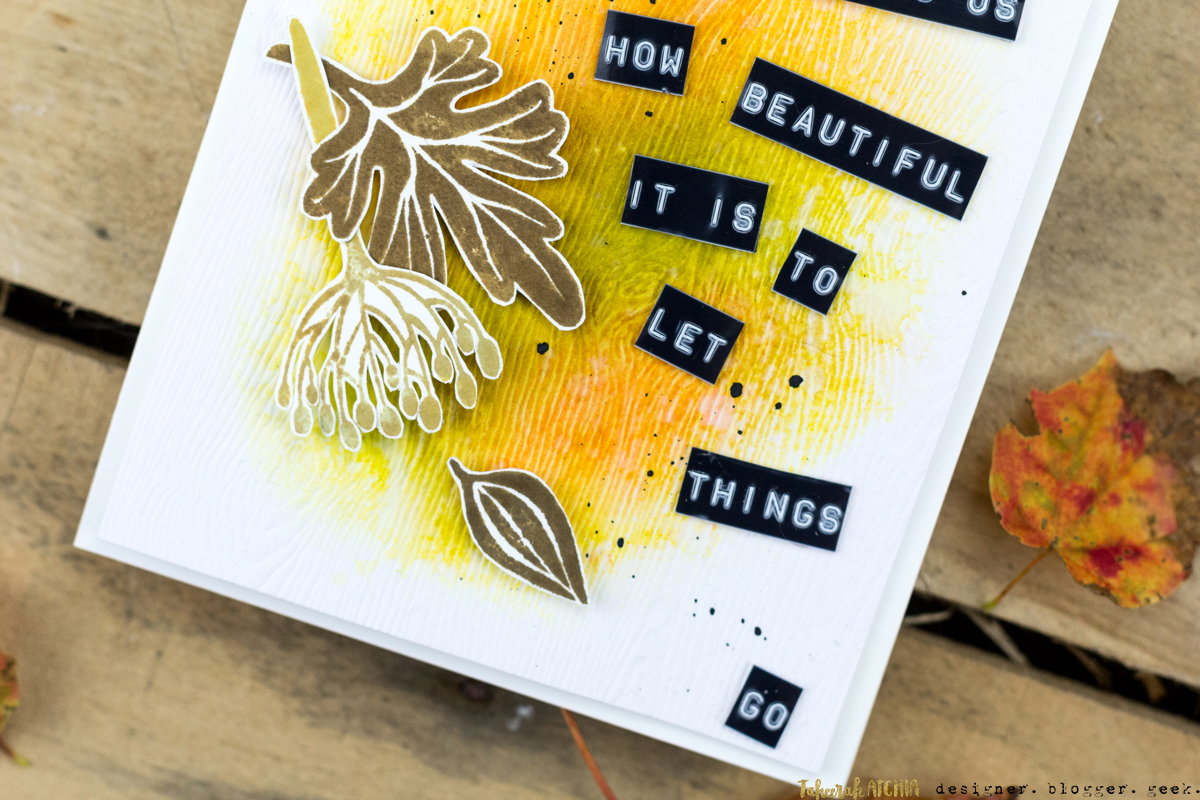 Next came that gorgeous foliage! I stamped those with Distress Inks too (thank you MISTI!) before trimming them out as close as I could get. There are coordinating dies for this set which you will probably prefer to use if you're not crazy like me!
I adhered my foliage in a sort of falling pattern using dimensional glue gel, very much inspired by Autumn. I found his awesome Autumn phrase which I recreated using my label maker and adhered the words in place, and my card panel to my base, to finish. I just love how the words fall more and more across the card, with special emphasis on the final three being spaced apart a lot more – really playing to the analogy of letting things go. *smile*
My second card is very dramatic and different:
I love how this one turned out too! There's a small dotted arc stamp that is meant to go with the thistle image in the set, but I loved creating a random repeated circle pattern with it instead! I loved make it it imperfect too!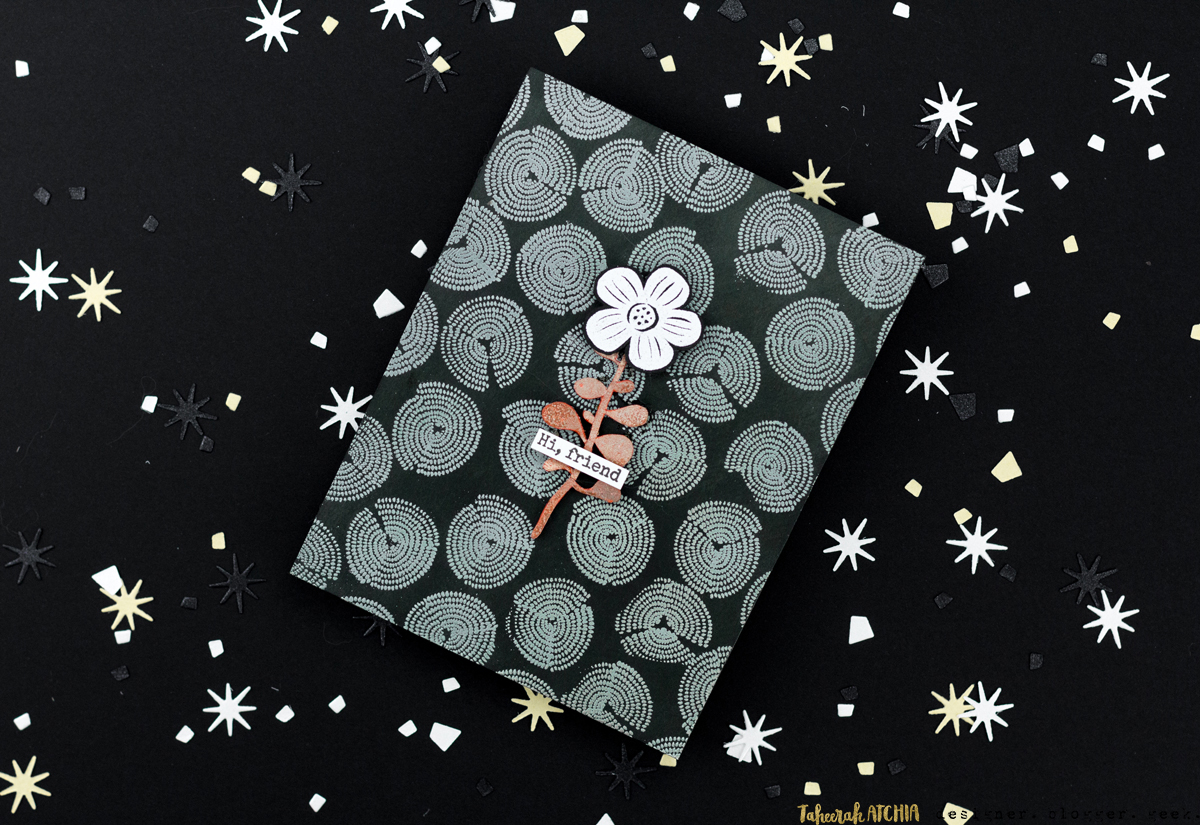 So I started this pattern on white cardstock actually, and heat embossed it with white embossing powder. I then rubbed the Hero Arts Chalkboard ink all over the card – not only did it give the card a not-quite-black base, but it turned the embossing powder an almost platinum colour in appearance!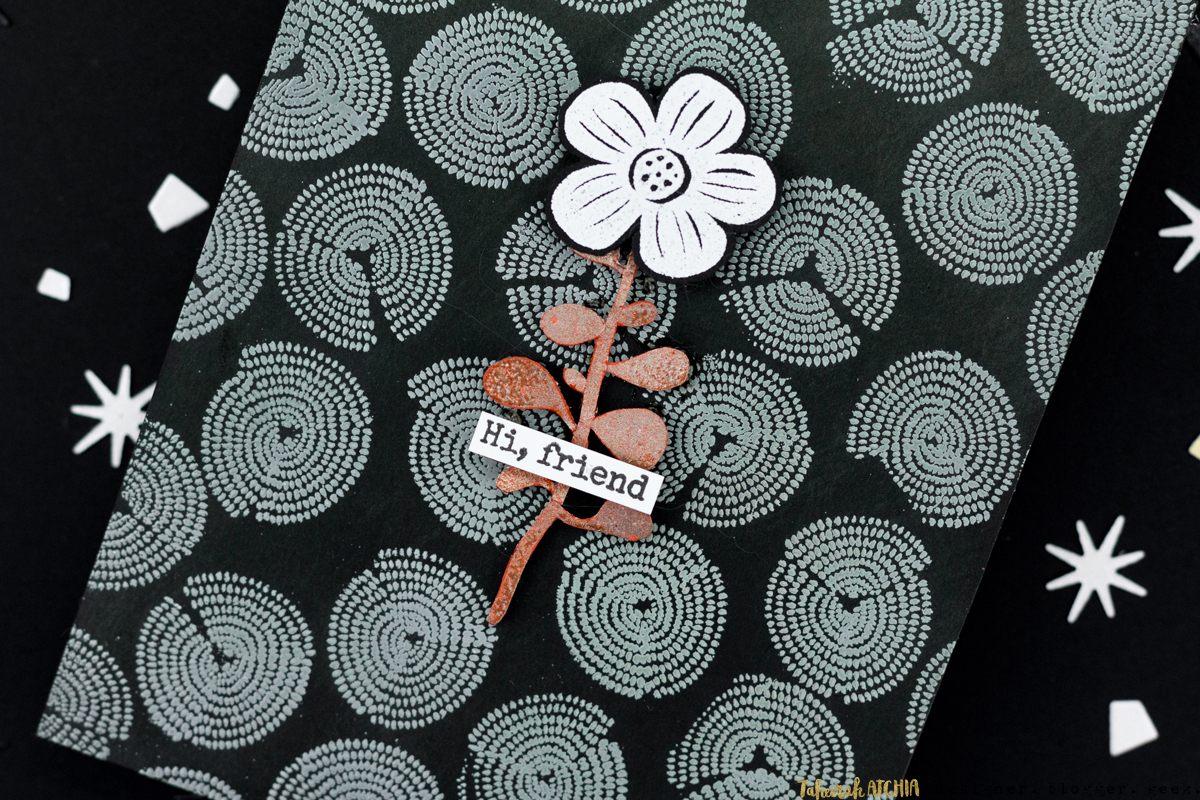 I totally went with that theme, heat embossing the stem/leaves with sparkly platinum embossing powder, then dabbing an orange Distress Ink over it to create a cool rust colour! I fussy cut that too and heat embossed the flowerhead onto black cardstock, trimmed that out, and adhered my lovely flower in place with dimensional glue gel. The sentiment from the set was a perfect finishing touch. 🙂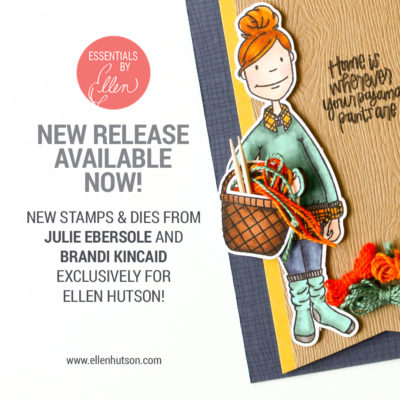 If you haven't already, be sure to check out the new Essentials by Ellen release and fill your cart with goodies!
There's tons more inspiration of awesome proportions on the rest of this hop! Here's the hop order for today:
Ellen Hutson LLC
Francine Vuilleme
Sharon Harnist
Taheerah Atchia
Julia Stainton
Kittie Caracciolo
Laurel Beard
I hope you've loved stopping by today – it's been lovely to see you!
Supplies
Autumn Show Us How Beautiful It Is To Let Things Go Card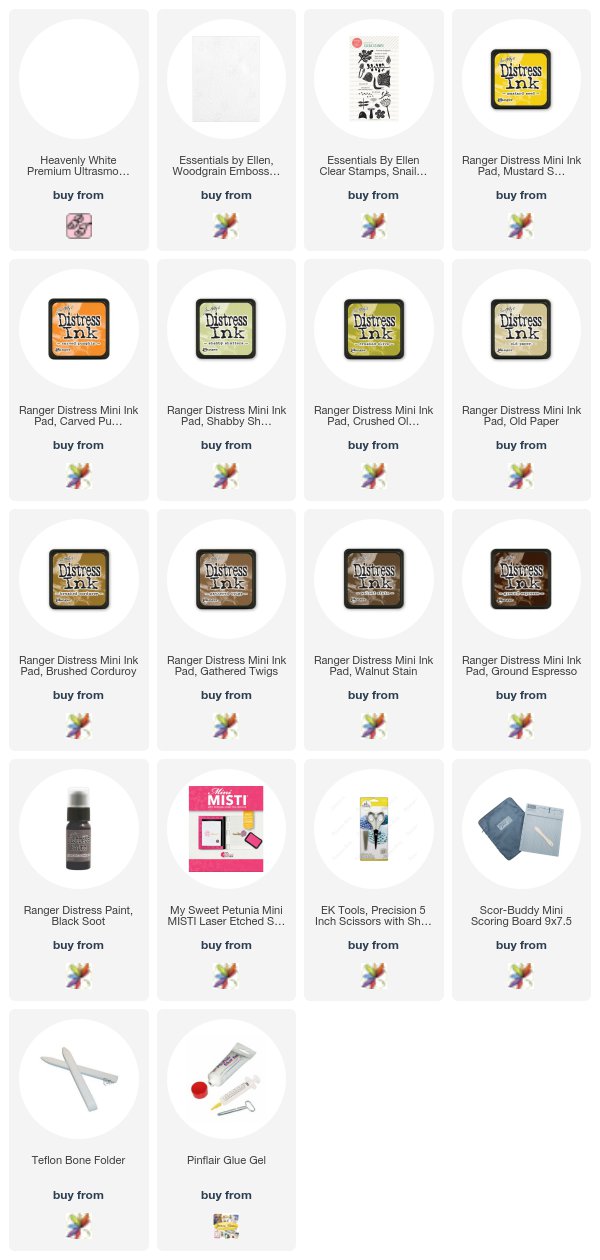 Hi Friend Flower Card