Hi everyone, happy Friday!
I love pretty embellishments. They can really 'make' your design. Often they're that final finishing touch that takes a card from 'good' to 'great', gives it that wow factor, or ties everything together.
Store-bought embellishments are a great time-saver in several ways – they take a lot of the design work out for you in terms of colour combinations, style, time… but, depending on what they are, they can sometimes feel a little limiting, and/or you feel you should only use them in the way they were designed.
'Should' is my least favourite word in the English language. *wink*
I love finding ways to stretch my supplies – and that goes for store-bought embellishments too! You still get the convenience of a well-designed element, but you get to inject your own creativity into it as well, and perhaps even give it a new lease of life too!
I put that theory into practice when playing with some of the embellishments that came with the July Scrapbook Circle kit:
There's so many details I love about this card. The fun, confetti-like patterned paper. The gold sequins. The overall bold feel. But let's talk embellishments.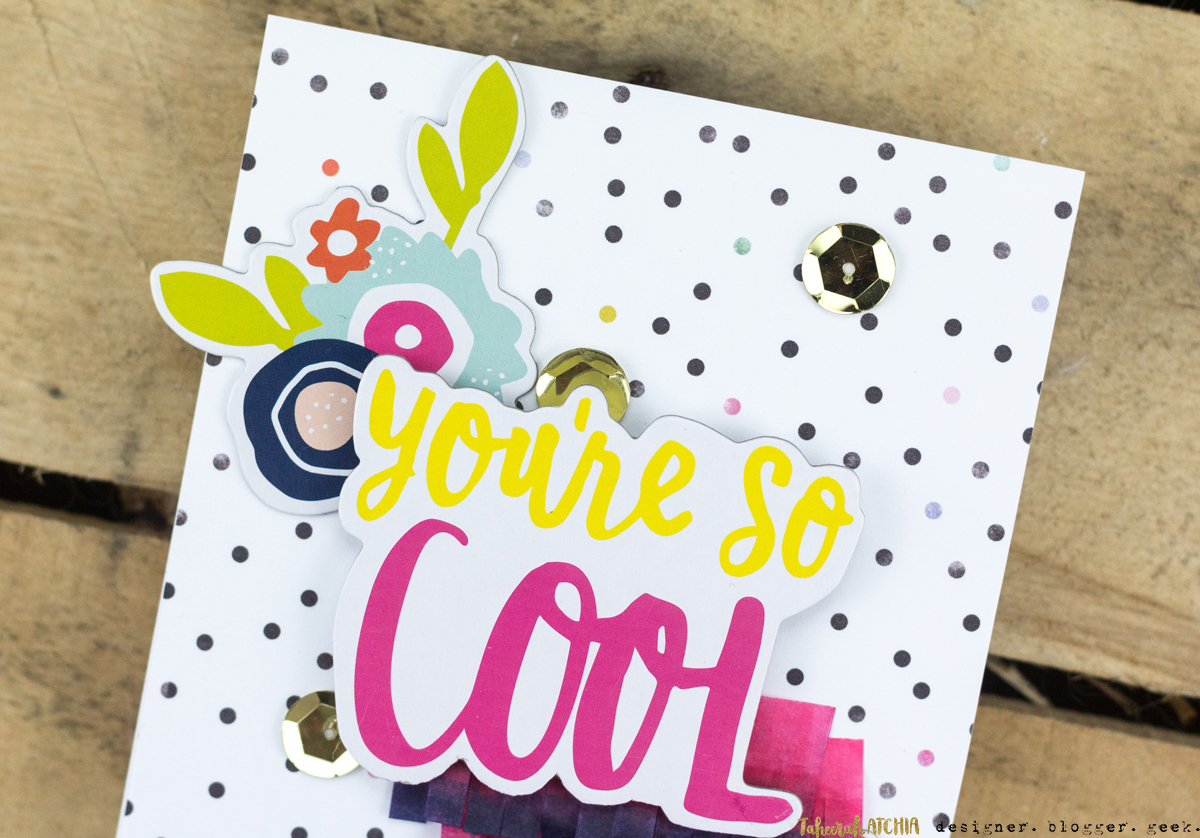 There were some really cool chipboard embellishments in the kit – phrases and some images too. I used a few of the florals here, beneath my sentiment – but the actual phrase was much larger and didn't quite work for me (it said 'You're so cool I'm not even mad'). So although it seems like a really obvious thing to do when I say it, I decided to customise the sentiment by trimming it down to only use the phrase I wanted. Nothing mind-blowing here, but I don't always think to do that with chipboard embellishments!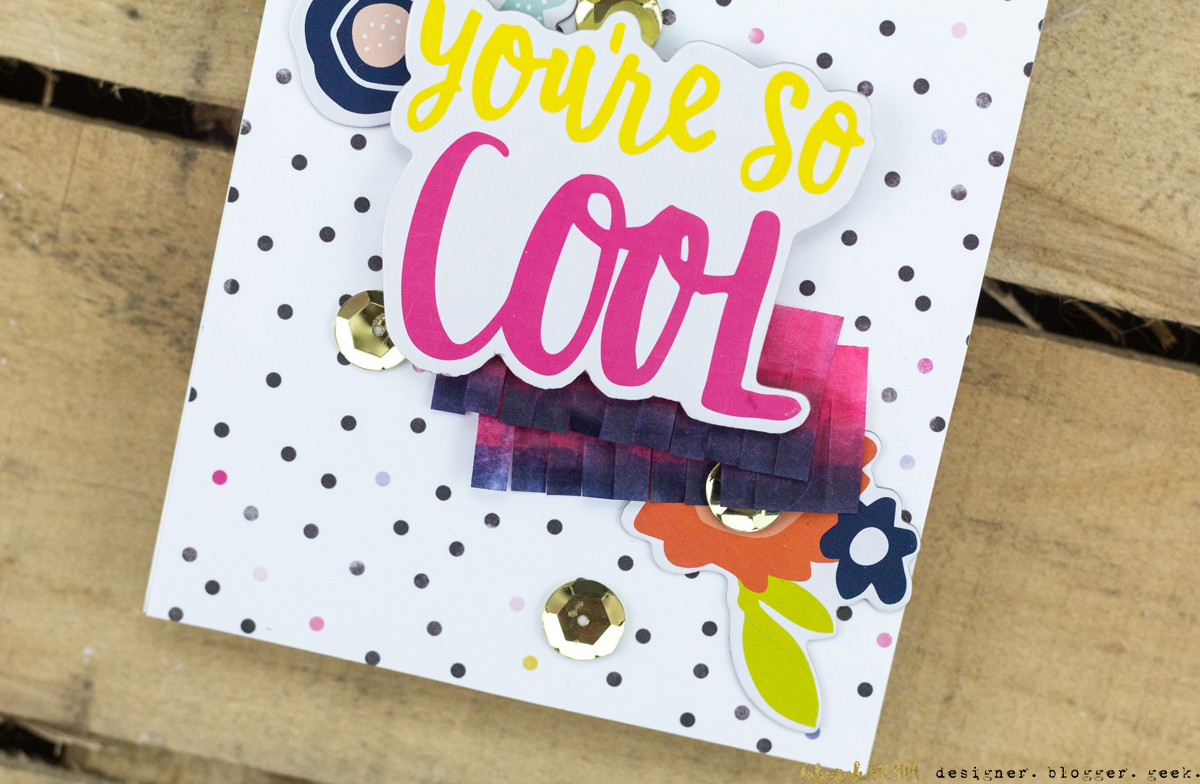 My favourite detail has to be that fringe tape though. I used the tape in its original, white format on this card here, but I really wanted it to pack a punch with this design, so a couple of Copic markers later and I had a wonderful two-tone fringe that popped perfectly with the other colours in my design!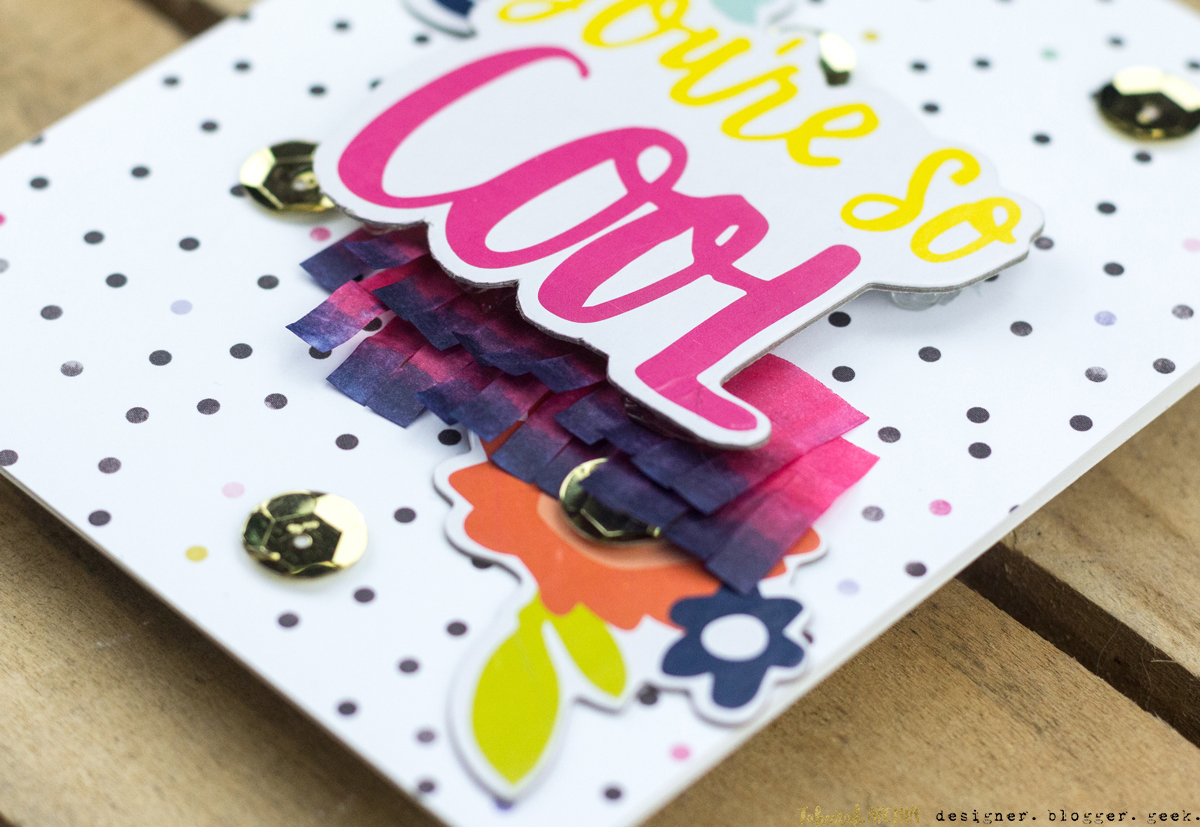 I love all the dimension in this card! Just because the chipboard embellishments were self-adhesive, it didn't mean I had to just stick them straight down onto my base! The use of Pinflair Glue Gel really helped me get more interest in the layers, and I love that my fringe was able to peek out without being squashed!
I've another card on the Scrapbook Circle blog today that features a slight stretch of one more of the embellishments in the kit, so I do hope you'll join me over there to check it out! I've had a ball playing with this kit and have been thrilled to design with it!
Thanks for stopping by!
Supplies