Hi everyone! Happy Saturday!
Today's hop is a very different, very special one.
When it comes to a loved one's birthday, or other special event to celebrate them, we often reach for a traditional gift. Something they could wear, or eat, or use, perhaps. A gift experience maybe. Pretty flowers, or gadgets, or books. So many possibilities.
We spend an extraordinary amount all the time on gifting, and wrapping gifts, and spoiling our loved ones. And there's absolutely nothing wrong with that, of course. They deserve it.
But what if the gift you gave could also give a gift to someone else at the same time?
Charitable giving as a gift may not be all that glamorous, or showy, as a fancy box of chocolates or a bunch of flowers. One can't wrap it up all pretty or do all that much with it. But what it is, that many other gifts are not, is something that makes a genuine difference to the world. And with the state that the world is in, giving the gift of making a difference in someone else's name, well… well that's good for the soul too.
So to promote the idea of giving a charitable donation as a gift, a number of us decided to get together and take part in a special Charity Blog Hop. This Hop is the brainchild of the awesome Sandy Allnock, whose heart is as big as her talent.

We've each chosen a charitable gift or two for our loved ones, and made our donations to purchase those gifts ahead of time. Today's special hop gives us a chance to share which causes we have given to, and to share some crafty creations that were inspired by our gifts! Be sure to hop along as there are prizes to be won too!
I actually found two causes that resonated strongly with me, so I decided to purchase them both!
My first gift was purchased from International Rescue Committee (IRC). This wonderful organisation helps people whose lives and livelihoods have been shattered by conflict and disaster. With their efforts and relief operations, International Rescue Committee works tirelessly in over 40 war-affected countries. They help people survive, recover, and regain control of their futures. And any organisation that was an original idea of Albert Einstein is a winner in my book.
IRC have a great program of gifts that people can give. Rather than a pure cash donation, you can choose a specific gift that makes a difference to a displaced person's life. Everything from Women's Dignity Kits to Community Health Worker Training can be purchased, and these types of gifts truly offer something different to help people rebuild their lives.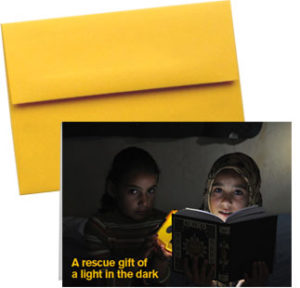 I purchased the gift of A Light In The Dark. This brilliant gift is of particular help to families fleeing their homes in places like Iraq and Syria. These people have no access to electricity, and so staying safe and keeping in contact can be perilous and difficult. A Light In The Dark supplies families with an innovative solar lamp and charger called a WakaWaka. These clever devices allow families to charge their phones on the move so they can contact their loved ones elsewhere, and also help them to move about safely at night. What a simply brilliant idea!
Here's how I was inspired by this inspirational gift: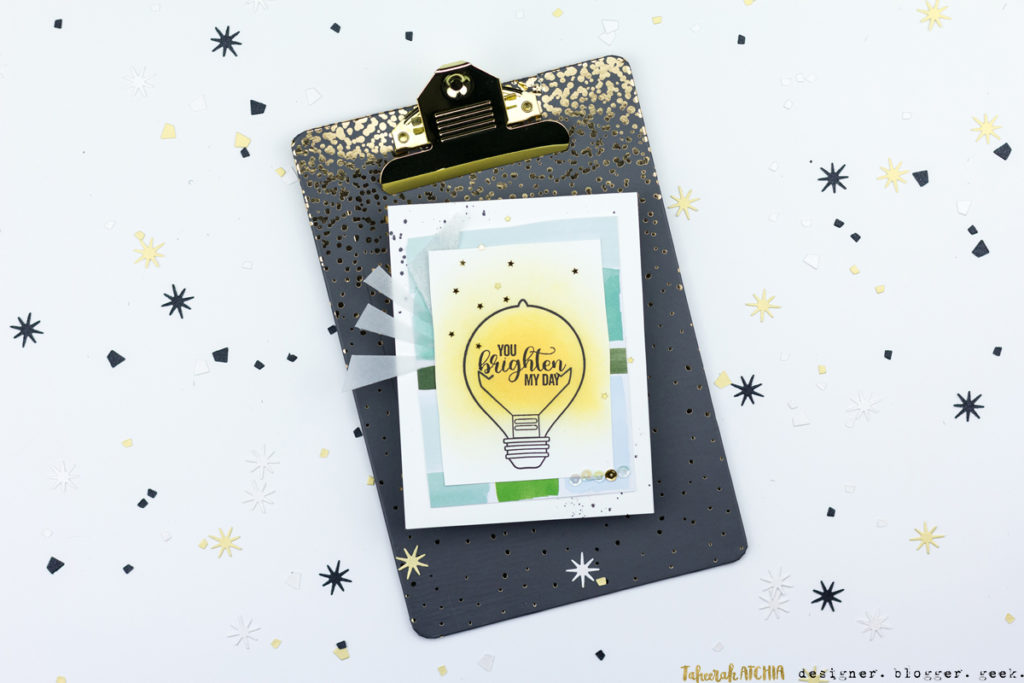 I absolutely love how this turned out – it feels bright and inspiring and loving – just as this gift is!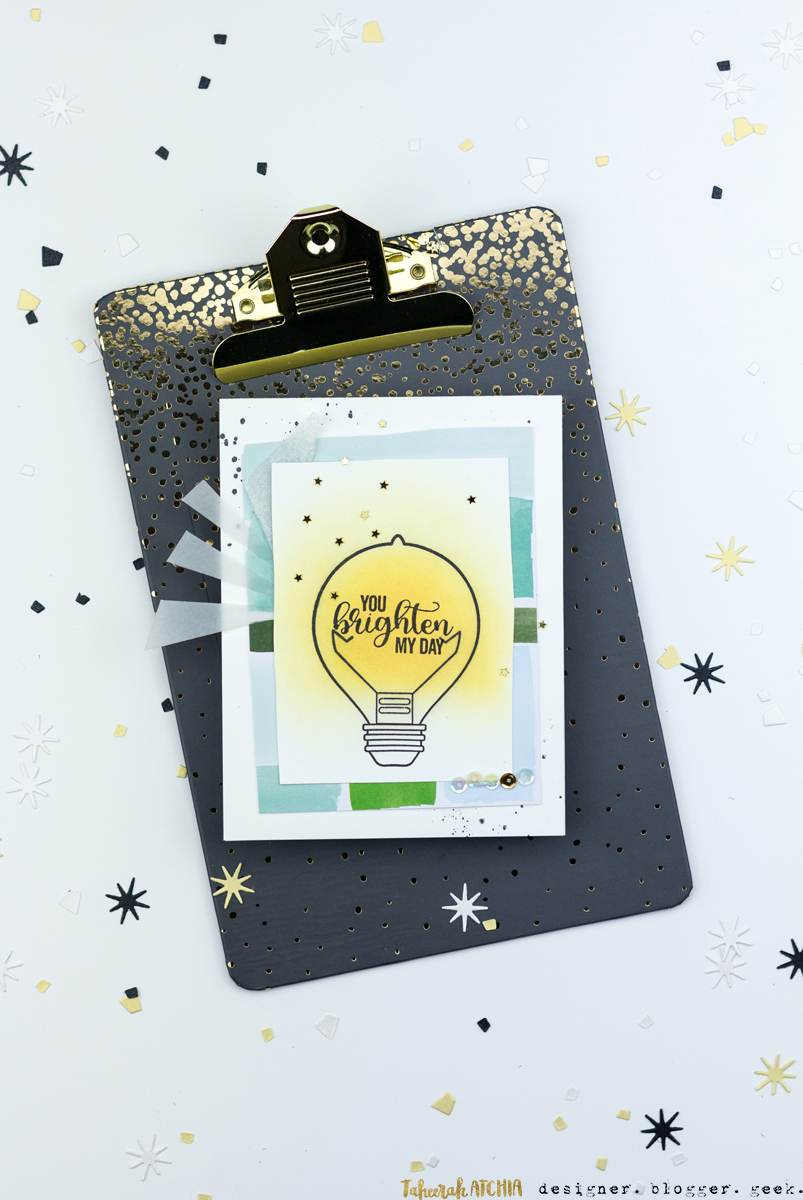 A combination of an awesome new stamp set from Jillibean Soup, some vellum and glitter sunrays, patterned papers and sequins and splatter just makes me so so happy.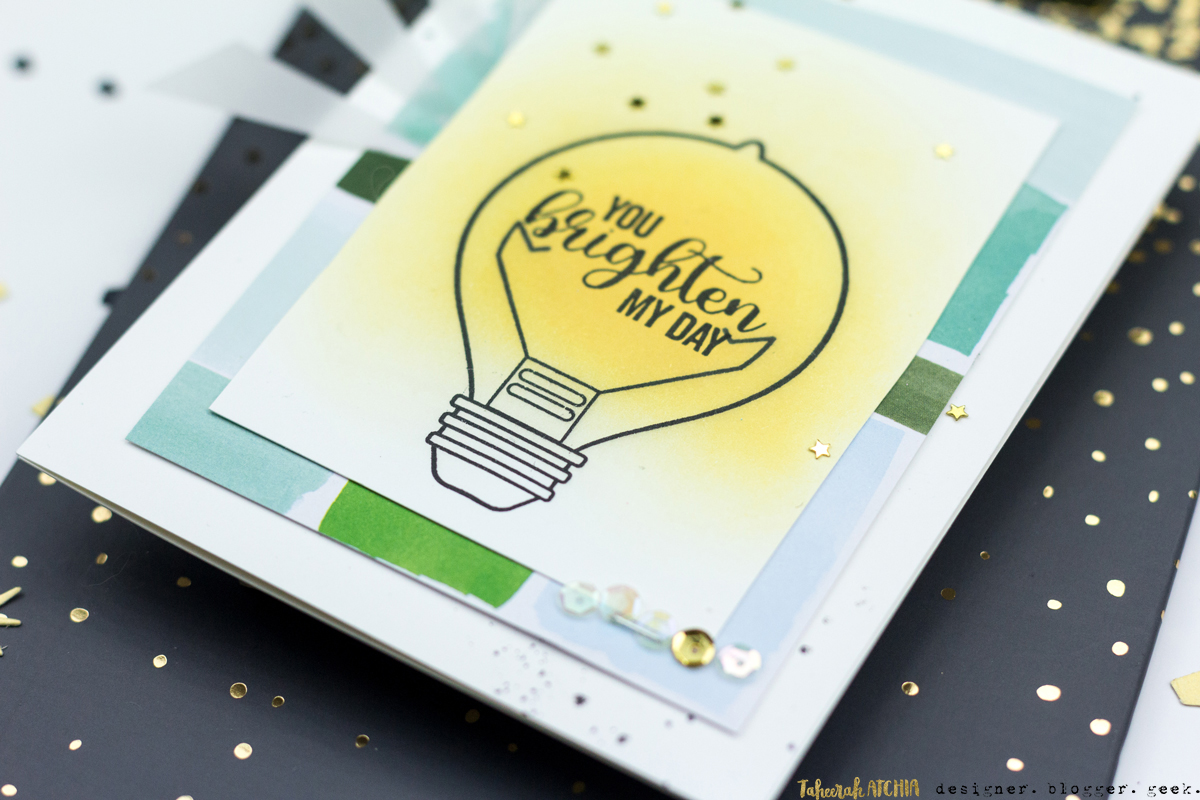 My next gift was purchased from Oxfam Gifts. A household name that I'm sure need no introduction, Oxfam is a global movement of people working together to end the injustice of poverty. With over 70 years' experience in over 90 countries, Oxfam strive to tackle the root causes that keep people in poverty: inequality, discrimination and unequal access to resources and opportunities. With Oxfam Gifts you can do anything from Invest in A Small Business to Plant A Forest – definitely gifts that create a legacy! And for those who want something smaller but still meaningful, there are dozens of fantastic gifts that make a difference!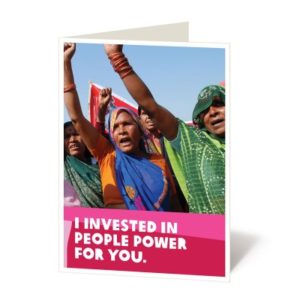 I purchased the gift of People Power. I am a great believer in and advocate of grassroots movements. I really believe that everyone has the power to enact change, no matter who they are, no matter what their background. If we free people from the binds of their circumstances, they can truly become powerful forces for change and for good. This gift does exactly that, by investing in a grassroots leader in a poor community so that they have access to the tools and training they need in order to meet with government officials, companies and more. I am awed that such a gift exists and was truly moved to purchase it.
Here's how I was inspired by this inspirational gift: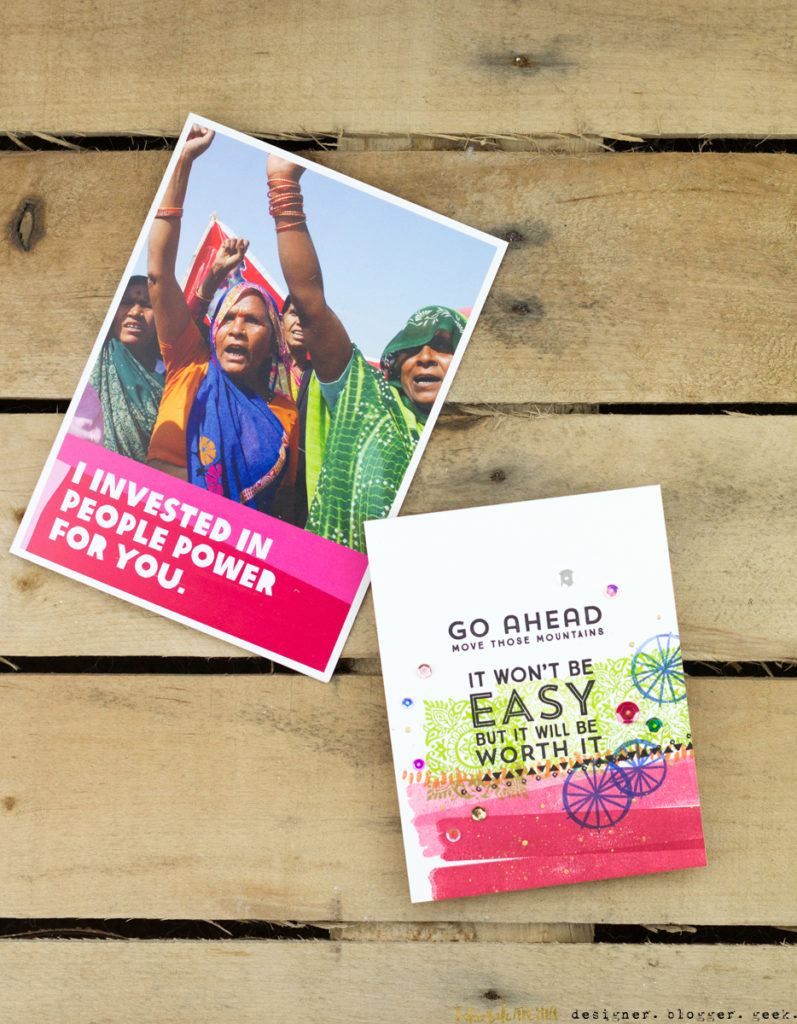 Gotta say I'm crazy for that wild combination of colours, patterns and oh-so-inspiring sentiment!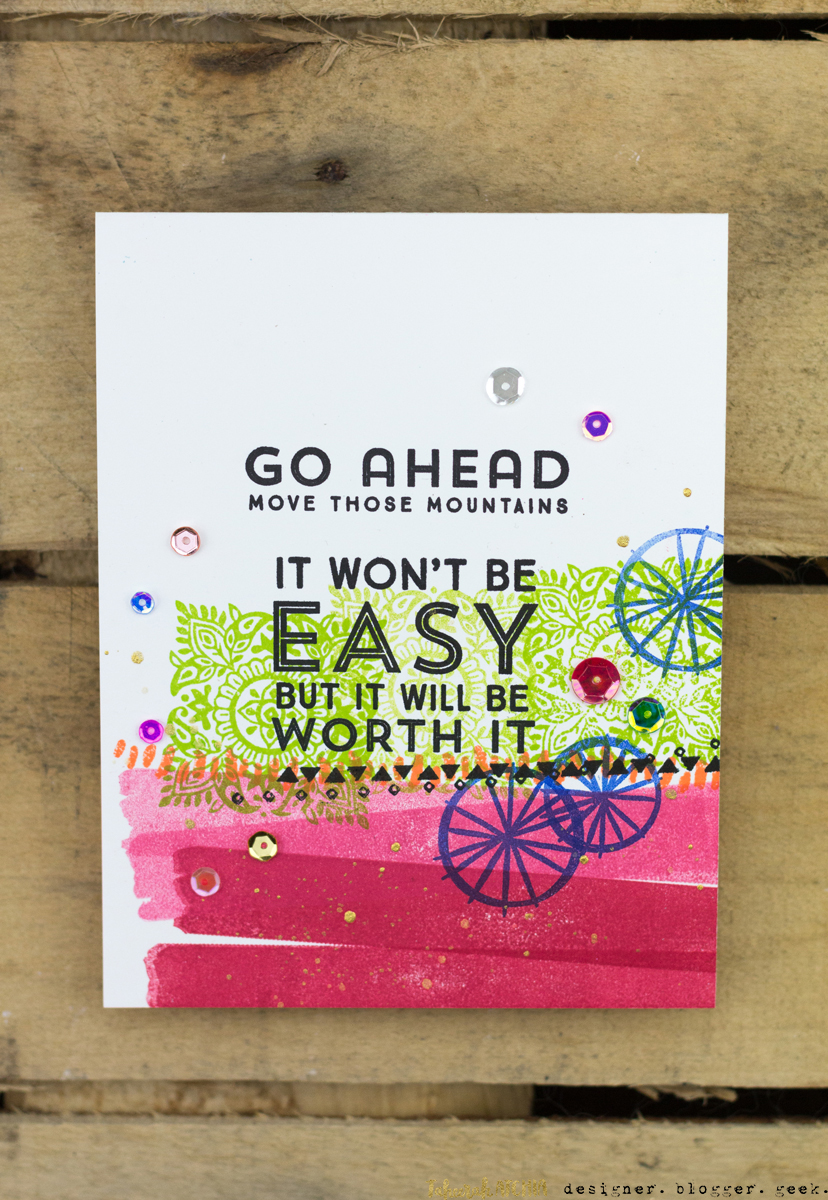 I combined lots of favourite stamp sets, inks, colours and sequins for this one. I loved layering the assortment in a higgeldy-piggeldy way – it keeps it interesting and different and definitely evokes the sense of the People Power card I was sent!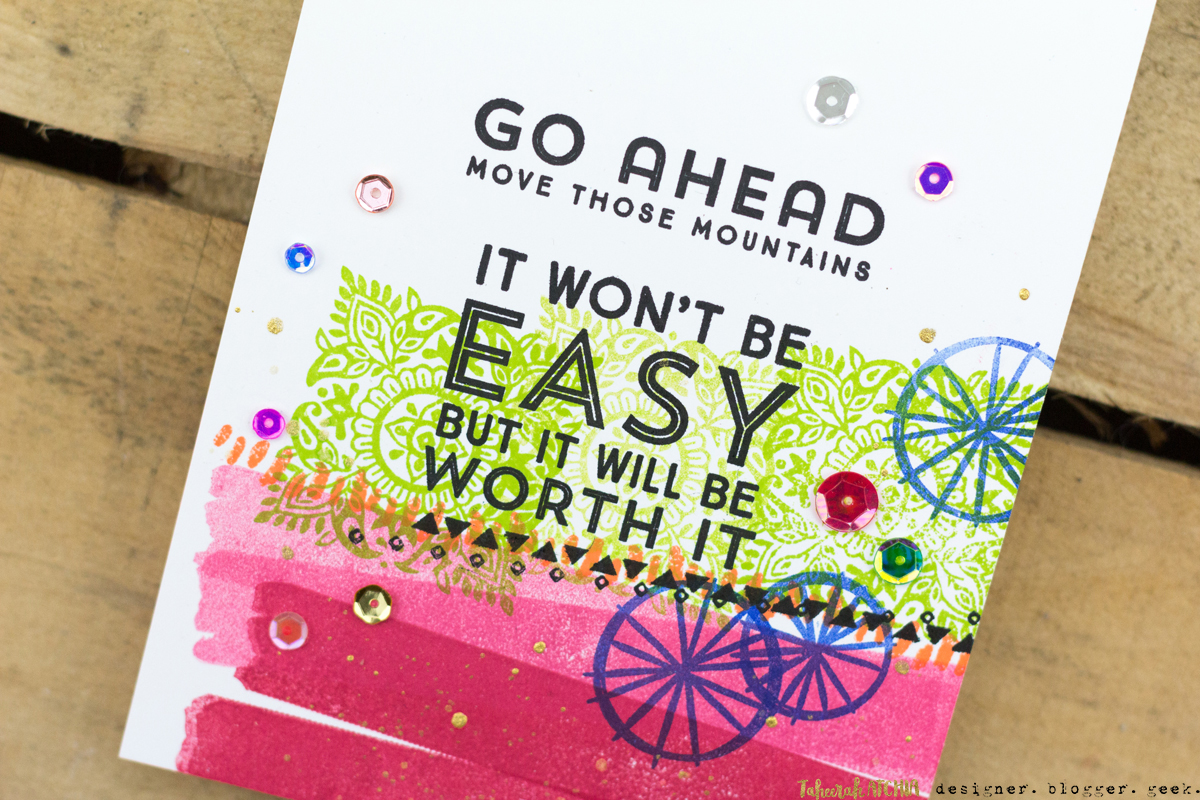 I hope you've been inspired not only by my creations, but by the incredible causes that inspired them! 
Giveaway!
As mentioned earlier, we really want to encourage people to think about charitable gift giving and to be inspired by all the wonderful causes people have chosen for today! So to give you a bit of an incentive, there are some prizes up for grabs for four lucky winners!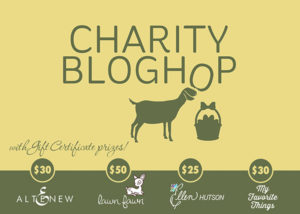 Awesome companies are helping inspire you to hop along and leave comments on all the blogs – Altenew ($30), Lawn Fawn ($50), My Favorite Things ($25), and Ellen Hutson ($25)! Be sure to go say thanks to them on their social media for helping get the word out about giving!
Simply leave a comment on each of the hop destinations to be in with the chance to win! Here's your Hop order for today:
Sandy Allnock
Lisa Stein
Caryn Davies
Carly Tee Minner
May Sukyong Park
Lisa Spangler
Aimes Gray
Jessica Frost-Ballas
Ellen Hutson Blog
Julia Stainton
Emily Midgett
Taheerah Atchia
Joanne Soukup
Melissa Miller
Libby Hickson
May Flaum
Cindy Lawrence
You have until Wednesday 22nd March to leave all your comments, and the winners will be announced on Sandy's blog on Thursday 23rd March.
There are so many great, worthy causes that people have chosen – and we've barely scraped the surface! Please do check them all out!
Thanks for stopping by! Good luck – and get giving!
Supplies
You Brighten My Day Card
Move Those Mountains Card