Hey everyone, Happy Monday!
I hope you all had a wonderful Christmas Day! 26th December is Boxing Day here in the UK so we're still enjoying a bit of the post-Christmas glow, before the madness of the sales kicks in fully!
It seems I still had a couple more Christmas cards left in me, even after Advent Calendar Extravaganza! So I'll be sharing one with you today and one tomorrow. Then I'm done with Christmas cards for this year!
One of my favourite Christmas traditions is watching 'The Snowman' movie. This just speaks 'Christmas' to me, and as it's of English origin it's always shown every year on one of our tv channels. It's a great childhood memory, and although it's also a sad story (who doesn't feel sorry for the little boy and/or shed a tear when the snowman melts at the end?) it's nevertheless a heartwarming tale and captures the magic of the season perfectly.
I also love the fact that the animation was created with colouring pencils. It just adds all the more to the traditional feel and shows that traditional techniques such as these are still very special. We all get swept away by the marvel of Copic markers or Zig Markers or what-have-you, but there will always be a special place in my heart for traditional colouring methods and media.
With all of these feelings of nostalgia bearing down hard on me, I dug out a long-discontinued stamp set, and set about creating this…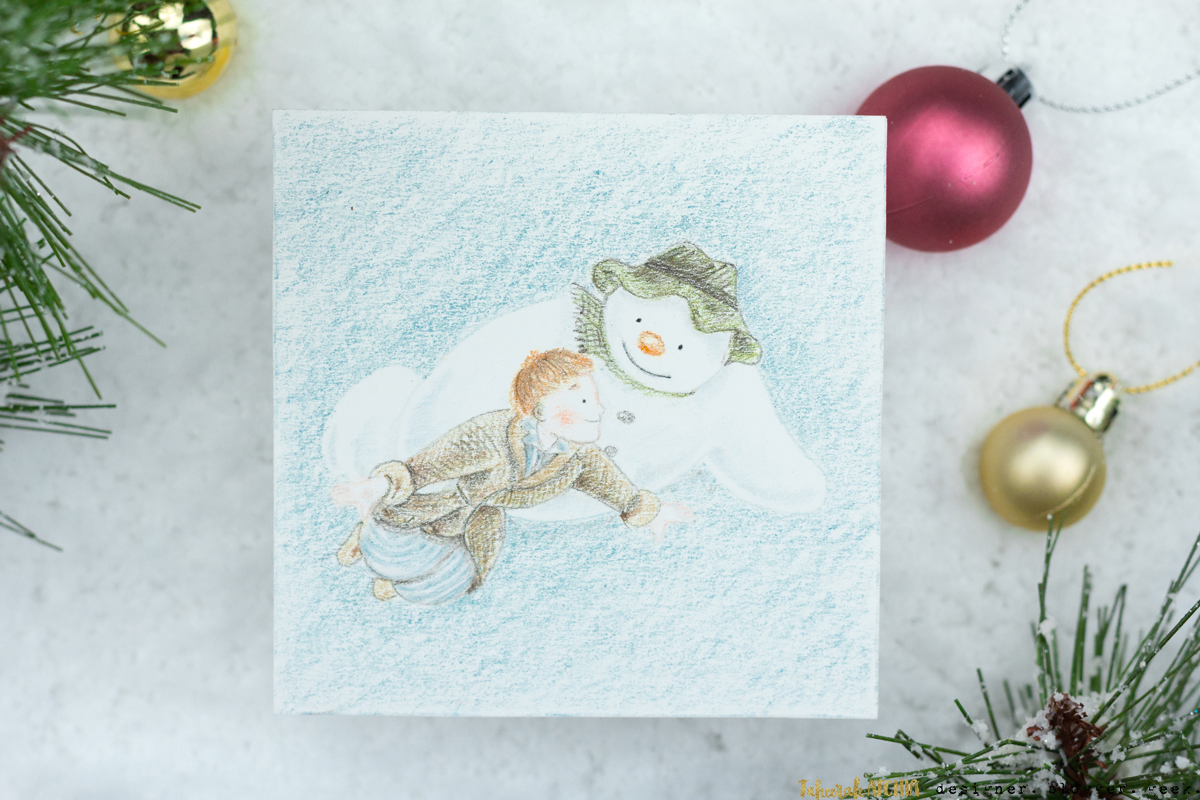 I am so absolutely thrilled with how it turned out! I feel it captures the look of the original animation perfectly!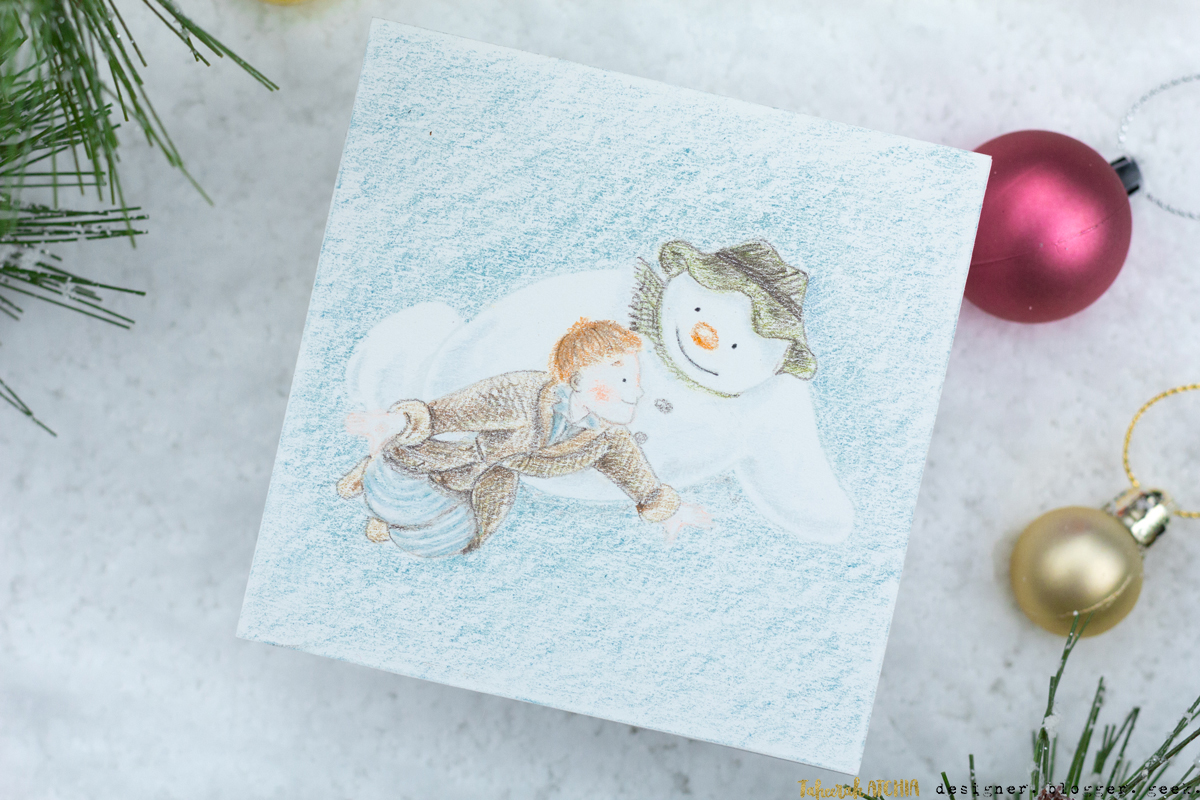 There wasn't much to it in terms of actual steps for this card. I stamped the image onto white cardstock then set about colouring it with my Prismacolor pencils.For a traditional look such as this you really don't want any harsh lines, so I stamped the image with a very light colour ink (Simon Says Stamp ink in Lake Shores).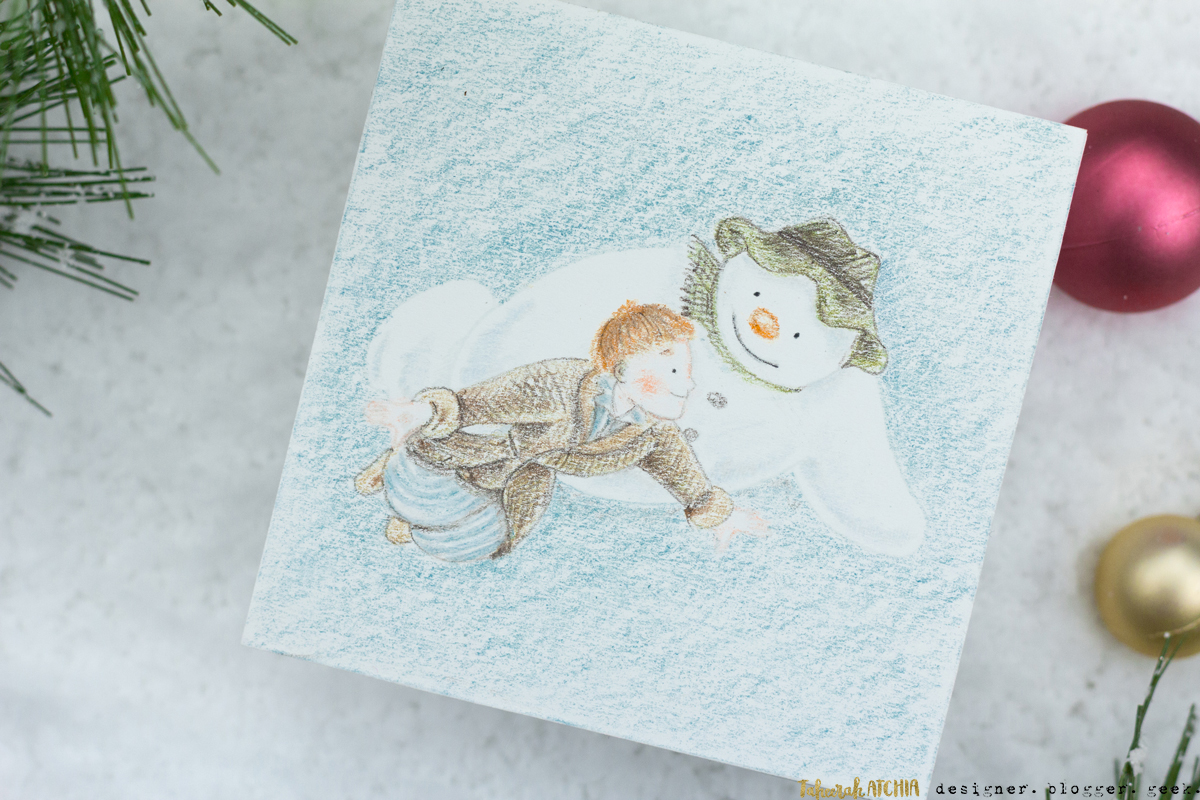 For the actual colouring I pulled up an image from 'The Snowman' movie and studied it carefully, and used that as a basis for colouring my own image. Traditional colouring from this animation didn't have smooth blended colours etc – so no Gamsol or blending stumps here! Instead I recalled traditional shading methods from my Art lessons at school (such as hatching and cross hatching) to build up layers of colour, depth and shading. I didn't add in any snow as the grain of the cardstock helped evoke a feeling of flying through a blizzard to me!
I've since learned that the original animation used Derwent pencils so I might have to add some to my collection for greater authenticity next time!
Advent Calendar Extravaganza – There's Still Time!
While I'm here, I just wanted to remind you that you still have until 23:59EST on 31st December 2016 to enter to win all the prizes for Advent Calendar Extravaganza! Don't forget to click on the numbered doors to reveal the surprise, and click on *all* of the images in the interactive door image to visit the secret special guests! The links to all the Advent posts can be found in Day 25's post here. Have fun and good luck!
I'll be back tomorrow with one final Christmas card. Thanks for stopping by!
Supplies