Hey everyone! Happy Thursday!
The title of my post says it all really – it's my birthday! Yay!! 😀
As appears to have become tradition for me, I have created a card to post today that is a birthday card to myself. 😀 Nothing wrong with that, right? And even if there is, IT'S MY BIRTHDAY AND I CAN DO WHATEVER I WANT.
*ahem*
So, anyway, other than a card I'm also here to announce the winner of my Season's Givings Blog Hop giveaway! Thank you *so* much for the deluge of comments, follows, subscribers and, well, everything!! Your words brought so much sunshine to my day!! 😀
So, I let Random.org pick the winner for me: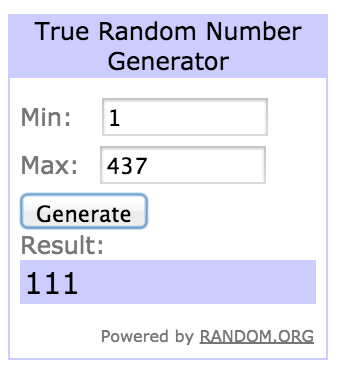 Congratulations Iris!!! Please Contact Me with your details so I can mail out your package!!!
Everyone else – I hope you'll still stick around as I plan on bringing you plenty of pretty things to look at throughout the year, as well as inspiration in the form of my challenges and tutorials in the form of my videos!! And maybe even the odd giveaway too! *wink*
So, onto today's card! I wanted to create something artistic and that felt a lot like 'me', so I came up with this: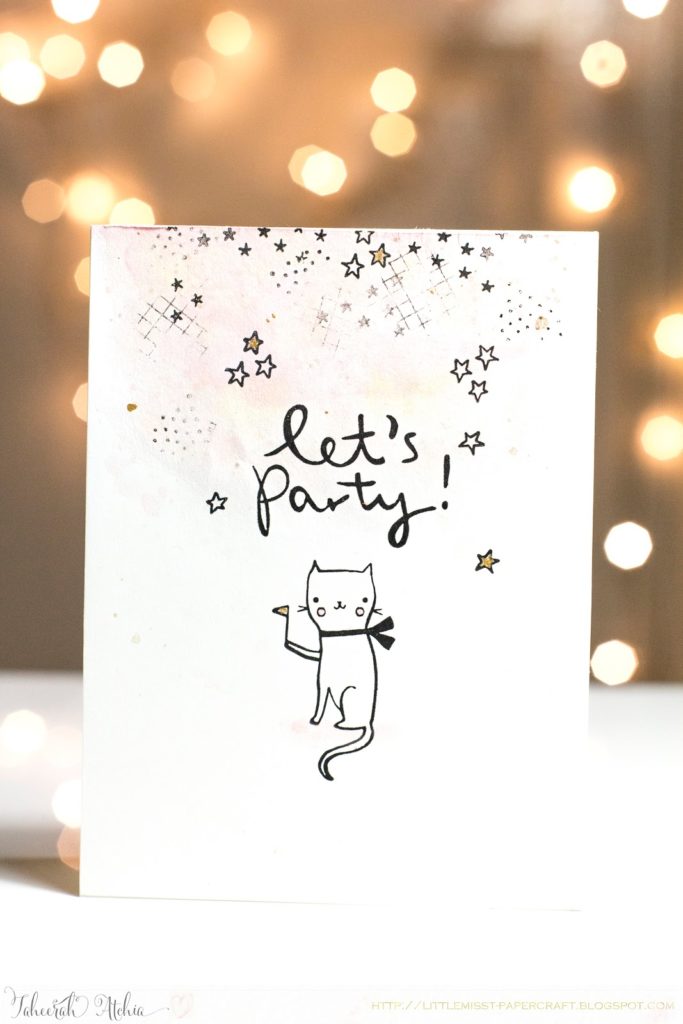 *swoon* I am so in love with how this turned out!!!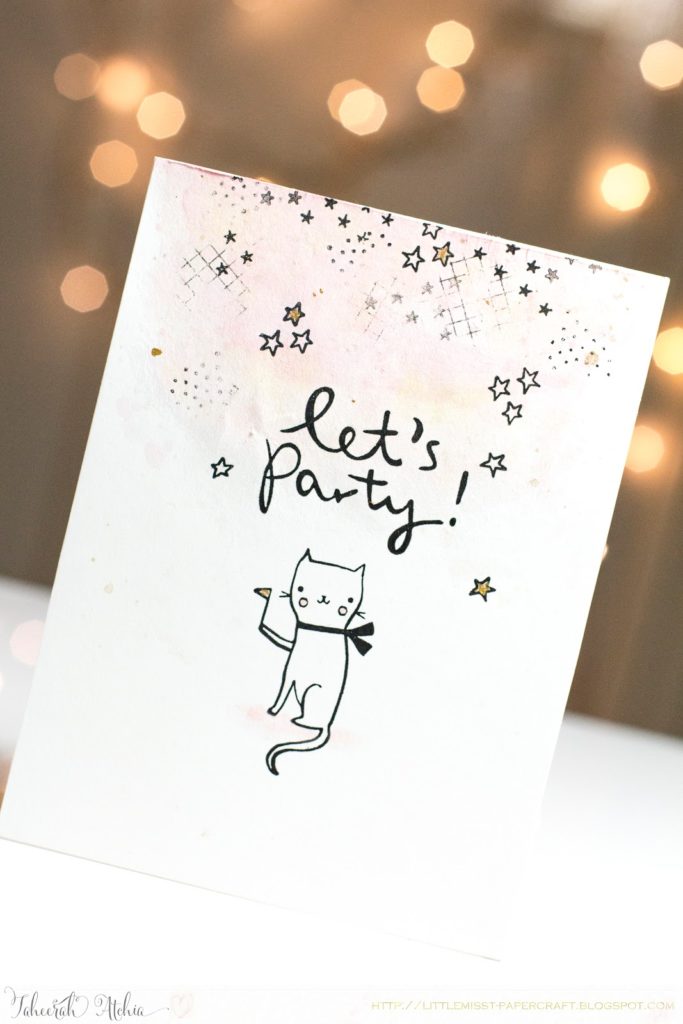 I was in love with the Birthday stamp set from Studio Calico from the moment I saw it! I just had to have it!! And thanks to a super-sweet friend I was able to get my little paws on it before it sold out!
I began by watercolouring onto a panel of Pure White cardstock then stamping the various shapes from the set using Versafine Onyx Black ink. I was sure to stamp my cat first so I could arrange the positioning of everything around him.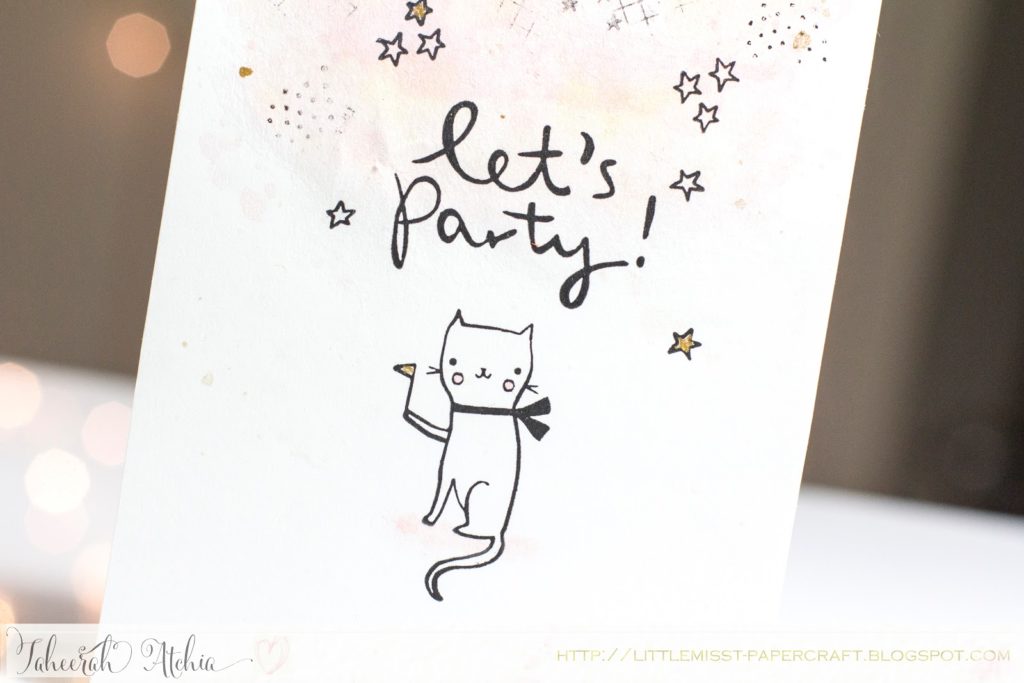 I painted some of the hollow stars, and the cat's flag using Heidi Swapp Colour Shine Mist in Gold Lame, and also added a little spatter with it too. I adhered my panel to my base using Scor-Tape. This card has some of my favourite things so it's just perfect for my birthday!!
And, seeing as it's my birthday and I can do whatever I want *wink* I wanted to re-share one of my most favourite birthday cards I created in the past. It features a *ton* of stamping and heat embossing to create an amazing piece of subway art!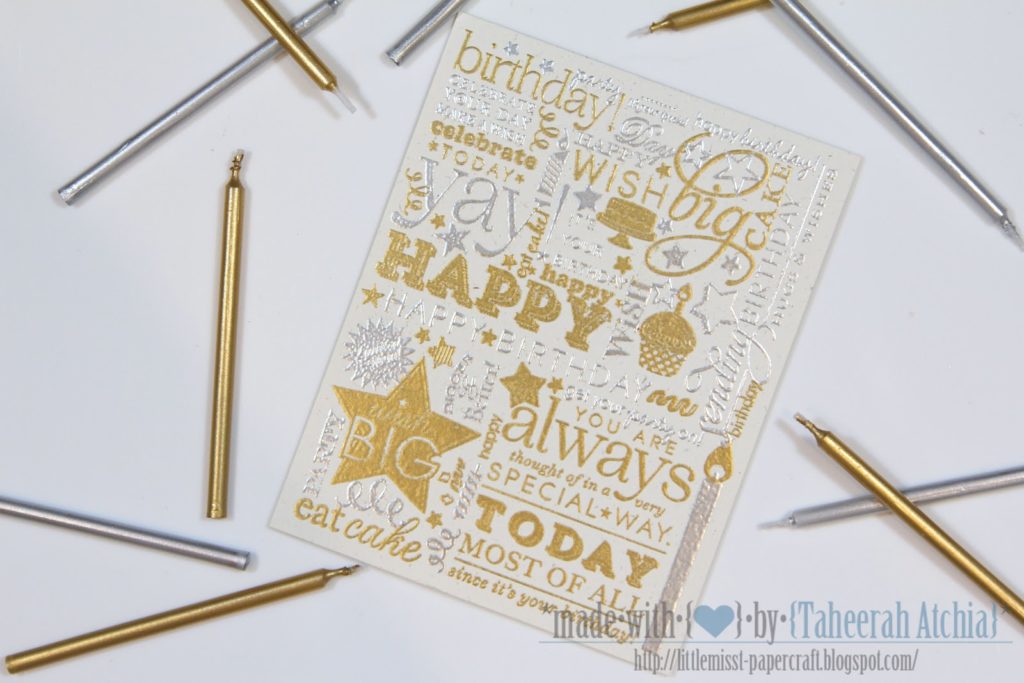 Awesome right?! It uses 57 different individual stamps, and 60 actual images in total!!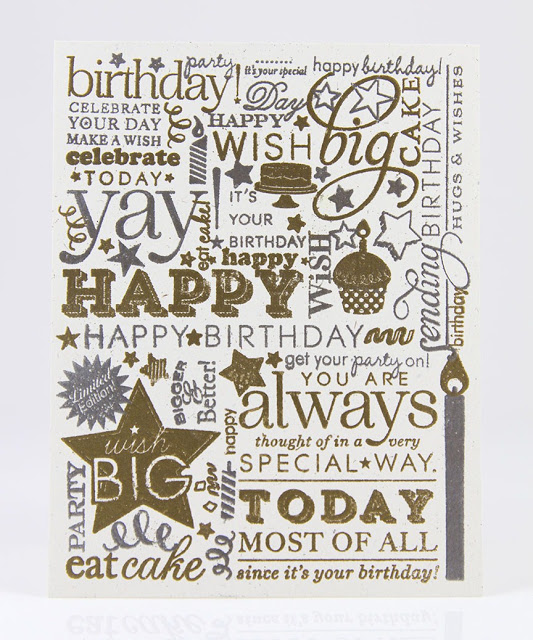 If you'd like to see more details on how I created it you can go to this post here. There are lots of close-up images there too, which are worth seeing also! 😀
Giveaway Alert!!
So, I know there are plenty of giveaways going on on my blog at the moment, thanks to the generosity of Winnie & Walter – but I'd really like for you to share in my birthday celebrations! So, to keep the party going, just leave a comment on this post wishing me a Happy Birthday and saying something nice about me or my work, and I'll draw a random winner to win an (as-yet!) mystery prize!! I promise it'll be a good one! You have until 23:59EST/05:00GMT tonight to comment!!
Thanks so much for stopping by!
Supplies