Hi everyone! Happy Friday!
I'm just quickly popping in to announce the winner of my birthday giveaway!
By the time the deadline struck there were 59 eligible comments. Random.org picked my winner: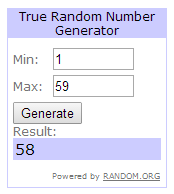 Congratulations pcm! Please Contact Me with your details and I'll get that mystery giveaway out to you soon!
Everyone, thank you so much for all the wonderful birthday greetings and kind words yesterday. You truly brightened my day! The great news is that my birthday celebration is going to be all month long, and there are still many chances to win ahead, starting with my next Leading Lady post tomorrow!
Catch you then! Thanks for stopping by!