Hey everyone!
Happy Monday! I know, I know, Mondays are tough. We all need a little tonic to help us get through the day. Luckily there's a new challenge in town to help us do that – the Cure For The Monday Blues Challenge!!
This is a challenge which I've created myself, yay me! Every Monday I will bring you a photo inspiration challenge, with images that focus on lifting us out of those Monday doldrums and all inspired to create!! I'll be asking you to play along as well and linking up your creations! At the end of each week I'll pick a Top 3 who'll be my Cures For The Monday Blues and receive a special badge to add to your blog!!
Before we get to this week's challenge I want to thank all of you that submitted entries for the last challenge. They were all truly beautiful entries and you did not make my life easy when choosing the winners!! I really wanted to pick you all!! Here are my Top 3 Cures For The Monday Blues:
Winners please contact me to be sent your challenge winner's badges!
So are you excited to get this week's challenge under way?! Let's see what's up for this week's challenge: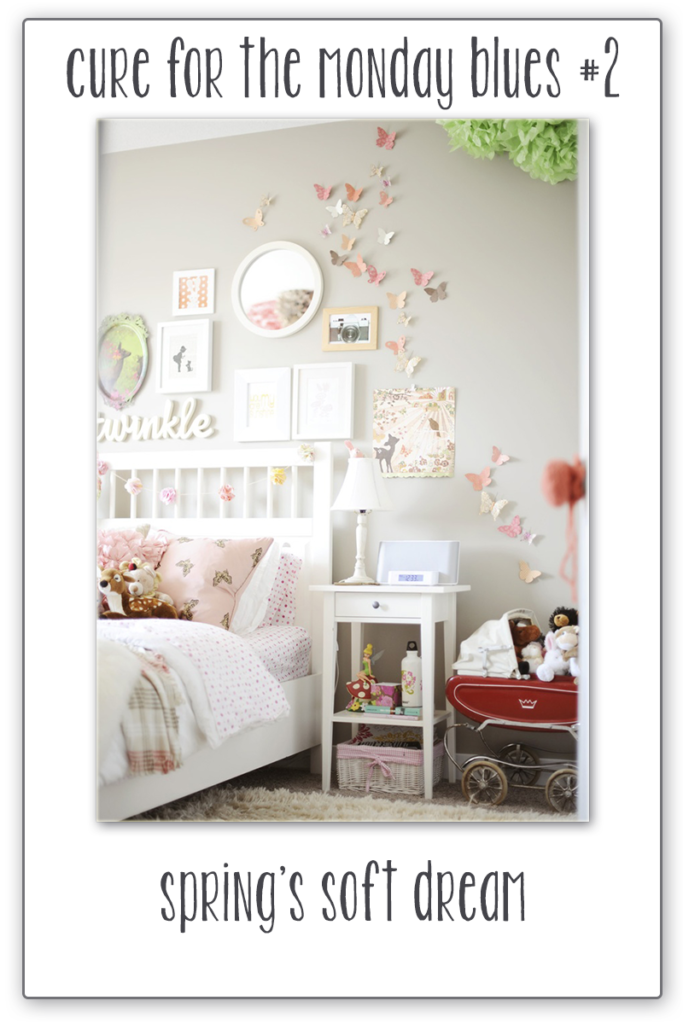 Oh my! This inspiration is *so* dreamy!! And there's something for everyone here and so many different things to be inspired by and so many different directions you could go!!
I decided to focus on that adorable wall hanging near the lamp with that cute deer. Definitely made me think of Spring! Here's what I came up with: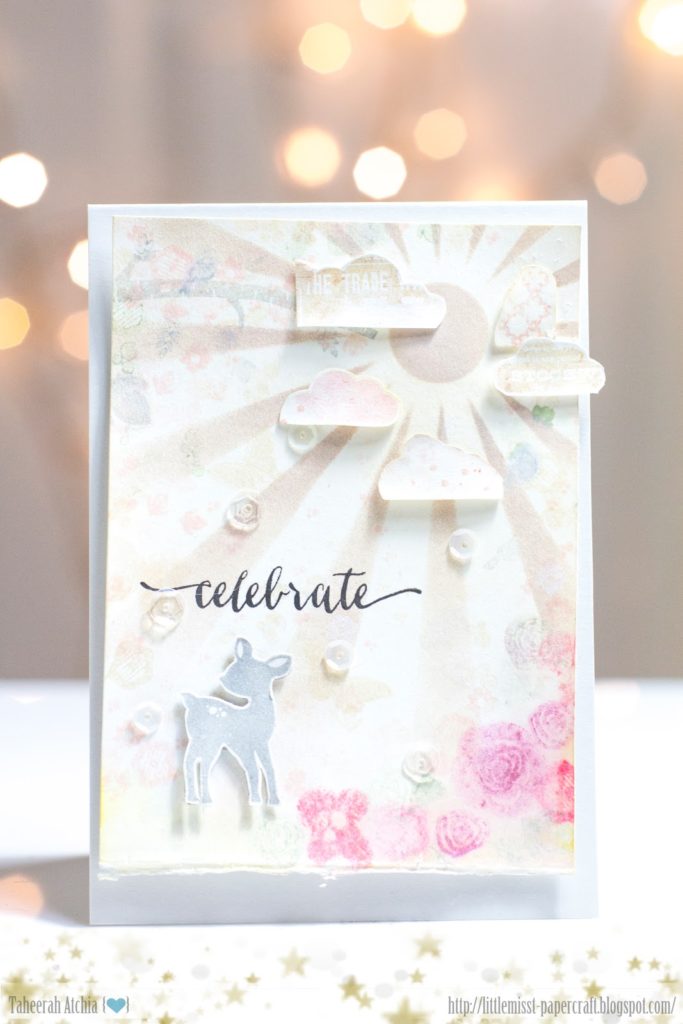 *squeal* I love this so so much!!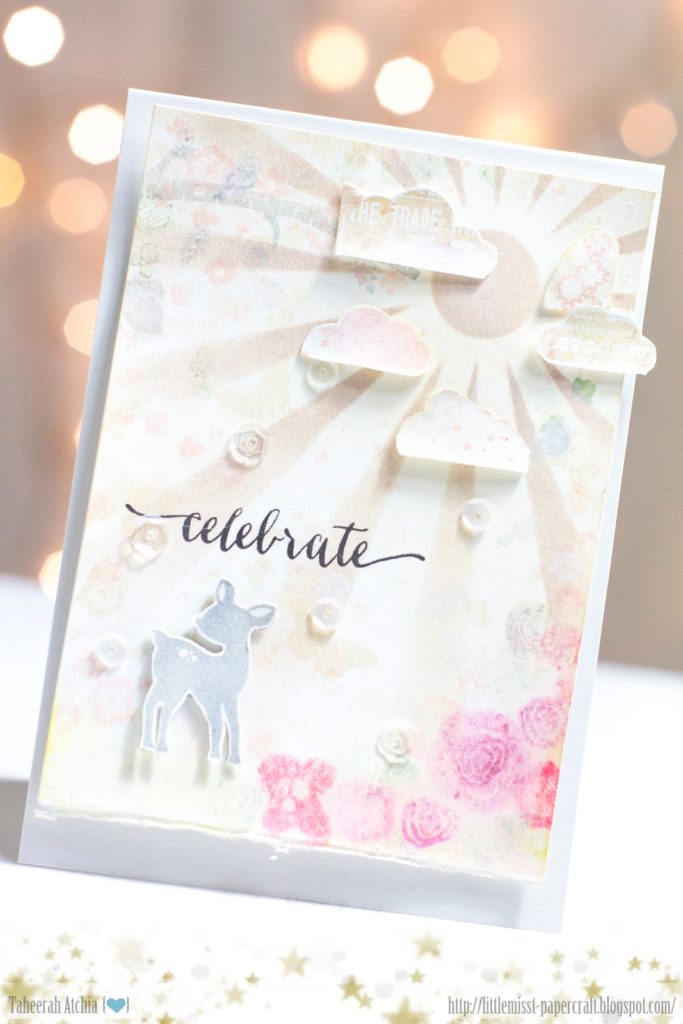 I started with a panel of Pure White cardstock . I still had stencils on the brain due to the Online Card Classes Stenciled Class, so I created a stencil by die cutting a piece of acetate with the Sunshine die, then sponged A:Muse Ink in Latte through it to create those beautiful rays, tailing the intensity of colour off for a faded look. The longer rays didn't go across the entire length of the panel so I masked some lines with washi tape and carried on sponging, before spritzing my whole panel with Perfect Pearls Mist in Biscotti. The panel was still a bit stark so I blended Distress Ink in Antique Linen over it to warm it up a bit. 🙂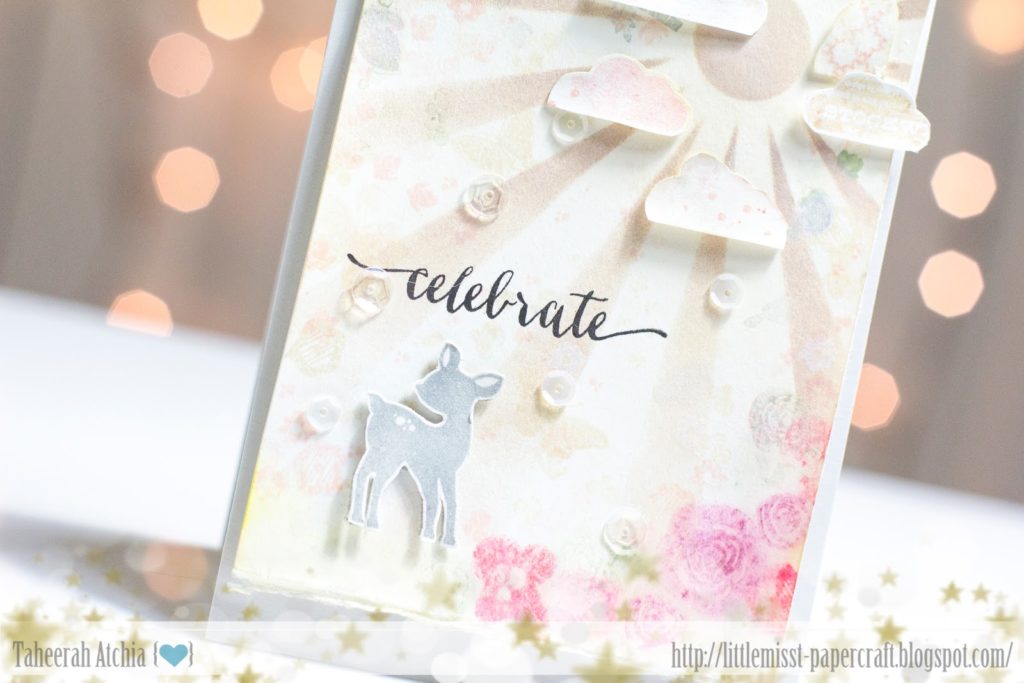 Next I stamped various flowers and leaves from the Mini Blooms set using Distress Inks in Aged Mahogany, Fired Brick, Festive Berries, Tattered Rose, Antique Linen and Bundled Sage, and blended Distress Ink in Shabby Shutters for the grass. I then stamped the butterflies from Beautiful Butterflies then added the branch from Mama Elephant's Winter Wonderland set using Mama Elephant ink in Smoke. I also added one of the birds and some of the leaves using the same ink. I spritzed my panel again to get the Distress Inks reacting with it and to tone down the look. I deliberately trimmed my panel down whilst wet to get that soft, feathered torn look you get on so many watercolour papers. Love. 🙂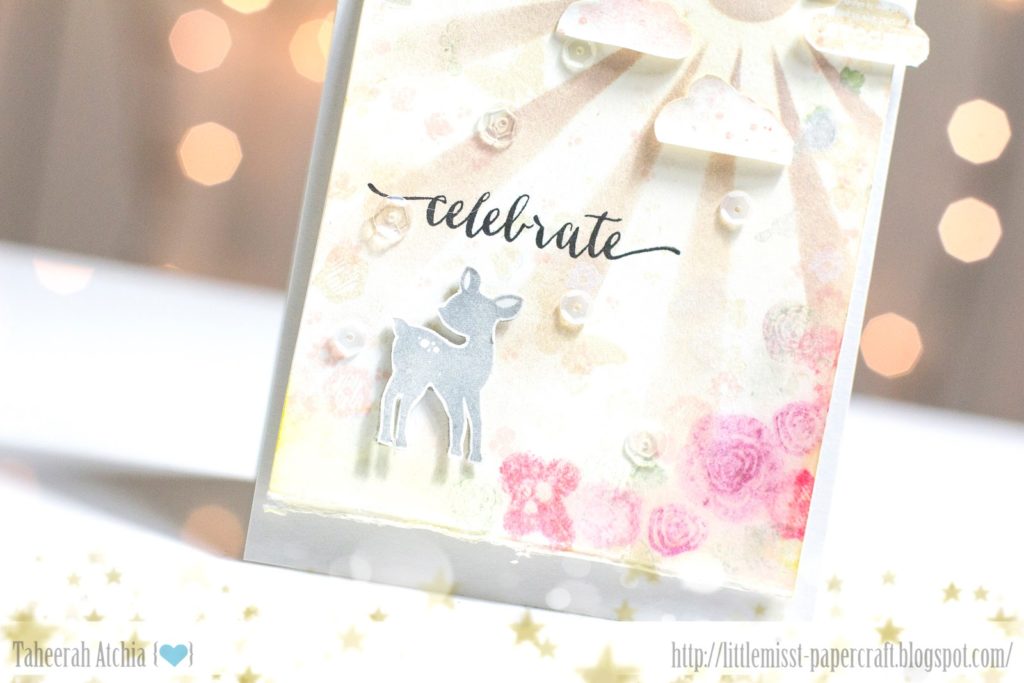 Next I stamped the deer from Winter Wonderland, trimmed him out and adhered him to the panel using Pinflair Glue Gel. Love how cute he is! Nearly there with finishing the panel now!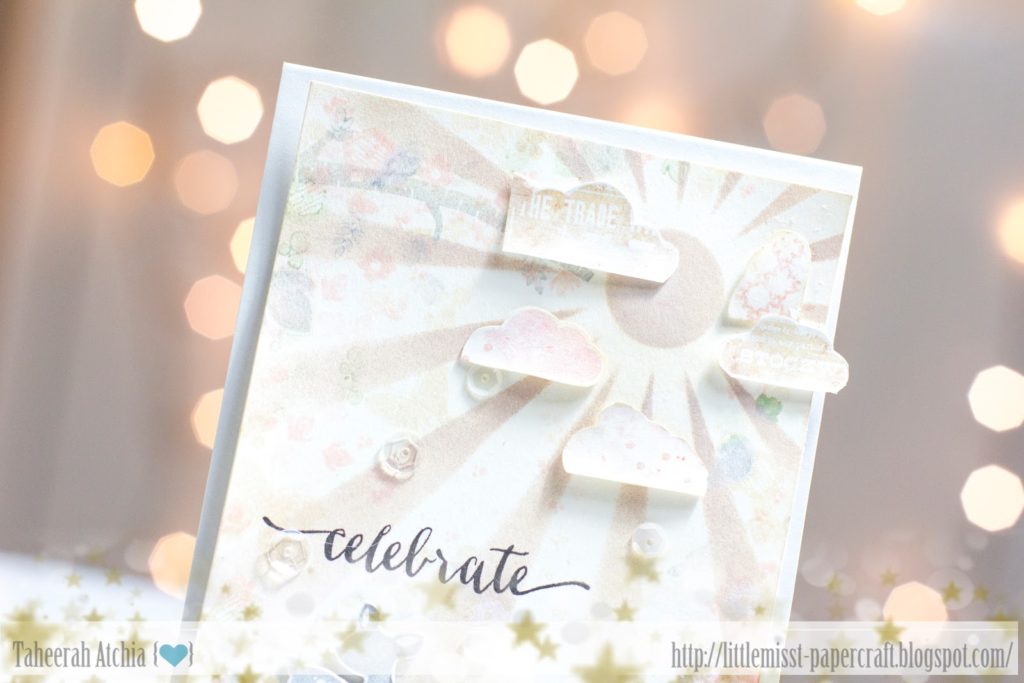 I trimmed some of the clouds out from patterned paper from the awesome Glitz Hello Friend Collection, blended Distress Ink in Antique Linen over them and sprtized them with my Perfect Pearls mist again before adhering to the panel with Pinflair.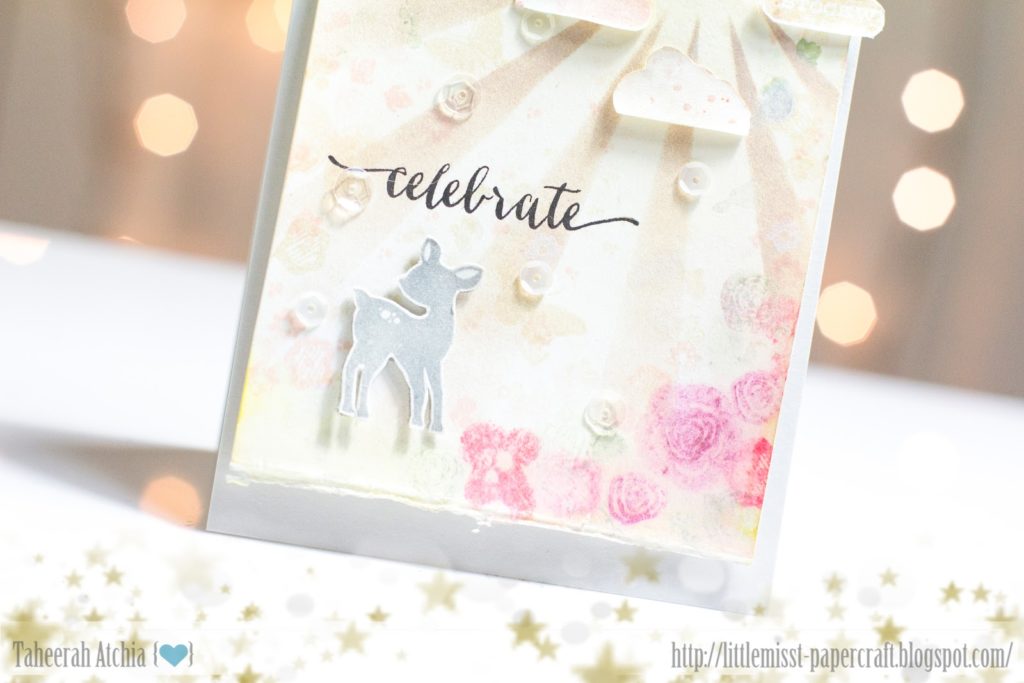 For the sentiment I turned once again to the beautiful WPlus9 Fresh Cut Wreaths set and stamped it with Versafine Onyx Black ink. Some sequins completed my panel before I could finally adhere it to my Soft Stone card base.
I love this card so much. 🙂 It came out exactly as I saw it in my head. 🙂
So now it's your turn to cure the Monday Blues! Here's how to participate in the challenge!
The Rules
Create a brand new project using the photo inspiration
Post on your blog or to an online photo album. Ensure you link up to this challenge post in your blog post and include the inspiration photo
If it is not obvious how the image inspired you then please explain your process in your post
Link up your creations to this post using the Inlinkz below. Please use the link to your actual post rather than the link to your blog
You can enter as many times as you like!
The deadline for linking submissions is Sunday 2nd February at 9pm GMT/4pm EST
So are you ready to play?! I can't wait to see your creations!!
I'll be back again soon with something new! Thanks so much for stopping by – I would love it if you left some love before you went on your way! And I would love some feedback on the challenge itself!!