Hi everyone, welcome back!
I can't believe today is the final day of StampSpotlight already!! I always feel sad when it's the final day of the Spotlight, because I've so enjoyed getting up close and personal with one set and showing you all just why I love it as much as I do, and it makes me sad to have to put that set away – for the time being!
I truly hope you're enjoying this series and have felt inspired! Thank you all *so* much for your kind words and comments – every single one of them made my day!!
So, Day 3! Bring it on!

Don't forget – if you haven't had a chance to comment on yesterday's post or Day 1's post then there's still time to do so!! Comments on this month's StampSpotlight are open until 7am EST/Midday GMT on Friday 8th November 2013 – that's tomorrow!
In case you missed this post with all the info, here are some specifics:
The Details
StampSpotlight is a monthly feature that runs on my blog at the beginning of each month.
The Spotlight will run from the first Tuesday of each month and last for 3 days. That's 3 days of inspiration!
Each post will go live at 7am EST/Midday GMT.
I will be sharing new projects I've created each month that featured my spotlighted set.
Each Spotlight will focus on a favourite set of mine. My aim is to showcase a set from a different manufacturer each month, but it totally depends on which particular stamp I'm wanting to showcase – I won't be tied down to any one manufacturer and I am not receiving anything from the manufacturers that I do spotlight – it's all out of love!
I have asked the manufacturers if they will help spread the word about StampSpotlight when they are featured but this does not affiliate me with the manufacturers in any way. Just wanting them to help spread the word!
If any manufacturers decide to sponsor the giveaway of the free set then I will explicitly state this.
Each set I will showcase is one I genuinely adore from top to bottom, inside and out – and I want to show you just why I love them!
And that's not all! Along the way with all the fun, there's a chance to win a prize!
The Prizes
I will be giving away one copy of my spotlighted set the month it is featured! I love these sets so much that I want one of you to get a chance to own one and love it too!
I will draw one winner after the Spotlight ends
The winner will be announced the day after the Spotlight ends
All happy? Then let's carry on!!
So today is the final day I'm Spotlighting the Becky Oehlers (through GinaK Designs) Mistletoe Memories set:
So for today's final project I am going back to a more traditional approach: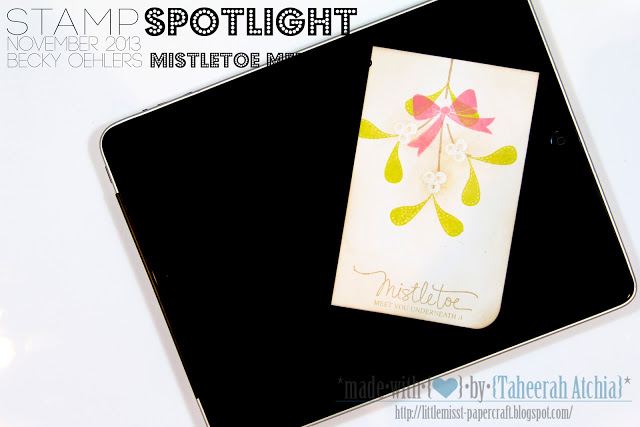 I love this one so much!!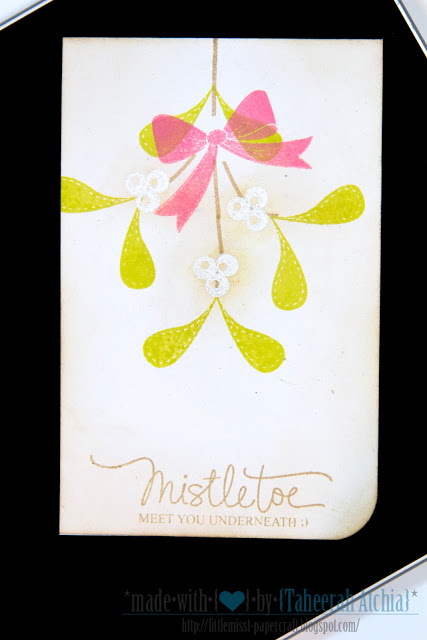 I started by stamping the sprig onto my Rustic White card base using Kraft ink, then added the leaves in Limeade Ice ink.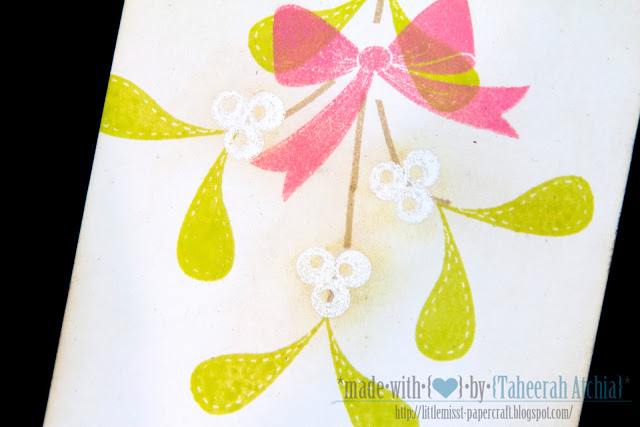 Next I stamped the berry clusters using Versamark ink and heat embossed using WOW! Opaque Seafoam White embossing powder. The coverage wasn't great this time around for some reason so I used my white gel pen to fill in any gaps.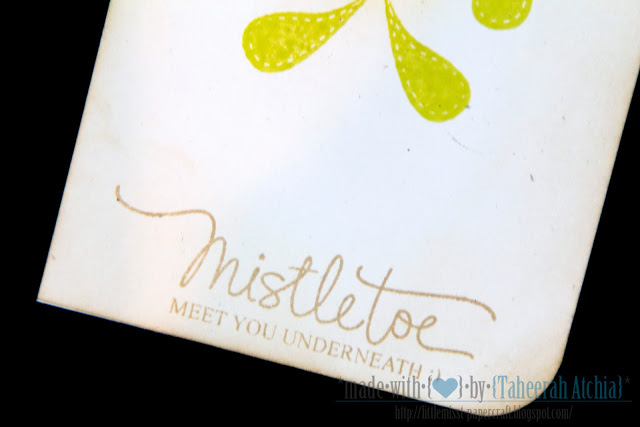 I added the bow from Boughs and Bells to the look, stamping with Mama Elephant ink in Bubblegum (I had to stamp twice for this opacity, take note). Finally the sentiment comes from the Mama Elephant Merry Greetings set and I then blended a little Vintage Photo Distress ink to add a vintage touch and bring out those berries too!
I hope as this month's series for this feature comes to the end that you are left feeling inspired! So, do you want a chance to win this month's Spotlight set? You know what to do!
The Rules – PLUS ONE NEW RULE!
To be in with a chance of winning the spotlighted set you must leave a comment on one of the StampSpotlight posts.
You can comment on each post of the Spotlight – that's an easy way to triple your odds of winning straight away!
You may leave comments up until 7am EST/Midday GMT the day after the last Spotlight post (ie the Friday). Comments received after this time will not count.
Please keep your comments related to the post and the showcased cards/projects.
***NEW! If you pin the official StampSpotlight image each day (the one with the StampSpotlight text on it) then you are eligible to leave a second comment and double your chances on that day!***
Please only comment once on each post. Duplicate/multiple comments will be excluded from the draw.
Please do not enter if you already own a copy of the Spotlighted set. That just wouldn't be fair if you do!
If you have a friend or someone else who would like to win then feel free to send them in my direction and they can comment, but please don't comment on their behalf.
The winner will be randomly chosen from all the comments received.
The winner will be announced on my blog at 2pm EST/7pm GMT the day after the Spotlight ends.
The winner will receive a copy of the spotlighted set. No alternative prize or monetary value will be offered.
I do hope you've enjoyed November's Spotlight!! Don't forget you have until 7am EST/Midday GMT tomorrow to comment on all three posts for a chance to win! The winner will be announced at 2pm EST/7pm GMT. I can't wait to hear what you think of this final project!! Thank you all so much for stopping by – I'll see you back here tomorrow for a regular post and then to announce the StampSpotlight winner!!
Supplies: