Hi everyone, and welcome, welcome, welcome to this month's inaugural StampSpotlight post!!

I am so super-excited to be bringing you the next installment of this monthly feature on my blog! Last month's StampSpotlight was such a blast and as soon as it was over I was already looking forward to the next one!!
In case you missed yesterday's post with all the info, here are some specifics:
The Details
StampSpotlight is a monthly feature that runs on my blog at the beginning of each month.
The Spotlight will run from the first Tuesday of each month and last for 3 days. That's 3 days of inspiration!
Each post will go live at 7am EST/Midday GMT.
I will be sharing new projects I've created each month that featured my spotlighted set.
Each Spotlight will focus on a favourite set of mine. My aim is to showcase a set from a different manufacturer each month, but it totally depends on which particular stamp I'm wanting to showcase – I won't be tied down to any one manufacturer and I am not receiving anything from the manufacturers that I do spotlight – it's all out of love!
I have asked the manufacturers if they will help spread the word about StampSpotlight when they are featured but this does not affiliate me with the manufacturers in any way. Just wanting them to help spread the word!
If any manufacturers decide to sponsor the giveaway of the free set then I will explicitly state this.
Each set I will showcase is one I genuinely adore from top to bottom, inside and out – and I want to show you just why I love them!
And that's not all! Along the way with all the fun, there's a chance to win a prize!
The Prizes
I will be giving away one copy of my spotlighted set the month it is featured! I love these sets so much that I want one of you to get a chance to own one and love it too!
I will draw one winner after the Spotlight ends
The winner will be announced the day after the Spotlight ends
Enough to whet your appetite?! Then let's get started!!
So yesterday I shared this sneak peek of the set for this month's Spotlight:

I don't think there was any disguising what this set is, lol! Bu it's always fun to try and make the picture a bit difficult, just in case!
…
…
…
This month's StampSpotlight is…
*drumroll*
Avery Elle's Oh Happy Day!!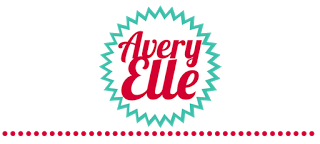 This set was such an easy choice!! I seem to want to stamp those sentiments on pretty much everything I make!!
There are so many reasons why this set is worthy of the Spotlight. The sentiments are so fresh and fun! And that font – oh my!! And, in my utter drooling over those sentiments, I failed to notice all the other amazing things about this set. Did you know that there are *flowers* ink it too?! And birds?! And leaves?!?! And an *arrow*?!?!?! Talk about versatile, lol!! Joking aside, this set is signature Avery Elle – modern, funky, different, trendy, and so so fab!!!
Now that all the introductions are out of the way, let's get on with the projects for Day 1, shall we? 🙂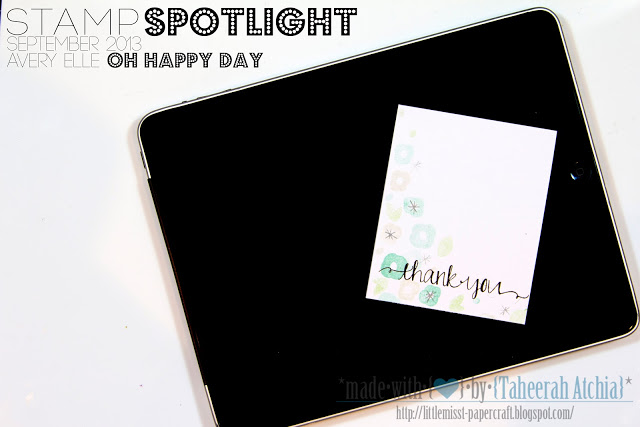 Soft colour palette-y goodness – love!!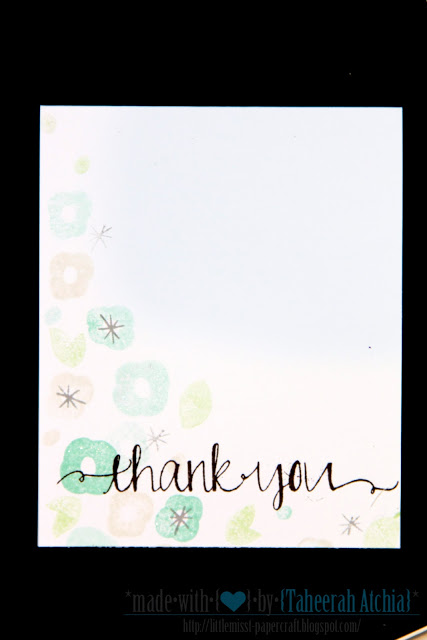 I started with a Stamper's Select White card base and stamped the flowers using Aqua Mist and Pressed Greige Linen inks, and the leaves in Pistachio Pudding ink and the centres stamped in Smoky Slate ink. I stamped off the inks first and also misted lightly with water for that beautiful soft look. Did I mention I love the colours?!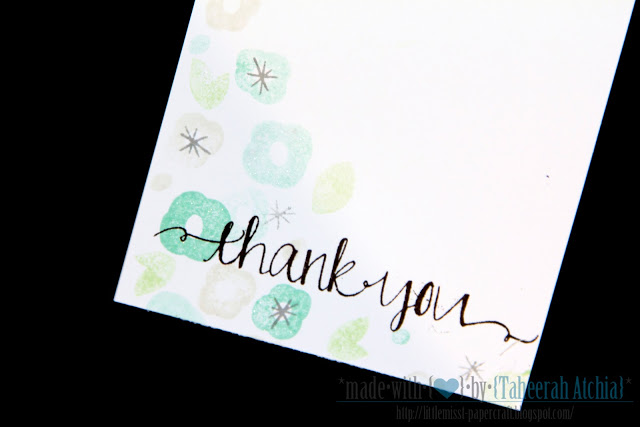 I then stamped the sentiment using Smokey Shadow ink and used my Wink of Stella Clear Glitter Pen to add some subtle sparkle to three of the blooms. Love the finished result!
Fancy being the lucky winner of this month's Spotlight? Here's the rules of how to participate!
The Rules – PLUS ONE NEW RULE!
To be in with a chance of winning the spotlighted set you must leave a comment on one of the StampSpotlight posts.
You can comment on each post of the Spotlight – that's an easy way to triple your odds of winning straight away!
You may leave comments up until 7am EST/Midday GMT the day after the last Spotlight post (ie the Friday). Comments received after this time will not count.
Please keep your comments related to the post and the showcased cards/projects.
***NEW! If you pin the official StampSpotlight image each day (the one with the StampSpotlight text on it) then you are eligible to leave a second comment and double your chances on that day!***
Please only comment once on each post. Duplicate/multiple comments will be excluded from the draw.
Please do not enter if you already own a copy of the Spotlighted set. That just wouldn't be fair if you do!
If you have a friend or someone else who would like to win then feel free to send them in my direction and they can comment, but please don't comment on their behalf.
The winner will be randomly chosen from all the comments received.
The winner will be announced on my blog at 2pm EST/7pm GMT the day after the Spotlight ends.
The winner will receive a copy of the spotlighted set. No alternative prize or monetary value will be offered.
I do hope you've enjoyed today's post! I'm so dying to hear what you think about the series and about the projects!! Thank you all so much for stopping by – I'll see you back here for Day 2 tomorrow!!
Supplies: