Hey everyone! Happy Sunday! Where on Earth has the weekend gone?!
So today's card is based on one of those word cloud things. You know, when lots of sentences/thoughts are analysed and the key themes are pulled out and displayed in a 'cloud', with different sizes signifying the frequency they come up?
That's the one!
So I thought I'd take my inspiration from that. Unfortunately it would appear from my cloud that I only have one thing on my mind, lol: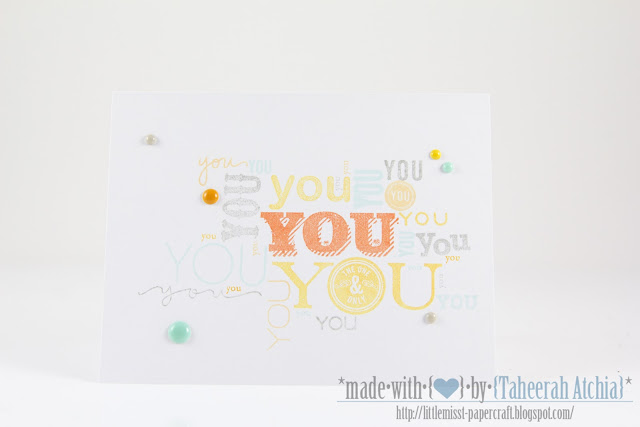 Fun right?! I had a blast putting this together!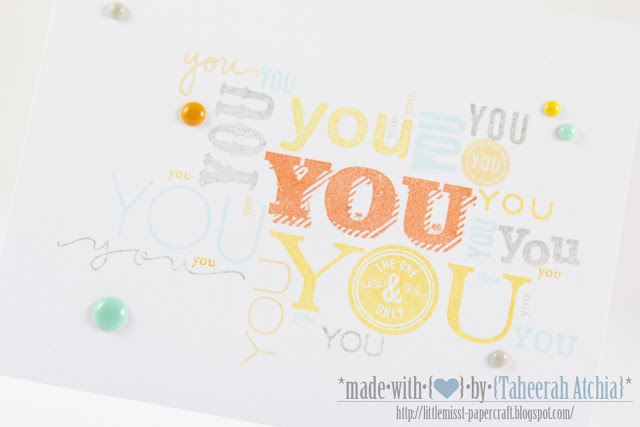 I started with a Stamper's Select White card base and stamped lots of 'You's all over it! They came from all over the place! Sets that featured were PTI's Simply You and Think Big Favourites #7 sets, Simon Says Stamps' Talk Bubbles, Talk Bubbles 2, and You sets, CAS-ual Fridays' Rad set, and WPlus9's Super Star set. Phew! I stamped them with A:Muse inks in Papaya, Apricot, Bermuda, Bellini and Orange inks, and PTI's Smokey Shadow ink (old). The colour scheme is inspired by a few cards I've seen on Debby Hughes' blog. Love that girl! I was careful to only stamp one 'You' in orange so hopefully your eye is drawn to that one. I also accented with some My Mind's Eye Enamel Dots. I spy a new obsession!
As for the inside, I used my label maker to create the sentiment, accented with a stamp from Simply You. Sweet or stalker? You decide. Hee.
Seeing as this card features like a million fonts I'm also entering it into the Fontabulous Challenge on the A Passion for Papertrey blog!
Right, I'd better crack on – meant to be a very busy day today! Got to create lots, get to the shops, create lots more… I'd better get to it!
I'd love to know what you think of this card! Thanks so much for stopping by!