Hey everyone! How are you all today? How is it Sunday already?! I am so not ready to go back to work tomorrow!!
Before I get onto today's card, I just wanted to remind you that you still have time to comment on the Made With Love Blog Hop posts for a chance to win some amazing prizes!! Click here to get started!
Right, back to business! Today's card is inspired by two sources.
The first is Erin Lee Schreiner. It wasn't one of her cards though – it was her amazing craft room and the colours she used in it!
Here's a snap of what I'm talkin' about:
Gorgeous right?! I *love* the vintage colours – something very pin-up about it!!
The second source was this amazing set of cards by Julie Ebersole. I *love* the way she took a completely new, modern look on vintage and completely owned it. After seeing this amazing eye candy I wanted a piece of that modern-vintage action too!!
With these two ideas firmly in my mind, I set to work and came up with this:
Fun huh?! I really love how this turned out!! Very retro!!
I started with a Hawaiian Shores card base and stamped the airmail stripes from Neat & Tangled's On The Strip set using Versamark ink. I then heat embossed it with Rouge Zing! embossing powder. Hmm, jury is still out on this embossing powder. I have mixed results with it, but it worked alright here!
I then stamped the triangle arrows from Mama Elephant's Trifecta set in Versamark and heat embossed with Filigree White embossing powder. At this point I decided I wanted some splatter so I added some using my Heidi Swapp Colour Shine mist in Sweet Cherry and my Mister Huey's Calico White mist. Fun!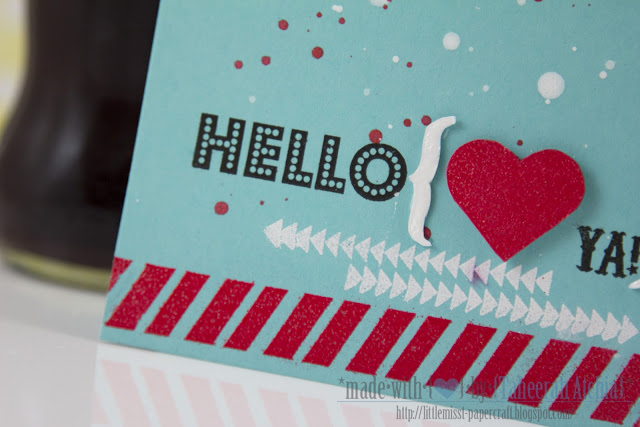 I stamped the heart from my own stamp set onto Stamper's Select White cardstock using Versamark and heat embossed with Zing! Rouge again, trimmed it out and adhered with a little dimension using Pinflair Glue Gel. I stamped the angled brackets onto Hawaiian Shores and heat ambossed white. The coverage was a little patchy, so I spread a little Mister Huey's Calico White spray over it to make it more opaque. Onto the base they went using Pinflair as well.
I made sure to leave enough space on the right hand side of the heart to stamp part of the sentiment from Simon Says Stamp's Talk Bubbles 2 set. I stamped this with Versafine Onyx Black ink. I then added the 'Hello' sentiment, which is part of one of the sentiments in the MFT At The Movies set. And that's all there was to it!
Well, I guess had better get back to my craft table and create some more! I would love to know what you think of this card. Thanks for stopping by – have a great day!!