Hey everyone!
I'm back with another quick post. I figure if I keep these short and sweet I might be able to post more regularly!
So up today is another card I submitted to the last Paper Crafts call that didn't get picked up. I'll get there someday!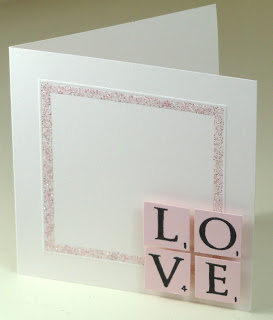 Quite CAS this one! I started with a Vintage Cream card base and scored a border using my Scor Pal, then added strips of Scor Tape and covered with some custom-mixed Martha Stewart glitter. I then stamped the letters from Trajan Monogram Edition onto Sweet Blush cardstock squares using True Black ink and drew the numbers on by hand to turn them into Scrabble tiles! Adhered with Pinflair Glue Gel and voila!
I've gotta run but I'd love to hear what you think of this card! Thanks for stopping by!!