Hey everyone!
I'm back with a special card tonight for a very wonderful and talented lady: Nichole Heady. We felt that Nichole deserved an extra special thank you for everything she does for us and so a few of us on the PTI Forum decided to take part in a very special Blog Hop with Thank You cards created and posted just for Nichole!
Just before I come onto my card I wanted to post a special Thank You message for Nichole.
Nichole, if you're reading this I just wanted to thank you. Thank you from the bottom of my heart for all the joy and happiness you bring to me and others like me through your very special and unique gift. Thank you for teaching me so much and for inspiring me to be better and do better.
You are a shining example to us all of what hard work, determination, talent, honesty, integrity and just general kindness and thoughtfulness can achieve. Thank you for sharing your gift with us through your blog and your company. Thank you for listening to us and striving to do your best by us each and every day.
If it wasn't for you then not only would I have not been able to take my crafting to another level, but I would never have met and made so many wonderful friends through your forum. I would never have gone to Chicago and had the time of my life. I would never had a chance to learn so much and share my cards with others.
Thank you for spending so much time talking to me and listening to me at CHA. You made me feel like the guest of honour and so valued and important. I know you must have got tired of my jabbering away but you never made me feel like I was bothering you. Thank you for encouraging me and supporting me in my dream to get published. Your kind words and advice will not be forgotten.
Thank you, for everything. You'll never know just how much of a difference you've made to my life.
Well, that was quite a speech! I just got caught up in the moment I guess! Anyway, I suppose you folks would like to see a card now, haha!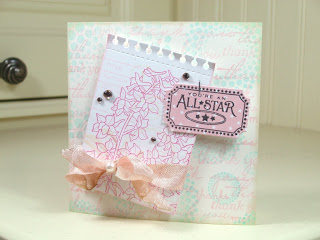 I'm still on a vintagey kick and so this card came to me pretty quickly, and also used some of my favourite sets! I started by cutting a piece of Stamper's Select White cardstock using the Spiral Notebook die, then stamped the Library Card on it using Sweet Blush ink and edged the shape with the same. I then stamped the big flourish from Fancy Flourishes using VintageTouch Chamomile ink. The flowers are from Year of Flowers: Larkspurs and were stamped with Raspberry Fizz ink.
For the card base I used
Vintage Cream cardstock
and stamped it with
Dot Spot
using
Aqua Mist ink
. I tapped my P
alette New Canvas ink
all over it to temper the colour then stamped lots of 'Thank You' phrases from
Inside & Out: Thank You
and
Mega Mixed Messages
using Sweet Blush ink. I edged the card with VintageTouch Chamomile ink.

I die-cut a ticket using the Ticket Border die and Bitty Star Basics patterned paper before stamping the border, sentiment and stars from Just The Ticket using True Black ink. I stapled it to the notebook page using my Tiny Attacher. Embellished the notebook page with Kaiser Craft rhinestones, wrinkly ribbon and a Kaiser Craft pearl before adhering to the base with Pinflair.
Right, it's my bedtime so I best head off! Thank you for stopping by and I'd love to hear what you think of this creation!