Hey everyone!
I got crazy busy again as usual but thought I'd pop back on to share this funky little card I created for my friend Chrissie. Chrissie's my boss at my new job and she is *amazing*, not only as a boss but we hit it off straight away and I really consider her a friend too. Anyway, it was her birthday on Thursday so I made a larger card that was passed around the office for people to sign (maybe to be posted at another time) and this little one just from me: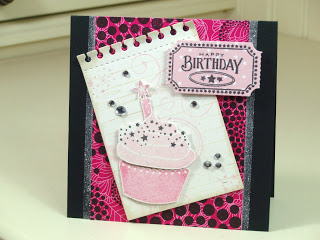 I am *so* in love with this card! So much so that it was very hard to part with, haha!
The notebook page was cut with the
Spiral Notebook die
using
Rustic White cardstock
, then stamped with the
Library Card
using
Vintage
Touch
Chamomile
ink and the edges inked with the same. Flourishes added from
Fancy Flourishes
using
Sweet Blush ink
and little stars from
Cupcake Collection
.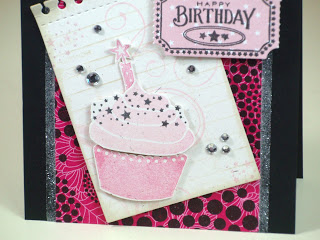 The cupcake top was stamped with Sweet Blush and Hibiscus Burst inks, with the candle also stamped in Hibiscus Burst ink. The stars were stamped with True Black ink. The cupcake was assembled with Pinflair Glue Gel before adding Kaiser Scrapbook rhinestones.
The base is
True Black cardstock
onto which I adhered a piece of
Raspberry Fizz In Bloom patterned paper
which was stamped with
Dot Spot
using True Black ink. I added strips of
Scor Tape
on either side and coated with
Martha Stewart glitter
before adding the notebook page using more Pinflair. Finally I die cut a ticket from Sweet Blush Bitty Stars paper using the Ticket border die then stamped the border, sentiment and accent from Just The Ticket using True Black ink, then adhered with Pinflair.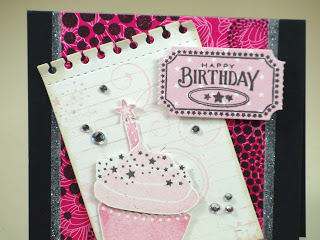 I've got to run but I'd love to hear what you think of this little card! Thanks for stopping by!!