Hey everyone!
Still trying desperately to catch-up on cards I haven't posted! I have about half a dozen more to go!
I'm still very much on a Summer/flower kick at the moment, so today's card is another sunny creation that really puts me in the mood for some warm weather!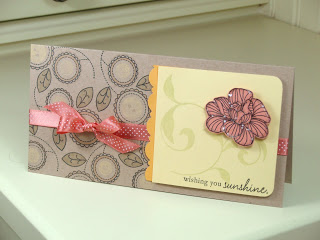 I really love how this card turned out!! You know when you start something, and about half way through you're not really sure how it'll turn out/whether you like it, but you just carry on anyway and see what happens? That's what happened with this one and I'm so glad it all fell into place!
I started with another tall card but decided to flip it on its side and make a long card instead! I then decided it was about time that I inked up the flower from Baby Button Bits so away I went, stamping to create a background that went about half way up the card. I then added some subtle Copic colouring to introduce the colours of Spring Moss and Melon Berry into the scheme.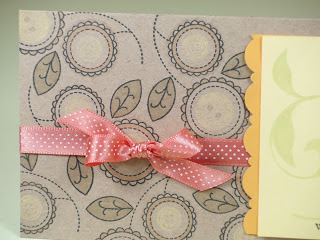 I wanted the look of buttons but didn't want to use actual buttons or epoxy domes. That's where Studio Style came in! I love the fact that I can now stamp buttons! I just wish there were more buttons in the set!! I inked them up with Lemon Tart, finally managing to get a bit of colour out of that pad by poncing hard on the stamp. Can't wait for my reinker to arrive – before the topic was raised on the PTI Forum I just assumed it was meant to be as light as it was coming out, lol!
I added a strip of Melon Berry ribbon across the length of the card, tying into one of Dawn's bows again. I'm loving Melon Berry at the moment, it's such a great colour!!
I added a small panel of Lemon Tart cardstock with a punched piece of Summer Sunrise cardstock to one side. The sentiment is from Blooming Button Bits and is stamped in True Black ink.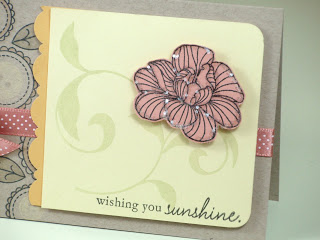 Then my favourite part of the card – the gorgeous flourish leaves from Turning A New Leaf, and a Melon Berry In Bloom flower to top it off! I love, love, *love* how this turned out!! I added some coarse glitter along the edges after gaining a little inspiration from Dawn McVey – so glad she gave me a use for this type of glitter, ha! It really finished off the card perfectly and the little glints as the sun catch the card make me so happy!!
I'd love to know what you think of this card! Does it put you in the mood for Summer? It certainly makes me very happy!! Thank you for stopping by and leaving some love if you choose to do so, your comments are like little rays of sunshine in my day. :o)