Hey everyone!
Well, I'm managing to keep up the daily blogging … so far! Really enjoying getting to show you all what I've been creating lately, but there's still so much to catch up on too!
While I'm waiting (not so) patiently for 1) the March Release, 2) my second PTI order to arrive and 3) my CPS Sketch win goodies to arrive, I'm trying to play with some other supplies. I got Studio Style in my first February order and decided I should ink it up and give it some love!
Now, as you all know, I'm not really a 'CAS' person, but this set was screaming 'CAS' to me, so I had to give it a whirl! I came up with this little but punchy number: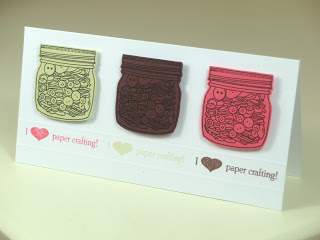 How cute is that?! I really like how this diddy card turned out – it only measures 5.5″ x 2.75″! And I love the little pops of colour!!
I started with a white cardstock base and added a couple of score lines with my Scor Pal. I then stamped the sentiment repeatedly with Dark Chocolate, Berry Sorbet and Spring Moss – still loving that colour combo!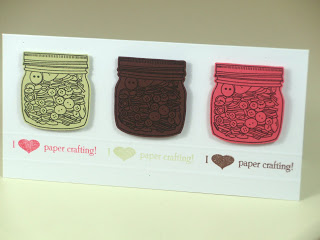 I then stamped the button jar image on cardstock of the same colours, cut out carefully then adhered to the card with plenty of Pinflair for dimension. I decided to mix up the order of the colours of jars so that they added a bit of visual interest, I think I liked that better than putting them next to their respective sentiments, what do you think? Apart from agonising over the order of the jars that was it for this card! Quick And Easy, and Clean And Simple! And only one stamp set used too!! I think I need to go lie down and work out what's happened to my normal style, lol!
I'd love to hear what you think of this little card. Do you like my more CAS-like cards or are you missing the layers and wilder combos?! I think I'm liking it, but I really want to start playing with other colours other than a white base now, lol, I'm missing mixing up my colours and stamp sets!