Evening all!
Wow, Day 1 of the Papertrey Countdown has *blown me away*!! Oh my God, we have so many new lovely goodies coming this month it's unbelievable!!!
Today I'm *finally* sharing my GSS Honourable Mention card!! You'd think after such an honour this card would have ended up on my blog straight away, but my love for all things flowery and summery took over!
I made this card for the PTI Forum Valentines Card Swap, where my swap partner was the ever-so-funny Ted Mattos. Ted's always been such a hoot on the forum, as well as being super-helpful and friendly, so I was delighted at the chance to make him a card! That meant of course that it had to be masculine but still fun! I cooked up an idea in my head and came up with this: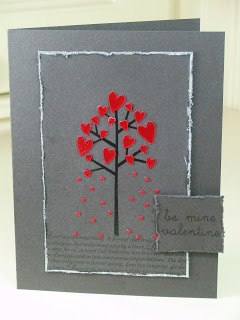 I *really* love how this card turned out – it was a labour of love and ended up pretty much how I'd envisioned it!
I started with the tree from Beyond Basic Borders, stamping it with Black Versafine and Versamark onto Smokey Shadow cardstock before embossing it with Matt Clear Embossing Powder. I then stamped the quotes stamp from Background Basics: Hearts at the bottom to act as the ground. I cut out the panel, distressed the edges then edged the distressing with a silver Sakura Pentouch pen.
I then inked up several of the smaller hearts from Simple Valentine with Versamark and stamped onto Pure Poppy cardstock, before embossing and cutting them out, adhering them to the ends of the branches.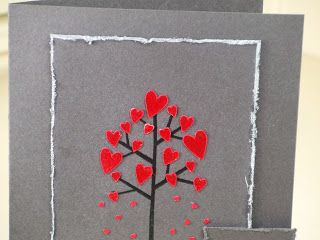 Then the really painstaking part! I punched out loads of tiny hearts using the Martha Stewart Tiny Hearts border punch, before adhering each one in place individually using Micro Dots! For those of you who don't know just how tiny these hearts are – they are *tiny*, like 1mm or so big!! I wanted to create the look of falling blossom/leaves and it was well worth all the effort, but not something I'm sure I'd have the patience to repeat on a regular basis, ha!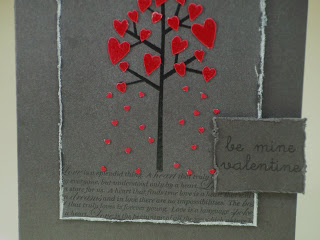 I adhered the main panel to a Smokey Shadow card base using Pinflair Glue Gel. I then stamped a sentiment from Simple Valentine using True Black ink onto another piece of Smokey Shadow, cut out and distressed the edges and adhered in place. I added a few more red hearts on the inside of the card, along with a handwritten message, then it was on its way to Ted!!
Well, I really hope you liked my entry. I was so thrilled that Nichole liked it enough to select it for Honourable Mention, such a huge honour!! Here is the image from her blog and what she said about my card: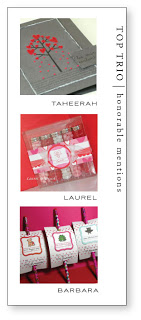 "
Taheerah
used an unconventional stamp choice for a Valentine project,
Beyond Basic Borders
. She transformed the tree image into something all new with hearts of various sizes. I also love her color combo of Smokey Shadow, Black & Pure Poppy!"
Truly something I'll treasure forever!!
Thanks so much for stopping by and leaving some love if you chose to do so! I'll be back tomorrow with more to show you, bye for now!!