Try saying that three times fast, hehe!!
Hey everyone, and welcome back! Hope you're continuing to enjoy the Papertrey Countdown, like there was any way you couldn't be, lol! Today I'm sharing another diddy card I made, this time using that gorgeous bear from Baby Button Bits again: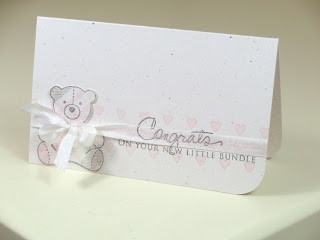 How cute is that?!! So sweet!!!
I started with a piece of Rustic White cardstock and created a plaid background using Sweet Blush and Smokey Shadow inks. Ready for a shock? I didn't use a PTI set to do this!! :-O I know, I can't believe it either!! It looks like Papertrey will be bringing out a plaid background builder set, but I didn't know that when I finally broke down and purchased the Offbeat Backgrounds set from Waltzingmouse. The set is great but I'm kinda wishing I'd held out a little longer, lol! Ah well, they both look different enough so I'm sure I will find a use for both!!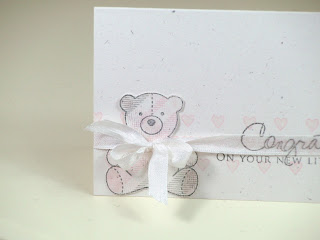 After the background was created I stamped the little bear in a position I thought would yield a good pattern, then carefully cut her out. I used a Copic marker to add just a little extra hue on the paw pads and muzzle and then she was ready to use!
I used a small Rustic White cardstock base and stamped one of the heart stamps from Background Basics: Hearts, then coloured the hearts in with a Copic marker. I adhered the bear in place (no dimension this time!) then tied some of Papertrey's silk ribbon round the card, finishing with one of Dawn's bows. I deliberately placed the bow around the bear's neck so that it looks like she has a ribbon round her neck, so cute!!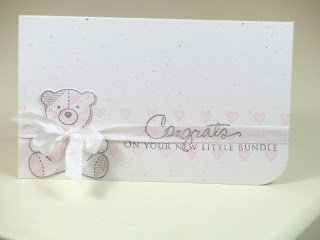 To finish up I inked up the sentiment from Signature Greetings using Smokey Shadow ink and stamped onto the front, deliberately overstamping part of the ribbon. A bit of a different effect for me but I like how it turned out!!
Well, I would love to hear what you think about this little beauty! Really enjoying trying different things with my work and seeing the results, learning a little something extra every step of the way!! I'll be back again soon but thank you for stopping by and leaving some love if you've chosen to do so!!