Hi all!
Wow, a second post in a day, you know I must be serious about catching up, lol!
Part of the reason I've been so absent from blogland is because I've been snowed under creating millions of cards for orders for people at work (for millions: read 19, but still, in a short space of time that's more than enough to deal with!). I'll be posting about those orders in the days to come, but for now I thought I'd post the card samples I made that lead to those orders!
For those of you that read my blog you'll have seen a few of these already (
here
,
here
and
here
) so I'll just focus on the newer ones in this post.
My go-to sets for my cards this year were definitely Holiday Button Bits, Tree Trimming Trio and Stocking Prints – people especially went mad over Holiday Button Bits!
So, without further ado, here are the remaining samples I created: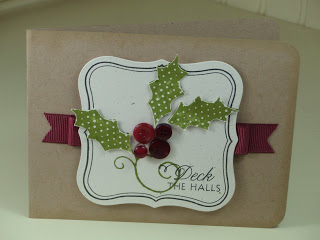 This first card showcases the holly image from Holiday Button Bits. I kept the layout quite simple and CASEd a couple of concepts from Nichole Heady's card
here
. I used a Kraft cardstock base, Rustic White cardstock for the focal image, Vintage Labels to accent the die cut with Labels 1 Nestabilities, a mixture of New Leaf and SU! Old Olive inks for the holly leaves and Scarlet Jewel buttons for the berries. The sentiment is from Stocking Prints and the ribbon is Scarlet Jewel Grosgrain.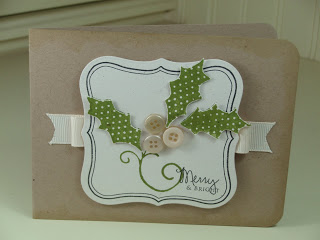 This second card is based on the first but uses Vintage Cream/White mix buttons and Vintage Cream Grosgrain, to give a totally different feel which is more like mistletoe. The sentiment is from Signature Christmas. Both cards were edged with VintageTouch Chai ink.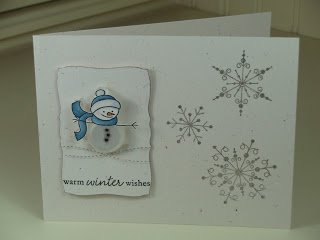 This third card won a lot of people over – people just were head over heels for this cute little snowman! For this one I used Copics in shades of blue for his hat and scarf.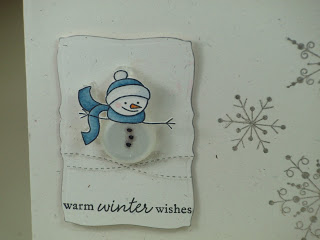 The button I chose didn't have any holes so I added some 'buttons' using black markers (Memento Tuxedo Black followed by a Copic marker). The snowflakes are from Snowflake Serenade and stamped in SU! Going Grey, as was the 'ground' the snowman sits on. I added a little sparkle using a Sakura Stardust Pen. The cardstock is Rustic White.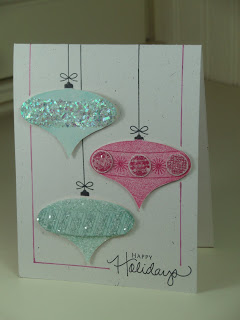 Finally, this card was created with Vintage Ornaments. This one was very much a concept – as you'll see with later cards I changed it up quite a bit in terms of colours and design – much more funky! For this one I kept it simple and made good use of my various Martha Stewart glitters! I used some of the baubles from Tree Trimming Trio to accent one of the ornaments. The string is from Holiday Button Bits and the sentiment from Signature Christmas.
That's it from me today! All being well I'll be back tomorrow with the first post of Christmas Card orders. Can't wait to share them with you, and I'd love to know what you think of the samples! They seemed to bring in quite a lot of interest and orders so they can't have been that bad!