Evening all!
Well, I'm back as promised! I have so much to still catch you up on so let's get started shall we?!
As mentioned in my previous post, I've been making a bunch of Christmas cards for orders from people at work. When I work on orders like this it is a lot of fun but I always put myself under pressure as there's so much to do in so little time, plus they really need to be my best work as people are relying on me for cards they're going to give to their loved ones, aarrghh!
Thankfully I didn't panic a lot(!) and managed to crank them out all on time, and they were well received as well!
So, before I waffle on too much, here are the cards from my first order. The lady in question wanted each card to be personalised, which gave me a perfect excuse to order PTI's Fresh Alphabet!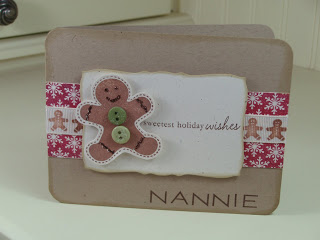 This first card used the extremely cute Gingerbread Man from Holiday Button Bits. This little guy was what won me over to get this set, and I'm sure you can see why! I stamped him with VersaMagic in Gingerbread and Sahara Sand and added Cinnamon Stickles for his icing. A couple of Ripe Avocado buttons coated with a little glitter on the front completed this cute little character. I attached him to a piece of Rustic Cream cardstock die cut with my Mega Curved Rectangle Nestabilities (told you I've been using them on everything!). The sentiment is stamped in Dark Chocolate and the shape is edged with PTI's VintageTouch Tea Dye duo.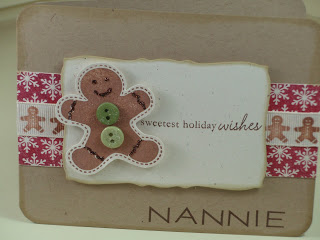 I added some pieces of Rustic Cream cardstock stamped with PTI's Holiday Treats set using a mix of Pure Poppy and Scarlet Jewel inks, adding two pieces to either side. I added a piece of Vintage Cream Grosgrain over the top, onto which I stamped the mini Gingerbread Man from Holiday Treats using Versacolor Sahara Sand and Gingerbread on alternating men. Finally I rounded the corners, inked the edges with VintageTouch Chai and stamped the name in Dark Chocolate.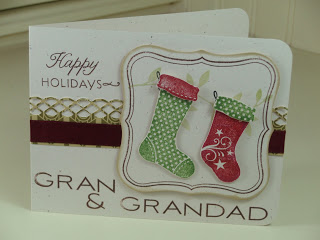 This second card uses Stocking Prints, with the stockings stamped with New Leaf and a mix of Pure Poppy and Scarlet Jewel. The leaves are from Turning a New Leaf and were stamped directly onto Rustic White cardstock which had been die cut with the Labels 1 Nestabilities. I used Vintage Labels to create the frame on the shape and inked the edges with VintageTouch Chai. I added a piece of Holiday Cheer paper which had been punched with my new favourite Martha Stewart Punch – Lattice. I overlaid a piece of Scarlet Jewel satin ribbon to finish it off. The sentiment and names were again stamped with Dark Chocolate and two of the corners rounded.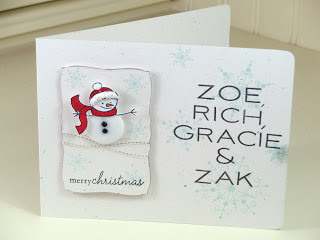 The third card uses the snowman from Holiday Button Bits. I gave him a red hat and scarf and uses a snow pen to add a puffed fluffy effect to his hat and scarf. I added black rhinestones for his coal buttons. The snowflakes are from Snowflake Serenade and Holiday Treats and stamped in SU! Soft Sky.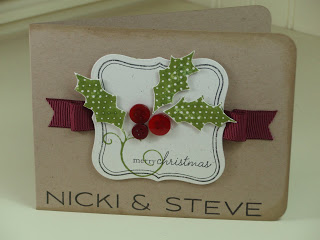 The next card is another Holly card, this time with Pure Poppy buttons (I chose darker buttons from my stash), and stamped the names in black Versafine.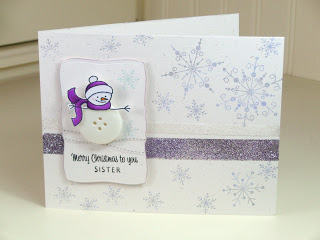 This next card used the snowman from Holiday Button Bits again, this time with a purple hat and scarf! I added lots of snowflakes from Snowflake Serenade and from Holiday Treats stamped with SU! Lavender Lace. The sentiment and name were stamped in black Versafine. I added two strips of Scor Tape (man am I loving this stuff!) and sprinkled on different colours of Martha Stewart glitter. So easy and such a great effect!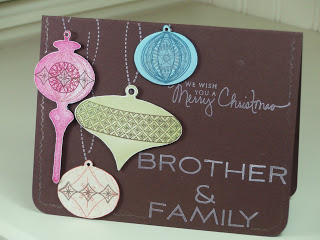 I love this next card in particular! I stamped several ornaments from Vintage Ornaments using the all-new PTI Pigment inks! Look at that gorgeous Lemon Tart, Spring Moss, Spring Rain and Hibiscus! Luscious!! I used Smokey Shadow, Enchanted Evening, Ripe Avocado, Melon Berry and Pure Poppy to stamp some of the details, and used a Sakura Stardust Pen for a subtle glittering. I used the 'ground' stamp from Holiday Button Bits for the string and stamped the sentiment (from Signature Christmas) and names using Vintage Cream ink. The card base is Dark Chocolate, I think it makes for a great colour scheme overall!
The final two cards are 'Supersize Me' versions of previous cards. Here is the first one, using the flourish tree from Tree Trimming Trio: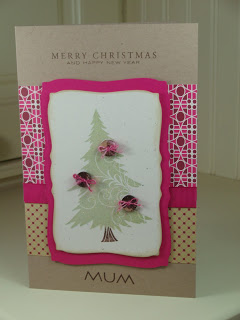 I used the two largest Mega Curved Rectangle Nestabilities, with a Raspberry Fizz mat to add some detail and also so that the design wouldn't get 'lost'. The sentiment and name are stamped in Dark Chocolate.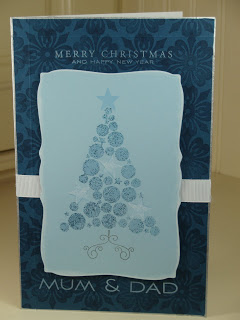 The second one turned out even better than its original! I love this one so much more! The background was stamped using Giga Guidelines and Versamark, and I added some score lines using my Scor Pal. The tree was stamped in Spring Rain and then overstamped with The Essential Glue pad before sprinking with Martha Stewart glitter. The stars are stamped in Fresh Snow then again with Spring Rain to add a shadow'. The star on top is stamped with Spring Rain. The tree base is stamped in Smokey Shadow.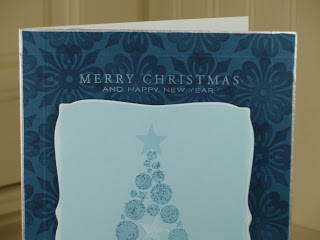 I die cut the mat from Spring Rain cardstock using the largest Mega Curved Rectangle Nestabilities and edged with Fresh Snow ink. The sentiment and names are also Fresh Snow – I love how this shows up so well on darker cardstock! Finally I edged the card with a silver Sakura PenTouch pen.
Phew! Well, that's it from me for today! I'll be back tomorrow with more Christmas cards! For now I'd love to hear what you think of these!